Poached pears make an elegant breakfast option when served with So Delicious® Dairy Free Coconutmilk Yogurt Alternative and granola. Layer these gluten free, vegan and dairy free ingredients in a parfait or serve together in a bowl for a quick and easy morning meal.
This post is sponsored by So Delicious®. All opinions, comments and content shared on A Baker's House are my own and do not necessarily represent those of So Delicious® or Danone North America. #sponsored
How do you poach pears?
You can poach many types of fruit such as pears, peaches, or plums. All you need is a poaching liquid and the time to slowly cook the fruit until it begins to soften.
A poaching liquid is often wine, water, or fruit juice. The liquid may be sweetened with sugar, honey, maple syrup or another type of sweetener. You can add flavors like vanilla, cinnamon, or ginger.
The poaching liquid may cover the fruit completely. If the fruit is not fully submerged either add more poaching liquid, or take care to rotate the fruit half way through.
In this dish we poach the pears until they are tender, about 20 minutes. You can test the pears for doneness by gently poking them with a knife. The knife should easily go into the pears.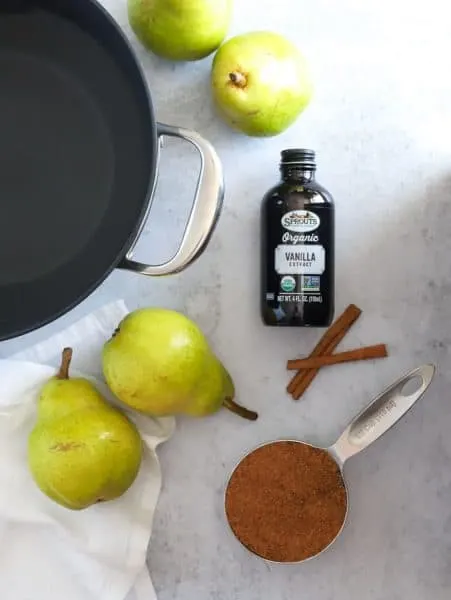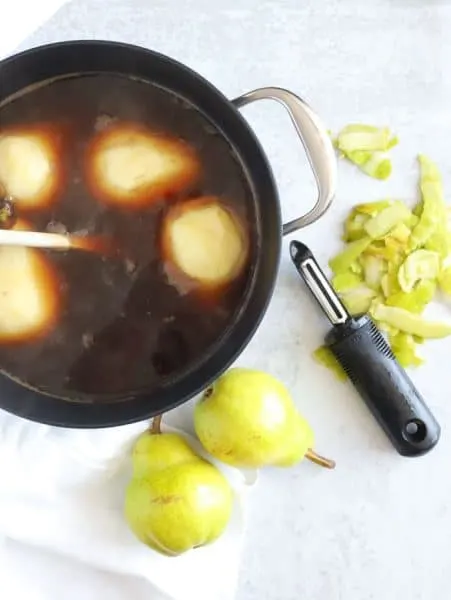 Can you refrigerate poached pears?
The beauty of poached pears is that you can make them ahead of time. In desserts poached pears are often served warm with a chocolate sauce, but for breakfast a chilled poached pear is perfect.
You can refrigerate the poached pears still covered in the poaching liquid. When you are ready to serve the pears, take them from the liquid and drain them on paper towels briefly.
You may freeze poached pears as well if you do not plan to use your poached pears within a week.
Good types of Pears for Poaching
If you are looking for good pears for poaching, a Bosc pear or a Bartlett pear would be a good choice. Both are firm pears that will retain their shape after poaching.
Bartlett pears are in season in the late summer and through the fall. Bosc pears are in season through the winter.
Peel the fruit before poaching. I like to leave the stem intact. Peeling the fruit allows the poaching liquid to slightly color the flesh of the pears and it makes for a pretty presentation.
What is a parfait?
A parfait is traditionally a frozen dessert made in layers, where each layer is a different ingredient. You can combine textures and flavors in an artful way when making a parfait.
Breakfast parfaits usually have a layer of yogurt, of baked or fresh fruits, and a crunchy later of oats or granola. Try this homemade pumpkin granola!
Here we have a choice of how to serve the poached pears—in layers like a parfait or as pictured with a serving of granola, Vanilla coconutmilk yogurt alternative, and the poached pear together in a bowl.
If you are serving this breakfast in layers, cut the poached pears into bite sized pieces before layering the ingredients.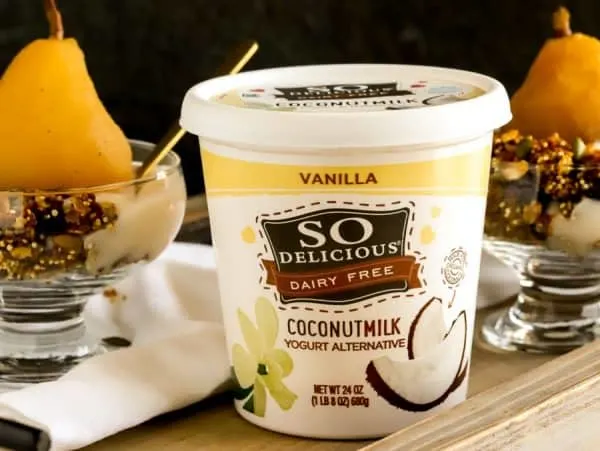 What ingredients are in this pear parfait?
Vanilla coconutmilk yogurt alternative
Granola
Poached Pears
So Delicious® Yogurt Alternatives
So Delicious® offers two types of non-dairy yogurt alternatives—coconutmilk and oatmilk.
Coconutmilk Yogurt Alternatives come in flavors like vanilla, mango, strawberry, peach, pineapple and strawberry banana. Key lime, blueberry, and chocolate are popular flavors too! They are creamy and made with organic coconut.
Oatmilk Yogurt Alternatives are a newer offering from So Delicious®. They are made with the same commitment to high quality ingredients, are gluten free, vegan, and are non-GMO Project Verified.
Of course you can eat these yogurt alternatives right out of the containers, or you can use them as building block ingredients in other recipes such as parfaits, smoothies, or baked goods.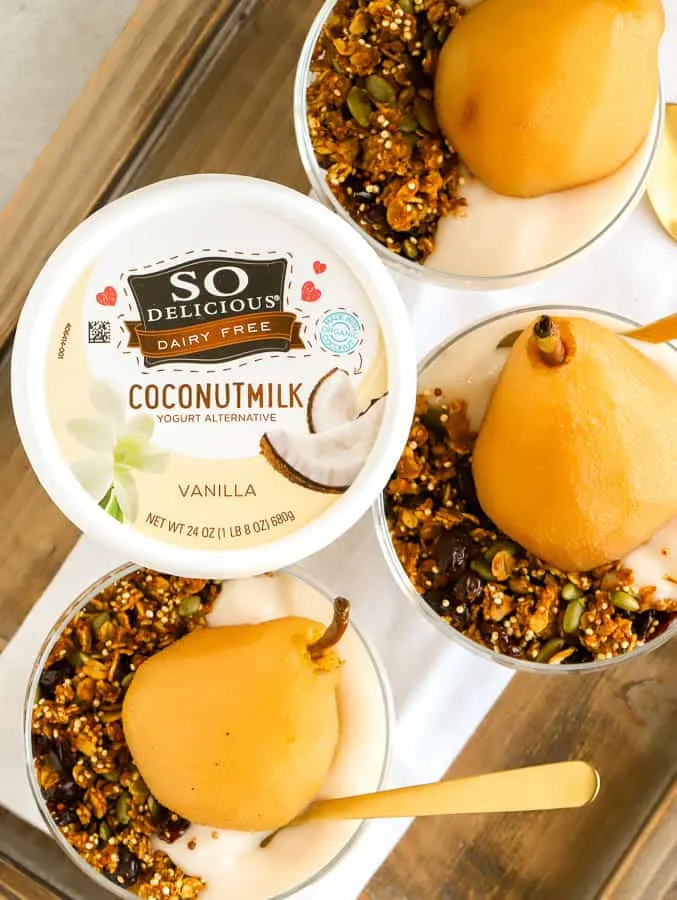 More vegan recipes:
Pin with me! Pin this poached pear recipe for an easy breakfast idea!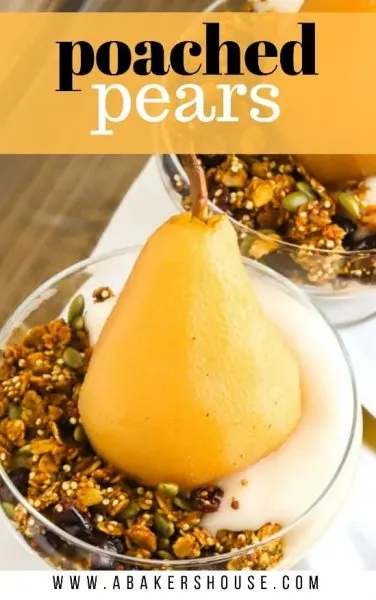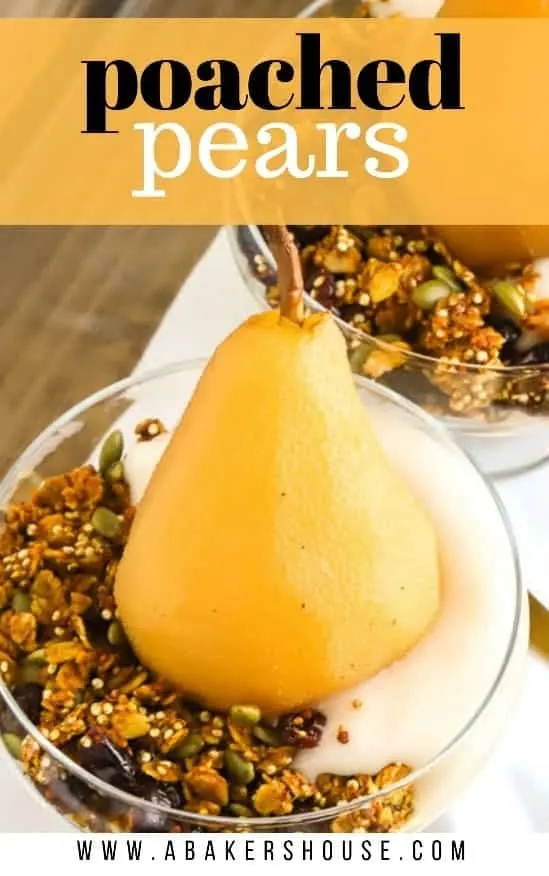 Yield: 4 servings
Poached Pears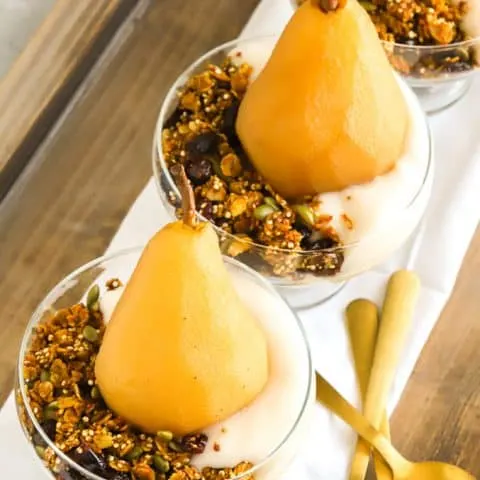 Poachedpears make an elegant breakfast option when served with So Delicious® DairyFree Coconutmilk Yogurt Alternative and granola.
Ingredients
1 So Delicious® Dairy Free Vanilla Coconutmilk Yogurt Alternative
4 pears
6 cups water
½ cup vanilla coconut sugar
1 tablespoon pure vanilla extract
2 cinnamon sticks
2 cups granola
Instructions
1. In a large saucepan, bring the water, coconut sugar, vanilla and cinnamon to a boil. Stir to make sure the sugar dissolves. Reduce to a medium low simmer.
2. Peel the pears and gently lay them into the simmering water. Cover the saucepan and poach the pears for 20 minutes or until knife tender.
3. Turn off the heat and let the pears cool completely in the liquid. Serve or refrigerate until ready to serve.

4. Divide the granola and coconutmilk yogurt alternative into 4 bowls. Top each with one poached pear. Serve cold.
Notes
If the poaching liquid doesn't cover the fruit, either add more liquid or turn the fruit halfway through the poaching time.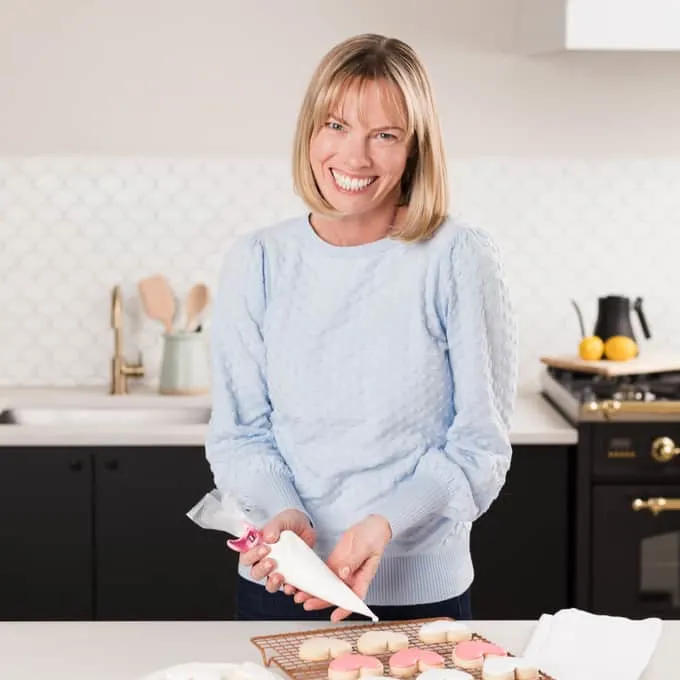 Holly Baker started the food blog, A Baker's House, in 2011. She is the writer, recipe creator, and photographer for the site. Holly loves to bake and shares recipes for gluten free food, canning recipes, as well as traditional desserts too. Her recipes and food photography have been highlighted by BuzzFeed, Reader's Digest, and She Knows.