There's a lot to like in this recipe for oatmeal fudge bars. Oatmeal and chocolate pair together beautifully! This layered dessert bars will disappear quickly.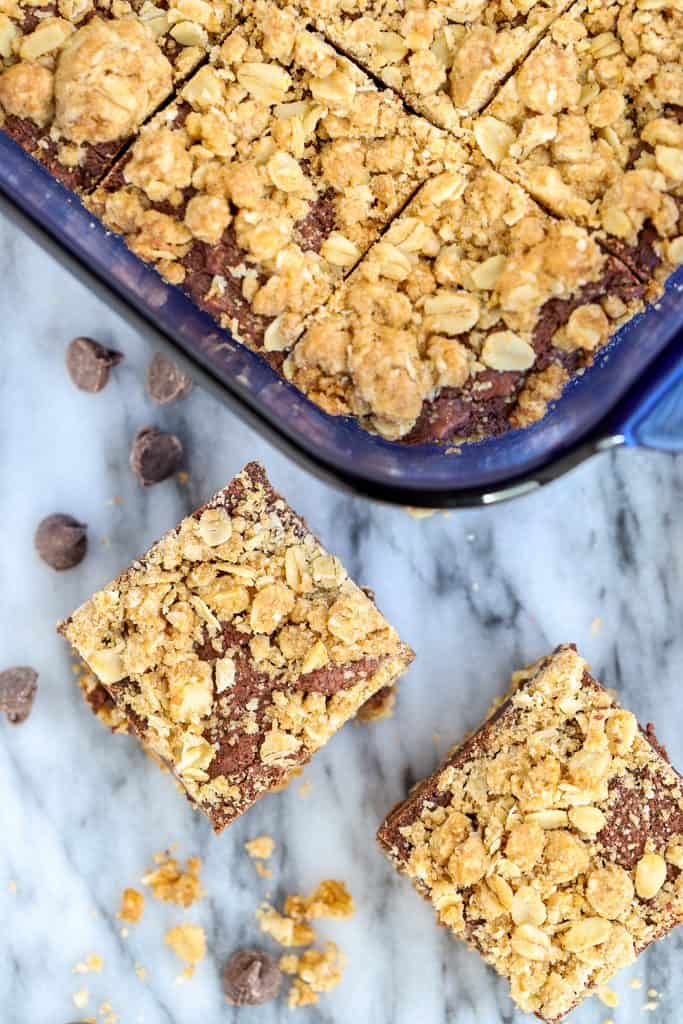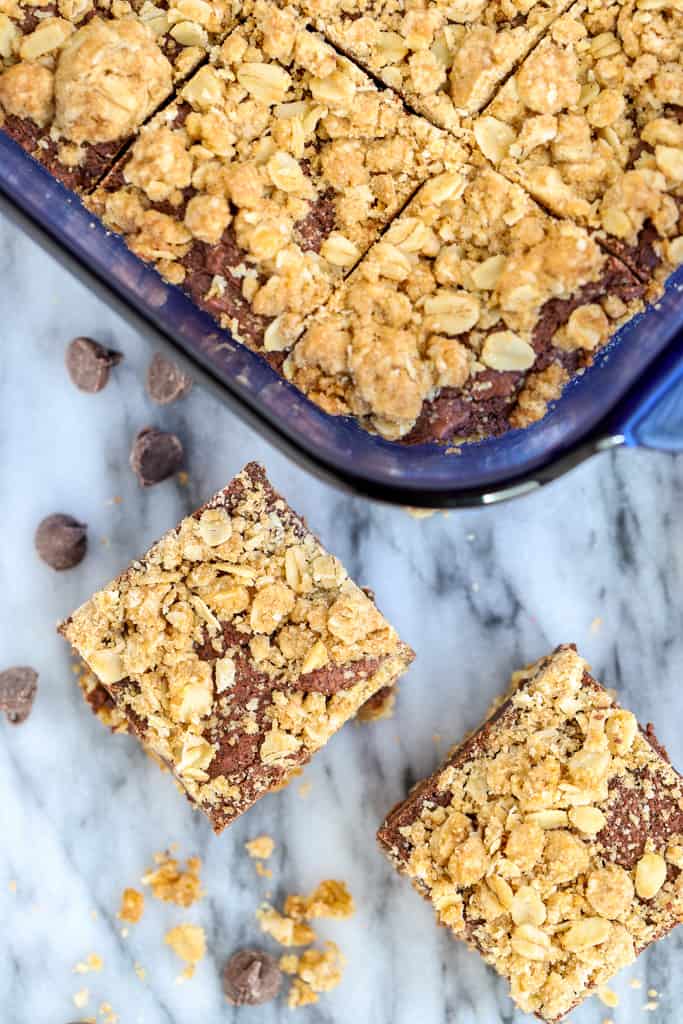 Oatmeal Fudge Bar Recipe– one of my most requested desserts!
Oatmeal fudge bars may become your most requested dessert recipe. These chocolate bars have been shared at book club, school luncheons, neighborhood playgroups, picnics, and church potlucks.
Making desserts with oatmeal tends to make me feel like I am adding a healthy twist to my baked goods. I know full well that adding sugar and chocolate and more to oats takes them out of the healthy category but gosh do these deep dish oatmeal fudge bars taste good! These squares taste like fudgy oatmeal cookies. I can see why Starbucks even had a version of these oatmeal bars for a while.
How do you make a layered dessert?
Layered desserts are fun because you are essentially combining two or more flavors into one dessert. In a lemon bar recipe you layer shortbread with lemon curd. And guess what is a no bake kit kat bar? You get the idea! Let's get back to the flavors at hand: chewy oatmeal and decadent chocolate fudge.
Mix together the oatmeal layer. Set aside 3/4 cup of it to use for the topping. The remaining oatmeal mixture will be pressed into the 8 by 8 pan and baked.
Next make the chocolate layer by melting the chocolate and the butter together. Add the egg and remaining ingredients. Layer the chocolate mixture over the oatmeal base.
Take the remaining 3/4 cup of oatmeal mixture and crumble it in pieces over the chocolate. Press the oat layer gently into the chocolate. Bake.
You are actually only mixing ingredients for two layers for this rich, fudge like dessert. The oatmeal mixture becomes both the base layer AND the topping. The key is to remember to reserve a small bit (3/4 cup) of the oatmeal layer and not to use it all for the base.
A thick fudge-like layer of chocolate is sandwiched between a crunchy oatmeal base and a crumbled oatmeal topping in these rich oatmeal fudge bars– perfection!
Looking for more oatmeal desserts?
How do you take layered bars out of the pan?
A tip to make lifting desserts our easily from an 8 by 8 pan or a 9 by 13 pan for layered bars like this dessert recipe is to layer two sheets of parchment in a criss cross "X" shape in the bottom of the pan. This sling of parchment or aluminum foil becomes your mini forklift that will let you raise the baked dessert right out of the pan!
Wait for the oatmeal fudge bars to cool for at least 20-30 minutes before lifting them from the pan, then cut them on a cutting board.
Espresso powder: the secret ingredient!
I have nothing but praise for America's Test Kitchen recipes and their Oatmeal Fudge Bars are no exception. These oatmeal fudge bars are made with a hint of espresso powder, just enough coffee taste to deepen the chocolate flavor without overpowering it.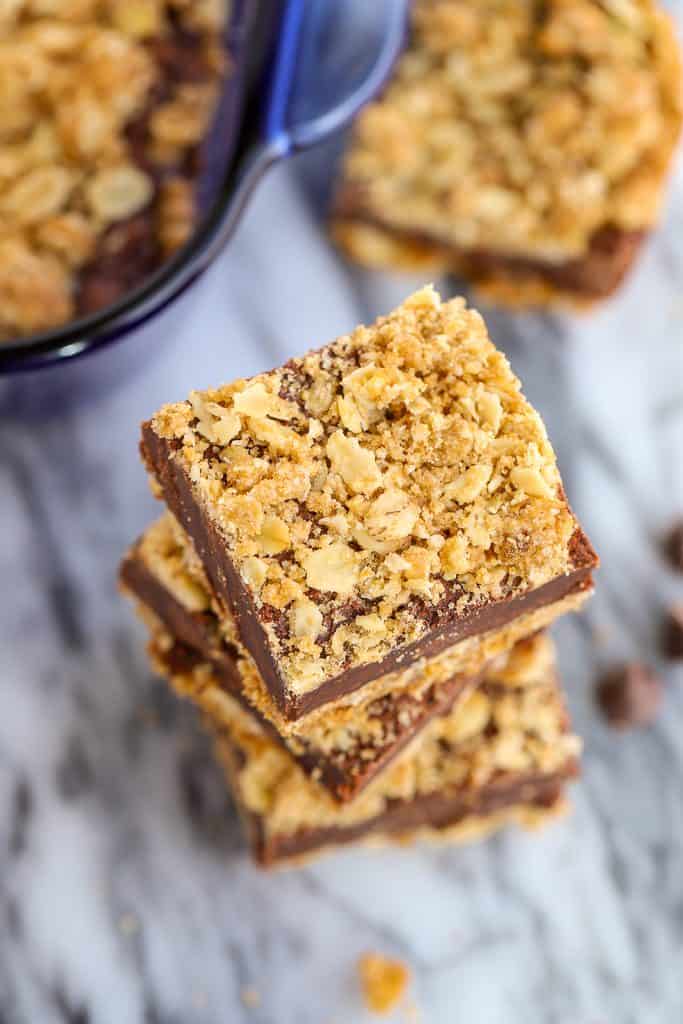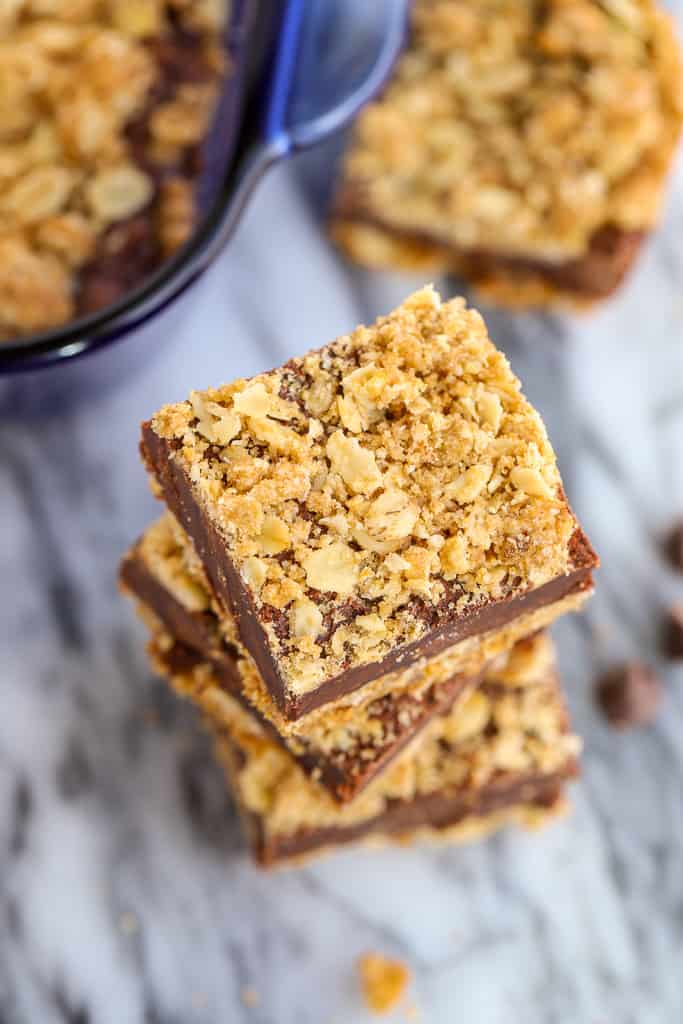 Only a few changes were made to the original recipe. Espresso powder was used rather than instant coffee (1 tsp espresso powder rather than 2 tsp of coffee powder), and this recipe is tweaked to reduce the baking size to an 8 x 8 pan. You can find the original recipe on page 274 in the book, "Menu Cookbook: Kitchen-Tested Menus for Foolproof Dinner Parties" by America's Test Kitchen. You may find this book at your local library or you can use this Amazon affiliate link to purchase the cookbook.
Please note: We are a participant in the Amazon Services LLC Associates Program, an affiliate advertising program designed to provide a means for us to earn fees by linking to Amazon.com and affiliated sites.
Join me on Pinterest and

save this pin

for later!
Post and recipe originally shared on May 4, 2012. Photos, text, and recipe updated January 31, 2017.
I love making this type of dessert for a big group. Cut the portions into smaller squares if you need to serve more people or if you want bite-sized treats. Theses are a rich, chocolatey dessert and small servings are perfect. Looking for more bars and squares recipes?
Here are more ideas for desserts cut into squares or bars: