Easy chocolate pudding pie with a graham cracker crust is a great make ahead dessert. Make this Gluten Free pie with gluten free graham crackers which is an easy switch.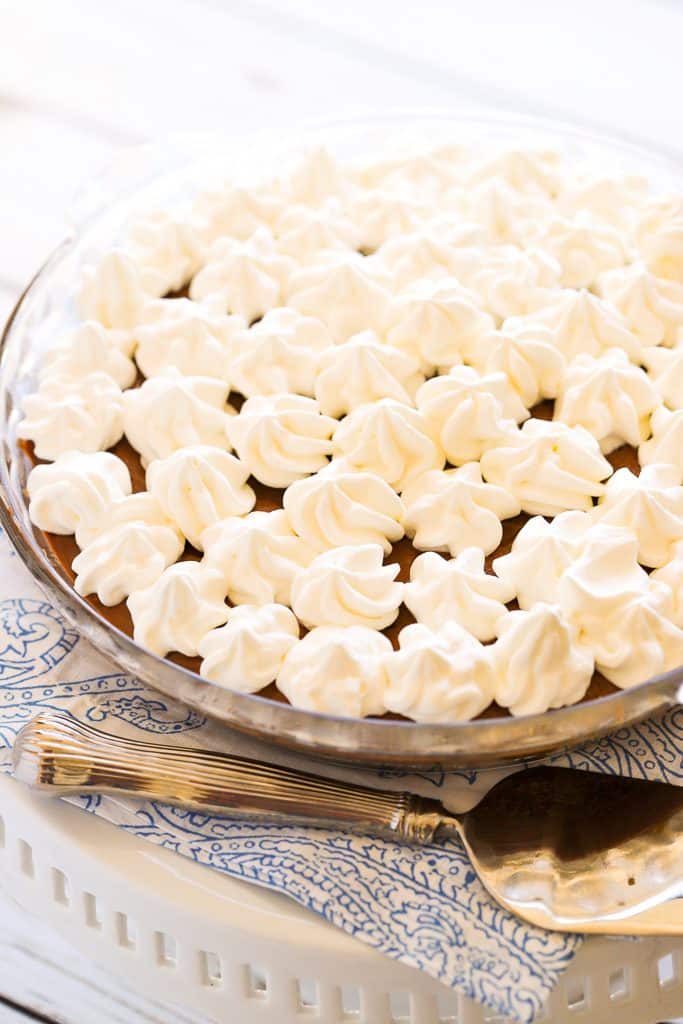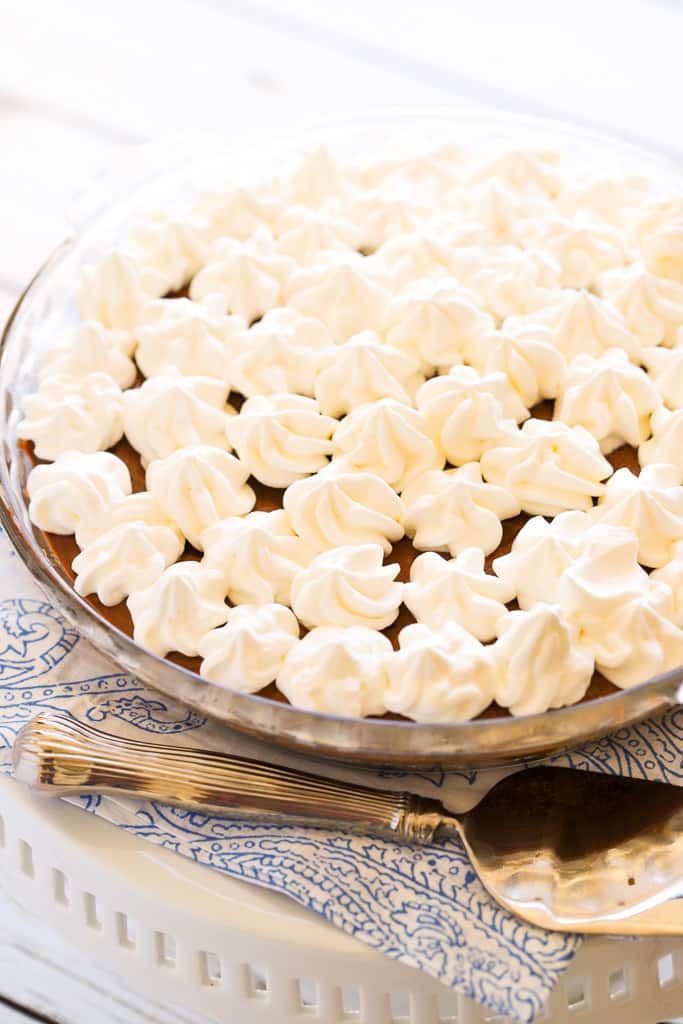 Chocolate pudding pie is an easy make ahead dessert that takes a few simple steps where planning ahead pays off.
Sometimes simple desserts are just what you need to end a meal—nothing fussy, just yummy homemade chocolate pudding with some freshly whipped cream topped with even more chocolate could be grated on top.
How do you make a chocolate pudding pie?
First make the graham cracker crust
Next, make the filling. This recipe makes a chocolate pudding filling from scratch although you could take a short cut with instant pudding.
Let the pie set up in the refrigerator then top with freshly whipped cream.
Can you make a gluten free chocolate pudding pie?
Yes! You can easily make the crust gluten free while the filling is naturally gluten free. Make this chocolate pudding pie gluten free by choosing a gluten free graham cracker– I bake with Pamela's gluten free Graham Style Crackers which come in cinnamon, honey, or chocolate.
And be a detective when it comes to labels on items that you might assume are gluten free (especially the chocolate in this case) and make sure that you are using certified gluten free ingredients.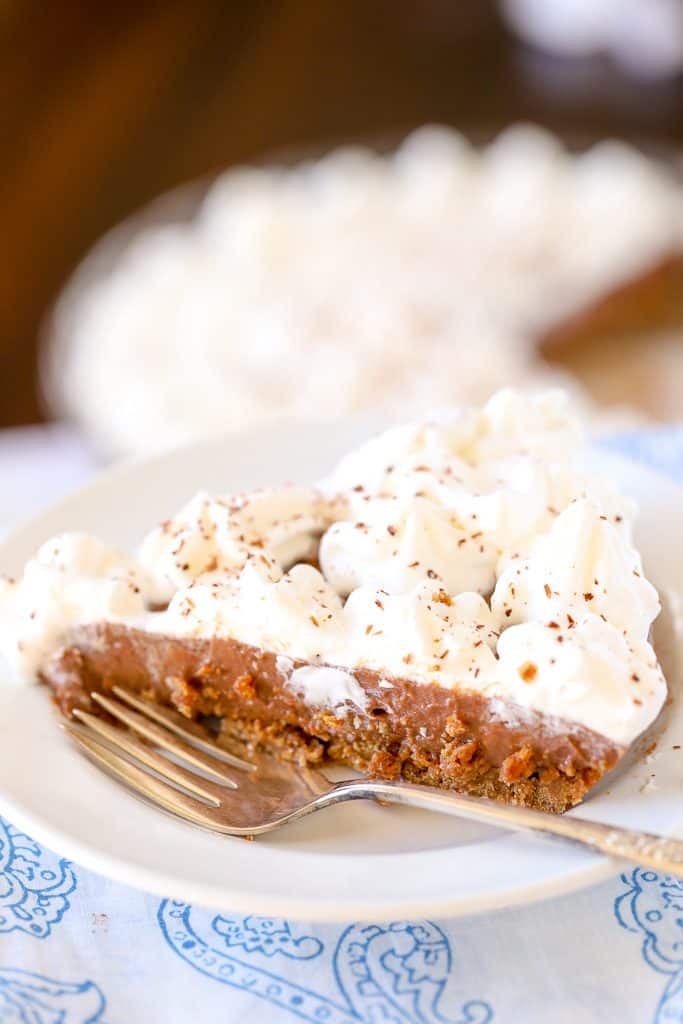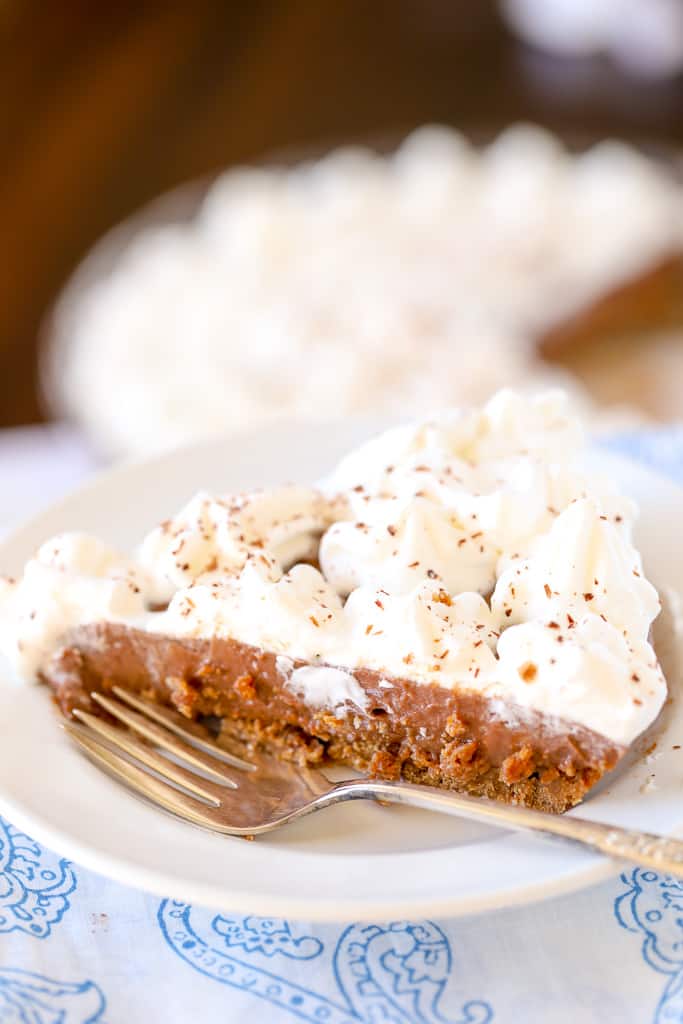 Pie Memories: Why make a homemade pudding pie?
I like this simple chocolate pudding pie recipe for a few reasons:
First and foremost, it is delicious. Second, this pie takes me back to the dessert my grandmother often made for family gatherings—a prepared graham cracker crust filled with Jell-o chocolate pudding made a cool whip pudding pie that put smiles on our faces.
There's no shame in making the short cut version!
I've been known to eat leftovers for breakfast just to be the first to get that last piece of pie. Another plus for this chocolate pudding pie is that it's great to share with company because you can make the crust and filling ahead of time then whip the cream right before serving.
How to Make Chocolate Pudding from Scratch: You can do it!
Making a chocolate pudding pie from scratch is not a tough assignment.
The crust comes together easily with graham crackers and butter; the topping is freshly whipped cream. The pudding does take patience and a steady whisk to create a smooth texture but it is well worth the effort.
Get ready for a messy bite and savor the crunch of the graham cracker base, the creamy chocolate pudding filling and the fluffy whipped topping. This is one tasty creation.
How do I make no bake chocolate pie?
Still looking for a quicker way to have this easy pudding pie on your table? I hear you!
Recently I made this pie for Christmas dinner and, of course, didn't have a minute to spare on that busy day. To cut corners start with a store-bought graham cracker crust.
A gluten free graham cracker crust is the fastest way to make this pie a gluten free dessert. Click here to see this Mi-Del Gluten free Chocolate Graham Cracker Crust on Amazon.
To use instant pudding for the filling, follow the directions on the box to mix the instant Jell-o pudding mix with milk.
Pour the filling into the graham cracker crust and chill in the refrigerator.
Please do me a small favor and top with freshly whipped cream…but if you must go ahead and use cool whip in a pinch!
As an Amazon Associate I earn from qualifying purchases.
What toppings can be added to this easy pudding pie?
mini chocolate chips
Use a vegetable peeler to "peel" chocolate curls off of a bar of chocolate. These make lovely toppings!
Chocolate sauce
Caramel sauce
How can I add a healthy twist to this pie?
Here's a version that might catch your attention– make your pudding layer a healthier one with this recipe for Chocolate Avocado Pudding. It's certainly a different twist but you'll be surprised how the flavor is nearly all chocolate and less so avocado.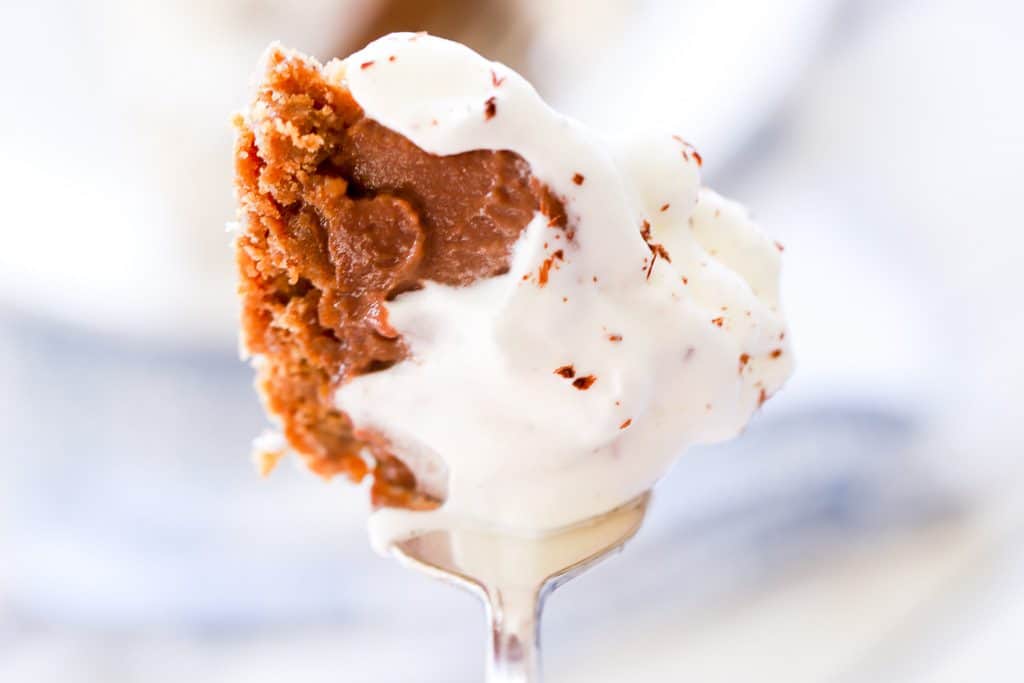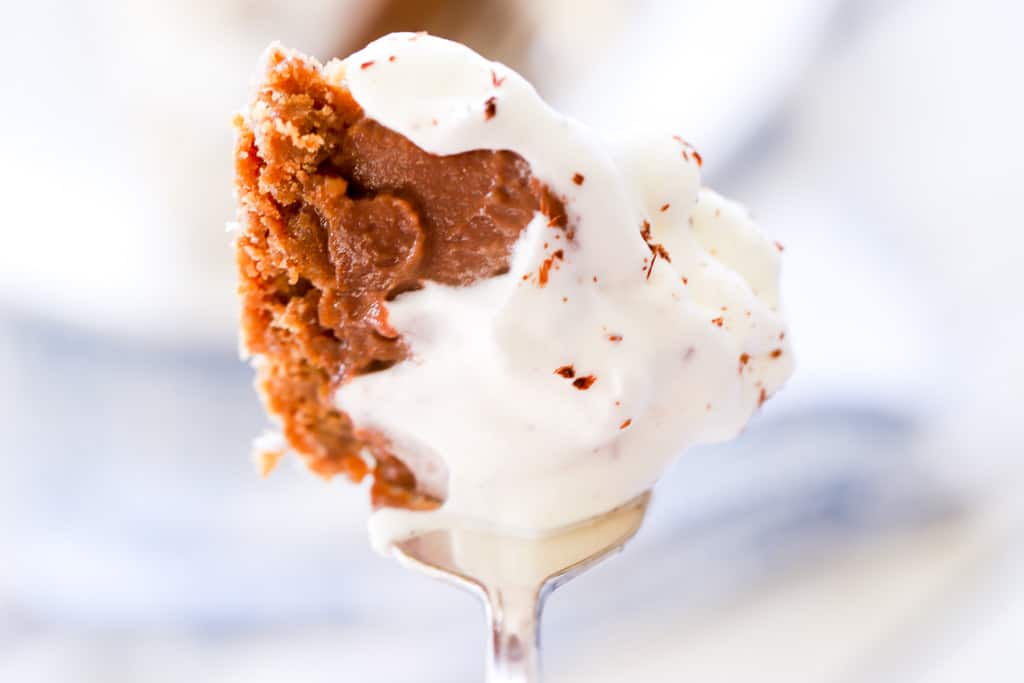 Yield: 8 slices
Chocolate Pudding Pie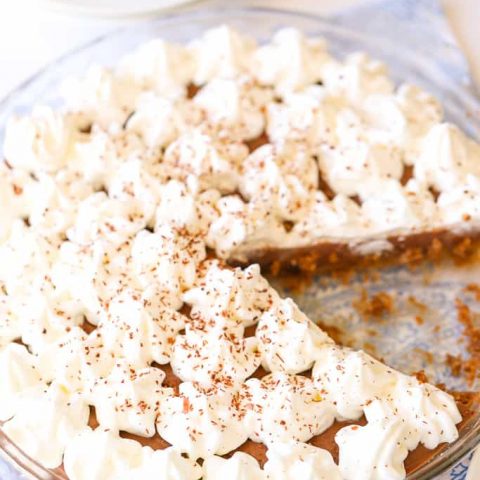 Plan ahead to make this pie the day before you'd like to serve it. The chocolate pudding needs time to set. Well worth the effort!
Total Time
4 hours
45 minutes
Ingredients
Gluten Free: 1 Box Pamela's Mini Grahams (or 12 graham crackers traditional style of any brand)
6 Tablespoons melted butter
2 Tablespoons granulated sugar
For the filling: (directly from Martha Stewart's recipe)
2 1/2 cups whole milk
4 ounces bittersweet chocolate
1/2 cup sugar
1/4 cup cornstarch
1/4 tsp salt
4 large egg yolks
1 tsp pure vanilla extract
For the topping:
1 cup heavy whipping cream
1/4 cup confectioners' sugar
Instructions
Start with the crust: Preheat oven to 350 F. Grease the pie plate with butter. Use a food processor to combine all of the ingredients for the crust. Press the crumb mixture onto the bottom and sides of a pie dish. Press firmly with your fingers or with a greased glass, starting in the middle and working your way out to the sides of the dish. Refrigerate for 30 minutes then cook in a 350 degree oven for 15 minutes. Let cool.
Meanwhile move on to the filling: Use a saucepan to melt the chocolate with the milk, whisking as the chocolate melts. In a separate heatproof bowl combine the sugar, cornstarch and salt. Ladle one cup of the milk chocolate mixture into the dry ingredients and whisk until smooth. Keep your whisk going as you pour the mixture back into the saucepan. Continue to cook for 5 minutes. The mixture will come to a boil (keep whisking) then it will thicken (yes, keep whisking!).
Now we move onto the eggs. Whisk the egg yolks in a small bowl. Temper the eggs by slowly adding a small amount (1/2 cup would do) of the hot chocolate mixture into the egg yolks while you whisk. Then add the eggs back into the saucepan and continue whisking for a few minutes until the custard thickens. Remove from the heat and whisk in the vanilla. Cool the pudding and –guess what—WHISK again! 2 or 3 times in the next 10 minutes. Is your arm tired yet? Whisking is harder than it looks!
Slowly pour the chocolate custard into the cooled crust. Place a piece of plastic wrap directly onto the pudding. Cool for 4 hours or overnight in the refrigerator.
The topping is simple: whip the heavy cream with a mixer (give your whisking arm a break) until you have soft peaks; add the confectioners' sugar and continue to whisk until stiff peaks form. Spread this cream over the set pudding. Sprinkle with more chocolate if you wish. I like to use a microplane (grater) to grate chocolate over top of the pie.
Notes
Note that the majority of the prep time is a minimum of 4 hours in the refrigerator or, even better, overnight.
The chocolate pudding recipe ingredients come from a Martha Stewart recipe on page 17 of her cookbook, Martha Stewart's Pies and Tarts. Here is a link to a similar Martha Stewart milk chocolate pudding pie.
Nutrition Information:
Yield:
8
Serving Size:
1 slice
Amount Per Serving:
Calories:

448
Total Fat:

32g
Saturated Fat:

19g
Trans Fat:

1g
Unsaturated Fat:

11g
Cholesterol:

180mg
Sodium:

223mg
Carbohydrates:

32g
Fiber:

2g
Sugar:

24g
Protein:

9g
This data was provided by Nutrionix and is an estimate only
Looking for more pies? Here is a recipe for a
Cherry Pie with a Whole Wheat Crust.
A
Gluten Free Pumpkin Pie
sounds good too! Or if it is the time of year to celebrate Pi Day (March 14th),
check out these fun Pi Day Cookies
.
Join me on Pinterest and

save this recipe

for later!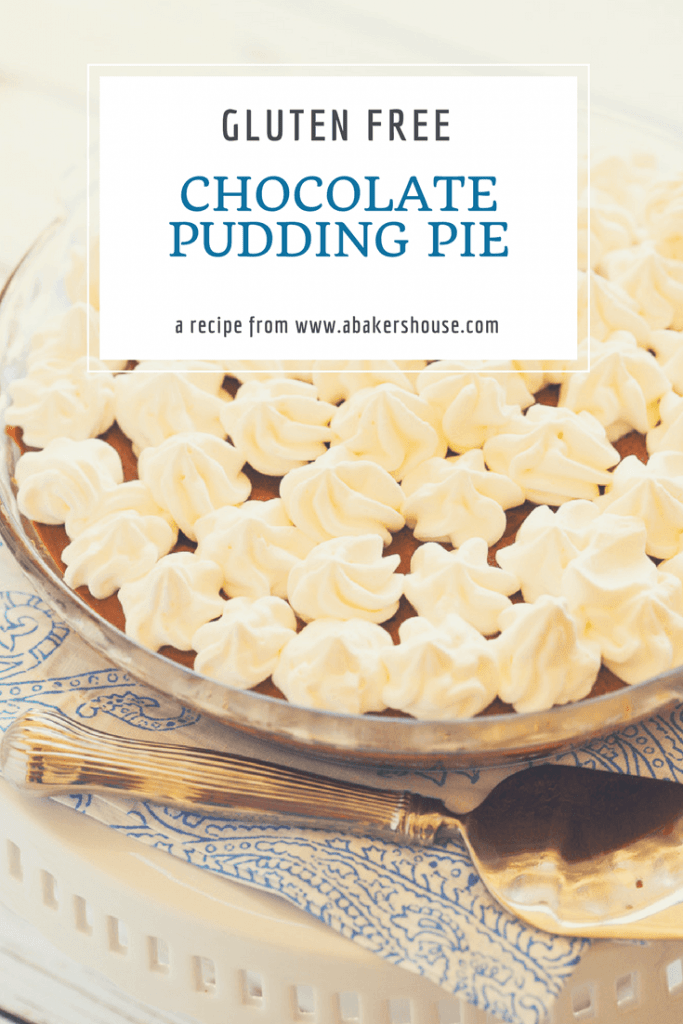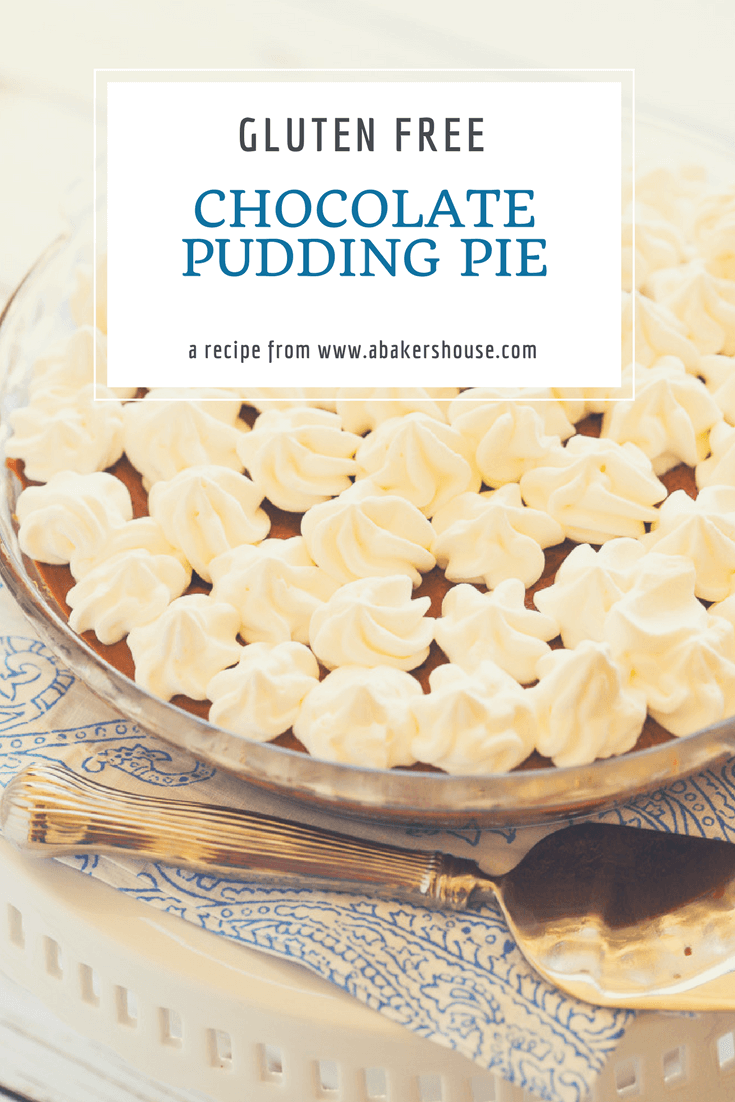 Here are more chocolate recipes to indulge in!
This post was originally shared on September 17, 2012 and was updated in February 2018.
We are a participant in the Amazon Services LLC Associates Program, an affiliate advertising program designed to provide a means for us to earn fees by linking to Amazon.com and affiliated sites.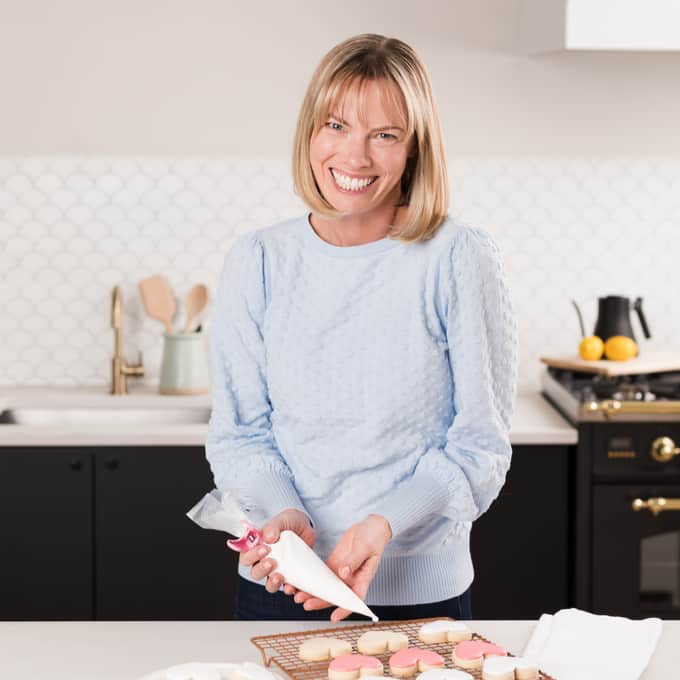 Holly Baker started the food blog, A Baker's House, in 2011. She is the writer, recipe creator, and photographer for the site. Holly loves to bake and shares recipes for gluten free food, canning recipes, as well as traditional desserts too. Her recipes and food photography have been highlighted by BuzzFeed, Reader's Digest, and She Knows.