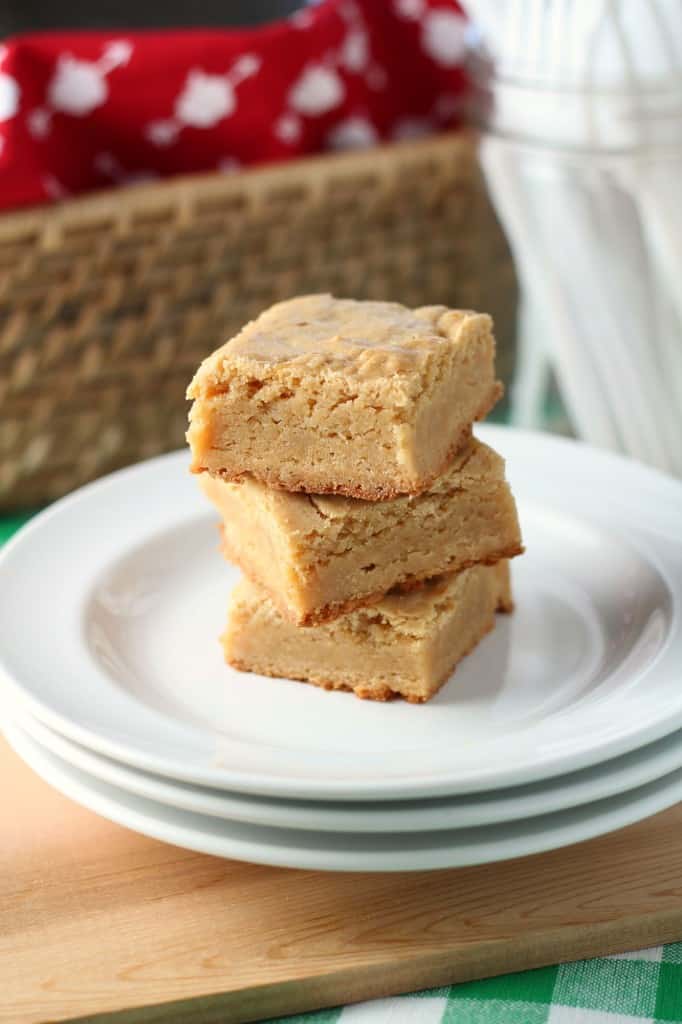 Blondies may be the better half to a brownie– the same square, portable treat but without the heaviness of chocolate. The combination of granulated and brown sugar creates a chewy bite that makes it tempting to eat more than your share of each batch of blondies. Make these in a 9 by 13 pan and be ready to feed a crowd.
My favorite blondies recipes include white chocolate and macadamia nut blondies and smores blondies.
School may be back in session here in Colorado but summer is not yet over– you will not find pumpkin recipes here on my site in August! We'll celebrate autumn in all of its glory…in another month or so. Let's get outside and enjoy the beautiful weather that Mother Nature offers while we still comfortably can.
We've lived in Colorado for eight years and still have so much of the state to discover. I hope we can find time for a mountain hike in the coming weeks (most likely on a weekend); pack a picnic, bake one of these picnic-perfect desserts and come along!
The #CreativeCookieExchange is busy baking picnic cookies, bars, and other delights this month. To me, a picnic dessert needs to be 1)easily packed, 2)melt-proof (no chocolate chips or icing please), and 3)a crowd-pleaser. These BLONDIES fit all three categories and will quickly become your go-to dessert for picnics, school lunches, and pot-lucks.
The recipe I followed comes from a Williams-Sonoma cookbook called Dessert of the Day and their recipe for Crunchy Toffee Triangles is a keeper. I took the recipe back to basics and removed the toffee bits (prone to melting) and the almonds (nut-allergy not best for a crowd) and the result is a fudge-like, rich, blondie that rivals a chocolate brownie on any day.
Yield: 24
Blondies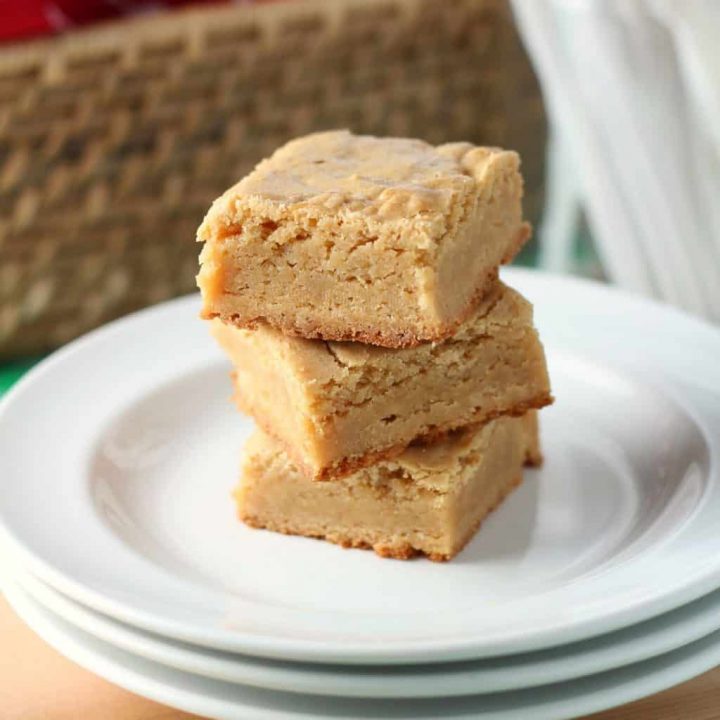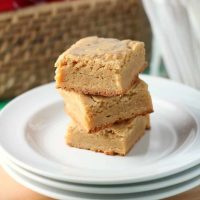 Recipe from the Williams-Sonoma book, Dessert of the Day, page 231, slightly modified to omit almonds and toffee bits.

Prep Time 15 minutes

Cook Time 30 minutes

Total Time 45 minutes
Ingredients
2 1/4 cups all purpose flour
1 tsp baking powder
1/4 tsp kosher salt
1 cup unsalted butter, softened
1 cup granulated sugar
1 cup brown sugar
2 eggs
1 tsp vanilla extract
Instructions
Preheat oven to 350 degrees F.
Spray a 9 x 13 pan with baking spray. Line with parchment such that two lengths of parchment criss cross and hang over the edges.
In one bowl combine the flour, baking powder, and salt.
In a stand mixer combine the butter and both sugars until light and fluffy, then add the eggs one at a time. Mix in the vanilla.
Slowly add the dry ingredients to the mixture in the stand mixer and continue to beat on low speed until the dry ingredients are combined.
Scoop the dough into the prepared pan and spread out as best you can.
Bake for 25-30 minutes. The blondies will have a golden brown top, especially around the edges, when baked. Let this cool completely-- resist the urge to dig in right away!--the blondies will settle and continue to firm up as the cool, making it easier to cut them into squares.
Nutrition Information:
Yield:
24
Serving Size:
1 square

Amount Per Serving:

Calories: 178 Total Fat: 8g Saturated Fat: 5g Trans Fat: 0g Unsaturated Fat: 3g Cholesterol: 36mg Sodium: 54mg Carbohydrates: 25g Fiber: 0g Sugar: 16g Protein: 2g

This data is provided by Nutritionix and is an estimate only.

The theme this month is Pack for a Picnic Cookies–any kind of cookie that sounds great for a picnic! If you are a blogger and want to join in the fun, contact Laura at thespicedlife @gmail.com and she will get you added to our Facebook group, where we discuss our cookies and share links.
You can also just use us as a great resource for cookie recipes–be sure to check out our Pinterest Board and our monthly posts (you can find all of them at The Spiced Life). You will be able to find them the first Tuesday after the 15th of each month!
Also, if you are looking for inspiration to get in the kitchen and start baking, check out what all of the hosting bloggers have made: