This recipe for healthy pumpkin muffins provides a breakfast option that is gluten free, refined flour free, oil free, and can be made dairy free too. Pumpkin puree and pumpkin pie spice make these muffins a perfect choice as the fall season gets into full swing.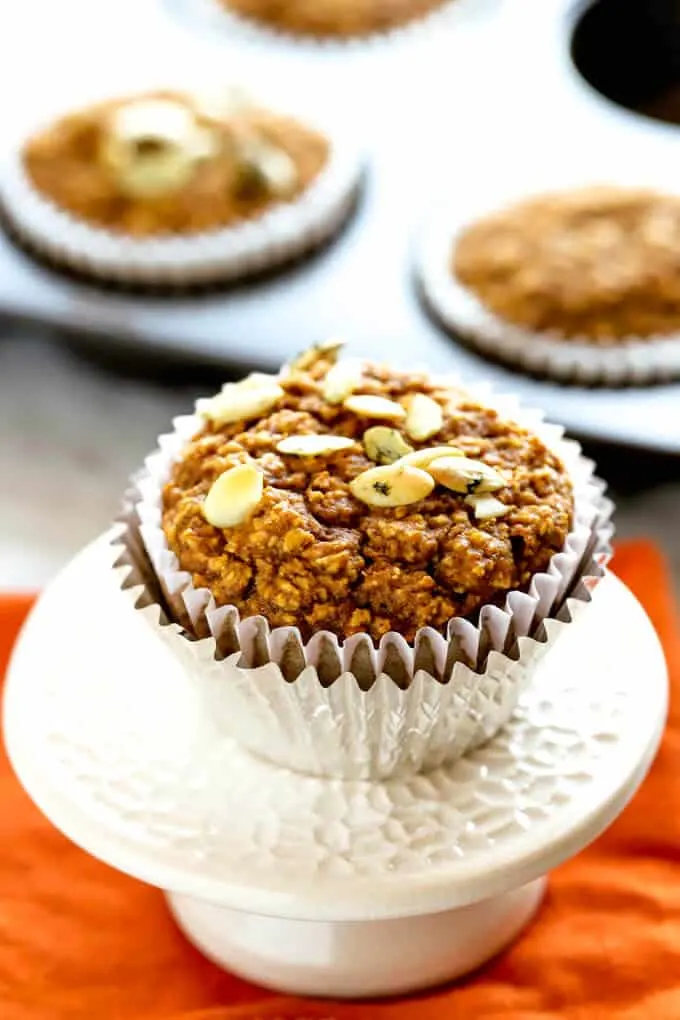 Pumpkin everything!
Fall is upon us and all things pumpkin are popping up. Pumpkin patches, pumpkin spice lattes, pumpkin bread. Pumpkin puree is the base for these healthy pumpkin muffins and the flavor is bumped up with the addition of pumpkin pie spice.
Muffins fall in the baking category of quick breads. Have you tried these lovely gluten free strawberry muffins? Here is my collection of quick bread recipes that I think you'll love!
Another pumpkin recipe I am loving right now is for gluten free pumpkin bars with cream cheese frosting.
How to make healthy pumpkin spice muffins:
Making pumpkin muffins follows the same basic steps as most muffin baking–
Combine the wet ingredients
Separately mix the dry ingredients
Stir the two mixtures together
Fill muffin cups with the batter and bake
Let's look more closely at step by step directions:
Baking healthy pumpkin muffins is straightforward. Begin with the wet ingredients: Pumpkin puree, maple syrup, 1/2 cup plant based milk (or traditional milk), and two eggs.
A plant based milk like Silk's Oat Yeah or AlmondMilk would make dairy free pumpkin muffins quite easily.
Do you make your own pumpkin puree? I never have done so and find that the store-bought pumpkin puree in the can is ideal for baking.
Check the ingredients on your canned puree and make sure that PUMPKIN is the only ingredient listed. Sometimes companies sell a canned pumpkin pie filling which is NOT the ingredient you want for baking.
Pumpkin pie filling has additional sugars and other fillers included.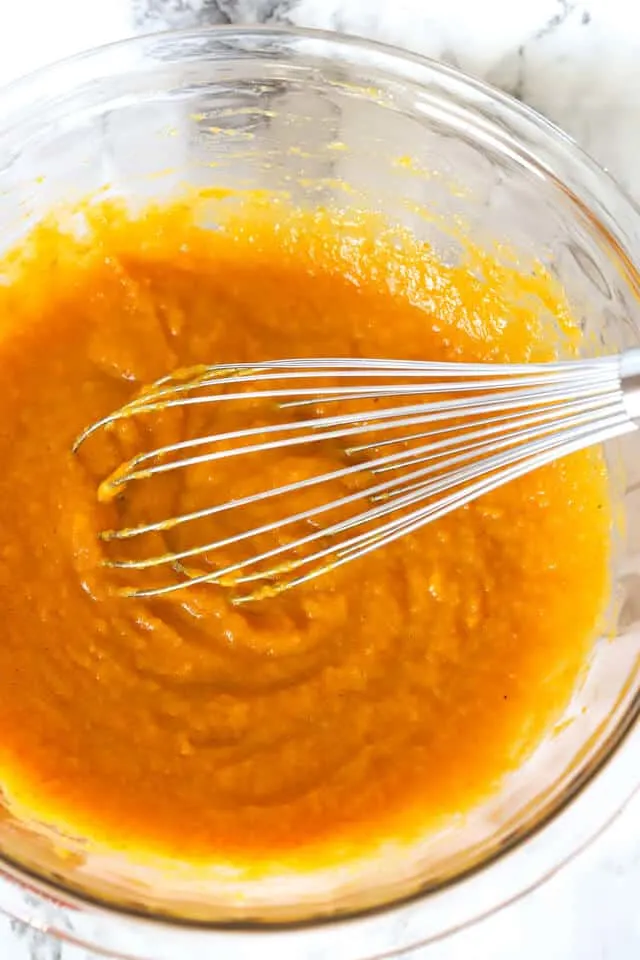 Then move on to the dry ingredients: oats, baking soda, baking powder, and pumpkin pie spice.
Oats Flour Pumpkin Muffins
Gluten free old fashioned rolled oats create an oat flour with a simple pulse in the food processor; no refined flours are used. You can buy oat flour but the process of making your own is quick and easy.
If you are making a gluten free muffin, double check that your oats are certified gluten free. Oats are naturally gluten free but sometimes in the manufacturing process, gluten can find its way into the product.
Therefore only oats that are marked clearly as "gluten free" are acceptable on a gluten free diet.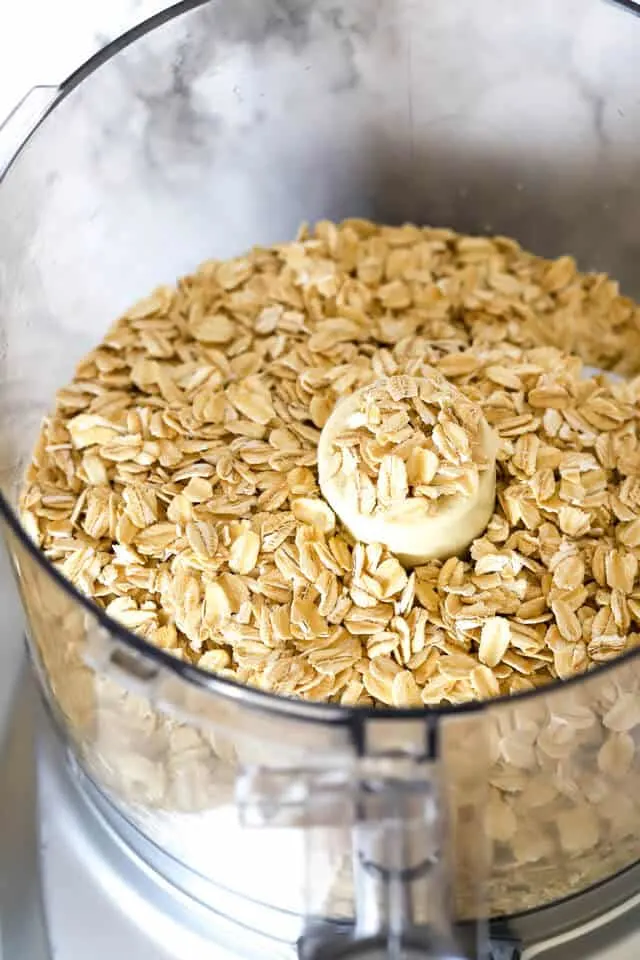 Pulse the oats to a fine flour consistency. A food processor is your best friend in creating the texture of a flour out of oats.
Pulse the oats 10 times then take a look. Repeat the process until your oats are finely ground.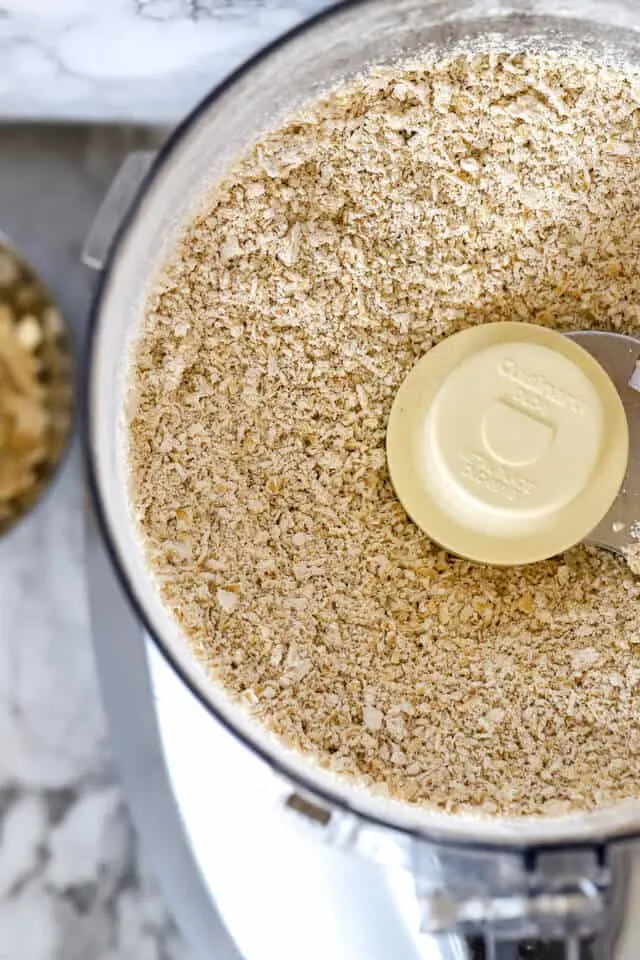 Add the remaining dry ingredients of baking soda, baking powder and pumpkin pie spice. You can mix your own pumpkin pie spice with cinnamon, nutmeg, and ginger or you can buy this spice mixture ready-made.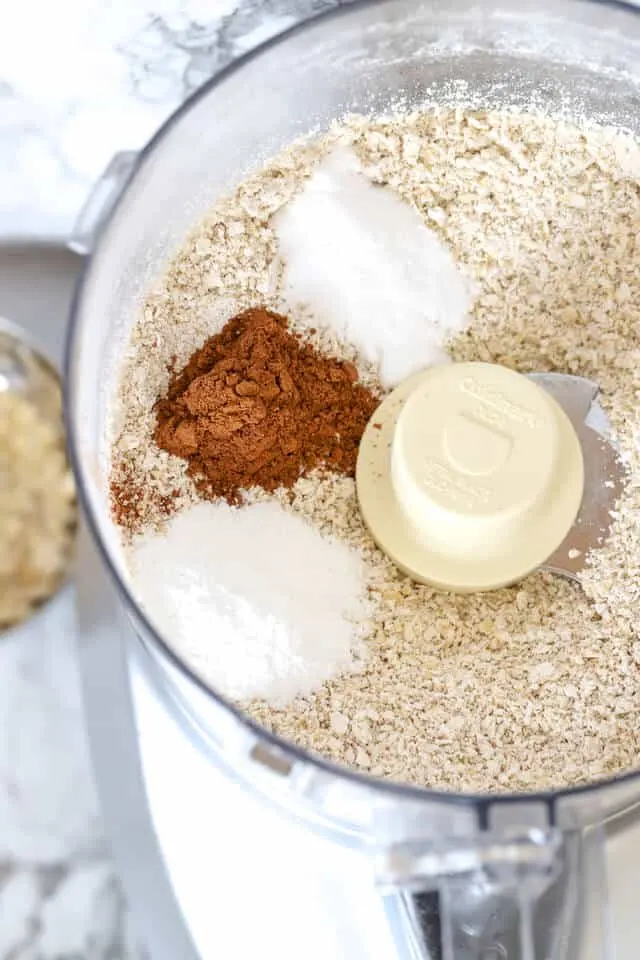 Combine the wet and dry ingredients and fill muffin tins with the batter. Take care not to over-stir the batter.
Mix until you can barely see any of the dry ingredients left and you're good to go!
What are pepitas?
Pumpkin seeds (also called pepitas) are an optional topping to add to the pumpkin theme.
Recently I've found pumpkin seeds in bulk at Costco and I use them liberally– from topping muffins to adding a crunchy, gluten free bite to salads or yogurt, pumpkin seeds are a good choice.
You can even save pumpkin seeds from your Halloween pumpkin and roast them yourself. Have you tried this? Let me know!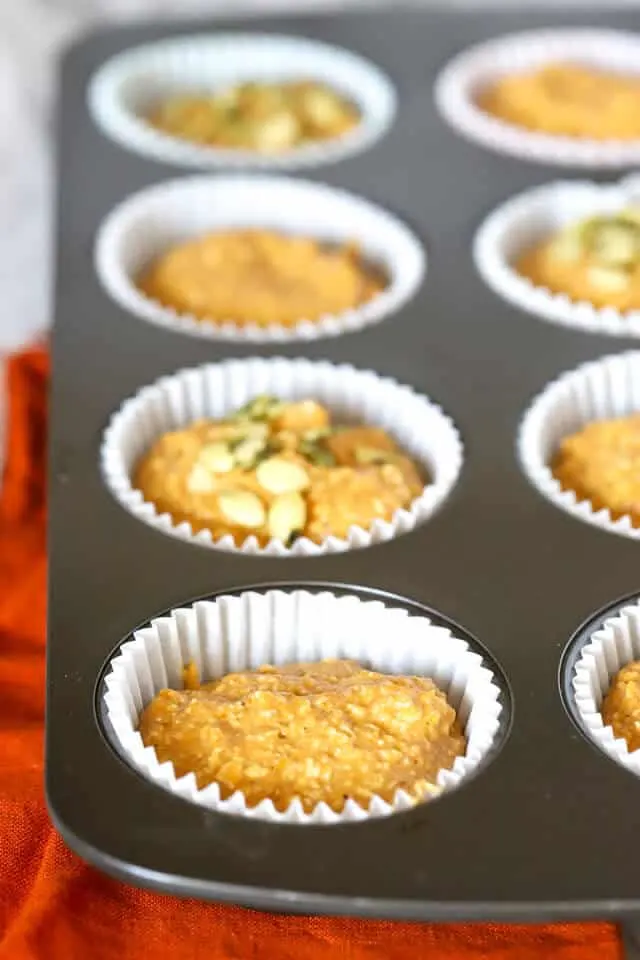 Bake for 18-20 minutes and you'll have healthy pumpkin muffins ready to enjoy!
Pumpkin muffins make a great choice for breakfast on the go. You can freeze muffins and either set them out on the counter overnight to defrost, or you may zap them in the microwave for 10 -15 seconds to reheat.
Making easy muffins for your family is a good way to plan out breakfast ahead of time. I like these healthy pumpkin muffins for kids or for adults. Mini muffins make a perfectly sized hand-held option for toddlers. Everyone will be happy!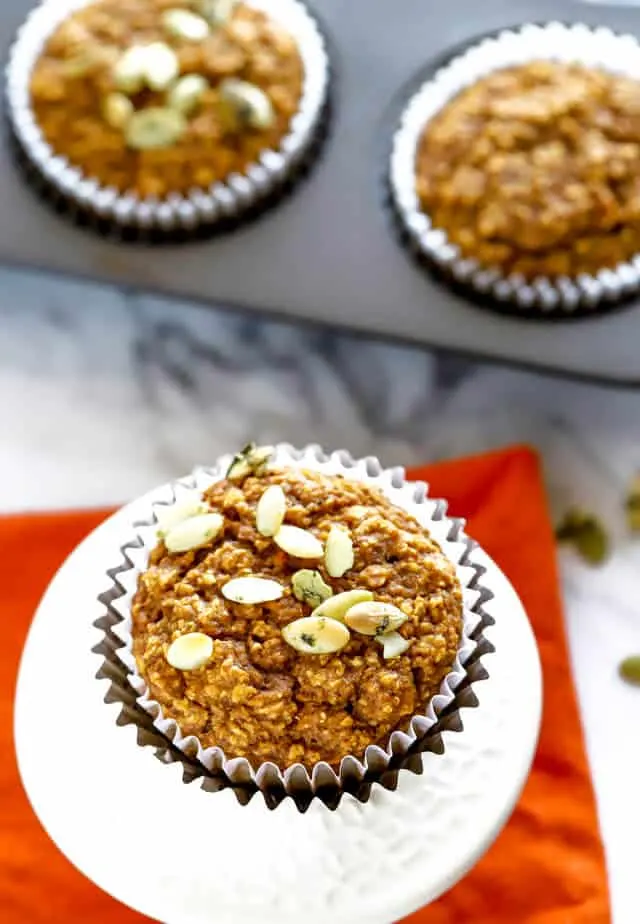 Healthy Pumpkin Muffins
The term "healthy" means something different to each person, so even though these gluten free pumpkin muffins are healthy to me, you may have other standards. I get it. We all make choices that work for our bodies.
Baking without refined flour and granulated sugar is a step in the healthy direction for me. Using plant based milk rather than traditional milk is another positive step for me in the healthy frame of mind.
Maple syrup causes similar swings in blood sugar and insulin. I am not claiming that it is the healthiest option but, again, it is a step in the right direction.
What steps do you take on your journey in healthy eating?
Healthy Pumpkin Muffin Recipe:
Yield: 12
Healthy Pumpkin Muffins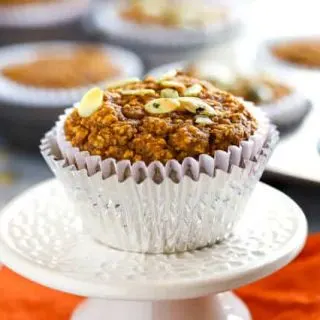 Healthy pumpkin muffins are gluten free, oil free, sugar free, and dairy free. Enjoy!
Ingredients
1 cup pumpkin puree
1/4 cup pure maple syrup
1/2 almond milk (traditional milk may be substituted)
2 eggs
2 cups gluten free old fashioned rolled oats
2 teaspoon baking powder
1 teaspoon baking soda
2 teaspoons pumpkin pie spice
optional: 1/4 cup pumpkin seeds
Instructions
Preheat oven to 350 degrees F.
Line a 12-tin muffin pan with muffin cups.
Mix the wet ingredients of pumpkin puree, maple syrup, almond milk, and eggs in a large bowl. Whisk together until well blended.
In a food processor pulse the two cups of gluten free oats until they are finely ground like a flour. Add the baking powder, baking soda, and pumpkin pie spice. Pulse a few times until the dry ingredients are well incorporated.
Add the dry ingredients to the bowl of wet ingredients and fold together. Scoop the batter into the 12 muffin cups. Sprinkle pumpkin seeds on top of the batter if desired.
Bake for 18-20 minutes. Remove and let cool on a wire cooling rack.
Notes
Bake a batch and freeze the muffins. 20 seconds in the microwave heats them up beautifully!
Nutrition Information:
Yield:
12
Serving Size:
1
Amount Per Serving:
Calories:

108
Total Fat:

3g
Saturated Fat:

1g
Trans Fat:

0g
Unsaturated Fat:

1g
Cholesterol:

33mg
Sodium:

212mg
Carbohydrates:

18g
Fiber:

2g
Sugar:

5g
Protein:

4g
This data was provided and calculated by Nutritionix and is an estimate only.
Bake more recipes this autumn with pumpkin, apple, and maple flavors!
We are a participant in the Amazon Services LLC Associates Program, an affiliate advertising program designed to provide a means for us to earn fees by linking to Amazon.com and affiliated sites.
Pin this recipe to make later!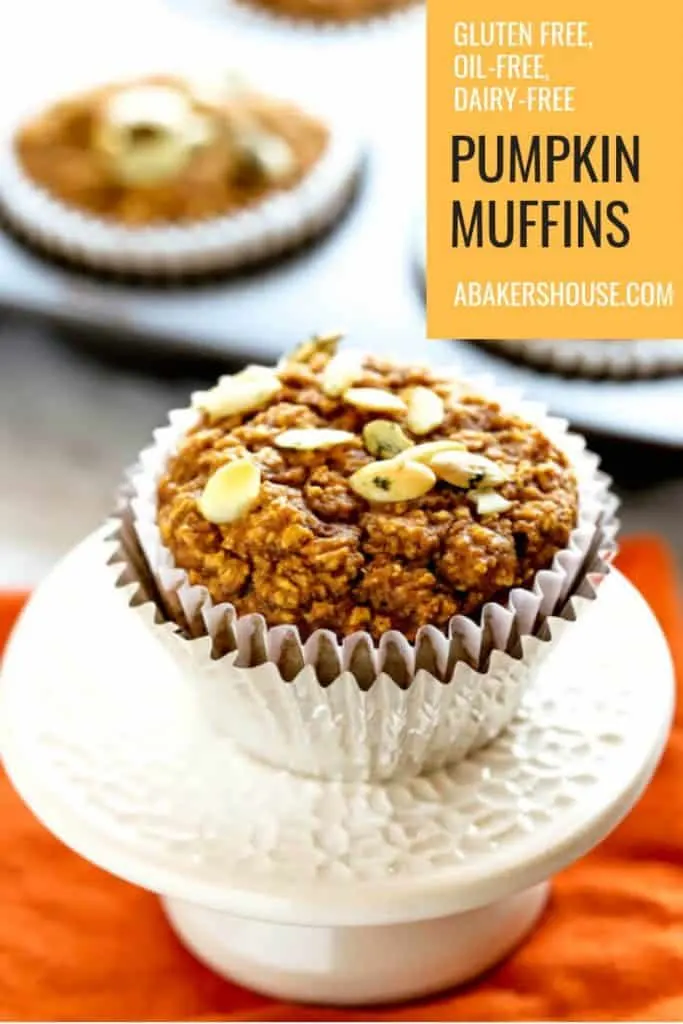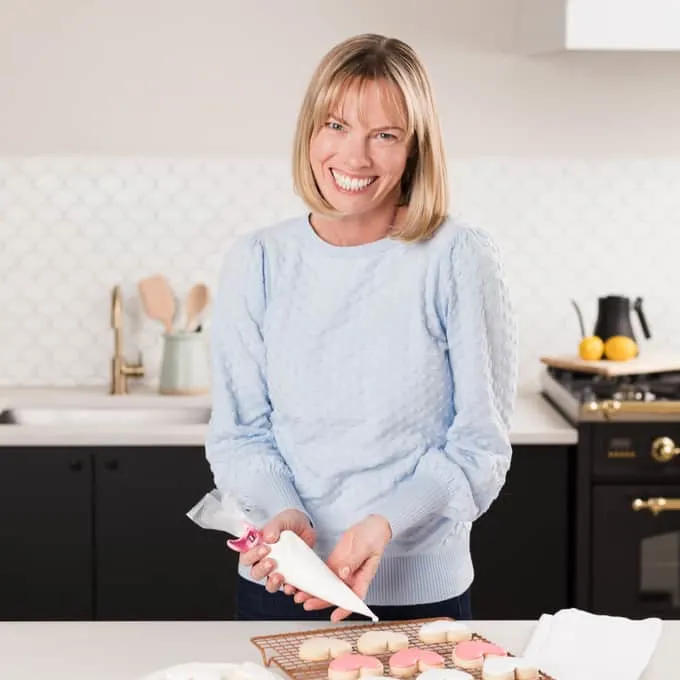 Holly Baker started the food blog, A Baker's House, in 2011. She is the writer, recipe creator, and photographer for the site. Holly loves to bake and shares recipes for gluten free food, canning recipes, as well as traditional desserts too. Her recipes and food photography have been highlighted by BuzzFeed, Reader's Digest, and She Knows.