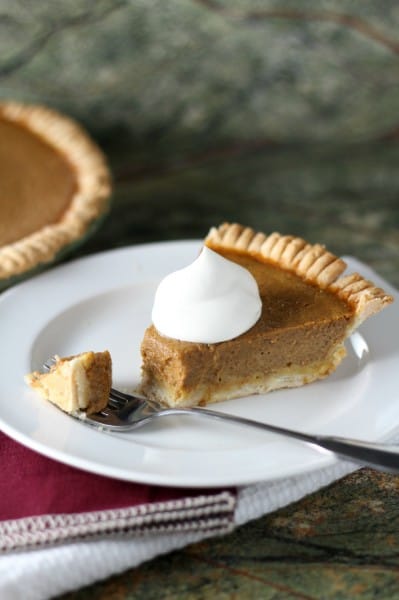 Gluten Free Pumpkin Pie will satisfy your dessert cravings this holiday. Thanksgiving brings people together to share a meal– bring on the turkey, the stuffing, the cranberries and the pie! It sounds wonderful (and is!) until you realize that blending a diverse group of people means catering to a variety of dietary needs.  Whether it is picky eaters, allergies, gluten free, vegan, low cholesterol, low carbs, high protein…oh the list goes on. While it might be tricky to have a meal in which everyone can eat everything on the table, it is possible to make sure that each person has a choice of a balanced meal at the Thanksgiving table.
You don't have to be a restaurant chef in a kitchen full of sous chefs to pull meal off. Make a list of what you are comfortable cooking and baking at home then check with your guests to see what their specialties may be; people love to feel part of the Thanksgiving meal by bringing food along. It is just part of the giving feeling of the occasion. To finish off your list go to Whole Foods to get side dishes like vegan mashed potatoes , green beans with caramelized shallots, and autumn couscous– you name it and they can help you with your Thanksgiving meal needs. Their list of recipes online offers a library of ideas.
I made this gluten free pumpkin pie and used a gluten free crust from Glutino that I bought at #WholeFoods. Glutino has been in business for 30 years and is apart of the Colorado companies known as Boulder Brands. I found their pie crusts, stuffing and cornbread on the shelves this week and found that these products will satisfy everyone at your table, not just your gluten free friends.
Print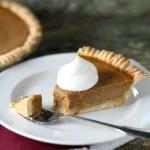 Gluten Free Pumpkin Pie
---
Ingredients
3/4 cup packed brown sugar
1 tablespoon pumpkin pie spice
1/4 teaspoon salt
3 eggs
1 (15-ounce) can pumpkin purée or 1 3/4 cups cooked pumpkin
1 cup half-and-half
1 (9-inch) unbaked pie shell (in pie pan) I used Glutino's Perfect Pie Crust
---
Instructions
Prepare your pie crust in a 9 inch pie dish. Cover with plastic wrap and refrigerate the empty pie crust for at least 30 minutes.
Preheat oven to 375°F.
In a large mixing bowl, stir together brown sugar, pumpkin pie spice and salt.
Whisk in eggs, then add pumpkin, whisking it in completely. Gently whisk in half-and-half, then pour filling into unbaked pie shell and bake for 45 minutes, or until set.
---
Notes
Recipe source: Whole Foods website:
http://www.wholefoodsmarket.com/recipe/traditional-pumpkin-pie
#WholeFoods wants to offer one reader a $25 gift card to use for your shopping at Whole Foods Market this holiday season. Will you try a new product or buy your old favorites?  Giveaway previously ended.
This post is sponsored by Whole Foods. I participate in the Whole Foods Brand Ambassador program. All opinions are my own. Products from Whole Foods were provided to me free of charge but no monetary compensation was given.