How do you celebrate Halloween? All out with your house decorated with spider webs and skeletons or are you happy when the last trick-or-treater walks away from your front door. I've never been someone who got in to dressing up for Halloween. As a child, of course, I dressed up and my parents made it a fun night, but I could really do without the masks, the wigs, and the face paint.
What I do love about Halloween, though, is that it is a reason to bake and to create treats along the playful theme of spooky fun and all things pumpkin. Try these 7 Halloween ideas that I've shared on A Baker's House. Tag me on Instagram @abakershouse to show me your Halloween fun!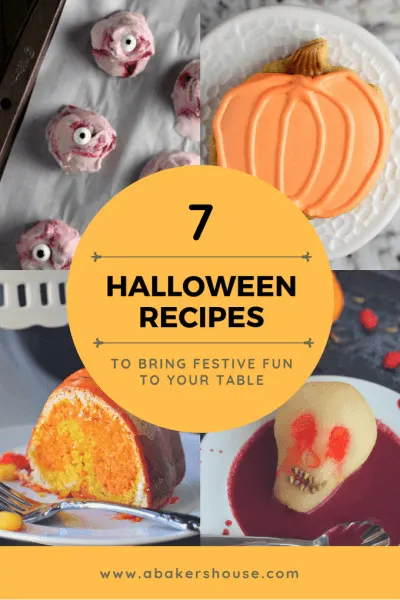 Ice cream scoops do all the work here to bring this spooky eye ball root beer float to life. Find a red or pink ice cream to create a bloodshot look, then add an edible "eyeball" like these mini eyeball candies from Wilton.
As an Amazon Associate I earn from qualifying purchases.
Drop a few ice cream eyeballs into a tall glass and pour the root beer. Let your root beer float bubble over and add to the Halloween spooky vibe!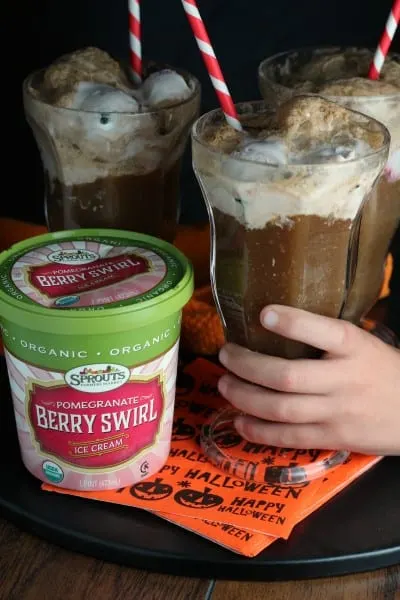 Pumpkin butter makes a great filling in these pumpkin macarons. Pumpkin pie spice adds to the flavor of the macaron shells and, watch out, you might just eat the pumpkin filling with a spoon!
Use food-safe pens to draw your scariest (or happiest!) jack-o-lantern on top.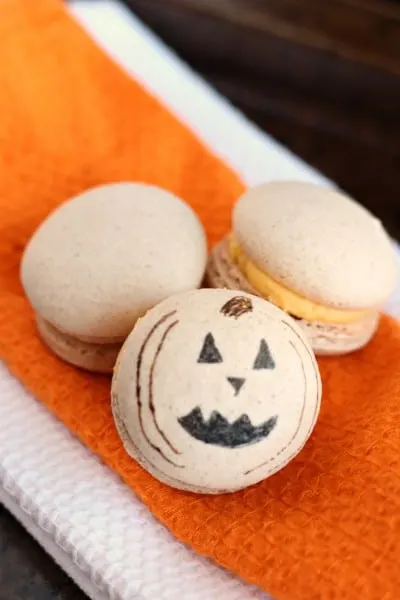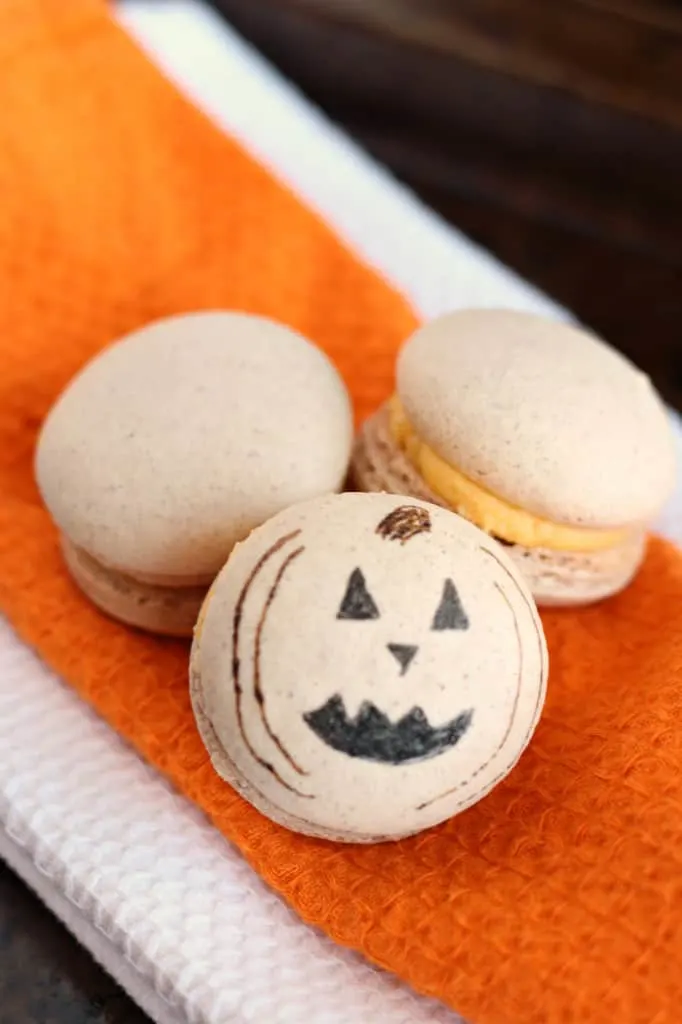 I can't look at these poached pear skulls without smiling. Who goes to the grocery store looking for photogenic food? Me! These pears were so pretty and fresh. Originally I had another direction in mind until I happened to run into a friend while I was grocery shopping and she offered the idea of skulls for these pears. She was spot on. Sunflower seeds create the teeth and red candies fill in for bloody eyeballs.
Poached pears are a healthy dessert option and the fruity berry sauce is an ideal match.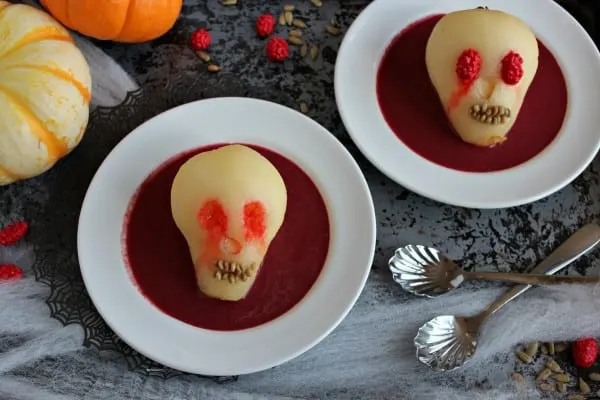 Candy corn is addicting and I have trouble resisting it. Thank goodness it is only out in bulk for a few months a year! This bundt cake is a festive reflection of the triple-colored candy. Food coloring creates the layers of color in the cake and candy corn is melted down to develop a glaze.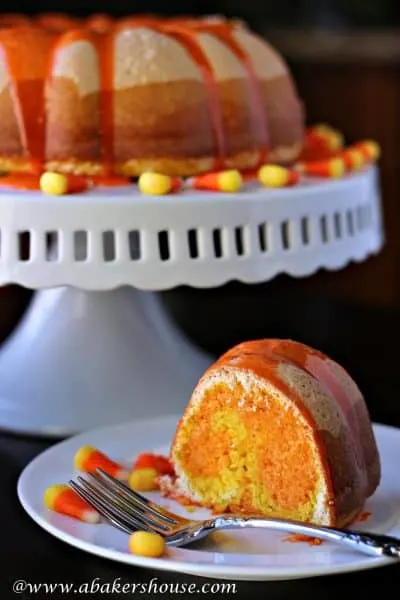 Let's take a step back from all of the Halloween sugar and try a Halloween recipe that is based on fruit. This pumpkin fruit leather is an ideal snack for the young and the young at heart who recall the sticky roll ups in lunch boxes from years ago.
Make shapes with cookie cutters like this pumpkin cookie cutter to add to the celebration! Cut out eyes and a smile for your fruit leather pumpkin jack o lantern!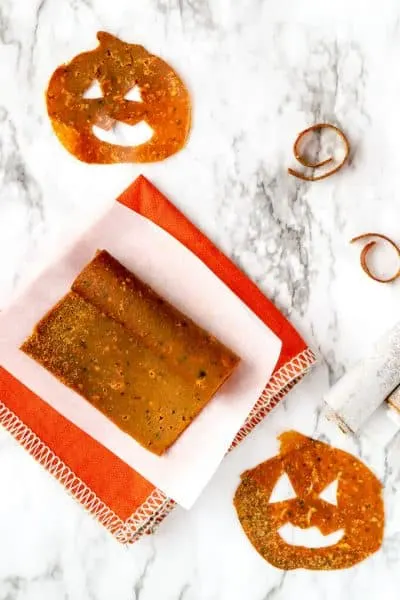 A little pumpkin pie spice goes a long way in the dough of these snickerdoodle cookies. A sugar and spice coating is applied before baking too, making these a great cookie for Halloween parties. Try them with your morning pumpkin spice latte!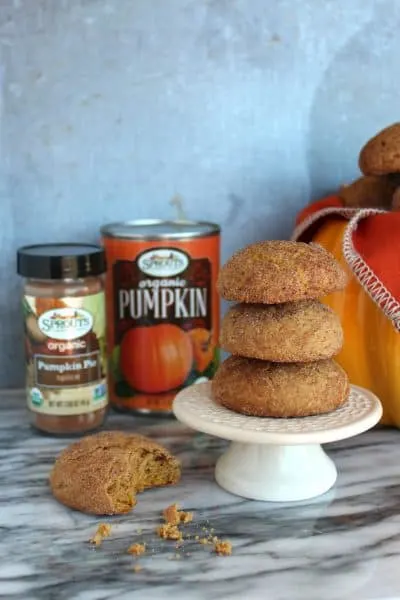 Let's round out this line up of Halloween recipes with a traditional cut out cookie that is spiced up with pumpkin pie spice. Pumpkin pie spice is a mixture of cinnamon, ginger, cloves and nutmeg. You can buy it in a spice jar or make your own mix at home. A sweet touch of orange icing gives these pumpkin cookies a party-ready finish!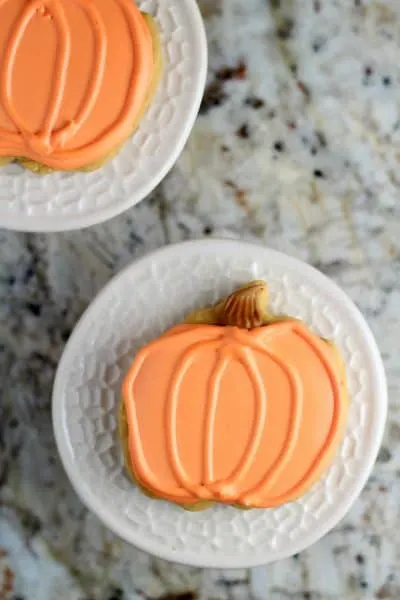 And here is a BONUS Halloween idea:
Adorable and simple meringues are turned into Ghost Cookies with simple chocolate additions.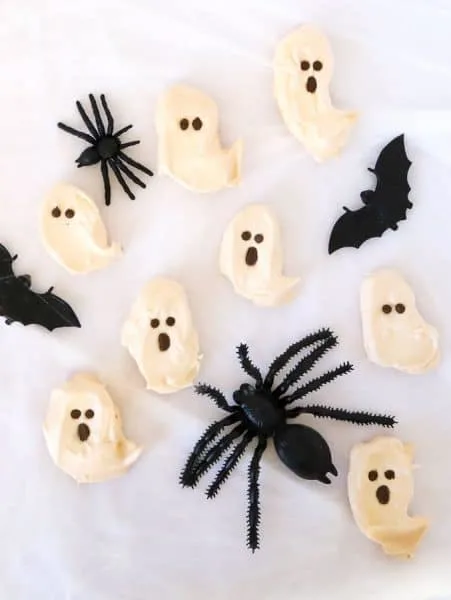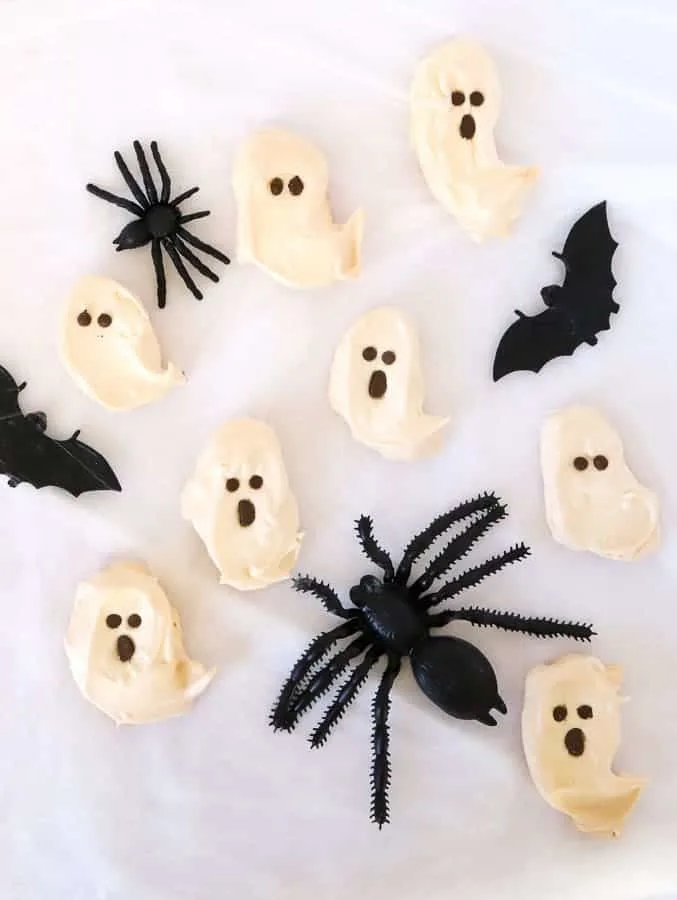 Let me know what Halloween recipes you'll bake this season! So many of these ideas can transition right through autumn into Thanksgiving. You may find some of these cookies on my Thanksgiving dessert buffet table too.
Happy Halloween!
We are a participant in the Amazon Services LLC Associates Program, an affiliate advertising program designed to provide a means for us to earn fees by linking to Amazon.com and affiliated sites.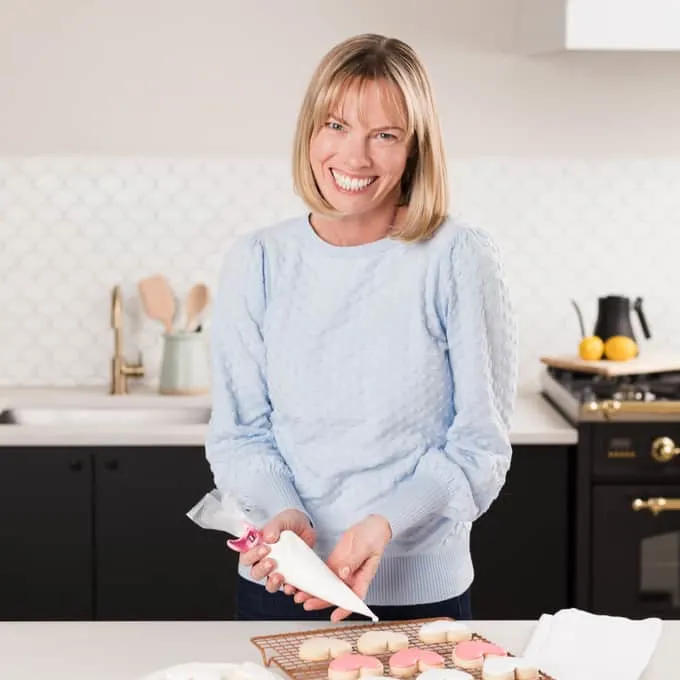 Holly Baker started the food blog, A Baker's House, in 2011. She is the writer, recipe creator, and photographer for the site. Holly loves to bake and shares recipes for gluten free food, canning recipes, as well as traditional desserts too. Her recipes and food photography have been highlighted by BuzzFeed, Reader's Digest, and She Knows.