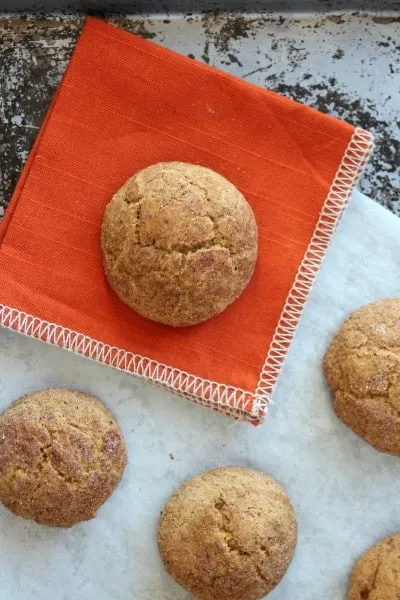 These Pumpkin Snickerdoodles are made in partnership with Sprouts. Welcome the change of seasons with this Pumpkin Snickerdoodle: a soft, sugar cookie dough is accented with pumpkin puree and pumpkin pie spice then rolled in a sweet coating of sugar and spice. Yes, pumpkin pie spice truly does make everything nice!
It's time to embrace the season of pumpkin– pumpkin picking, pumpkin spiced drinks, pumpkin bread…the list goes on and on. I am not the type to overindulge on all pumpkin treats but one or two dotted throughout October and November really convince me that I am changing my flavors along with the seasons. These cookies hit the spot with the pumpkin puree in the dough and the pumpkin pie spice with sugar rolled on the outside. They are like a dressed up snickerdoodle– think of it as a snickerdoodle in its Halloween costume. Perfect for this month!
Here are the ingredients I baked with from Sprouts. Click through to see the recipe.
¾ cup Sprouts brown sugar
¼ cup Sprouts white granulated sugar for the dough plus 2 Tbsp. sugar for the coating
½ cup Sprouts unsalted butter
2 Sprouts Cage Free Organic Eggs
½ cup Organic Pumpkin
2 ¼ cup Sprouts white flour
1 tsp. Sprouts baking powder
¼ tsp. salt
1 Tbsp. Sprouts organic pumpkin pie spice, separated into 2 tsp for the dough and 1 tsp for the coating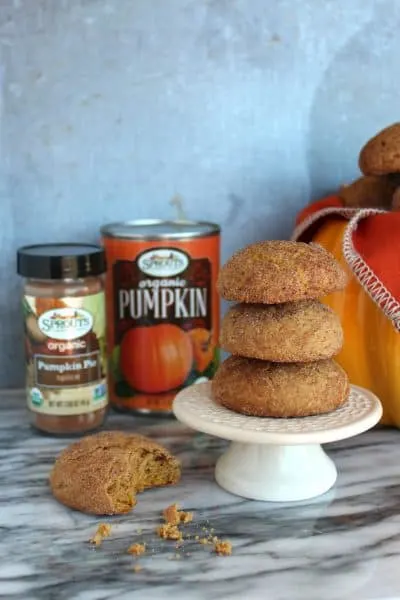 Try these pumpkin recipes!
Please note that this is a sponsored post. I developed this recipe in partnership with #Sprouts Farmers Market; ingredients were purchased at my local Sprouts store. I was compensated for my participation and all opinions are my own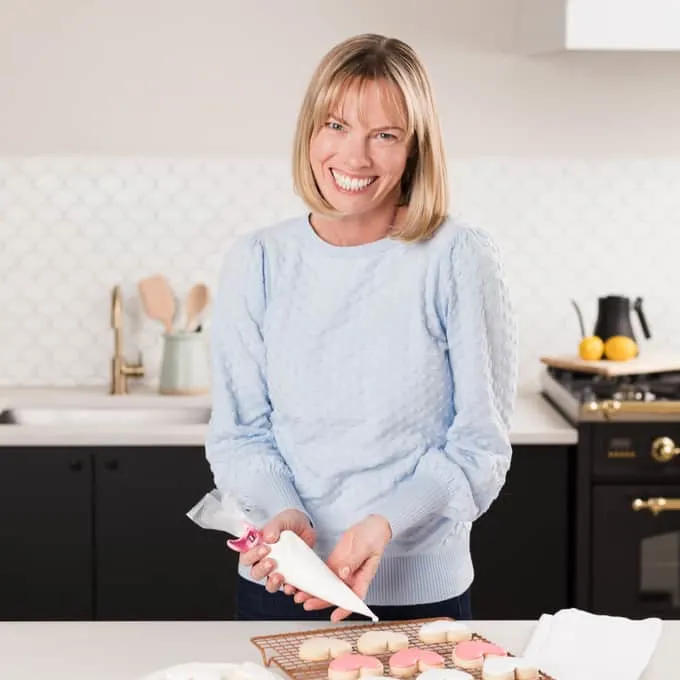 Holly Baker started the food blog, A Baker's House, in 2011. She is the writer, recipe creator, and photographer for the site. Holly loves to bake and shares recipes for gluten free food, canning recipes, as well as traditional desserts too. Her recipes and food photography have been highlighted by BuzzFeed, Reader's Digest, and She Knows.