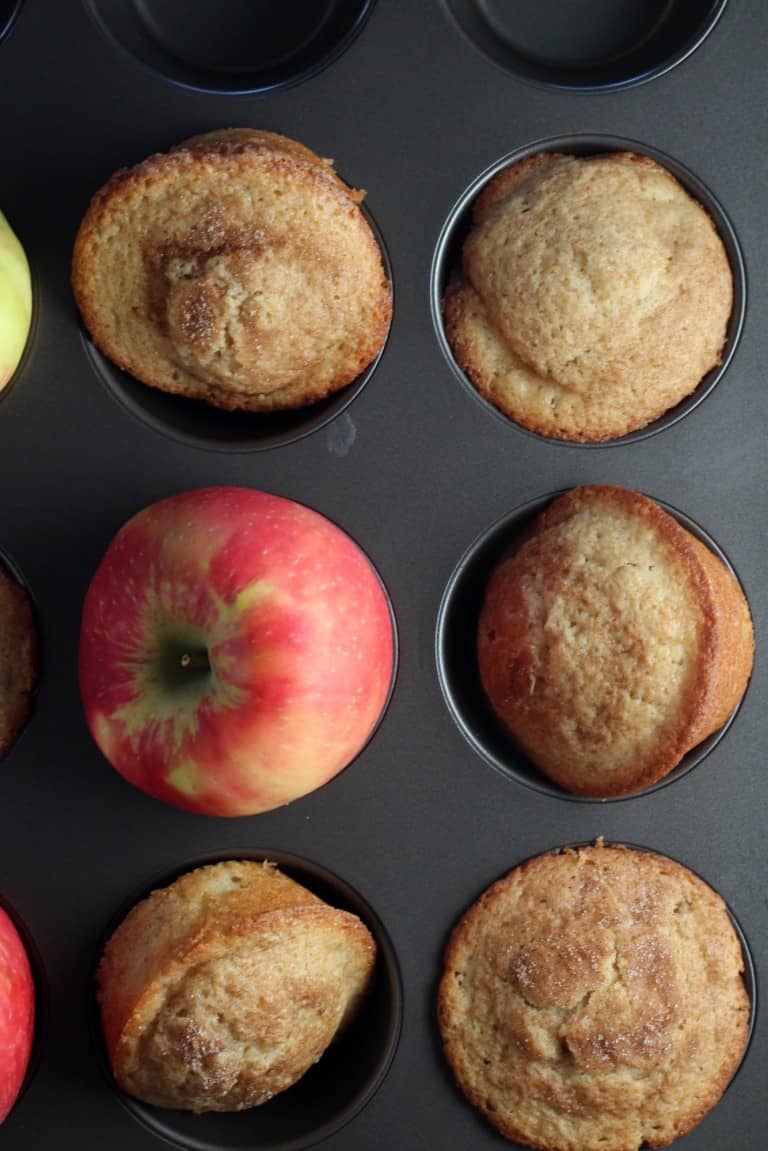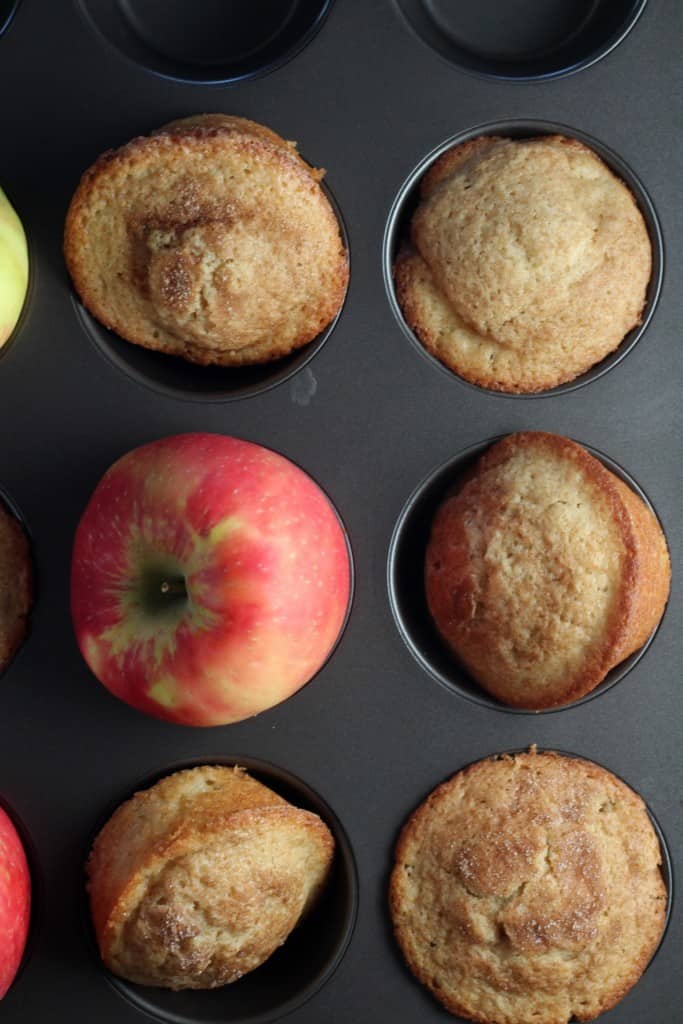 Apple cider muffins highlight one of my favorite fall treats– cider which is best enjoyed after a hayride and apple-picking. Apple desserts are a favorite part of autumn too. These baked apples are a healthy option for dessert.
These muffins are loaded with apples and flavored with apple cider to bring out the best in your fall baking. The warm smell of cinnamon fills the kitchen as these muffins bake. Mine did not rise as much as I would have expected but that could be due to my altitude here in Denver.
I usually try a recipe once following the ingredient list precisely and then the next time I bake the same I will make small changes that seem to help at a mile above sea level: slightly more flour, slightly less sugar, adjust the baking powder or soda, and sometimes changing the temperature helps as well.
For now I was happy with the taste of the muffins so an instant re-do wasn't required. I especially liked how fresh apples were incorporated into the dough as they were found in every bite of these baked treats.
Yield: 18 muffins
Apple Cider Muffins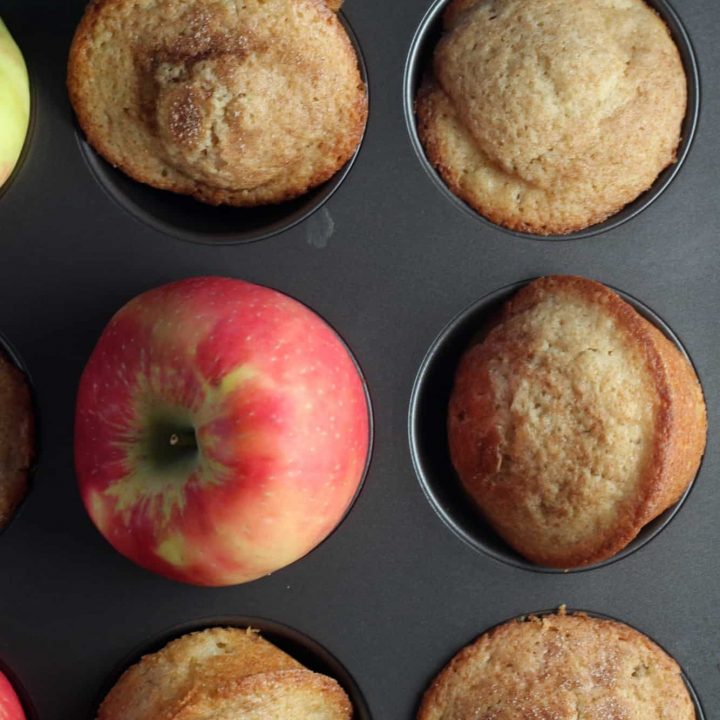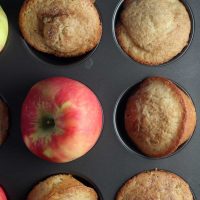 Apple Cider Muffins are loaded with apples and flavored with apple cider to bring out the best in your fall baking. The warm smell of cinnamon fills the kitchen as these muffins bake.

Prep Time 12 minutes

Cook Time 22 minutes

Total Time 34 minutes
Ingredients
1/2 cup butter
3/4 cup sugar
2 eggs
2 cups flour
2.5 teaspoons baking powder
3/4 teaspoon salt
1 1/4 teaspoons cinnamon
1 cup apple cider
1 cup apple, (about 2-3 apples, peeled, cored and chopped)
Instructions
Preheat the oven to 375 degrees F.
Prepare a 12-muffin tin with baking spray or muffin paper liners.
Beat the butter and sugar until well blended. Add the eggs one at a time and continue to beat until incorporated.
In a separate bowl gently whisk the flour, baking powder, salt and cinnamon.
Add the dry ingredients in three parts, alternating with a half cup of cider each time (such that begin and end with the dry ingredients). Stir gently. Fold in the apples.
Use an ice cream scoop to divide the batter into the twelve muffin cups.
Optional: combine 2 tablespoons of sugar with 1 teaspoon of cinnamon then sprinkle it over the top of each muffin before baking.
Bake for 20-22 minutes and let the muffins cool in the tin before removing.
Notes
Original recipe can be found here: https://newengland.com/today/food/breads/apple-cider-bread-or-muffins/
Nutrition Information:
Yield:
18
Serving Size:
1 muffin

Amount Per Serving:

Calories: 162 Total Fat: 6g Saturated Fat: 3g Trans Fat: 0g Unsaturated Fat: 2g Cholesterol: 34mg Sodium: 206mg Carbohydrates: 26g Fiber: 1g Sugar: 14g Protein: 2g

This data is provided by Nutritionix and is an estimate only.

This month the #BreadBakers are baking bread with fall fruits and vegetables, for example, apples, grapes, pears, sweet potatoes, cauliflower, broccoli, acorn squash, butternut squash etc. Our host of the month is Pavani at Cook's Hideout. Check out what the Bread Bakers have come up with Fall Fruits & Vegetables:
#BreadBakers is a group of bread loving bakers who get together once a month to bake bread with a common ingredient or theme. You can see all our of lovely bread by following our Pinterest board right here. Links are also updated after each event on the #BreadBakers home page.
We take turns hosting each month and choosing the theme/ingredient. If you are a food blogger and would like to join us, just send Stacy an email with your blog URL to [email protected].
Pin with me!