Maple Candied Pecans are sweet, nutty, and irresistible! Eat these easy candied pecans by the handful, add them to a cheese plate, or toss a few maple glazed pecans on a salad.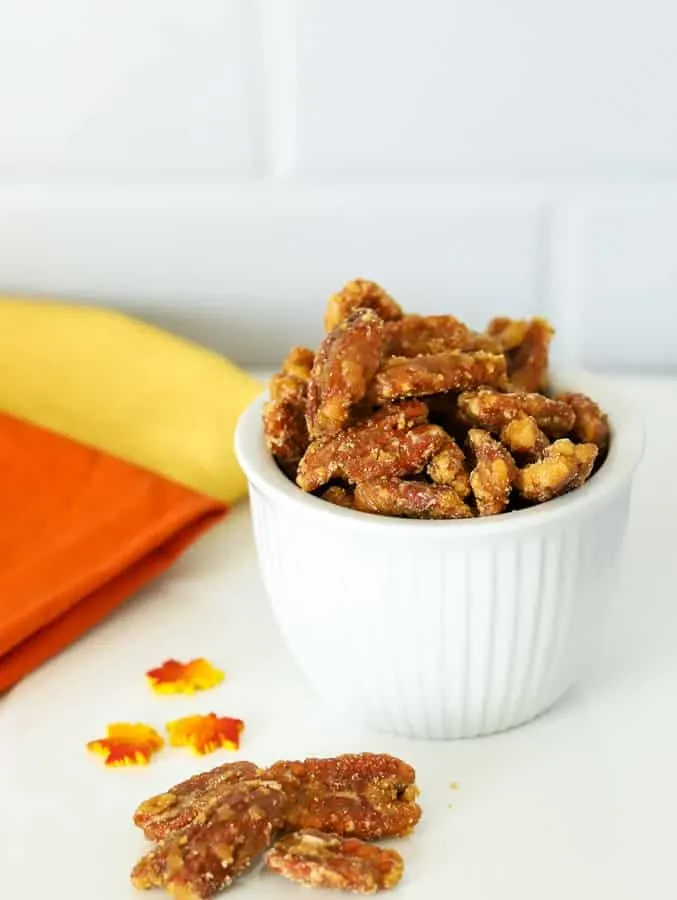 This post is sponsored by Sprouts Farmers Market. I appreciate the opportunity to share recipes made with ingredients from brands I trust and support. All opinions are my own and do not necessarily reflect those of Sprouts Farmers Market. #sponsored
What are candied pecans?
Candied pecans are pecans that are coated with a sweet glaze. In this recipe for candied pecans we use maple syrup. Other options for sweetners are brown sugar, granulated sugar, honey or coconut sugar.
Candied pecans or glazed pecans can be made on the stovetop or in the oven. I prefer the stovetop method so that you have better control in the cooking process. It helps to stir the nuts the entire time and the stovetop gives you visual and aromatic clues to tell you when your sweetened pecans need to be removed from the heat.
Also called sugared pecans, this sweet treat is popular around the holidays and makes an excellent homemade gift.
How to make Maple Candied Pecans on the Stovetop
This two ingredient recipe can be made in less than 20 minutes. Here are the steps to make candied nuts of any kind.
Cover a baking tray with parchment paper.
Pour the maple syrup over the nuts in a medium large saute pan. Stir to coat.
Turn heat on medium low and reduce the maple syrup down until no liquid remains. Stir continuously.
Remove the nuts from the heat and immediately spread on the parchment lined baking tray. Separate the nuts with spatulas and cool to room temperature.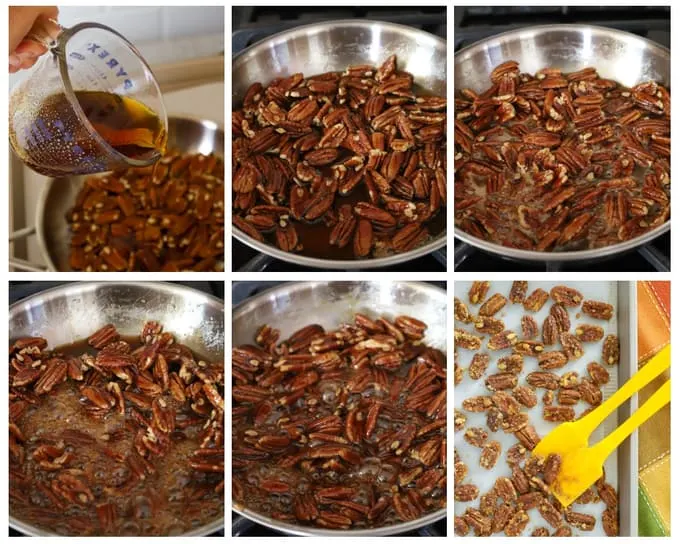 Look carefully at the step by step photos to notice the change in bubbles as the maple syrup reduces.
At first the simmer will produce small bubbles which then become a bit more intense. Even the sound of the bubbles changes as the process moves along.
Next look for quieter, larger bubbles. At the end nearly all of the excess liquid will evaporate (keep stirring!) and you'll be able to spread the nuts out on the parchment paper to let them cool.
Variations on Candied Pecans
Pure maple syrup lends a seasonal flavor to these pecans. So perfect for the autumn!
If you want to switch up the flavors there are two steps you can try. First, you can add spices to the maple syrup while the pecans cook on the stovetop. Second, you can toss sugar and spices with the warm pecans as soon as you take them off the heat.
Suggested additions to your candied pecans:
cinnamon and sugar
cayenne pepper
chipotle powder
espresso powder (use only a small amount)
pumpkin pie spice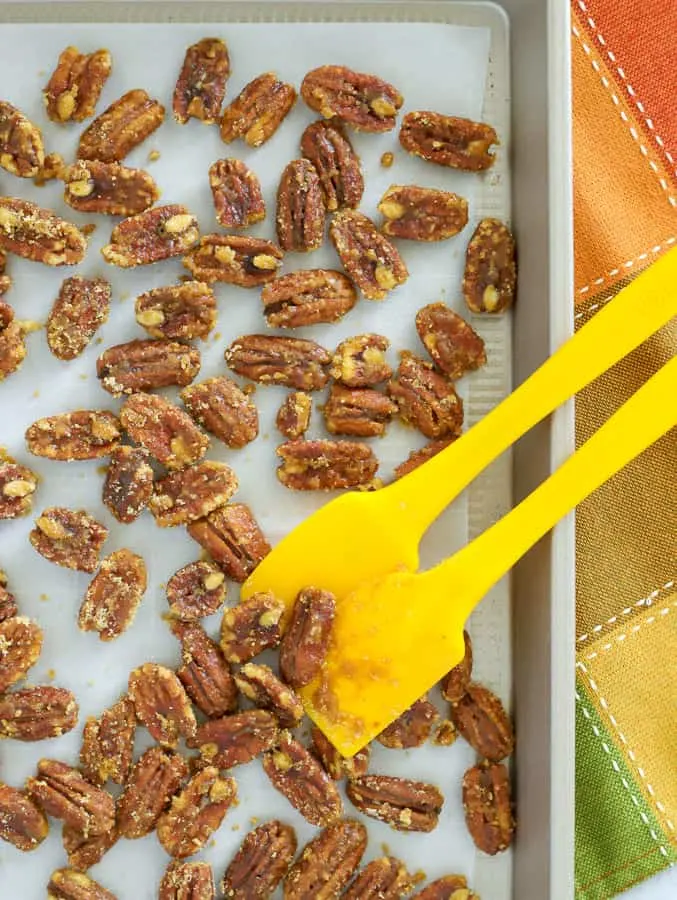 Shopping at Sprouts Farmers Market
What do you love about shopping at Sprouts Farmers Market?
As soon as I enter Sprouts it is the colors and the inviting way the fresh foods are displayed that catch my attention every time. Options are plentiful and there is always a helpful Sprouts employee nearby if I need help locating an item.
Organic options are especially important to me and this organic maple syrup is a great example. High quality, organic ingredients are the norm at Sprouts. We love this maple syrup on pancakes, waffles, and in baking recipes too.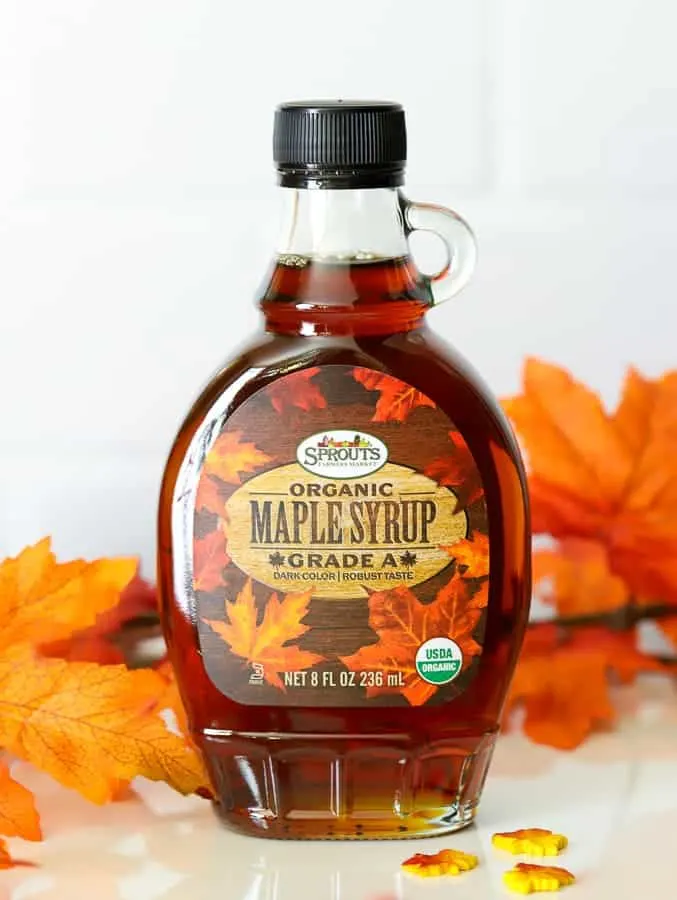 Yield: 16 servings
Maple Candied Pecans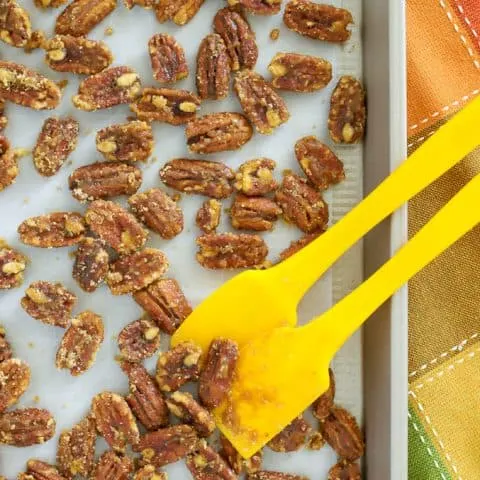 Two ingredients make the easiest maple candied pecans.
Ingredients
2 cups raw pecan halves
½ cup Sprouts Organic Maple Syrup
Instructions
1. Line a baking sheet with parchment paper. Set aside.
2. Mix the pecans with Sprouts Organic Maple Syrup in a medium sauté pan. Stir to coat completely.
3. Turn the heat to medium low and bring the syrup to a low simmer. Continue to stir for 10-15 minutes or until the liquid evaporates. The bubbles will change from small, to more intense, to a bit larger, and then will disappear as the liquid evaporates.
4. Remove from the heat and immediately spread on the parchment lined paper. Use two spatulas to separate any pecans that are stuck together. Let cool.
5. Store in mason jars or any other air-tight container.
Notes
1. If you wish to when the nuts are still warm, toss the nuts with 1/2
teaspoon cinnamon & ½ teaspoon sugar for a sweeter bite or with ½ teaspoon of cayenne powder OR chipotle powder for a spicy bite.
2. Use any variety of nuts—walnuts are perfect for candied nuts too.
Nutrition Information:
Yield:
16
Serving Size:
1/8 cup
Amount Per Serving:
Calories:

93
Total Fat:

9g
Saturated Fat:

1g
Trans Fat:

0g
Unsaturated Fat:

8g
Cholesterol:

0mg
Sodium:

0mg
Carbohydrates:

3g
Fiber:

1g
Sugar:

1g
Protein:

1g
This data is provided by Nutritionix and is an estimate only.
How to use Maple Candied Pecans
eat by the handful. Seriously. Nothing else needed.
substitute for croutons on a salad
crumple over ice cream
layer with Greek yogurt
use as a cheesecake topping
fill mason jars and give as a homemade gift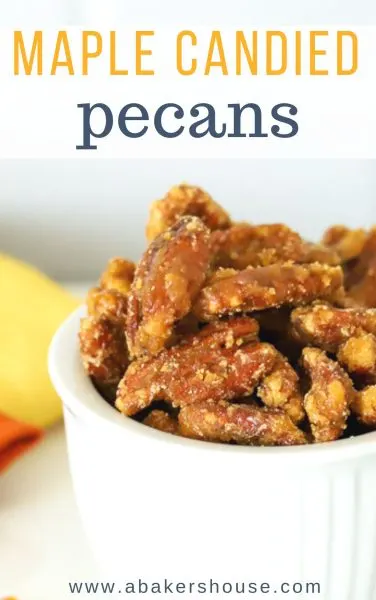 Looking for more maple recipes? Try these!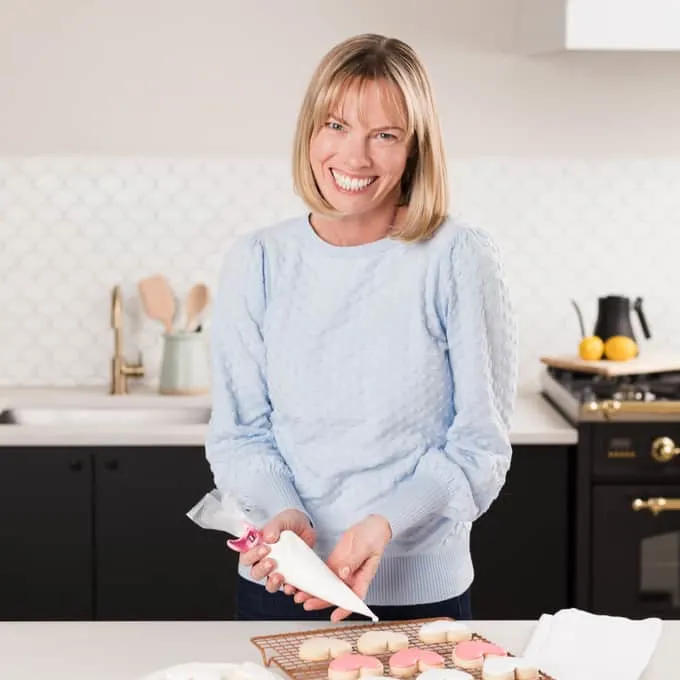 Holly Baker started the food blog, A Baker's House, in 2011. She is the writer, recipe creator, and photographer for the site. Holly loves to bake and shares recipes for gluten free food, canning recipes, as well as traditional desserts too. Her recipes and food photography have been highlighted by BuzzFeed, Reader's Digest, and She Knows.