Wojapi is an Native American berry sauce that I first tried with fry bread at the restaurant, Tocabe. Think of "jam" just to get you in the frame of mind but this wojapi is not a sweet, sugary jam. You'll taste the berries, not sugar. Adding sugar may not even be necessary, depending on the sweetness of your berries.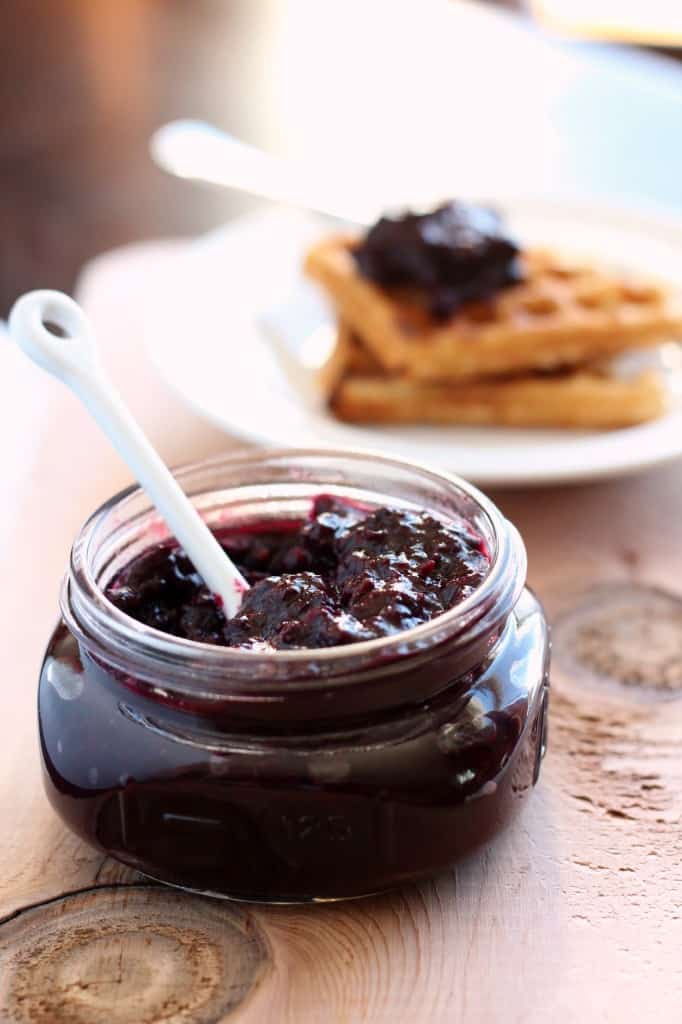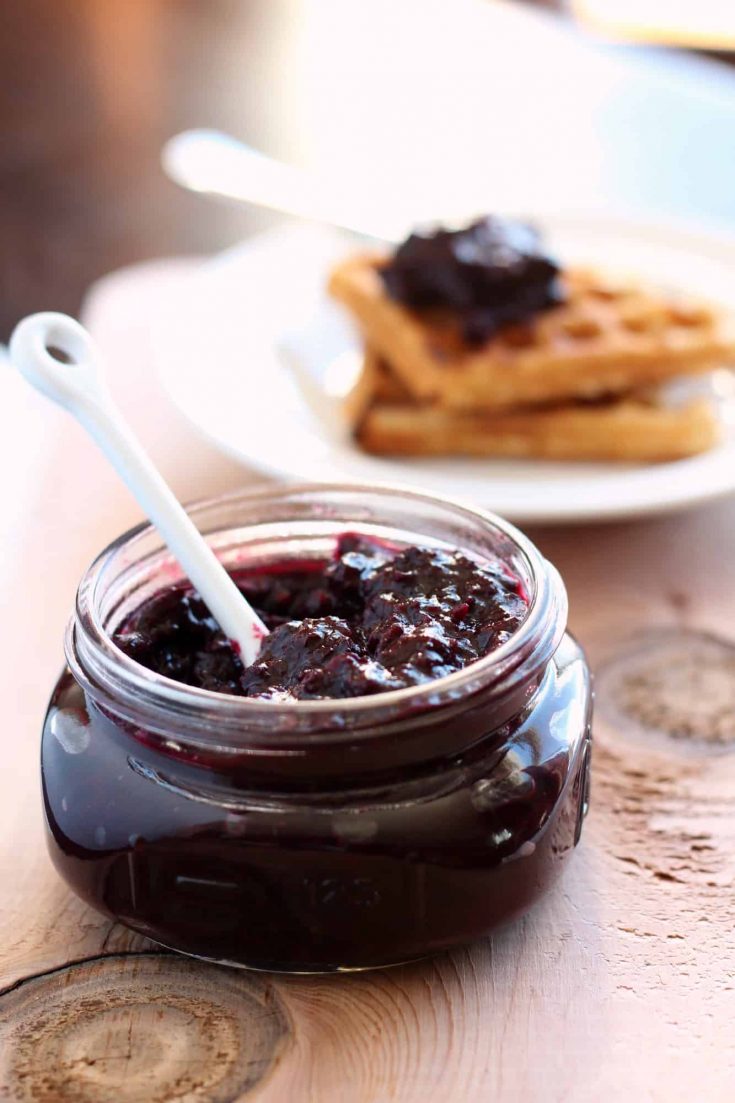 What is wojapi?
The definition of wojapi is a Native American berry sauce. Traditional wojapi can be made with chokeberries, blueberries, huckleberries and/or blackberries that sometimes may be as thick as pudding or with a consistency of jam. A bit of sugar or honey may be added but the highlight of this sauce is the berries, not the sweetener.
This wojapi is made with frozen berries: cherries, blueberries, and cranberries as well as a touch of honey.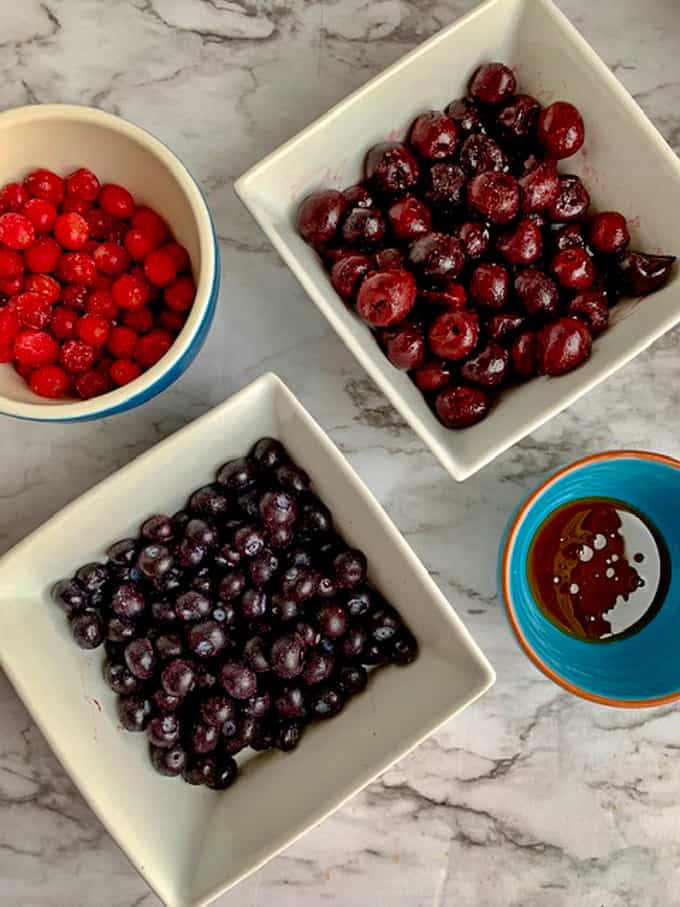 How do you make wojapi?
To make wojapi, cook the berries down slowly to the point that the mixture has a thick texture.
Put the berries in the crock pot
Cook in the crock pot for 3 to 4 hours on low
Puree the mixture with a hand-held immersion blender.
Here are the berries — put the frozen berries directly i
nto your Instant Pot
or
Crock Pot.
No need to defrost.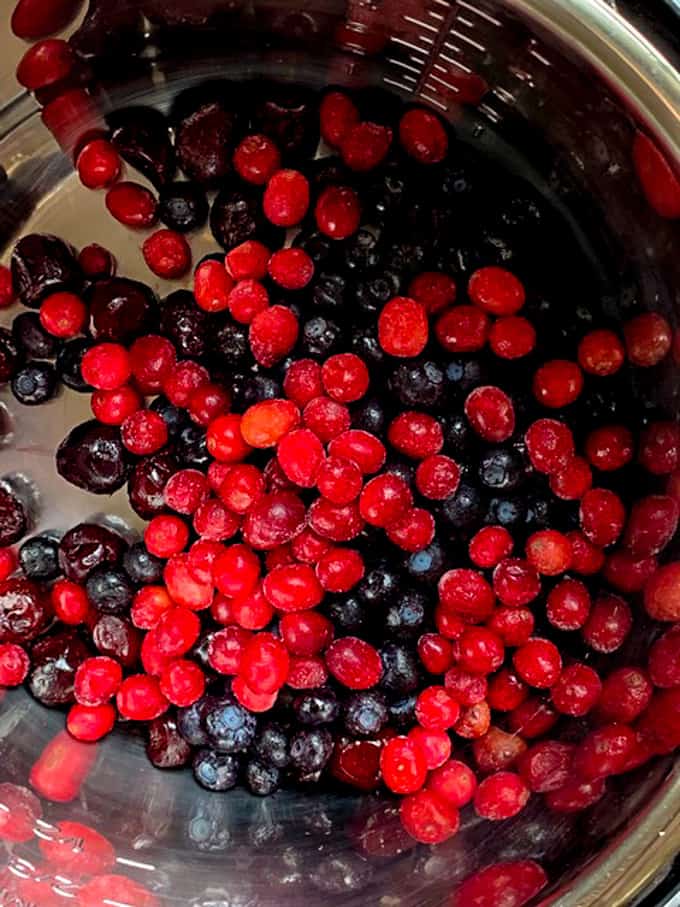 After three hours the berries are cooked and ready. Juicy and fragrant. I find the Instant Pot works well on the crock pot mode. Medium heat for three hours worked well. This is a flexible recipe. Three hours on low in the crock pot is perfect too.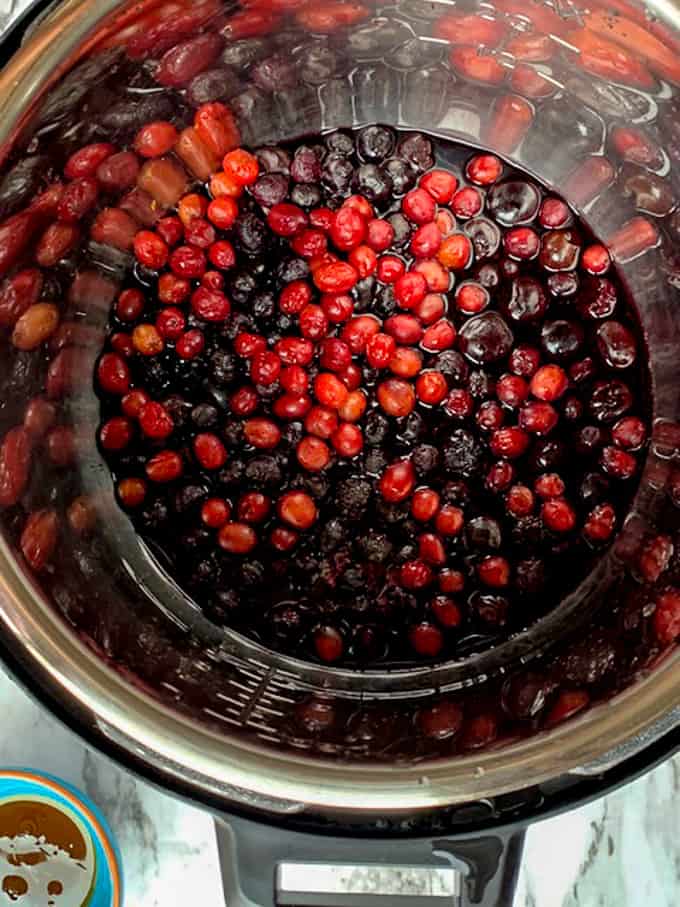 Now you may add the honey if you wish to sweeten your berries. Puree with an immersion hand held blender. A Vitamix or other blender would work well too.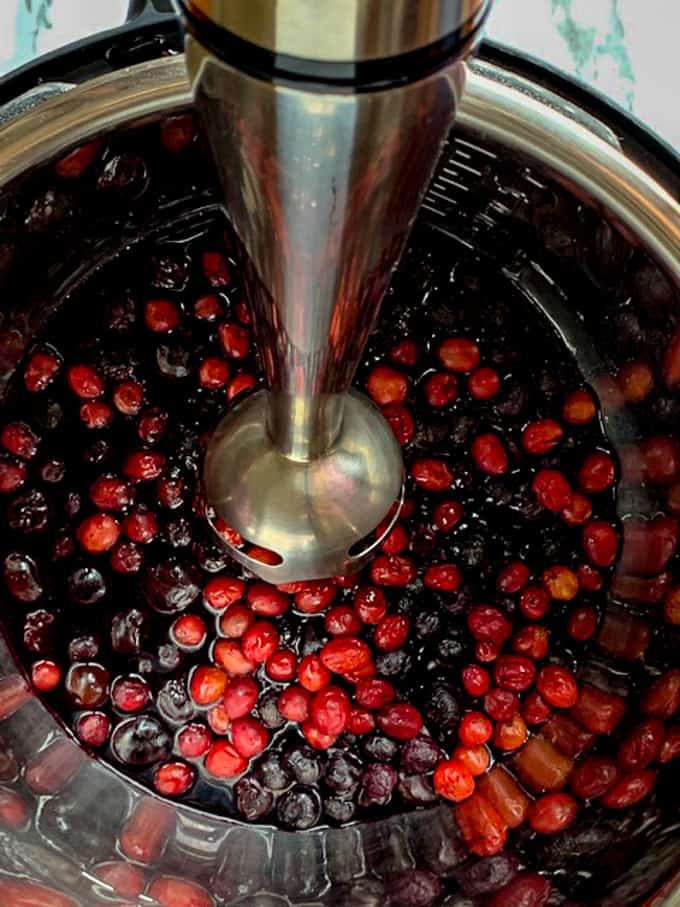 And there it is– the finished berry sauce. You may puree this to be completely smooth similar to this cranberry butter. Or I prefer wojapi with half to three quarters of the berries pureed and some still intact.
How do you use wojapi?
Wojapi can be used as topping for bread, waffles, pancakes, ice cream, or the way I was introduced to this sauce at Tocabe, as a topping for fry bread. Fry bread is a Native American food that is a real treat. I need to petition Tocabe to make a gluten free version so that I can enjoy it again!
Are you wondering how to pronounce wojapi? It seems that w0-za-pee is accepted as correct.
Where is Tocabe restaurant?
Tocabe is a restaurant that serves Native American food. It has two locations in and around Denver. I visited the Greenwood Village location with three other food bloggers and we were treated to an impressive meal and, even better, the background of how this unique restaurant concept came to be.
The restaurants are owned by Matt Chandra and Ben Jacobs. Ben and his family are tribal members of the Osage Nation which is located in Oklahoma. Ben's brother, Jon, spoke with us at length sharing the family history and the connection to the food of their tribe.
Tocabe brings the strong tradition of and the pride in their Native American culture into a modern day restaurant that serves lunch and dinner. Tocabe has been featured on the Food Network and draws both local customers and those visiting Denver. It is well worth your time to stop in for a meal.
But this is not a restaurant review (if it were, I could not say enough positive words– Tocabe is a special place to enjoy Native American recipes!), this is a post about their Native American berry sauce so let's get back to it.
Do you use fresh or frozen berries to make wojapi?
My wojapi recipe uses frozen berries that are easy to find in most grocery stores– blueberries, cherries and cranberries. Ben said that fresh or frozen would be fine. He also advised against adding any water; simply allow the berries to slowly cook in their own juice. Add a touch of sweetener for taste– sugar, honey or agave would all be good choices.
Can you make wojapi with a slow cooker?
Because a long, slow cooking time was recommended, I turned to a method that obviously wasn't the traditional one of Native Americans but it worked along the same lines as cooking the sauce slowly over low heat: a crockpot. The crockpot allowed the berries to break down and simmer gently. I pureed half of the mixture after about 3-4 hours, added two tablespoons of honey and the sauce was just right.
What should be served with wojapi?
At Tocabe, the wojapi is served with Indian Fry Bread. Oh how I enjoyed this Fry Bread in the days before I switched to a gluten free diet! It is SO good. Fry Bread is a flat dough bread that is deep fried. Yup, it is straight-forward and delicious.
Here I've served wojapi with these overnight yeast waffles. Of course you could make your waffles traditional, gluten free, paleo, or how ever your family enjoys them.
Toast is also an option. Rolls would welcome a dollop of wojapi too.
Even the Thanksgiving cranberry sauce could be pushed aside to make room for wojapi. Pork would pair well with wojapi too. I'm curious about other Native American cranberry recipes and will have to look into creating more food with these flavors.
Yield: 1 pint
Wojapi, an American Indian berry sauce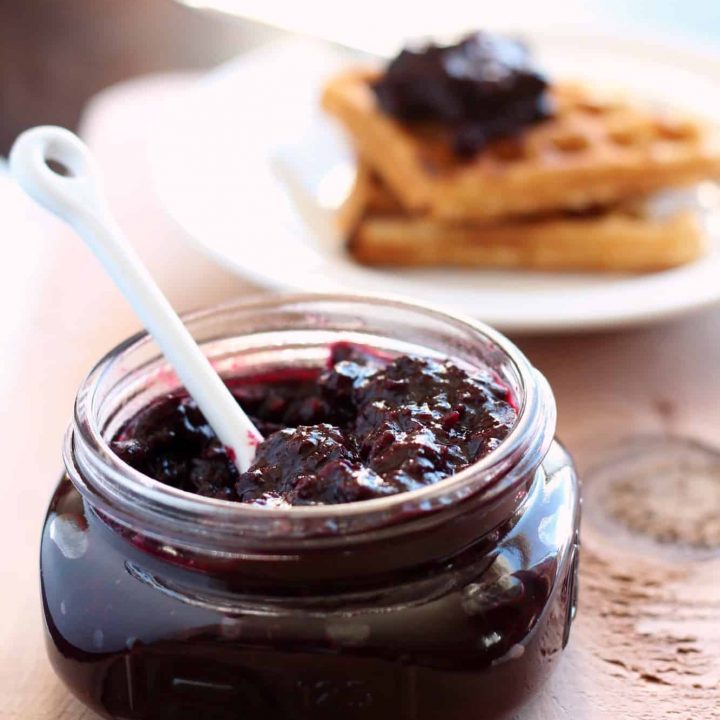 Wojapi is an American Indian berry sauce. You might think "jam" just to get you in the frame of mind but this wojapi is not a sweet, sugary jam. You taste the berries, not sugar
Total Time
3 hours
5 minutes
Ingredients
1 1/2 cups frozen blueberries
1 1/2 cups frozen sour cherries
1 cup fresh (or frozen) cranberries
2 Tablespoons honey
Instructions
Place the frozen (or fresh) berries in a crock pot (slow cooker).
Cook on low for 3-4 hours, stirring after each hour.
Puree half of the berry mixture with a handheld blender. I like to retain the second half "as-is" to keep the texture of some of the berries.
Add 2 tablespoons of honey (or other sweetener of your choice). Stir gently to combine.
Store in the refrigerator for up to two weeks.
Notes
Experiment with fresh or frozen berries. Mix up the ratios too (more cranberries and less cherries for example).
Nutrition Information:
Yield:
32
Serving Size:
1 tablespoon
Amount Per Serving:
Calories:

13
Total Fat:

0g
Saturated Fat:

0g
Trans Fat:

0g
Unsaturated Fat:

0g
Cholesterol:

0mg
Sodium:

0mg
Carbohydrates:

3g
Fiber:

0g
Sugar:

2g
Protein:

0g
Are you on Pinterest? I am! Join me there and save this pin to your boards!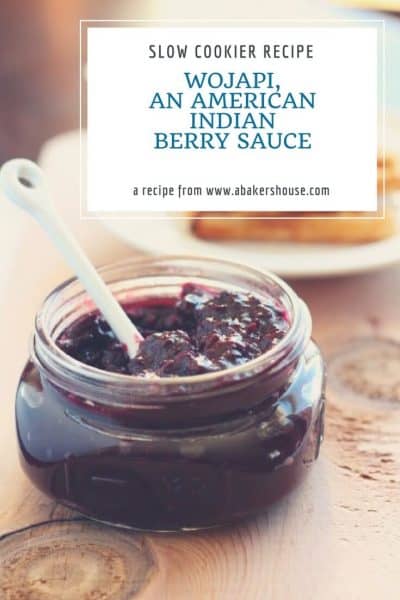 Thank you, Tocabe, for the wonderful meal. Welcome to my neighborhood, so glad you have put roots down here! I was not paid to write this post, although we were treated to a great meal. All opinions are my own and in no way reflect Tocabe or its owners.
We are a participant in the Amazon Services LLC Associates Program, an affiliate advertising program designed to provide a means for us to earn fees by linking to Amazon.com and affiliated sites.
Are you looking for recipes for jams or spreads that you can make at home? Try these!
Please note that this post was first shared in 2015 and was updated in November 2018.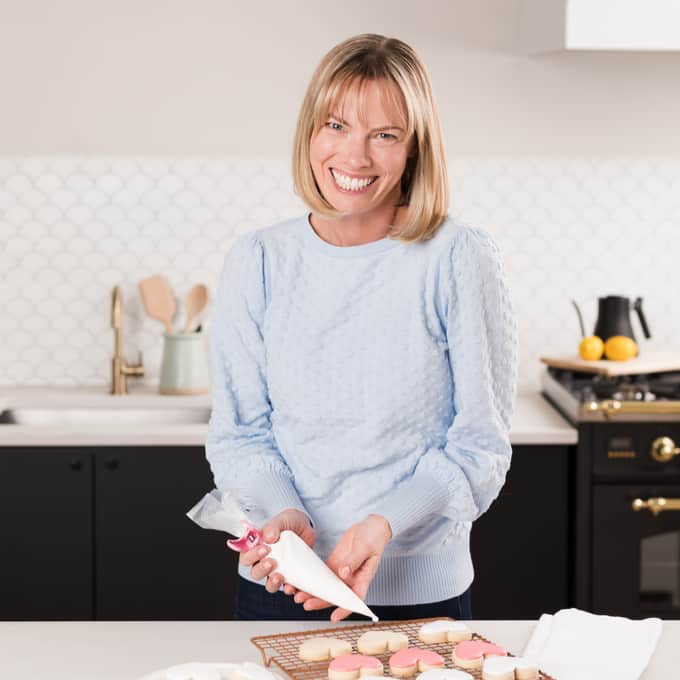 Holly Baker started the food blog, A Baker's House, in 2011. She is the writer, recipe creator, and photographer for the site. Holly loves to bake and shares recipes for gluten free food, canning recipes, as well as traditional desserts too. Her recipes and food photography have been highlighted by BuzzFeed, Reader's Digest, and She Knows.