Have you baked biscotti before? The process of baking a log of dough first, then slicing it and baking the individual pieces again, is a special way to bake. Mocha biscotti finds its flavor pumped up with espresso powder and chocolate chips.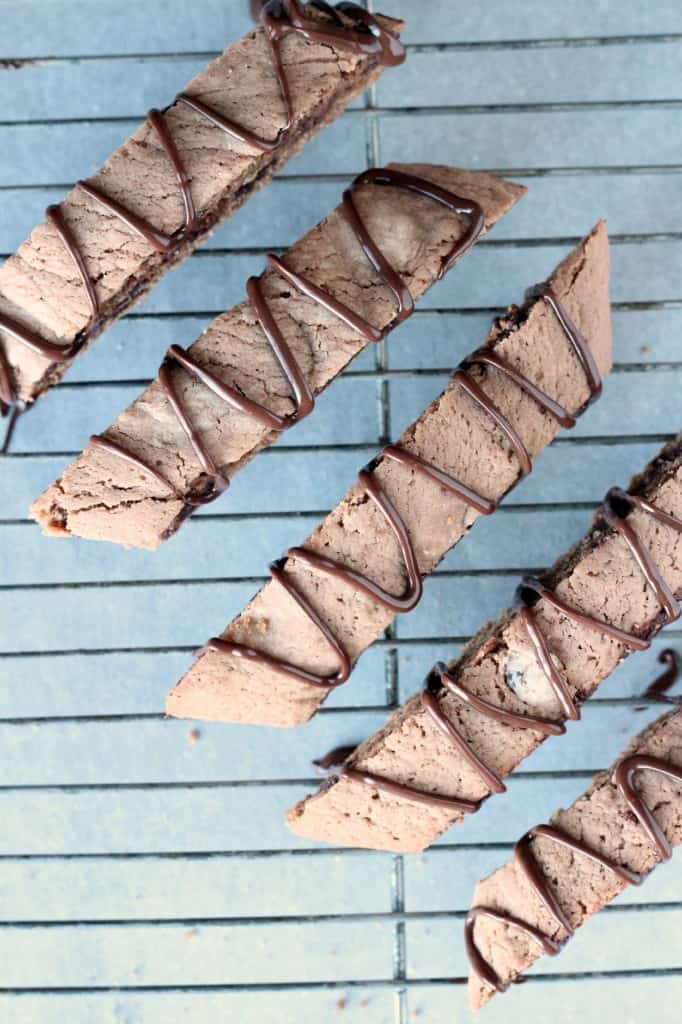 How to bake biscotti:
This mocha biscotti (or type of cookie) is just what its Italian translation of biscotti means: it is twice-baked. First you make a dough and shape it into a long, flattened log.
Bake this for a short while then you'll slice the log into diagonal pieces, arrange them on the cookie sheet and put it all back into the oven for a second baking.
A satisfying crunchy cookie will result. We've baked all types this month and hope you'll find a flavor combination to fit your taste.
Italian Cookies
All of this biscotti has me hungry for more Italian treats! Next on my list to try are these Italian Wedding Cookies from The Little Ferraro Kitchen. Don't they look good!
The Creative Cookie Exchange
The #CreativeCookieExchange is sharing BISCOTTI recipes today. I had coffee and chocolate on my mind when looking for biscotti recipes and I had been munching on a sweet treat I found at Whole Foods– chocolate covered coffee beans. Yum.
I am not much of a coffee drinker but I do love the smell and flavor of coffee so baking with it is a natural fit.
If you can find chocolate covered coffee beans, add them in to this recipe, but if not, the addition of espresso powder and chocolate chips will create that mocha flavor profile.
Drizzle with some melted chocolate to finish and you'll have a treat ideal to serve with a cup of coffee or hot chocolate.
Biscotti make ideal gifts. Learn how to put together a DIY gift basket on this post to get heartfelt and homemade gifts. Gluten free nutella chocolate chip cookies make another great recipe to add to a gift. So does a box of simple chocolate fudge!
Recipe Source: Adapted from America's Test Kitchen
The source of this recipe is an Almond Biscotti recipe that I found in a recent America's Test Kitchen publication called "Step by Step Holiday Baking". The primary changes are the omission of ground almonds and the addition of the espresso powder and the chocolate in my version. Enjoy!