Stained Glass heart cookies are a festive Valentine's treat. Use melted candy like Swedish Fish to add color to these cut out cookies. So pretty!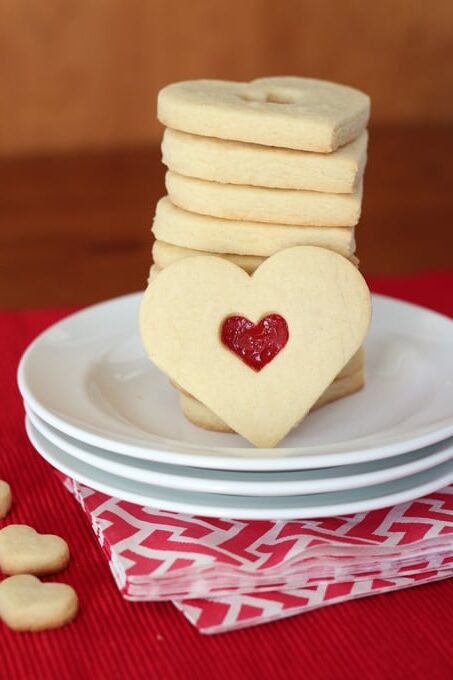 Stained glass cookies are often reserved for Christmas but I had never made them before and thought that baking them in HEART shapes would be fun for Valentine's Day.
This particular recipe comes from Martha Stewart's site. I'll include the link below so that you can click through to the full recipe.
First I used crushed LifeSavers for the middle and liked the effect of the "stained glass" but found that it was terribly crunchy to bite through.
My second try brought Swedish fish candies to fill the middles. Simple roll out a Swedish fish with a rolling pin or by squishing it with your clean fingers then use your small cookie cutter to make the same shape as you did in the cookie dough. Press the candy into the middle of the unbaked dough and then baked for the recommended time.
This choice helped me twofold: 1. I liked the softer center to the cookie and didn't worry about breaking a tooth! and 2. Placing the red middle in first to the raw dough saves the step of adding the crushed candies midway through the baking time.
Granted, the Swedish fish do not give that window-like look when you hold the cookie up to the light but they certainly are pretty and they taste good too! Want to skip the filled middle all together?
That works as well, this is a good recipe for a standard sugar cookie with a shortbread taste. Another butter cookie that makes a pretty Valentine's Day cookie are these heart shaped cookies made with a cookie press.
Here's another recipe that works well for Valentine's Day– chocolate avocado pudding. It's a chocolate pudding that you can feel good about serving your family. And it tastes great!
Stained Glass Heart Cookies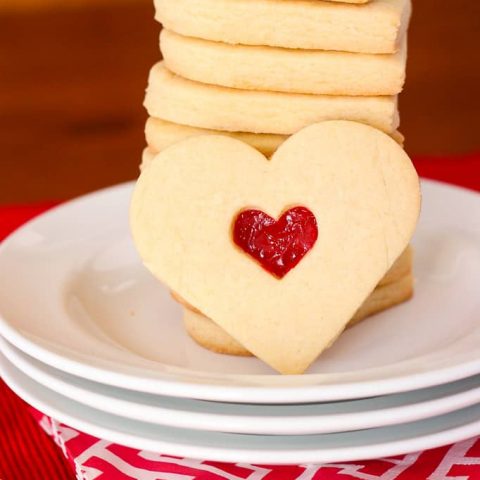 Stained glass heart cookies made with a candy filling of Jolly Ranchers are a festive treat for Valentine's Day.
Ingredients
3 cups all purpose flour
3/4 teaspoon baking powder
1/4 teaspoon fine salt
1 cup butter
1 1/4 cups sugar
4 large egg yolks
1 tablespoon vanilla extract
Hard candy such as Life Saver or Jolly Rancher; alternate choice of Swedish Fish
Nutrition Information:
Amount Per Serving:
Calories:

0
Total Fat:

0g
Are you on Pinterest? I am! Join me there and save this Valentine's Day idea!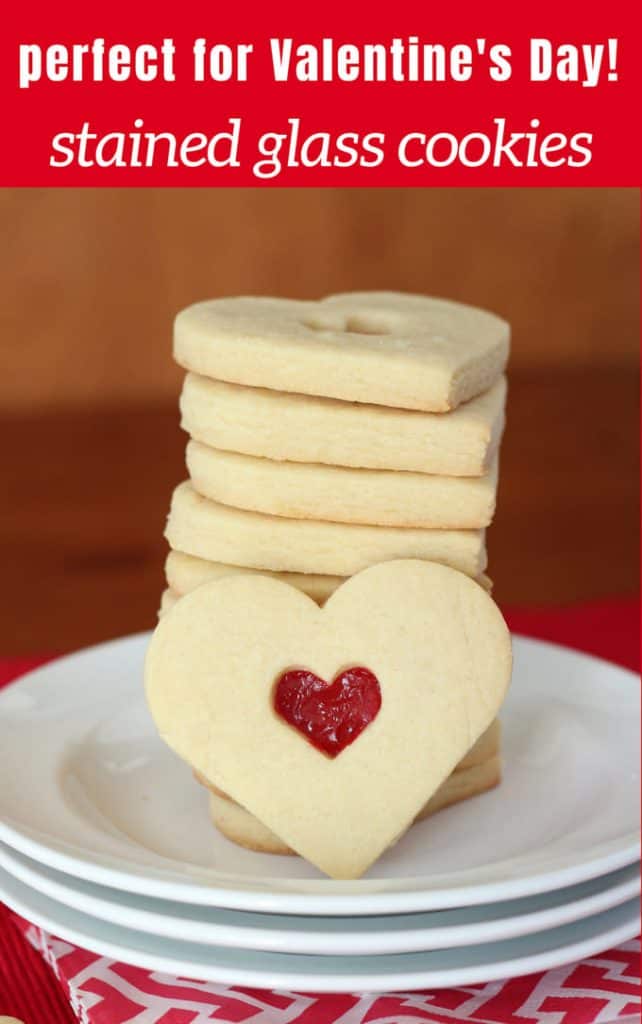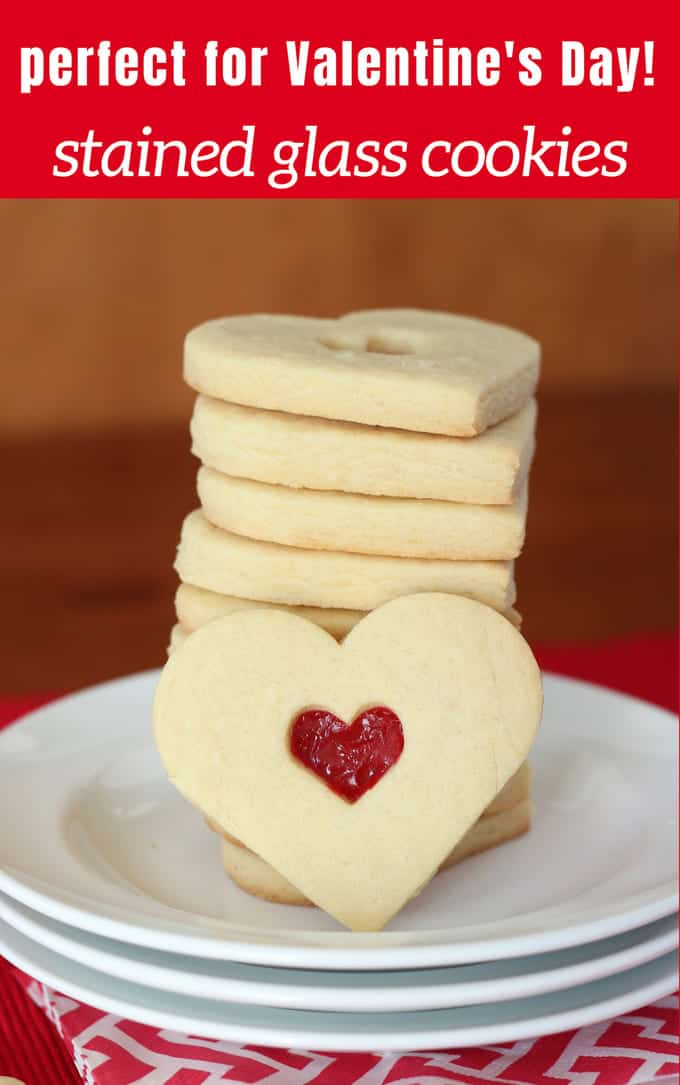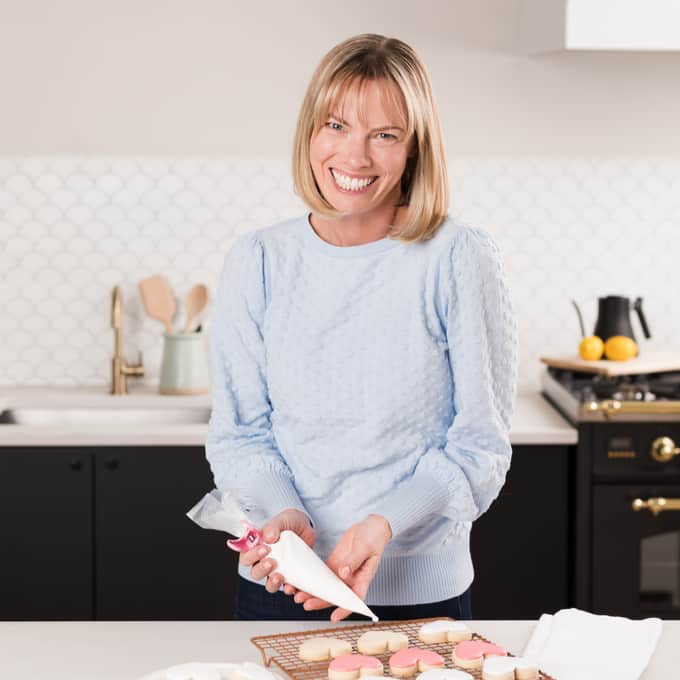 Holly Baker started the food blog, A Baker's House, in 2011. She is the writer, recipe creator, and photographer for the site. Holly loves to bake and shares recipes for gluten free food, canning recipes, as well as traditional desserts too. Her recipes and food photography have been highlighted by BuzzFeed, Reader's Digest, and She Knows.