Making homemade scones takes me right back to my first trip to England twenty years ago. Vegan blackberry scones are a dairy free and gluten free version of this traditional English treat. Drizzle with a dairy free icing to create the perfect sweet bite!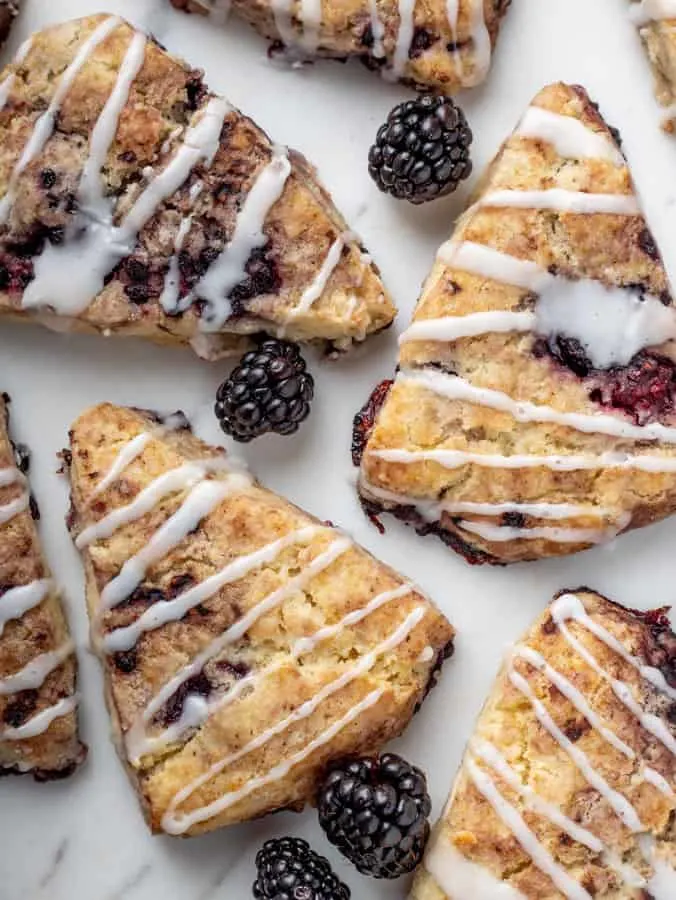 This post is sponsored by So Delicious®. All opinions, comments and content shared on A Baker's House are my own and do not necessarily represent those of So Delicious® or Danone North America. #sponsored
The British have perfected the art of high tea which includes finger sandwiches, baked goods, sweets and of course, endless cups of tea! Scones are often a part of a tea ceremony. Clotted cream and jam are served along side these familiar treats. Let's see how we can bring some of that British charm home to our own kitchens no matter if you need a recipe that is traditional, gluten free, or vegan.
Scones are lovely for breakfast. Another vegan breakfast recipe that I love for its ease is strawberry overnight oats. Have you tried overnight oats yet? They would be great with blackberries too.
What are scones?
Scones are a baked good that could be described as a dense biscuit. Lightly sweetened, scones are baked in a triangular or round shape. Fresh fruit, dried fruit, nuts, or chocolate might be baked within the scone dough.
The dough is soft, slightly sticky and not the easiest to manage without getting bits clinging to your fingers.
Scones are a balancing act–crumby vs. fluffy, a soft interior vs. an outer lightly golden-brown top. Making scones a vegan and gluten free recipe is also a feat of balance. Traditional scones have dairy, eggs and flour. Let's see how baking with So Delicious® products help transition to a dairy free recipe.
Scones are a type of quick bread. Muffins and shortcakes are too! Check out this vegan strawberry shortcake recipe. You'll love all my my quick bread recipes!
Vegan ingredient substitutions
The trick to my vegan scone recipe is the addition of So Delicious® Dairy Free coconutmilk yogurt alternative. I use the plain variety although there are a number of other flavors that might pair well with scones.
This dairy free yogurt alternative provides the stability in the scone recipe that might traditionally come from using eggs. The product is creamy, rich, and it blends really well with the rest of the scone ingredients.
I also find that there are plenty of vegan butter substitutes available that make it easy to create dairy free recipes.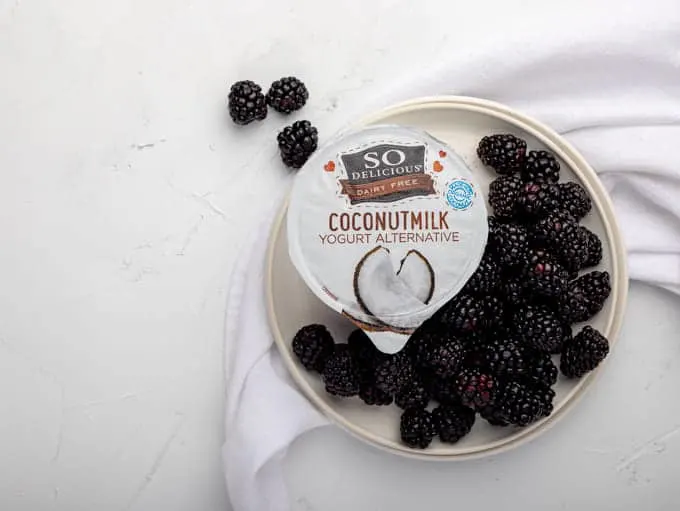 All of the ingredients used in this recipe are from Sprouts Farmers Market. Do you have extra blackberries? Try this recipe for vegan blackberry cobbler or these vegan blackberry muffins!
Ingredients in vegan and gluten free scones
gluten free flour blend
baking powder
sugar
salt
vegan butter
So Delicious® Dairy Free coconutmilk yogurt alternative
blackberries
confectioners' sugar
So Delicious® unsweetened Organic coconutmilk
Of course, if you don't need a gluten free recipe, all purpose flour is fine.
Secrets to making vegan scones
After testing this recipe numerous times, I learned that the success of my scones depended on my method of preparing the scone dough. You can make scones by hand but more consistent results will come with the use of a food processor.
A food processor lets you first combine the dry ingredients by pulsing, then cut in the vegan butter, and then blend with the So Delicious® Dairy Free coconutmilk yogurt alternative. Final steps of adding the fresh blackberries and shaping the dough are done by hand.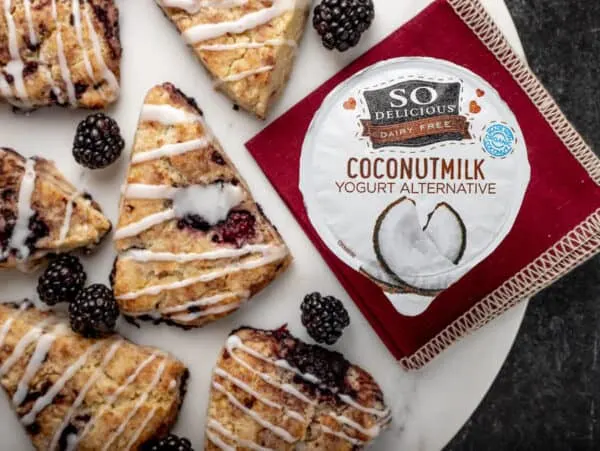 Steps to make scones
Combine the dry ingredients to a food processor.
Add in the cold butter and process until it looks like small crumbs
Add the coconutmilk yogurt alternative.
Process until the dough comes together.
Empty the scone dough onto a piece of parchment or a large mixing bowl.
Gently fold in the berries.
Shape the dough into a round disc. Wrap in plastic wrap and freeze for 30 minutes.
Cut the disc of dough into 8 triangular pieces. Bake.
Tips for making fluffy vegan scones
Use a food processor
Start with very cold vegan butter
Don't over process the dough
Very gently fold in the berries. They will break apart and color the dough slightly.
Freeze the dough before baking the scones
Keep an eye on the scones towards the end of the baking time. The bottoms brown more quickly than the tops
Use a digital baking thermometer to test that the interior is at least 200 degrees F when baked. This step of checking temps has helped to improve my baking.
Of course the drizzle is optional but I think it adds a touch of sweetness that I love in a baked good. The English version would more likely be served plain but sometimes it is ok to break with tradition!
If you do want to mirror the British tradition of serving scones with clotted cream (a thickened type of cream) and jam, just top the scones with a dollop of the coconutmilk yogurt alternative for a great dairy free option!
Serve for breakfast, brunch or tea time.
Yield: 8 scones
Vegan Blackberry Scones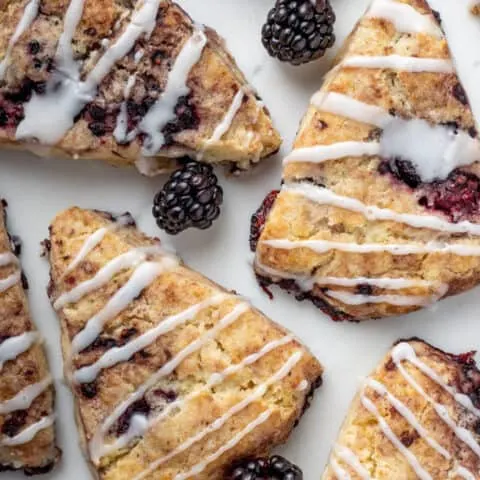 Vegan blackberry scones are a dairy free and gluten free version of this traditional English treat.
Ingredients
1 ½ cups gluten free flour blend
2 tsp baking powder
¼ cup sugar
¼ tsp salt
½ cup vegan butter spread, cut into cubes
1 container So Delicious® Dairy Free coconutmilk yogurt alternative (plain) (5.3 oz)
6 oz blackberries
Optional glaze
½ cup confectioners' sugar
1 Tbsp So Delicious® unsweetened Organic coconutmilk
Instructions
1. Preheat the oven to 400 F. Cover baking sheet with parchment.
2. Use a food processor to combine the gluten free flour blend, baking powder, sugar, and salt.
3. Add the butter and pulse about 20 times until the butter is incorporated.

4. Add the So Delicious® Dairy Free coconutmilk yogurt and pulse again 10-15 times.
5. Pour the mixture into a large mixing bowl.
6. Fold in the blackberries.
7. Use your hands to knead the dough and to incorporate the blackberries.
8. Form into a round, flat disc about an inch and a half tall and 8 inches in diameter.
9. Freeze for 30 minutes.
10. Cut the circle of dough into 8 triangles (like pizza slices). Pull apart slightly and place on the baking sheet.
11. Bake at 400 F for 26-28 minutes or until the scones are lightly golden brown.
12. Let cool completely then make the glaze (if using). Whisk the confectioners' sugar and coconutmilk until smooth. Drizzle on top of the scones.
Notes
Make sure your gluten free flour blend contains xanthan gum. If not, add 1/4 tsp xanthan gum to the dry ingredients.
Some of the blackberries will burst and spread when you knead the dough. That is fine—you'll have a bit of color throughout the scone dough.
Let the scones cool completely before adding the glaze.
Nutrition Information:
Yield:
8
Serving Size:
1
Amount Per Serving:
Calories:

252
Total Fat:

12g
Saturated Fat:

2g
Trans Fat:

2g
Unsaturated Fat:

8g
Cholesterol:

2mg
Sodium:

298mg
Carbohydrates:

34g
Fiber:

2g
Sugar:

14g
Protein:

3g
This data is provided by Nutritionix and is an estimate only.
If you enjoy vegan recipes, you'll love this
vegan lemon curd recipe
,
vegan oatmeal cups
, and
strawberry banana fool
.
Pin with me!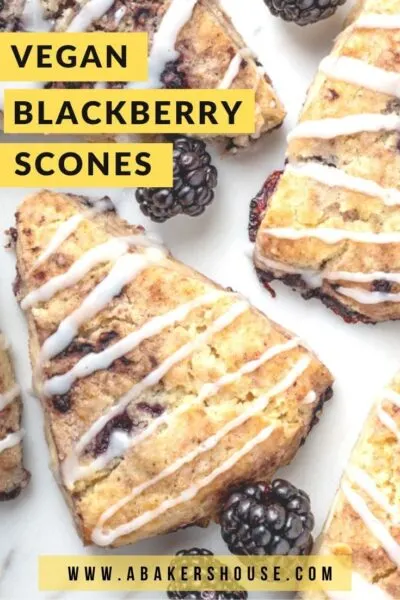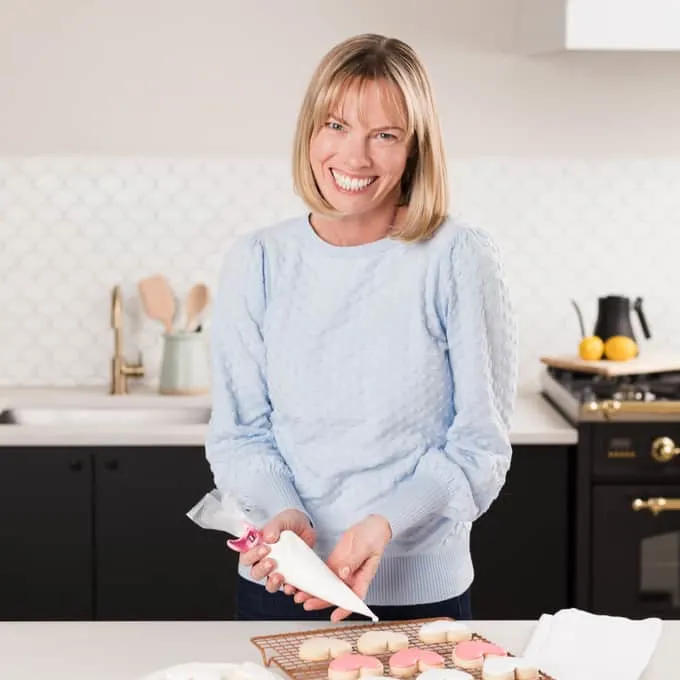 Holly Baker started the food blog, A Baker's House, in 2011. She is the writer, recipe creator, and photographer for the site. Holly loves to bake and shares recipes for gluten free food, canning recipes, as well as traditional desserts too. Her recipes and food photography have been highlighted by BuzzFeed, Reader's Digest, and She Knows.