Learning How to Peel a Mango with a Glass is the easiest way to cut a mango. Use a glass to slide the mango skin away from the mango flesh and enjoy mango in no time!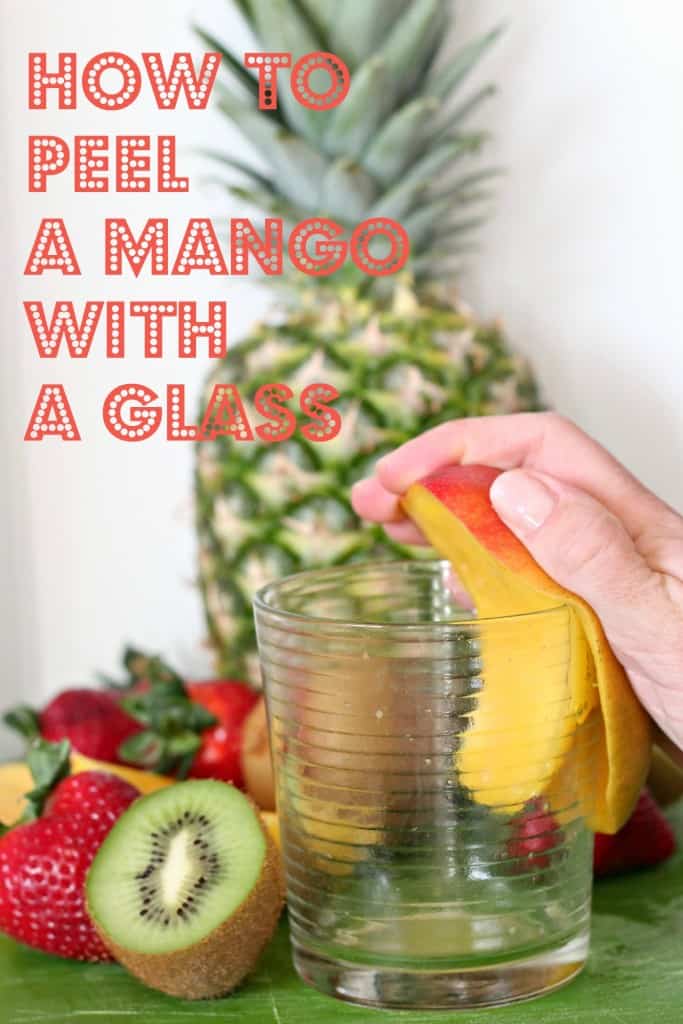 There are many varieties of mangos (yes, you can spell the plural "mangos" OR "mangoes", whichever floats your boat) like Haden and Ataulfo and oh so many ways to eat them such as in a salsa, a smoothie, a fruit tart, but…the biggest challenge for me when it comes to mangos (it's certainly not a problem to figure out how to eat a mango!) has always been how to peel a mango.
Picture this and tell me if you can relate: you picked out a few fragrant, colorful, and gorgeous mangos and have them in your kitchen at home.
You turn the mango right-side-up then upside-down and wonder where to start.
You're looking for an easy way to peel a mango– I've got you covered!
Let's talk about how to cut a mango
You've heard that it's necessary to cut around the oval mango pit or rough part of the mango in the center but a mango isn't like an avocado whose seed is obvious. It's more of mysterious middle area that is fibrous and tough and its color blends into the flesh seamlessly making it difficult to see the separation.
And, even once you figure out how to cut around the middle and have two "cheeks" of the mango you still need to separate the flesh from the skin so that you can move on with your mango enjoyment.
You could try a mango peeler like this one on Amazon. Have you tried this method? If so, let me know what you think.
Is a fruit really worth this much work???
Yes! Here's an easy shortcut that makes cutting a mango much easier and it might even bring a smile to your face. Mango magic, here we come.
Mango video
Check out this how to cut a mango video from Huffington Post where a mango is peeled using a glass.
I think this is the best way to peel a mango. Simple tools that you already have– a glass!
Yes, a cup, glass or even a bowl would likely work well. You still need a knife to cut the mango cheeks away from the center but after that it is smooth sailing with the glass. Here's what worked for me, have you tired this before?
How do you peel a mango with a glass?
Slice the mango from top to bottom with a knife, trying to curve around the pit area in the middle. Repeat for the second side. Throw out the middle section.
Now set the bottom edge of one mango cheek along the rim of a glass. Your hand curves around the mango skin; press gently but firmly to move the glass in between the skin and the flesh of the mango. Push down and the peel magically separates from the flesh and the goodness lands right inside the glass. Repeat for the other side. your mango is ready to go!
Whole Foods has this special Ataulfo mango in stores usually in late March. The ataulfo is often grown in Mexico, has yellow skin and a soft fleshy interior.
Its thin pit makes it especially easy to slice and it would be perfect for this slice-a-mango-with-a-glass trick.
I am looking forward to giving this special variety a try. Are you looking for another way to cut a mango into pieces so that you can use it in recipes? Try these directions for how to cut a mango in a more traditional way.
Here are some mango recipes that you'll enjoy!
We are a participant in the Amazon Services LLC Associates Program, an affiliate advertising program designed to provide a means for us to earn fees by linking to Amazon.com and affiliated sites.
Post originally published in March 2015