Vegan Strawberry Shortcake starts with a light golden brown biscuit layered with juicy strawberries and fluffy Cocowhip™ topping. What a stunningly simple make ahead dessert!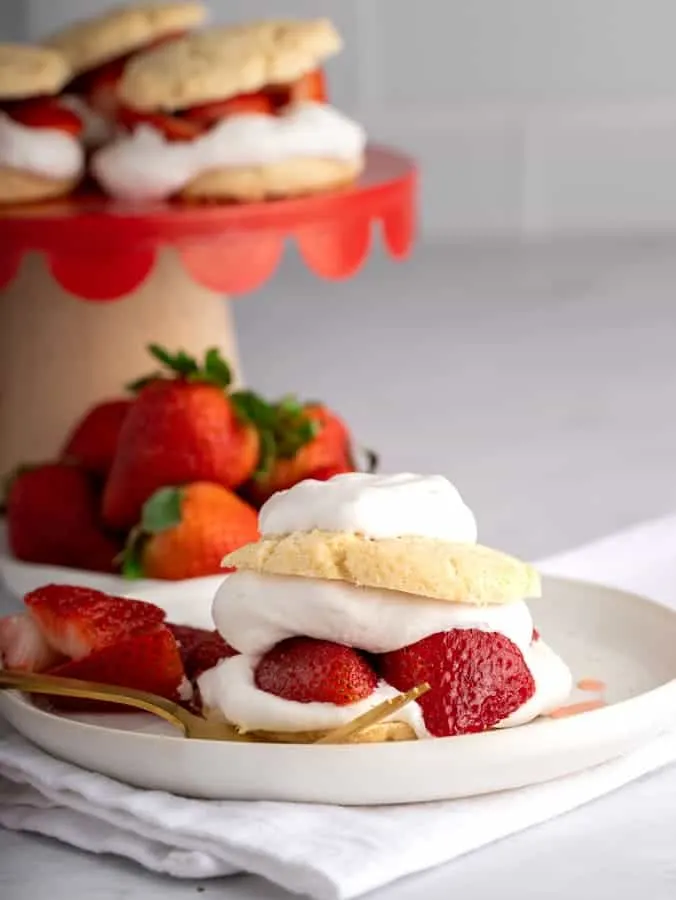 This post is sponsored by So Delicious®. All opinions, comments and content shared on A Baker's House are my own and do not necessarily represent those of So Delicious® or Danone North America. #sponsored
The simplicity of strawberries and cream is celebrated in this vegan dessert. Sometimes you don't need a lot of ingredients to make something special and that is definitely the case here.
Confession: If you had asked me even a year or two ago to make a vegan dessert I would have been stretched to come up with something tasty. I found vegan desserts—and vegan food in general—to be rather overwhelming. Dry, boring and plain is what I pictured.
Fast forward to the present where I confidently reach for toppings like this Cocowhip™ from So Delicious®. No one is missing traditional dairy whipped cream with this coconut whipped topping. All of the products from So Delicious® are Dairy Free, Non-GMO Project Verified and Vegan.
And by the way, these products are for anyone and everyone. If you are 100% vegan, if you are trying to cut back on dairy, if you are simply sampling another way to eat, or if you aren't sure how Cocowhip™ found its way into your freezer, I think you'll be happy with the results from this recipe! No judgment here.
If you are looking for more vegan recipes you'll enjoy these vegan blackberry scones, vegan blackberry muffins, and this vegan lemon curd.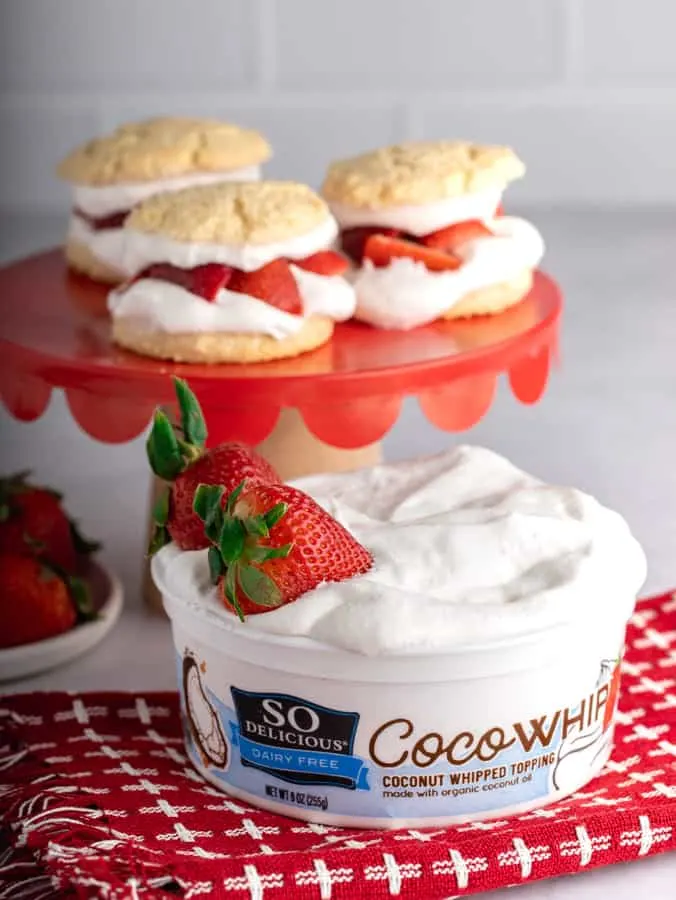 Ingredients in Vegan Strawberry Shortcake
gluten free flour blend
baking powder
granulated sugar
salt
vegan butter spread
plant-based beverage
fresh organic strawberries
granulated sugar (vegan certified)
So Delicious® Cocowhip™ original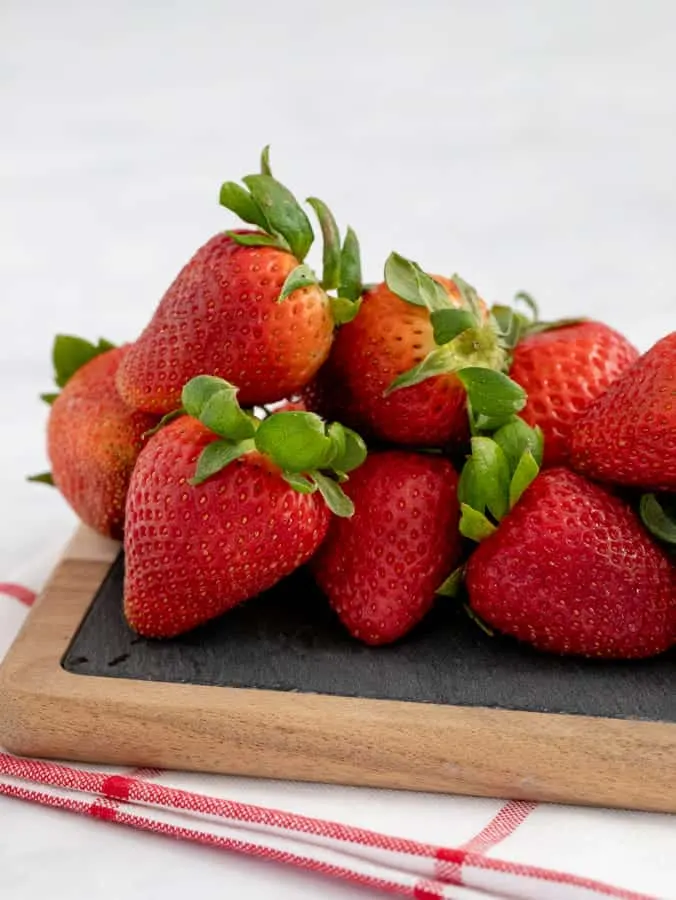 A quick note—I make my desserts gluten free. I am not a practicing vegan but do need gluten free desserts. If you don't need gluten free shortcakes, please feel free to use all purpose flour. The same rule goes for other substitutions. If you've come across this recipe and don't require a vegan recipe, please feel free to use ingredients that suit your lifestyle.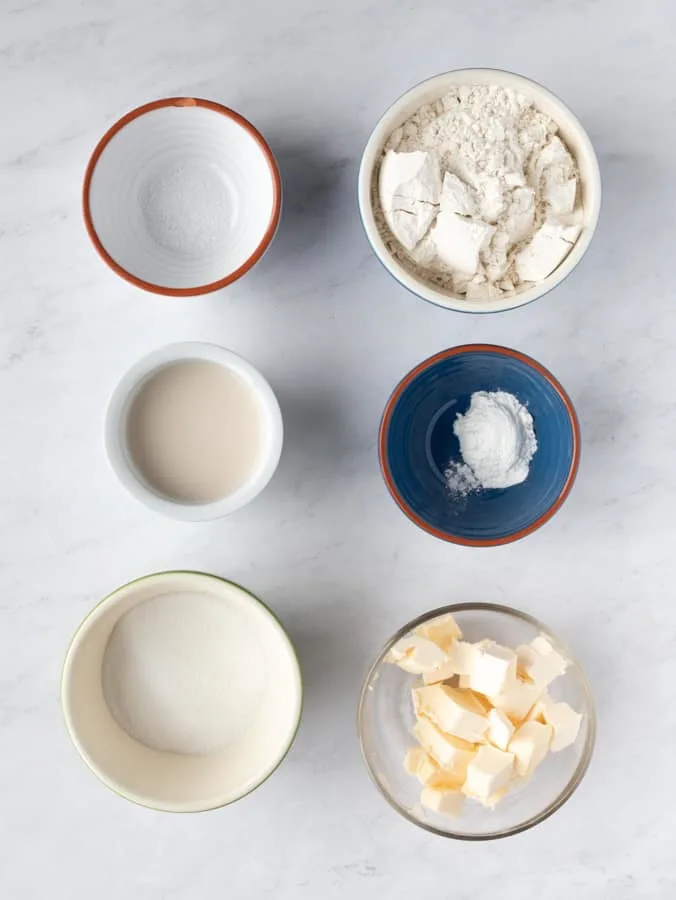 Steps to make this recipe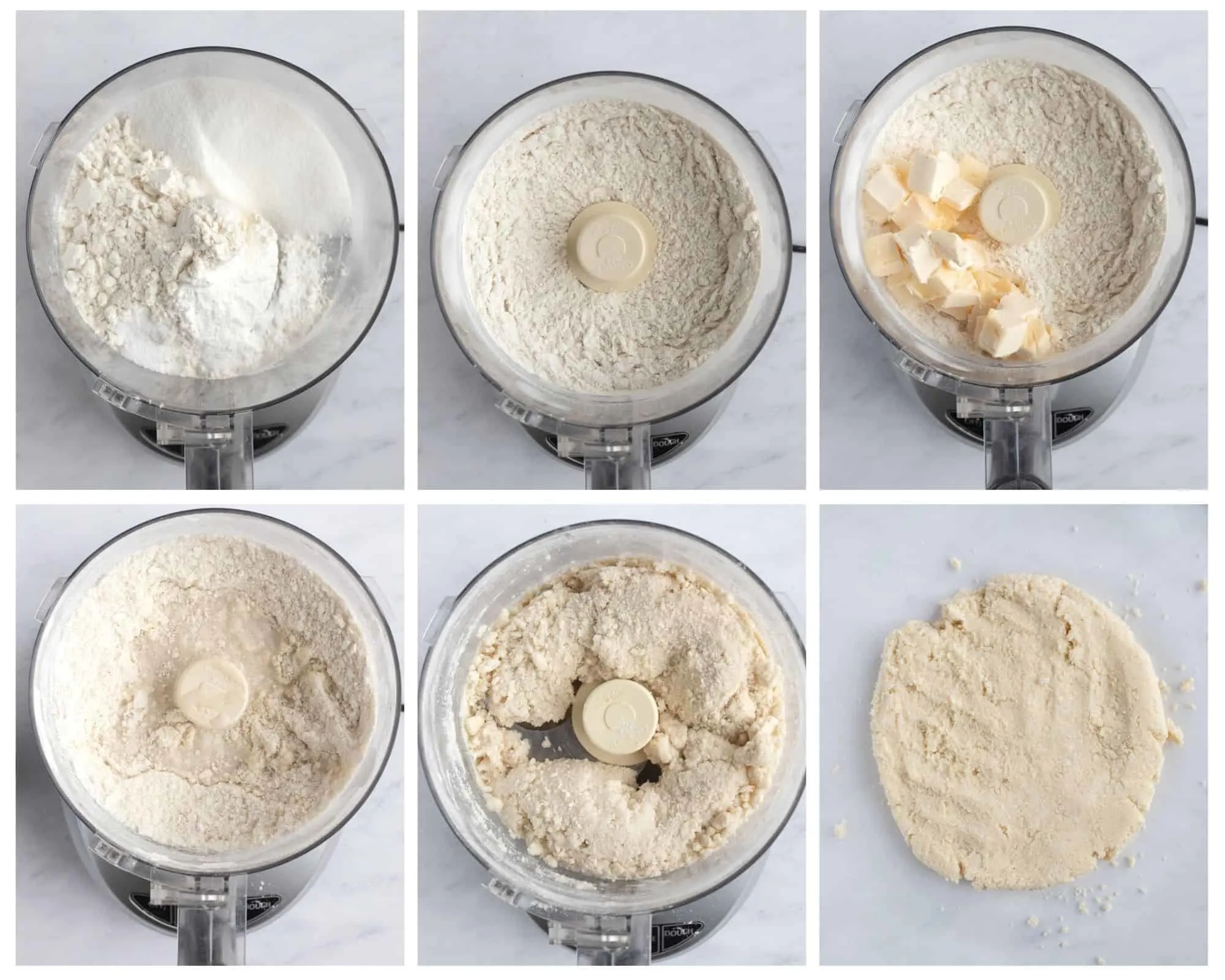 Make the vegan biscuits. Let cool completely.
Macerate the strawberries.
Cut the biscuits in half. Top the bottom half of the biscuit with a generous dollop of Cocowhip™ and plenty of juicy strawberries. Cover with the top half of the biscuit.
The key to making these sweet biscuits is to use a food processor to blend the ingredients without overmixing them.
Start with the dry ingredients of gluten free flour blend, baking powder, sugar and salt. Pulse them a few times in the food processor to mix them together.
Next, add the cold, cubed vegan butter spread. Again, pulse to incorporate the vegan butter into the dry ingredients. The mixture will start to look like small bunches of crumbs.
Now we'll add the plant-based beverage. Almondmilk or Coconutmilk are great options. You can drizzle the liquid into the food processor or take the lid off and add it all at once. Let the food processor mix the dough until a ball starts to form.
At this point you'll empty the biscuit dough onto a piece of parchment. Knead it a few times to create a smooth ball of dough. Flatted the dough into a circle. The dough will be about 1 ½ thick.
The next step is to cut out the biscuits. Some people have a special metal biscuit-cutter. I used a 2 inch circular cookie cutter. Don't have either of those tools? Use a narrow cup or glass and stamp out your circles of dough that way.
Bake the vegan biscuits then let them cool completely.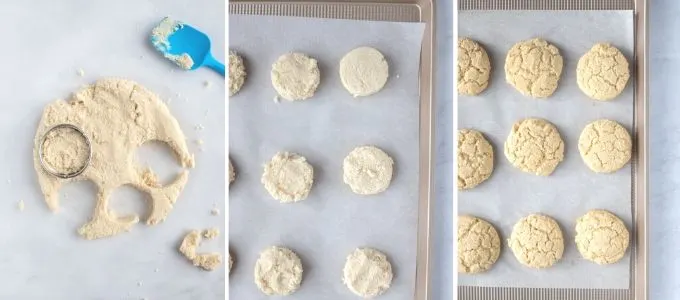 Macerated Strawberries
Macerating is simply a fancy way to say you are letting the berries marinate in a small bit of sugar (and sometimes alcohol). The goal is to let sugar and time work together to bring out the juices of the strawberries. I like using this trick especially in the time when strawberries are just coming IN to season or just going OUT of season.
In the height of summer your local, organic berries are most likely plenty juicy and you can use them without this step of macerating.
But in the rest of the year, take 20 minutes to let the strawberries develop flavor and intensity. It's so easy—just toss the washed, hulled, and sliced strawberries with a few tablespoons of sugar. Stir to coat the berries well then let them sit for about 20 minutes. Stir after 10 minutes.
When you are ready to enjoy this vegan strawberry shortcake, all you have to do is layer the ingredients together. It's simplicity at its best!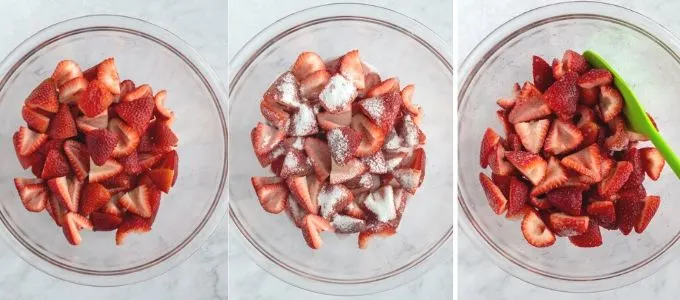 Make ahead dessert
Shortcakes are wonderful to make ahead of time because you can handle each layer on its own before melding them together in the finished shortcake.
Make the biscuits ahead of time then store in an airtight container for 1-2 days at room temperature. Wait to slice the biscuits until just before you assemble the strawberry shortcakes. By the way, if your biscuits don't rise enough to easily slice, don't worry, just add the Cocowhip™ and berries on top! The flavors are the same either way.
You can also macerate the strawberries ahead of time. Store them in the refrigerator for a few hours or even overnight.
The Cocowhip™ can be served right from the freezer or after a few hours of defrosting in the refrigerator. For this recipe I like to defrost the Cocowhip™. It gets light and fluffy and oozes around the strawberries perfectly!
I cannot get enough of this topping so you'll notice that my shortcakes have the whipped topping inside and ON TOP. Add more juicy berries or even just the juice from the berries on top.
Messy desserts mean that you can't go wrong. Assemble your shortcakes however you'd like! Add other types of berries or citrus would be lovely too. Need to use extra fruit salad? Here's the perfect way to turn fruit salad into an impressive dessert!
So how else can you use Cocowhip™?
Hot cocoa topping
As a fruit dip with fresh berries
Add a dollop to a pie, crisp, or cobbler
Layer in a vegan trifle
On a sundae with So Delicious® dairy free frozen desserts
Pin with me!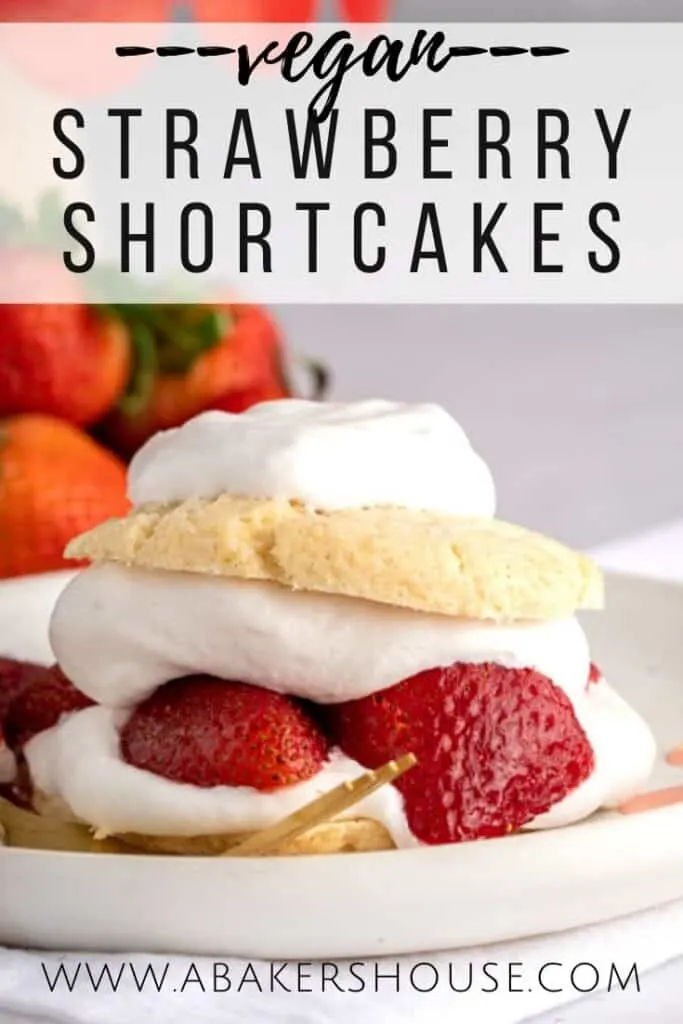 Yield: 10
Vegan Strawberry Shortcake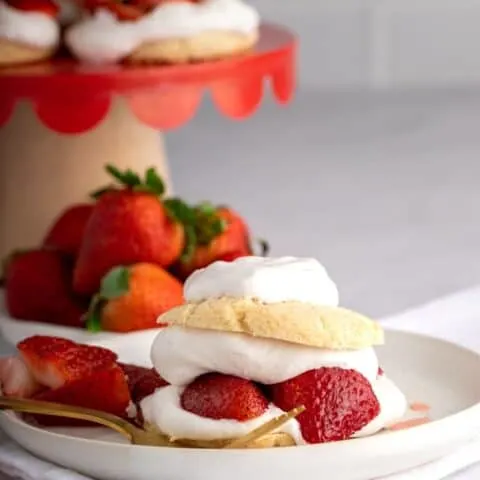 Vegan Strawberry Shortcake starts with a light golden brown biscuit layered with juicy strawberries and fluffy Cocowhip™ topping.
Ingredients
1 ½ cups gluten free flour blend
2 tsp baking powder
½ cup granulated sugar
¼ tsp salt
½ cup vegan butter spread, cut into cubes
½ cup Silk® unsweetened Almondmilk
2 pounds fresh organic strawberries, quartered
3 Tbsp granulated sugar
1 container So Delicious® Cocowhip™ original
Instructions
Preheat oven to 400°. Cover a baking tray with parchment.
Use a food processor to pulse the dry ingredients of 1 ½ cups gluten free flour, 2 tsp baking powder, ½ cup granulated sugar, ¼ tsp salt.
Add the cubed vegan butter spread and pulse 10-15 times until the mixture is in small crumbs.
Add the ½ cup Silk® unsweetened Almondmilk and pulse until the dough comes together in nearly a ball.
Empty the dough out onto a piece of parchment. Knead it several times then pat into a circle about 1 ½ inches thick. Use a 2-inch cookie cutter or biscuit cutter to make 12 circles of dough. Reshape the dough if needed. Place the biscuit dough on to the parchment covered baking tray.
Bake for 23-25 minutes or until lightly golden brown.
Let cool. Meanwhile toss the sliced strawberries with 3 Tbsp granulated sugar. Let sit for about 20-30 minutes, stirring once or twice to distribute the juices. This is called macerating the strawberries.
Assemble the shortcakes: Slice the biscuits in half. Layer the bottom half of the biscuit with a dollop of Cocowhip™ and a generous scoop of macerated strawberries. Cover with the top half of the biscuit. Add one more dollop of Cocowhip™ is you wish!
Notes
For a vegan recipe double check that your sugar is certified vegan.
If your biscuits didn't rise enough to cut in half, don't worry. Simply top each biscuit with the Cocowhip™ and a mound of macerated strawberries.
Macerating the strawberries brings out the natural juices of the berries. If you don't have time to do so, skip that step and simply top your shortcakes with fresh strawberries.
This is a great recipe to make ahead of time. Prepare the biscuits and the macerated strawberries separately then assemble right before serving.
Nutrition Information:
Yield:
10
Serving Size:
1
Amount Per Serving:
Calories:

241
Total Fat:

10g
Saturated Fat:

2g
Trans Fat:

2g
Unsaturated Fat:

7g
Cholesterol:

1mg
Sodium:

245mg
Carbohydrates:

36g
Fiber:

2g
Sugar:

19g
Protein:

3g
This data is provided by Nutritionix and is an estimate only.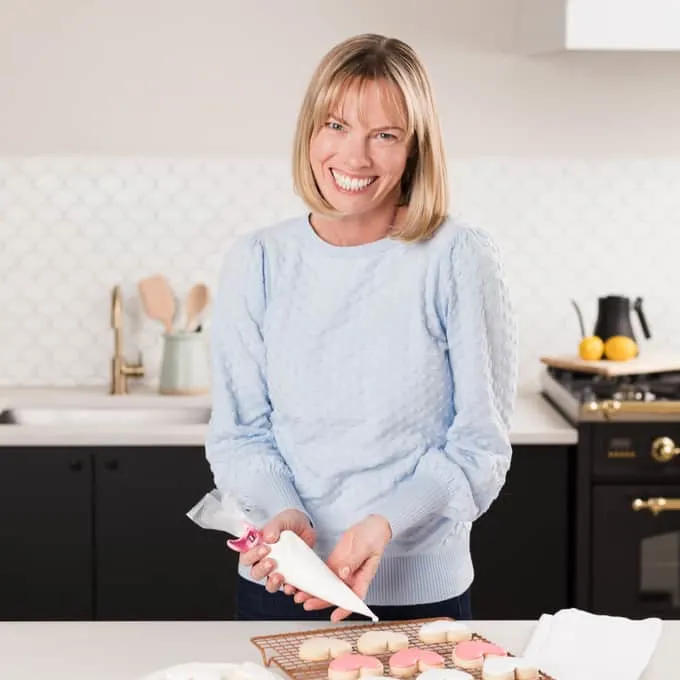 Holly Baker started the food blog, A Baker's House, in 2011. She is the writer, recipe creator, and photographer for the site. Holly loves to bake and shares recipes for gluten free food, canning recipes, as well as traditional desserts too. Her recipes and food photography have been highlighted by BuzzFeed, Reader's Digest, and She Knows.