Vegan blackberry cobbler is an easy fruit dessert to prepare. Fresh or frozen blackberries are covered with a golden-brown biscuit like topping that makes for a simple but delicious dessert. This cobbler recipe is both vegan and gluten free.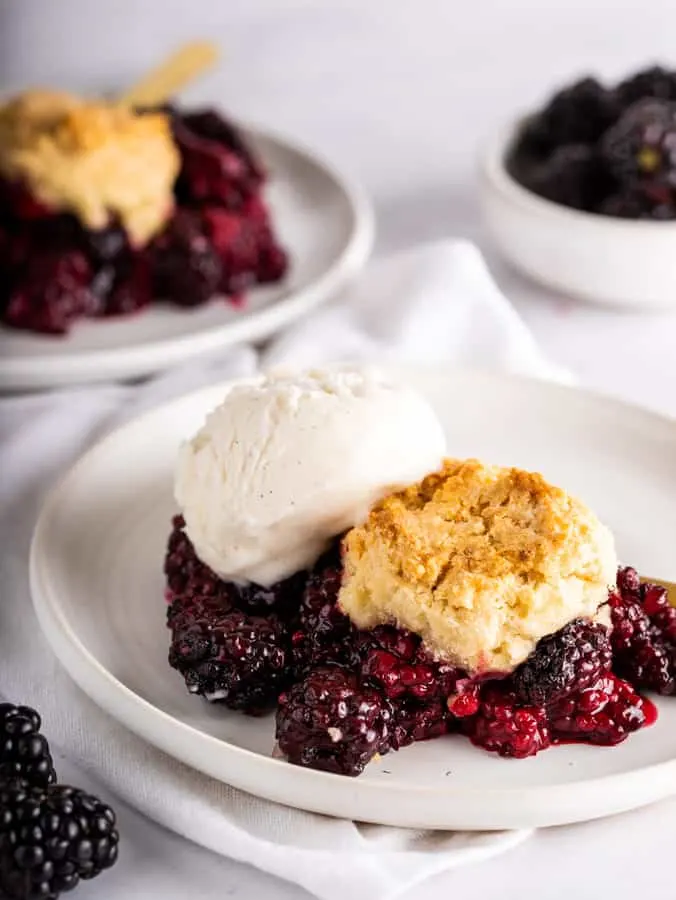 This post is sponsored by So Delicious®. All opinions, comments and content shared on A Baker's House are my own and do not necessarily represent those of So Delicious® or Danone North America. #sponsored
Fruit Cobbler
Fruit cobblers are closely related to pies but they are less fussy and a breeze to make. Juicy fruit filling with a golden-brown topping—sounds so good, right? Here's a pear cobbler you'll love!
Well, with cobblers you don't have to worry about rolling out pie crust at all! Just scoop the biscuit topping right on top. Cobblers are also closely related to crisps and crumbles. It is a family tree of beautiful fruit desserts!
Here's the difference:
Cobblers are baked fruit desserts covered with a flaky biscuit like topping. The biscuit topping might cover all the fruit or you'll often see scoops of the topping baked like individual biscuits. This approach makes serving easier.
Crisps are also fruit baked desserts. The topping often includes oats and it crisps up and browns while baking.
Crumbles are very similar to crisps in that the baked fruit is covered by a browned topping. With crumbles the topping is more like a streusel and does not contain oats.
Pies—I think it goes without saying that pies have a bottom crust and therefore differ from cobblers, crisps and crumbles. You could make a change to traditional double pie crust pies (top and bottom) by topping a pie with a crisp or crumble topping.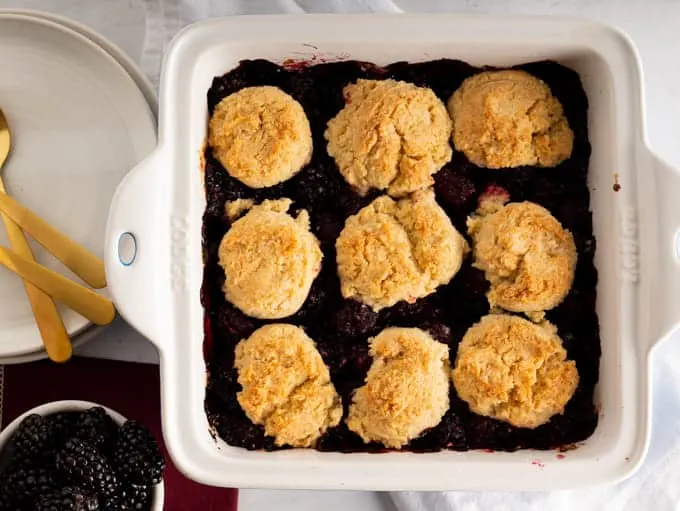 Ingredients for vegan blackberry cobbler
Blackberries, of course!
Sugar and cornstarch to sweeten and thicken the fresh blackberries
Gluten free flour, sugar, baking powder, vegan butter and coconutmilk for the biscuit topping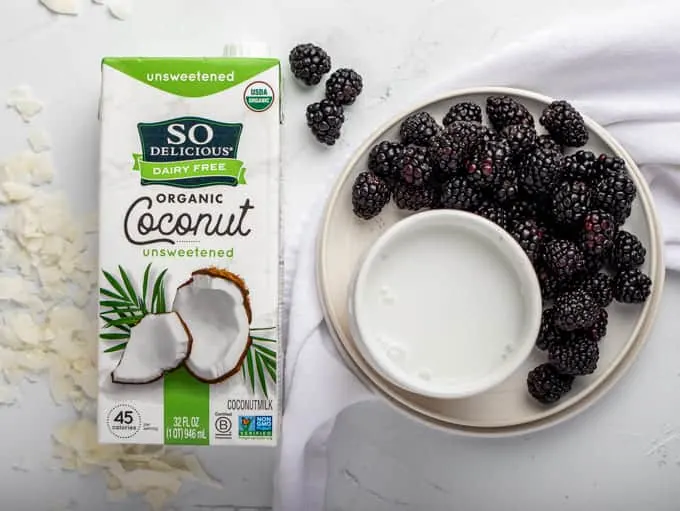 How to make fruit cobbler
Prepare the fruit by tossing it with sugar and a thickener like cornstarch
Make the biscuit topping batter and lay it on top of the fruit.
Bake! It is that easy!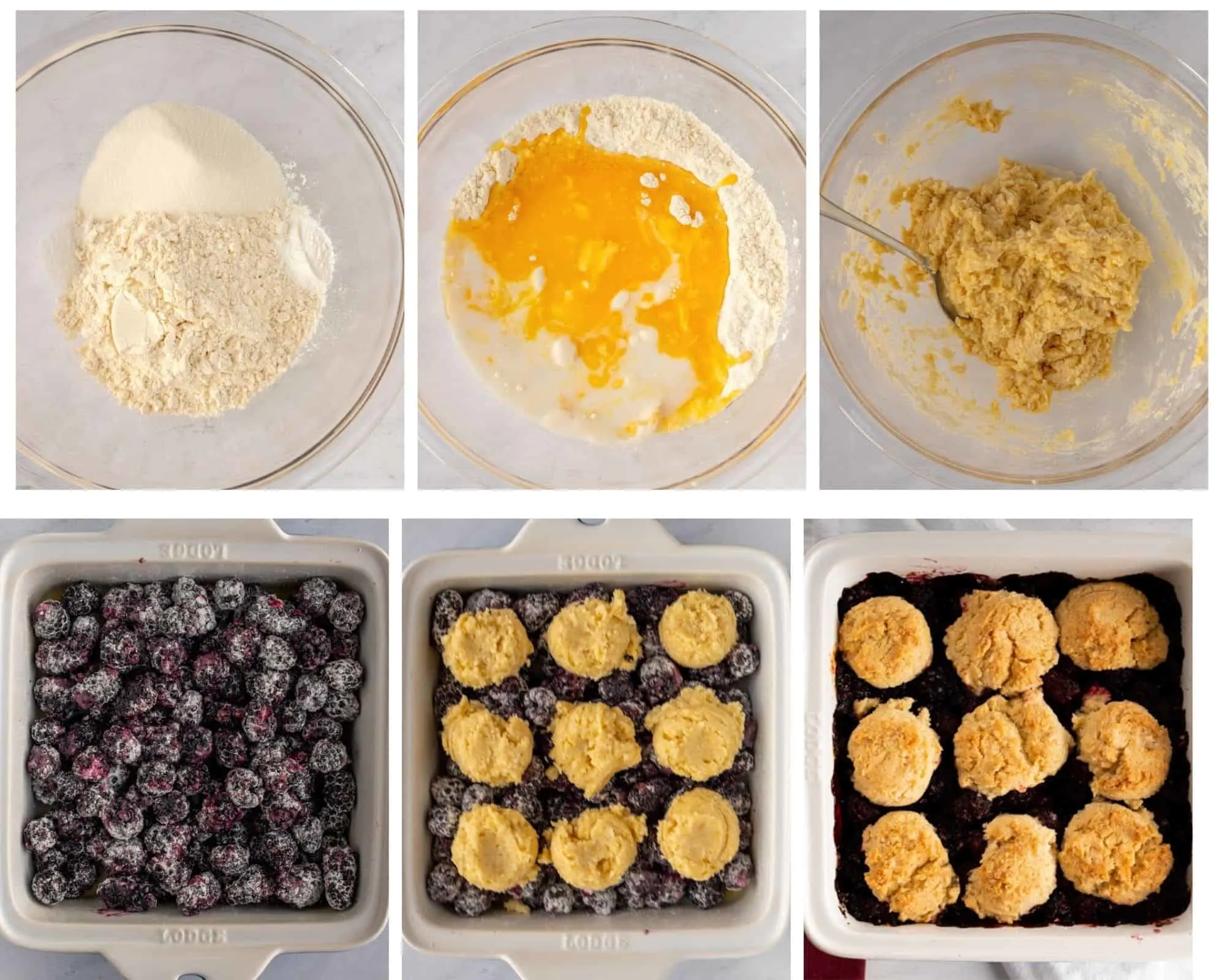 Is this a vegan dessert recipe?
Yes, this recipe is dairy free and vegan. There are no eggs or traditional butter in the recipe. We use So Delicious® Organic Unsweetened Coconutmilk Beverage to provide moisture and flavor in this biscuit batter.
The melted vegan butter and the coconutmilk help bring this vegan biscuit batter together. The batter will be shaggy and somewhat sticky.
So Delicious® products make it easy to make vegan recipes—especially vegan desserts and baked goods. There are a few options to choose from for dairy free alternatives to milk. This recipe is made with coconutmilk. So Delicious® also offers almondmilk and soymilk. Use whichever dairy-free beverage that you have on hand.
If you love vegan desserts, try this recipe for strawberry shortcakes— a summer favorite!
Shop for So Delicious® products at our local Sprouts Farmers Market. You'll find a range of products in both the refrigerated section and in the shelf-stable variety too.
Check out the coupons available on the Sprouts App for frequent promotions for So Delicious® dairy-free products.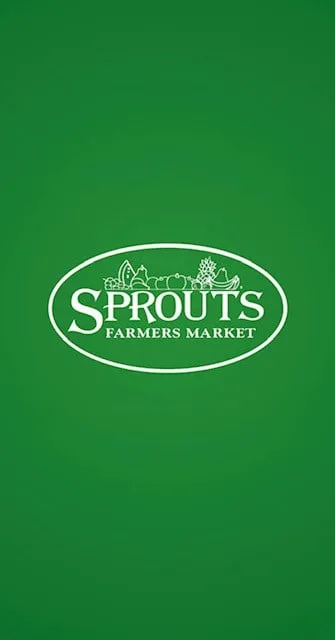 What makes this a gluten free recipe?
My blackberry cobbler recipe is gluten free because I've used a gluten free flour blend. If you don't require a gluten free dessert, feel free to use all purpose flour.
Blackberry season
Did you know that blackberries are available in Sprouts stores right now? I tend to think of blackberries as a summer fruit but you don't have to wait for warm, sunny summer days to enjoy this fruit cobbler.
In many areas of the U.S. blackberries are ripe from June through August but you'll find fresh blackberries waiting for you in the fresh produce section of Sprouts Farmers Market many months of the year.
If you love blackberry recipes, you'll also enjoy these vegan blackberry muffins and blackberry scones.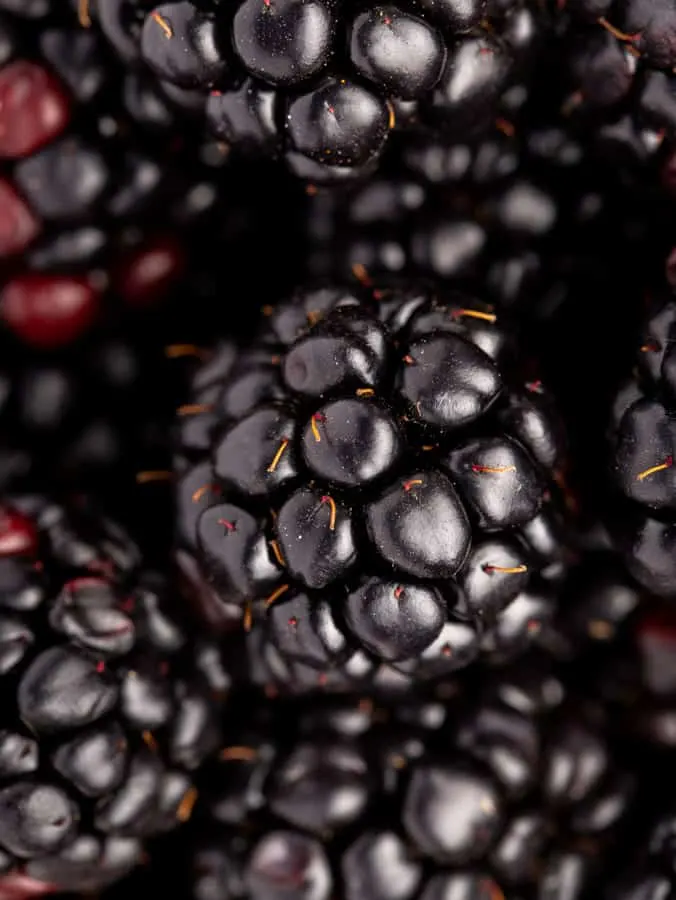 Can I use frozen berries?
If you happen to make this blackberry cobbler when fresh berries aren't available, feel free to use frozen berries.
Don't defrost the frozen berries, just toss them with the sugar and cornstarch before baking as usual. You may want to add an additional 5-8 minutes to the baking time to make sure that the berries are cooked through.
You'll know the cobbler is done when the berries are bubbly and the topping is golden brown. Also, it helps to use a digital baking thermometer to take the guess work out of determining when the biscuit topping is done. The interior temperature should be about 200 F.
How to store blackberry cobbler
Cobblers are best enjoyed on the day they are made. They are delicious warm or at room temperature.
If you aren't serving the cobbler right away (or to save leftovers), cover the cobbler with foil or put in an airtight container. Store in the refrigerator. When you are ready to serve the dessert, reheat it in the oven for 20-30 minutes at 300 degrees F. You could also microwave the leftovers, but know that the topping may lose its crumbly texture.
How to serve the dessert
Scoop a portion of the filling along with a bit of the topping into a bowl or even a plate with a slight rim. Individual ramekins make great serving dishes for this vegan cobbler.
I'd suggest topping each serving with a scoop of So Delicious® Vanilla Bean Coconutmilk Frozen Dessert. Get the perfect bite with a spoonful of sweet blackberries, the flaky biscuit topping and the creamy frozen dessert.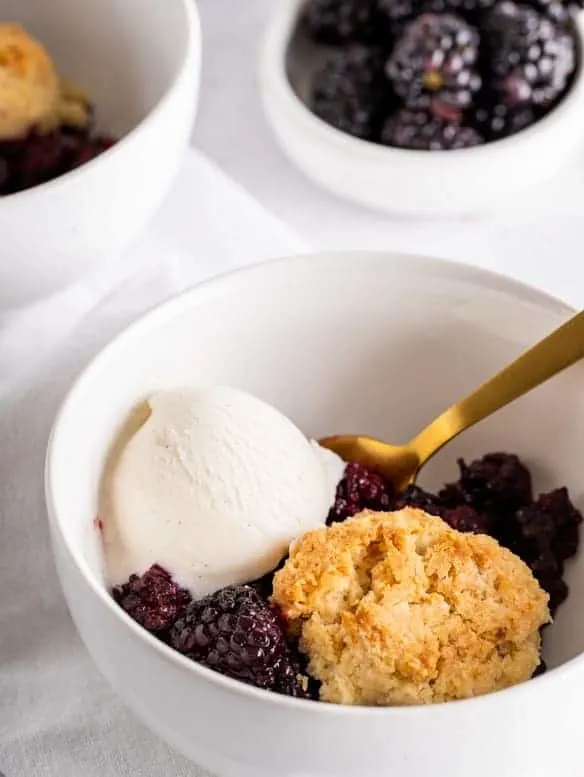 Variations on blackberry cobbler
Cobblers are flexible. Nearly any fruit is welcome when it comes to fruit cobblers. Try peaches, mixed berries, rhubarb and strawberry, or blueberries. Apples or plums make an excellent choice too!
Bake your cobbler in an 8 by 8 deep baking dish, a pie dish, or even a cast iron skillet. If your topping reaches the lip of your pan, go ahead and bake with a sheet pan underneath to catch any excess fruit juices that might bubble over.
Cobbler is not a fussy dessert nor will it win any fancy dessert contests on its looks. It is simply an old fashioned, homemade way to enjoy fruit for dessert. But a dripping berry sauce, cooked berries and an uneven cobbler topping might just be the best way to delight your family with dessert tonight.
If you enjoy baking with berries, you'll love this baked blueberry oatmeal recipe, gluten free apple crisp, and easy apple crumble. All can be made gluten free and vegan.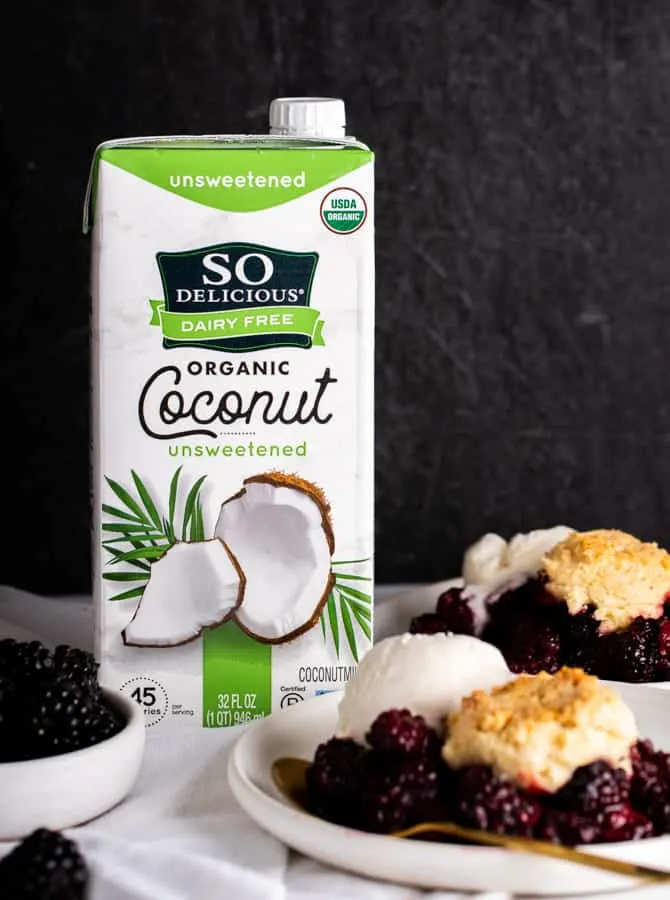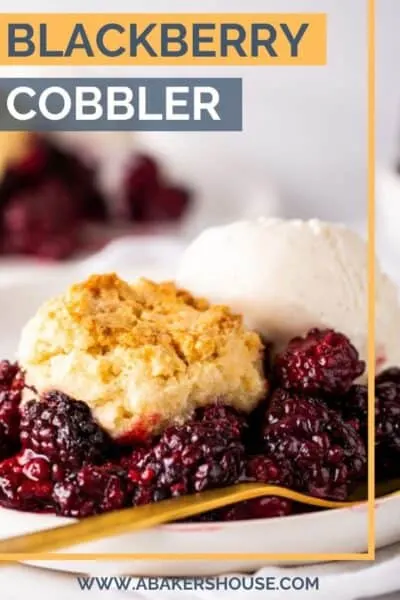 Yield: 9 servings
Vegan Blackberry Cobbler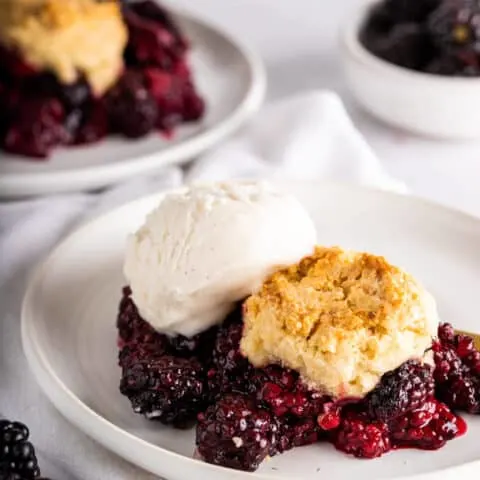 Blackberry cobbler is an easy fruit dessert to prepare. Fresh or frozen blackberries are covered with a golden-brown biscuit like topping that makes for a simple but delicious dessert. This cobbler recipe is both vegan and gluten free.
Ingredients
24 oz blackberries
2 Tbsp sugar
1 Tbsp cornstarch
1 ½ cups gluten free flour blend
¼ cup sugar
1 tsp baking powder
¼ tsp salt
4 oz vegan butter, melted
½ cup So Delicious® Organic Unsweetened Coconutmilk Beverage
Instructions
Preheat the oven to 375 F
Use about a Tbsp of the melted vegan butter to grease an 8 by 8 glass baking dish.
Toss the blackberries with 2 Tbsp sugar, and 1 Tbsp cornstarch. Pour into the prepared baking dish.
In a mixing bowl, gently whisk the 1 ½ cups gluten free flour blend, ¼ cup sugar, 1 tsp. baking powder, and ¼ tsp salt.
Pour in the remaining melted vegan butter and the ½ cup coconutmilk. Mix until just barely combined. Don't overmix. The batter will be thick and sticky.
Use an ice cream scoop to place 9 scoops of the cobbler batter on top of the fruit.
Bake at 375 F for 40 -45 minutes or until the berries are bubbling and the topping is a light golden brown.
Notes
Note 1: Make sure your gluten free flour blend includes xanthan gum. If not, add ¼ tsp xanthan gum to the dry ingredients.
Note 2: You may use a pie plate for this recipe instead of an 8 by 8 dish.
Note 3: When you lay scoops of the cobbler batter on top of the fruit, push down the tops of the scoop to level out the batter so that the scoops cook evenly.
Nutrition Information:
Yield:
9
Serving Size:
1
Amount Per Serving:
Calories:

235
Total Fat:

11g
Saturated Fat:

7g
Trans Fat:

0g
Unsaturated Fat:

3g
Cholesterol:

27mg
Sodium:

201mg
Carbohydrates:

32g
Fiber:

5g
Sugar:

12g
Protein:

3g
This data is provided by Nutritionix and is an estimate only.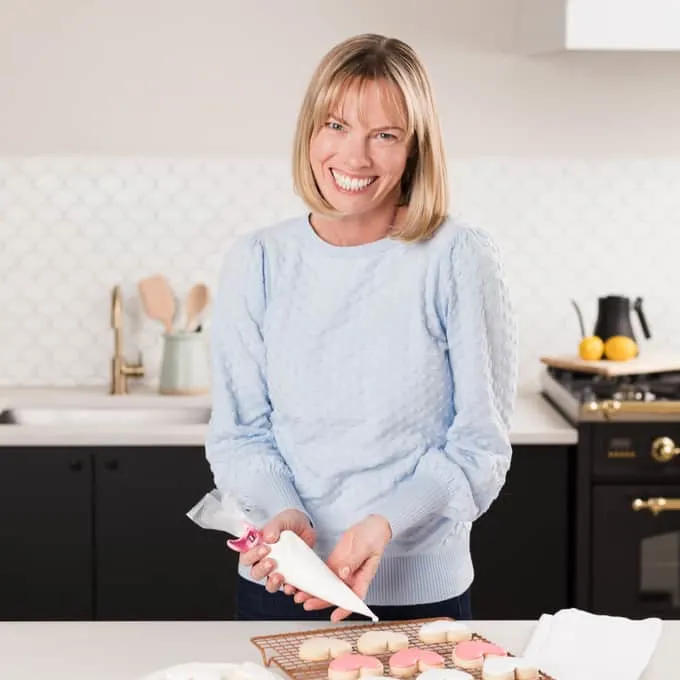 Holly Baker started the food blog, A Baker's House, in 2011. She is the writer, recipe creator, and photographer for the site. Holly loves to bake and shares recipes for gluten free food, canning recipes, as well as traditional desserts too. Her recipes and food photography have been highlighted by BuzzFeed, Reader's Digest, and She Knows.