Creamy and fresh, this cucumber feta dip pairs perfectly with a vegetable platter, crackers and fruit too! Encourage your family to eat more vegetables by serving them along with this yogurt-based veggie dip.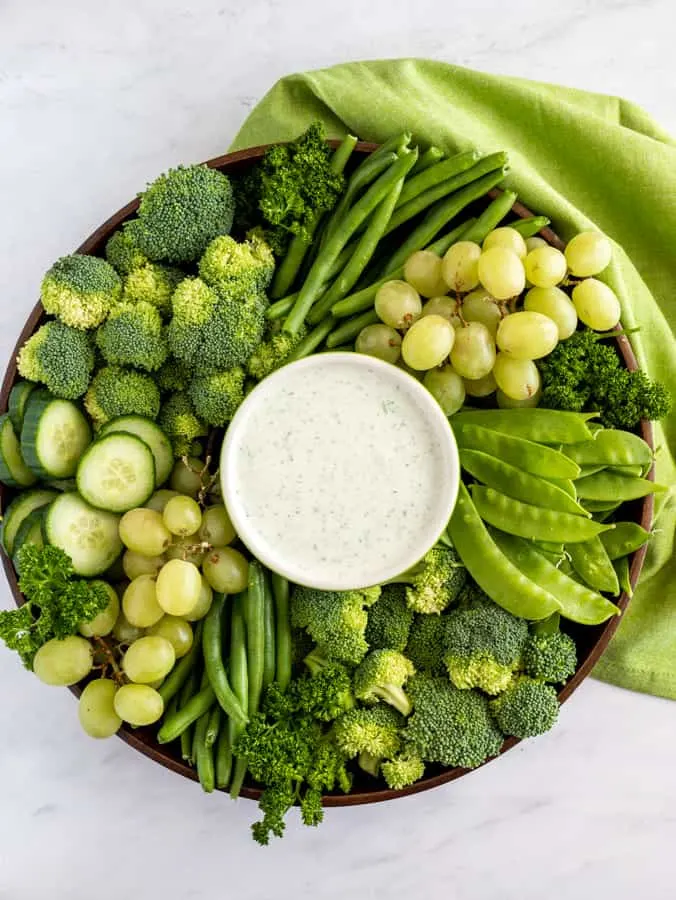 This post is sponsored by Sprouts Farmers Market. I appreciate the opportunity to share recipes made with ingredients from brands I trust and support. All opinions are my own and do not necessarily reflect those of Sprouts Farmers Market. #sponsored
St. Patrick's Day is a great time to celebrate all that is green and vibrant! Make this creamy yogurt dip to serve along side a variety of fresh green fruits and vegetables.
Of course, this veggie dip can be served on a platter with broccoli, green beans, crackers and more, but if you want to get in the spirit of St. Patty's Day, make shamrock shapes to create a Shamrock arrangement!
I love making arrangements you can eat—they are beautiful edible centerpieces and make a lasting impression. If you like this green vegetable arrangement you'll also enjoy this DIY fruit bouquet or this cupcake rose bouquet.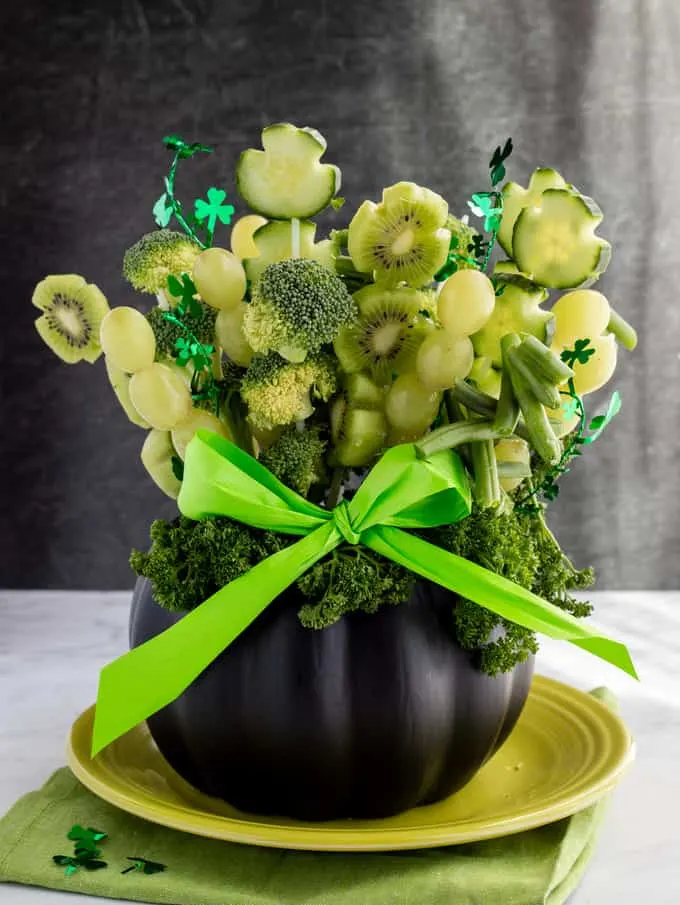 Let's start with how to make the yogurt dip
Cucumbers and feta give this Greek yogurt dip flavor along with a few supporting ingredients. The base for the vegetable dip is Greek yogurt with a smaller amount of sour cream. Parsley and lemon juice contribute to the flavorful dip too.
We'll use a mini food processor to easily whip the dip together.
Add all the ingredients EXCEPT the cucumber to the food processor. Combine then refrigerate.
Remove the moisture from the cucumbers as described below before adding them to the dip.
Serve with a variety of fruits and vegetables such as green grapes, broccoli, snap peas, and green beans.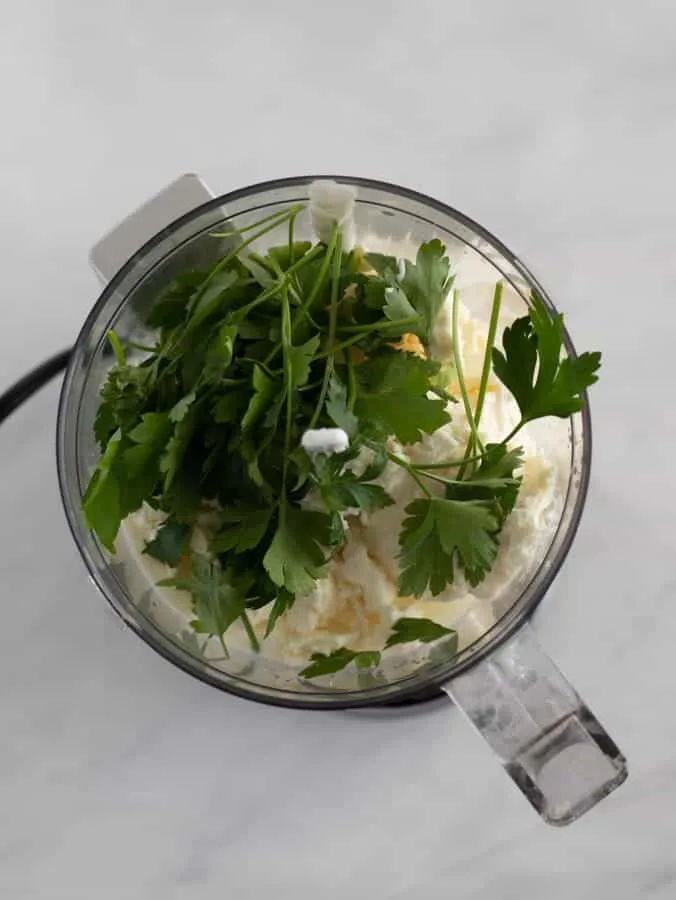 The trick to incorporating the cucumber into the mixture is to grate it first.
Cucumbers have a very high moisture content. It takes a few steps to remove some of the water from the cucumbers so that your dip isn't watery. I was surprised to see how much water came from ½ an English cucumber!
Slice the English cucumber and use a spoon to remove the seeds.
Grate the cucumber.
Toss with a small amount of salt and let sit for 10 minutes.
Squeeze any excess water out of the grated cucumber before adding to the dip.

Shop at Sprouts Farmers Market
Sprouts offers an excellent selection of fruits and vegetables at great low prices. Here are some ideas for green fruits and vegetables you can use for this veggie platter or veggie arrangement.
Green fruits: grapes, kiwi, honeydew melon
Green vegetables: broccoli, green string beans, snow peas, zucchini
By the way, don't limit yourself to using ONLY fruit or ONLY vegetables. This feta dip pairs well with both!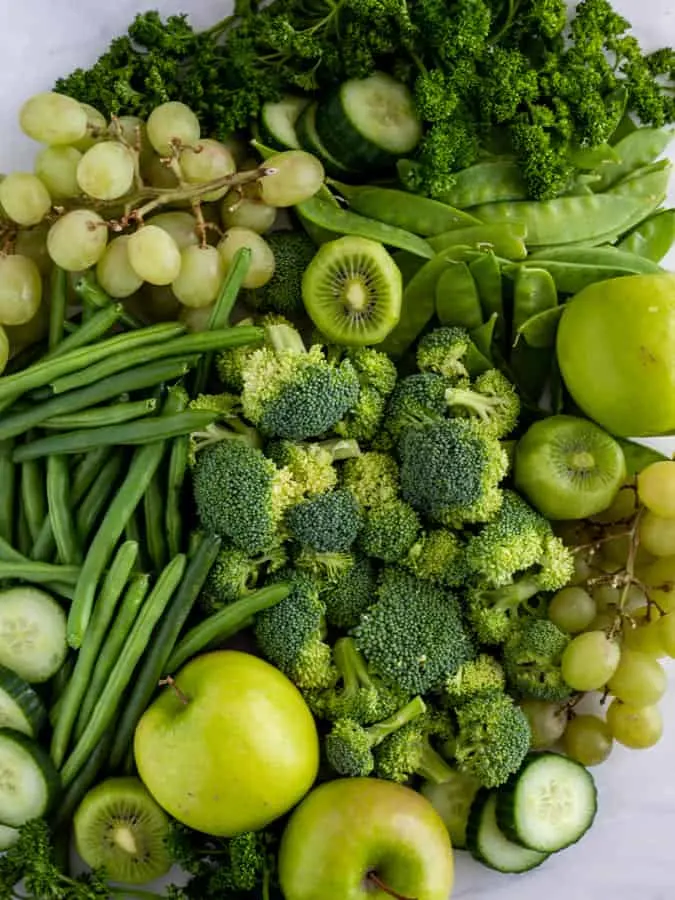 The selection available at Sprouts will depend on the season and your location. I love shopping at Sprouts because of the people who work there. If you don't see what you are looking for simply ask a Sprouts employee! They can let you know if there is additional produce to be added to the display or when the next delivery is scheduled of a particular food.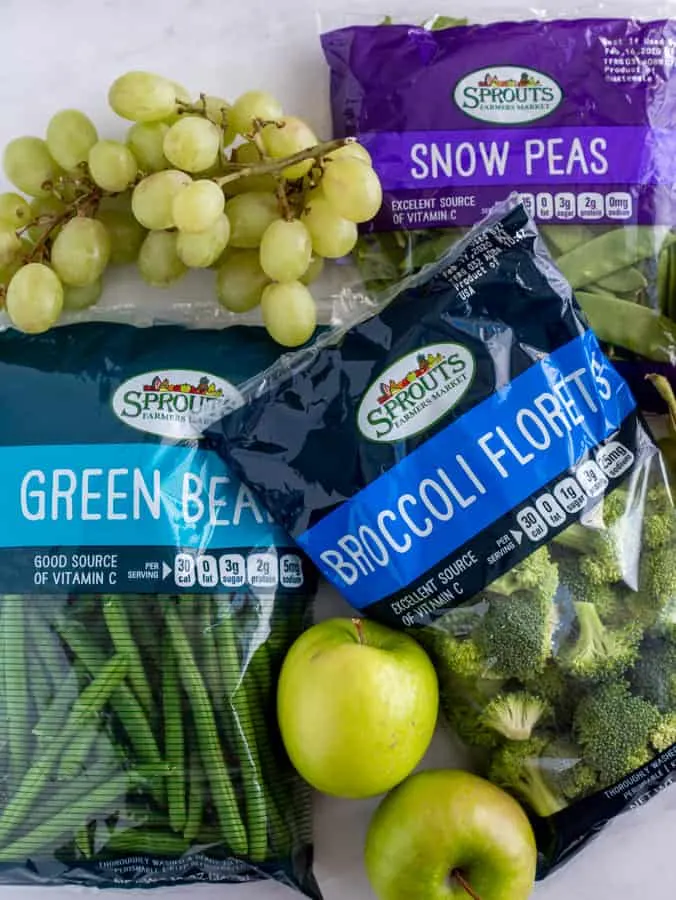 St. Patrick's Day Arrangement
Enjoy the cucumber feta dip all year long! If you are making this a celebration of all things green for St. Patrick's Day, let's look at this fun DIY edible arrangement.
All you need to add a festive touch is a small shamrock cookie cutter. I used this shamrock shape last year to make spinach pancakes. It's fun to see what a few simple shapes can do to help celebrate a holiday.
Choose fruits or veggies that are large enough to be cut into shapes. Kiwi and cucumbers work well. Other foods like grapes and broccoli can still be used in your arrangement and will add to the theme of green.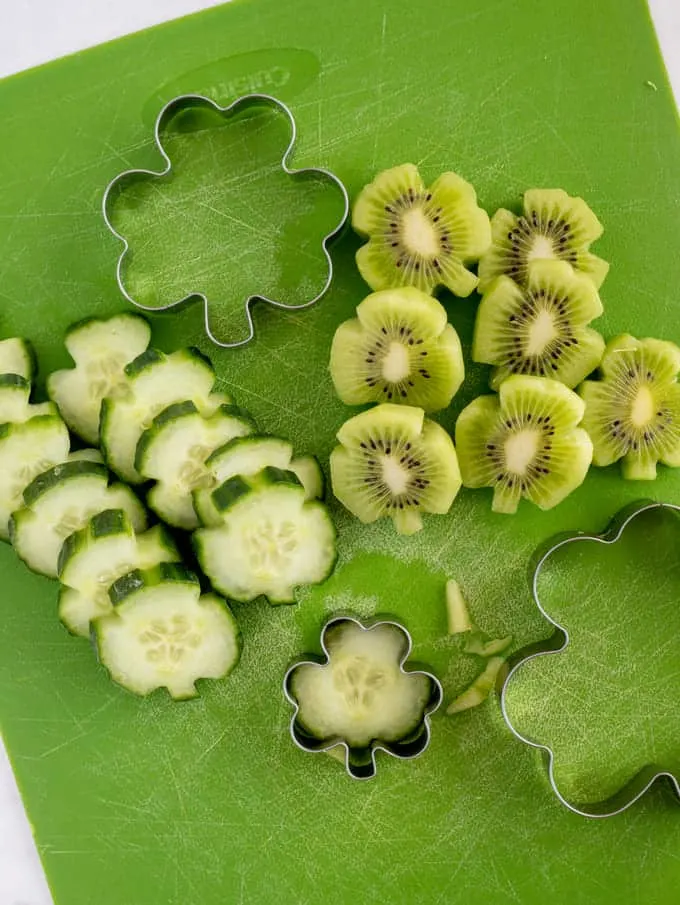 Add your green vegetables and fruits to wooden or plastic skewers then assemble the display one layer at a time.
Choose a sturdy vase or bowl for your base. For St. Patrick's Day I am using a black base with the idea of a black pot of gold at the end of the rainbow.
Glue a piece of Styrofoam to the base. Add your skewers to the Styrofoam as you would arrange flowers in a bouquet. Balance visually by spacing out each type of skewer around the circle. (You can find the Styrofoam at many stores in the floral department.)
Add parsley to fill in any gaps. Other filler suggestions are kale or lettuce.
If you have St. Patrick's Day decorations, add those too!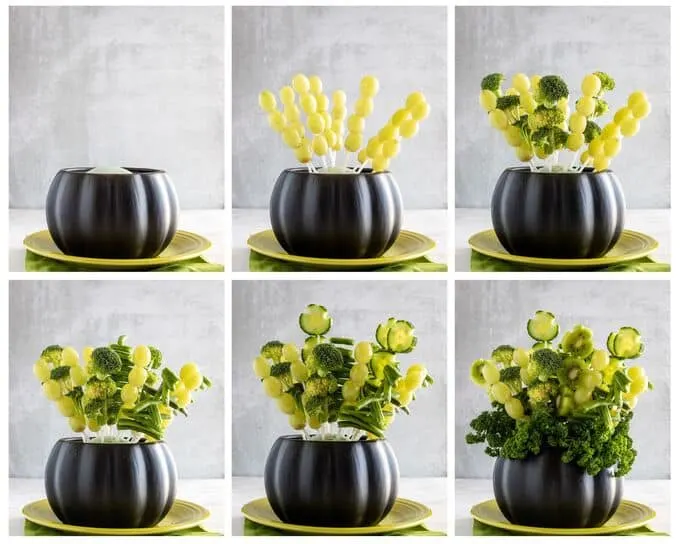 Yield: 2 cups
Cucumber Feta Dip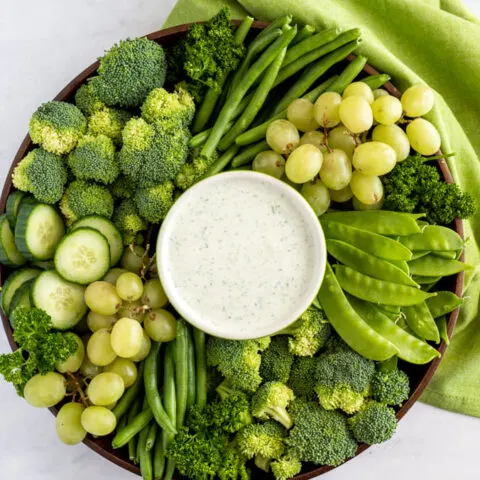 Creamy and fresh,this cucumber feta dip pairs perfectly with a vegetable platter, crackers and fruit too!
Ingredients
½ English cucumber
¼ teaspoon salt
1 cup Sprouts plain Greek lowfat yogurt
½ cup Sprouts organic sour cream
½ cup feta cheese crumbles
¼ cup parsley
1 Tbsp fresh lemon juice
Various Sprouts Farmers Market vegetables such as broccoli, green beans, and snap peas
Instructions
1. Slice the ½ English cucumber in half. Remove the seeds. Grate the cucumber into a sieve over a bowl. Toss with ¼ tsp salt and let sit for 10 minutes.
2. Use a small food processor to combine the 1 cup Greek yogurt, ½ cup sour cream, ½ cup feta crumbles, ¼ cup parsley and 1 Tbsp lemon juice.
3. Right before serving squeeze the excess water out of the grated cucumber with a clean towel then mix the cucumber into the dip.
4. Serve cold. Refrigerate any extra dip.
Notes
1. English cucumbers are longer and thinner than traditional cucumbers. If you only have a traditional cucumber use the entire cucumber.
2. Don't skip the step of removing the cucumber seeds. This helps to remove excess moisture from the cucumbers. Use a spoon and scrape
the seeds away.
3. Grate the cucumber with a microplane or handheld grater. Instead you can slice the cucumbers very thinly and then after they are salted and drained, add them to the food processor and pulse a few times.
Nutrition Information:
Yield:
32
Serving Size:
1
Amount Per Serving:
Calories:

16
Total Fat:

1g
Saturated Fat:

0g
Trans Fat:

0g
Unsaturated Fat:

0g
Cholesterol:

3mg
Sodium:

43mg
Carbohydrates:

2g
Fiber:

0g
Sugar:

1g
Protein:

1g
This data is provided by Nutritionix and is an estimate only.
Pin with me!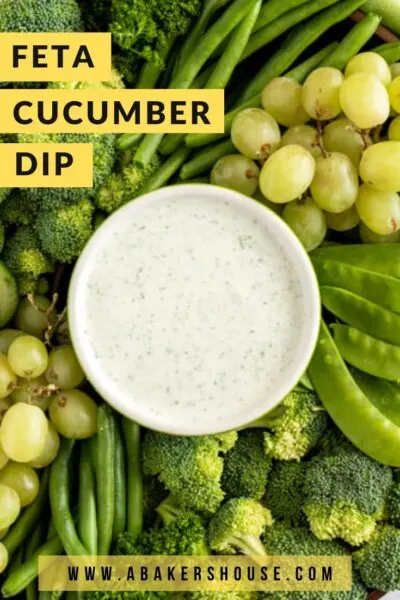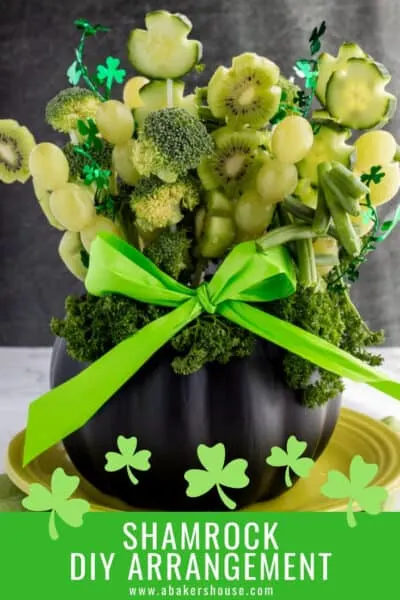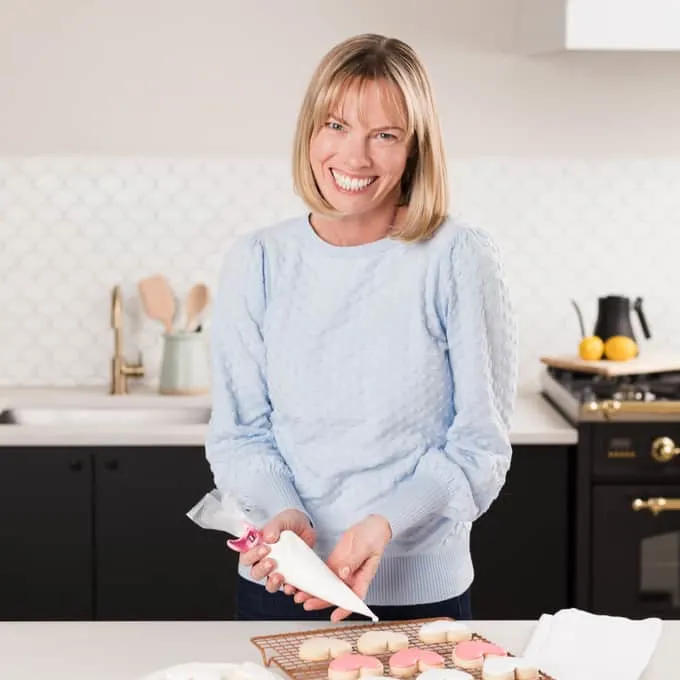 Holly Baker started the food blog, A Baker's House, in 2011. She is the writer, recipe creator, and photographer for the site. Holly loves to bake and shares recipes for gluten free food, canning recipes, as well as traditional desserts too. Her recipes and food photography have been highlighted by BuzzFeed, Reader's Digest, and She Knows.