Pears are the star in this fragrant gluten free pear pie with ginger cookie crumb topping. Combine warm spices like cinnamon and ginger with d'Anjou pears, place in a gluten free pie shell, then finish with a gluten free ginger cookie crumb topping. This gluten free pear pie will grace your dessert table throughout the autumn and into the holiday season. #Sprouts #SponsoredPost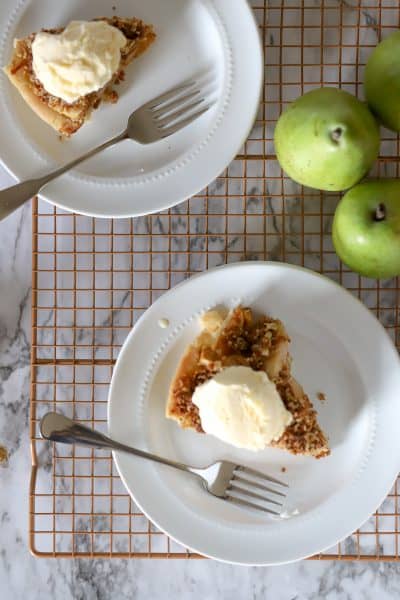 Pears are sometimes overshadowed by the friendly apple when it comes to baking. Apple pie, apple crisp, apple cake. This gluten free pear pie puts that idea to rest and lets the pears shine. Thanks to #Sprouts for partnering with me on this recipe.
The key to making pie baking such a breeze in this gluten free pear pie is twofold: first, start with a frozen, store-bought pie crust, and second, don't worry about a pastry topping– just make a cookie crumble.
All of the ingredients used in this recipe are from Sprouts. The gluten free pie crust is by Wholly Wholesome and can be found in a pack of two in the frozen section of the store. You simply let the pie shell thaw at room temperature for 10-15 minutes then fill it with mounds of spiced pears.
The spices that pair so well with the d'Anjou pears are Sprouts organic ground ginger and Sprouts organic cinnamon powder. Both have me dreaming of Thanksgiving already! The aroma from this pie is amazing as it bakes in the oven. There is no fancy step to prepare the pears, no pre-baking needed either. Just toss the sliced pears with the spices, some brown sugar, vanilla, and a squeeze of lemon and you are ready to go.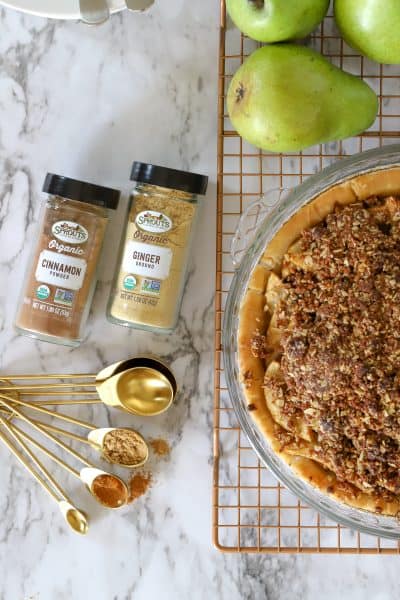 Once your pears are in your lovely gluten free pie crust you'll need to finish the dessert off with a ginger cookie crumb topping. One package of Enjoy Life Gingerbread Spice Cookies did the trick when combined with oats and butter. The topping will brown quickly since the ginger cookies obviously are a dark brown to begin with, but don't worry, you are not burning the topping. You can cover the pie with foil part way through the baking time so that the filling continues to bake without over-crisping your ginger cooking topping.
Gluten Free Pear Pie Recipe
Print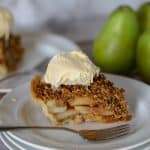 Gluten Free Pear Pie with Ginger Cookie Crumb Topping
Author:

Prep Time:

15

Cook Time:

45

Total Time:

1 hour

Yield:

8

Category:

Dessert

Method:

Baking

Cuisine:

Dessert
---
Description
Pears are the star of this fragrant pie! Combine warm spices like ginger and cinnamon with d'Anjou pears, place in a gluten free pie shell, then finish with a ginger cookie crumb topping. Bake to perfection.
---
Ingredients
1 Frozen Gluten Free Ready Made Pie Shell (Wholly Wholesome Gluten Free 9" Pie Shells)
6 D'Anjou Pears
Juice from ½ a lemon
1 teaspoon Sprouts Organic Ground Ginger
1 teaspoon Sprouts Organic Cinnamon Powder
½ cup Sprouts Brown Sugar
2 teaspoons Sprouts Organic Vanilla Extract
1 Stick (8 tablespoons) Sprouts Unsalted Butter separated into 6 TB and 2 TB
6 ounces Gluten Free Ginger Cookies (Enjoy Life Gingerbread Spice Cookies)
1 cup Gluten Free Oats
1 pint vanilla ice cream (optional)
---
Instructions
Preheat the oven to 375 degrees F.
Remove one gluten free pie shell from the freezer. (Wholly Wholesome Gluten Free Pie Shells come in a pack of two. Save one for another time.) Thaw the pie crust at room temperature for 10 -15 minutes while you prepare the pie filling.
Use a vegetable peeler to remove the skin of the pears. Cut the 6 pears lengthwise. Use a melon baller to remove the core. Cut each half of a pear into 4 slices. Place the pear slices in a bowl; toss with the lemon juice. Add the 1 tsp ginger, 1 tsp cinnamon, ½ cup brown sugar and 2 tsp of vanilla to the pears and mix gently.
Place the pear mixture into the thawed pie shell. Take only 2 tablespoons of the butter and cut into small cubes. Dot the butter cubes over the pie filling.
Make the crumb topping: In a food processor combine 6 ounces of gluten free ginger cookies (1 package of Enjoy Life Gingerbread Spice cookies) and 1 cup of gluten free oats. Process until the size of small crumbs. Cut the remaining 6 tablespoons of butter into cubes then pulse in the food processor until well mixed.
Press the ginger cookie crumb mixture onto the pear filling. Cover the entire surface to the edges of the pie shell.
Bake the pie for 30 minutes then cover with foil and bake for an additional 15 minutes. The topping will look brown quickly because the cookies are a dark brown color to begin with—don't worry, the topping isn't burnt, it's just right! Optional: Before serving, top each slice with a small scoop of vanilla ice cream.
---
Notes
*Please note that this pie is only gluten free if you use all gluten free ingredients. The spices included in this recipe were processed in a facility that may process tree nuts, milk, eggs, wheat and soy, so if you are eating gluten free due to celiac disease please bake with certified gluten free ingredients.
Recipe Card powered by
Are you looking for more ways to bake with pears?
Try these recipes:
Gluten Free Pear and Walnut Tart
Spooky Poached Pears for Halloween
Please note that this is a sponsored post. I developed this recipe in partnership with #Sprouts; ingredients were purchased at my local Sprouts store. I was compensated for my participation and all opinions are my own.