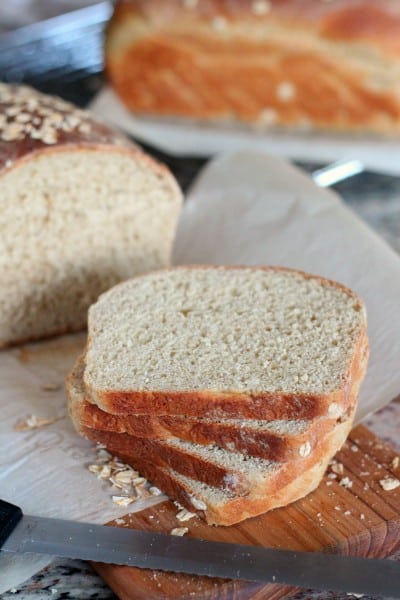 Maple Oatmeal Bread is sweetened with maple syrup (obviously!) with no other added sugar. It has a secret ingredient of coffee which is an interesting twist. Great for sandwiches or for toast and jam.
This month the #BreadBakers are baking with natural sweeteners so you won't find granulated sugar in the ingredient lists for any of our breads shared below. What you will find are alternatives like honey, maple syrup, fruit purees and other creative ways to add a touch of sweetness. I baked with maple syrup in this recipe for Maple Oatmeal Bread. Not only was the maple syrup a highlight but also was the secret ingredient of coffee (no sugar added!). I was curious so I gave this bread a try and thoroughly enjoyed it. You'll want to eat this bread lightly toasted with a touch of butter or you'll find it is an excellent sandwich bread which slices well and balances nicely with a filling of turkey and cheese.
Print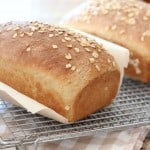 Maple Oatmeal Bread
---
---
Ingredients
5 3/4-6 1/4 cups all-purpose flour
2 packages active dry yeast
1 1/2 cups prepared coffee
1 cup quick-cooking rolled oats
3/4 cup pure maple syrup
1/3 cup butter
2 teaspoons salt
2 eggs
---
Instructions
In a very large mixing bowl combine 2 cups of the flour and the yeast. In a medium saucepan heat the coffee, rolled oats, maple syrup, butter, and salt just until warm (120 degrees F to 130 degrees F) and butter is almost melted. Add to flour mixture along with eggs. Beat with an electric mixer on low to medium speed for 30 seconds, scraping sides of bowl constantly. Beat on high speed for 3 minutes. Using a wooden spoon, stir in as much of the remaining flour as you can.
Turn dough out onto a lightly floured surface. Knead in enough remaining flour to make a moderately soft dough that is smooth and elastic (3 to 5 minutes total). Shape dough into a ball. Place in a lightly greased bowl, turning once to grease surface of dough. Cover; let rise in a warm place until double in size (about 1 hour).
Punch dough down. Turn dough out onto a lightly floured surface. Divide dough in half. Cover; let rest 10 minutes. Meanwhile, lightly grease two 9x5x3-inch loaf pans or line bottoms with parchment paper; set aside.
Shape dough into 2 loaves by patting or rolling. To shape by patting, gently pat and pinch, tucking edges underneath. To shape by rolling, on a lightly floured surface roll each dough half into a 12×8-inch rectangle. Roll up each rectangle, starting from a short side. Seal seams with your fingertips. Place shaped dough in prepared pans. Cover; let rise in a warm place until nearly double in size (30 to 45 minutes). Preheat oven to 375 degrees F.
Bake about 30 minutes or until bread sounds hollow when lightly tapped (if necessary, cover loosely with foil the last 10 to 15 minutes of baking to prevent overbrowning). Immediately remove bread from pan. Cool on wire rack. Remove parchment, if using. Makes 2 loaves (28 servings).
Recipe Card powered by
I hope you'll enjoy these recipes as we explore alternatives to sugar in our bread-baking!