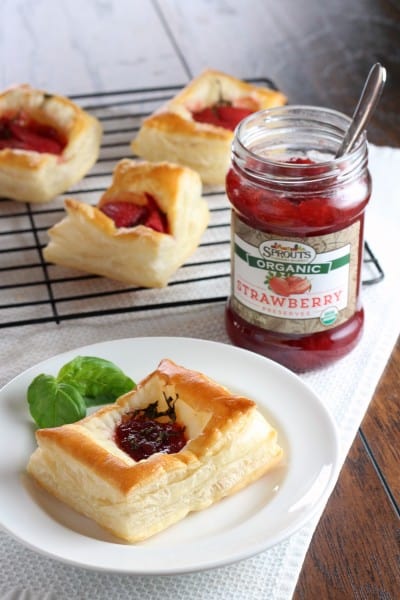 Puff pastry berry tarts are a cinch to make. It's no secret that I like to bake and baking from scratch has its time and place, BUT I love a shortcut just as much as any home baker! Shortcuts abound while making these easy tarts using ingredients from #Sprouts. A puff pastry base serves as the canvas for these Berry Tarts which highlight Sprouts Organic Preserves and fresh berries from their produce department. The preserves offer a variety of options: strawberry, blueberry and apricot caught my eye. I'm sharing two versions here– Blueberry with Mint and Strawberry with Basil. For a bare-basic tart simply use the preserves on their own, no fresh berry topping required, or try them with a mixture of herbs and preserves topped with a few blueberries, strawberries or other fruits like peaches or plums. The way the puff pastry rises around the filling and turns a golden-brown will make you look like a seasoned pastry chef!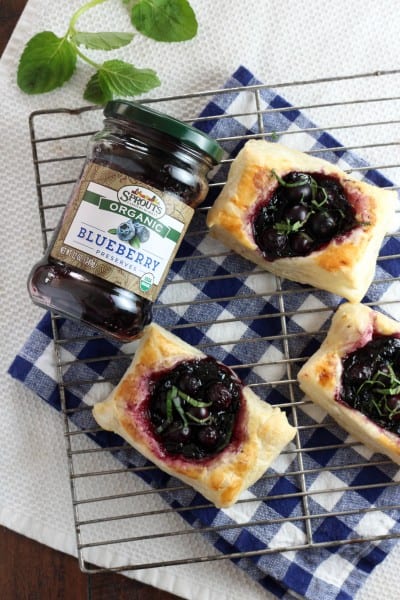 Check out more recipes and tips at Sprouts Brand website for summertime favorites.
Many thanks to Sprouts for sponsoring this post. All opinions are my own.
Print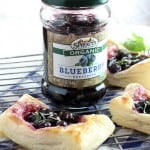 Puff Pastry Berry Tarts
---
Ingredients
1 package puff pastry (Sprouts offers Dufour Classic Puff Pastry 14 oz)
Blueberry Option
¼ cp Sprouts Organic Blueberry Preserves
2 tbsp finely chopped mint
4 oz blueberries
Strawberry Option:
¼ cup Sprouts Organic Strawberry Preserves
6 oz strawberries
2 tbsp of basil
Berries may be omitted as well; the tarts with the preserves and herbs turn out very nicely too.
---
Instructions
Thaw puff pastry per instructions on package. (Dufour puff pastry requires 2-3 hours of defrosting time in the refrigerator.)
Preheat oven to 400 degrees F.
Lightly flour a work surface and the puff pastry. Gently use a rolling pin to roll out the puff pastry to smooth over the creases. Cut the dough into 12 portions (3 columns by 4 rows) then place on a parchment lined baking pan.
Prick the center of each portion of dough with a fork a few times to prevent the middle from rising too much. Whisk the egg and water together to make the egg wash. Brush the egg wash around the edges of each rectangle of dough.
Spread 1 tsp of Sprouts Organic Blueberry Preserves in the middle of each rectangle. Top each with 1/2 tsp of finely chopped herbs and 5-6 blueberries.
Bake for 18-20 minutes or until puff pastry is golden. Cool for 5 minutes then serve.
Recipe Card powered by