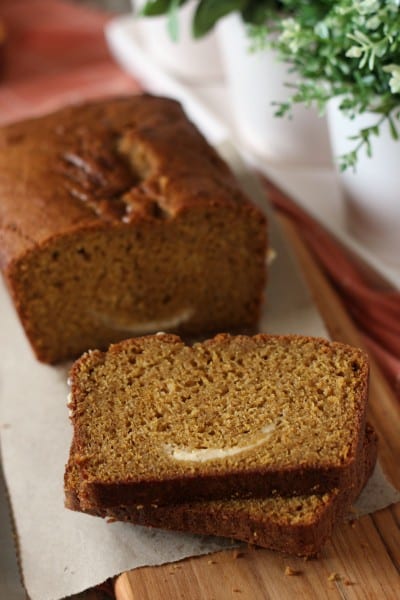 Pumpkin Bread with Cream Cheese Swirl is your go-to quick bread for autumn baking. Easy to pull together and even easier to eat, this pumpkin bread is a seasonal favorite. Pumpkins are creeping back into the baking scene as autumn draws near. Today the #BreadBakers are sharing our favorite pumpkin recipes with you so grab your pumpkin spiced latte and have a look at some beautiful pumpkin recipes! Here is an easy quick bread recipe from Williams-Sonoma's website with the addition of a cream cheese swirl. My swirl looks more like a "smile" than a "swirl" but the idea is the same no matter how artistic your cream cheese swirl looks. I made a second round of this quick bread without the cream cheese and, I must say, I liked it even better. The bread traveled well and stayed moist as we enjoyed it over the weekend on a girls' trip to the mountains.
Print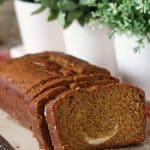 Pumpkin Bread with Cream Cheese Swirl
---
---
Ingredients
1 1/2 cups all-purpose flour
1/2 tsp. baking powder
3/4 tsp. baking soda
1/4 tsp. salt
1/2 tsp. ground ginger
1/4 tsp. freshly grated nutmeg
1 tsp. ground cinnamon
10 Tbs. (1 1/4 sticks) unsalted butter, melted
1/2 cup firmly packed dark brown sugar
1 cup granulated sugar
3 eggs, lightly beaten
1 cup pumpkin puree
For the Cream Cheese Swirl
4 ounces cream cheese
2 tablespoons sugar
1/2 teaspoon pure vanilla extract
---
Instructions
Preheat the oven to 350 degrees F.
Prepare a bread loaf pan with baking spray; line with parchment.
Mix the dry ingredients: flour, baking powder, baking soda, salt and all the spices. Stir gently with a whisk.
In a separate bowl beat the butter with the brown sugar and the granulated sugar. Add the eggs one at a time then stir in the pumpkin puree.
Add the wet ingredients to the dry ingredients and stir until barely incorporated.
In another small bowl prepare the cream cheese mixture: beat the softened cream cheese with the sugar and vanilla.
Pour two thirds of the bread batter into the prepared loaf pan. Spoon the cream cheese mixture on top of the batter, spread gently. Top with the remaining bread batter. Swirl with a knife.
Bake in the oven for 50-55 minutes. Cool on a wire rack.
---
Notes
I used the referenced recipe but omitted the orange flavors. I also added the cream cheese swirl.
Recipe Card powered by
What a variety of recipes were made this month! Enjoy!
#BreadBakers is a group of bread loving bakers who get together once a month to bake bread with a common ingredient or theme. Follow our Pinterest board right here. Links are also updated each month on this home page.
We take turns hosting each month and choosing the theme/ingredient. Many thanks to Kylee of Kylee Cooks for hosting this month.