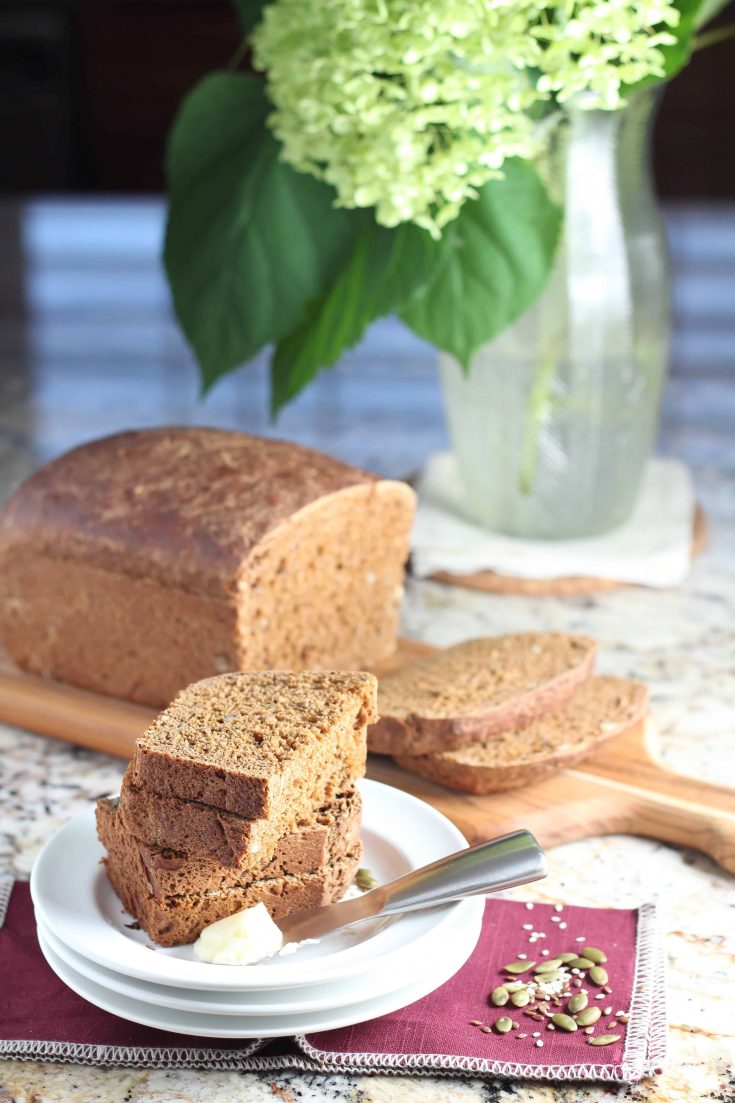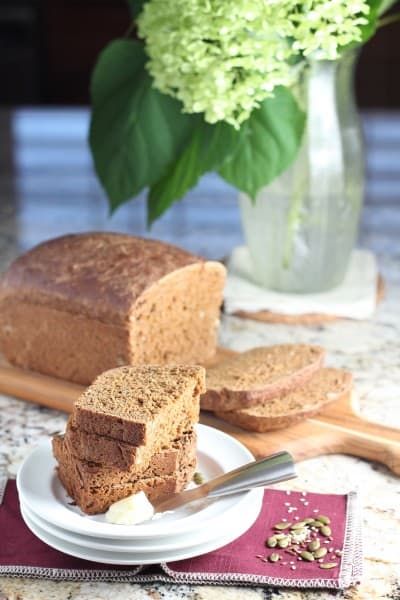 For this Molasses Mulit-seed Bread I turned (again!) to the recipes on the King Arthur Flour website. Their recipes are always and when I am trying something new I feel confident in sampling a different technique or combination of flavors under their guidance. This month both the strong flavor of molasses and the heavy dose of seeds were new to me and the recipe for Molasses Multi-seed Bread was spot-on. You can use any type of seeds that you'd like; here I used pumpkin seeds instead of the sunflower seeds in the recipe along with poppy seeds, sesame seeds and flax seeds. This Molasses Multi-seed Bread is a rich, flavorful bread. It is hearty enough to stand up to sandwich-making yet simple enough to enjoy with a pat of softened butter.
The recipe was explained so well on the King Arthur Flour site that I will simply list their ingredients here and provide the link to the full recipe. Happy Baking!
Yield: 1 loaf
Molasses Multi-Seed Bread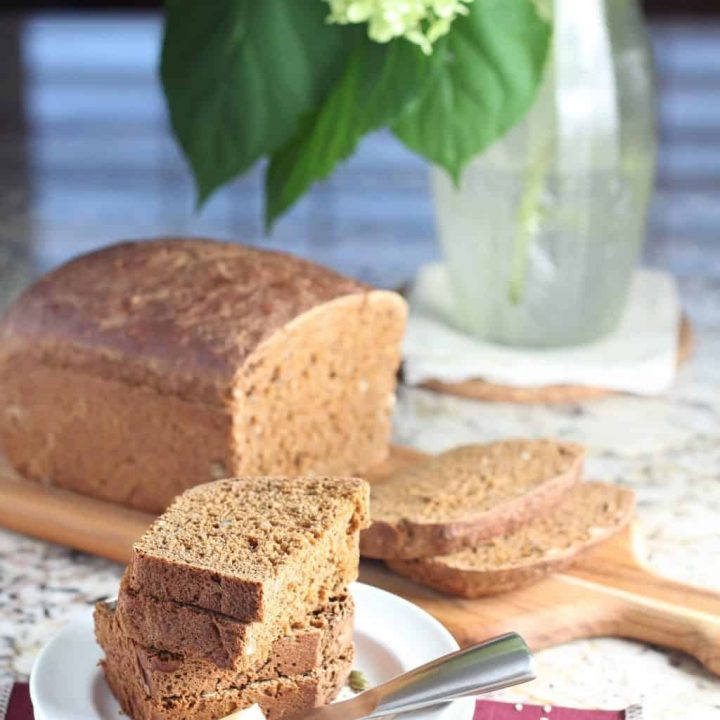 A reliable bread recipe from King Arthur Flour
Ingredients
1 1/2 cups warm milk, 105° to 110°F
1 cup warm water, 105° to 110°F
4 tablespoons butter, melted and slightly cooled
2 cups King Arthur 100% White Whole Wheat Flour
4 to 5 cups King Arthur Unbleached Special Bread Flour
1/8 teaspoon ascorbic acid (with so much molasses, this will really help your dough rise)
1 tablespoon instant yeast (first choice) or active dry yeast
1 tablespoon salt
3 tablespoons sunflower seeds
3 tablespoons poppy seeds
3 tablespoons sesame seeds
3 tablespoons flax seeds
1/2 cup molasses
Nutrition Information:
Amount Per Serving:
Calories:

0
Total Fat:

0g
This data is provided by Nutritionix and is an estimate only.
I am so pleased to be able to bake with the #TwelveLoaves group of bakers this month. #TwelveLoaves is a monthly bread baking party created by Lora from Cake Duchess; it runs smoothly online with the help of Heather of girlichef and the rest of our fabulous bakers. Our host this September is Lora from Cake Duchess and our theme is Seeds.For more bread recipes, visit the #TwelveLoaves Pinterest board, or check out last month's selection of #TwelveLoaves Malt Breads!
Anadama Bread from Cake Duchess
Dusle Pull Apart Rolls with Chia, Flax and Sesame Seeds from Cheap Ethnic Eatz
For more bread recipes, visit the #TwelveLoaves Pinterest board, or check out last month's selection of #TwelveLoaves Seed Breads!
If you'd like to bake along with us this month, share your Seed Bread using hashtag #TwelveLoaves!