Gluten Free Butterscotch Cookies are a classic butterscotch cookie made with gluten free ingredients. This thin yet chewy old fashioned butterscotch cookie will delight your gluten free friends and family!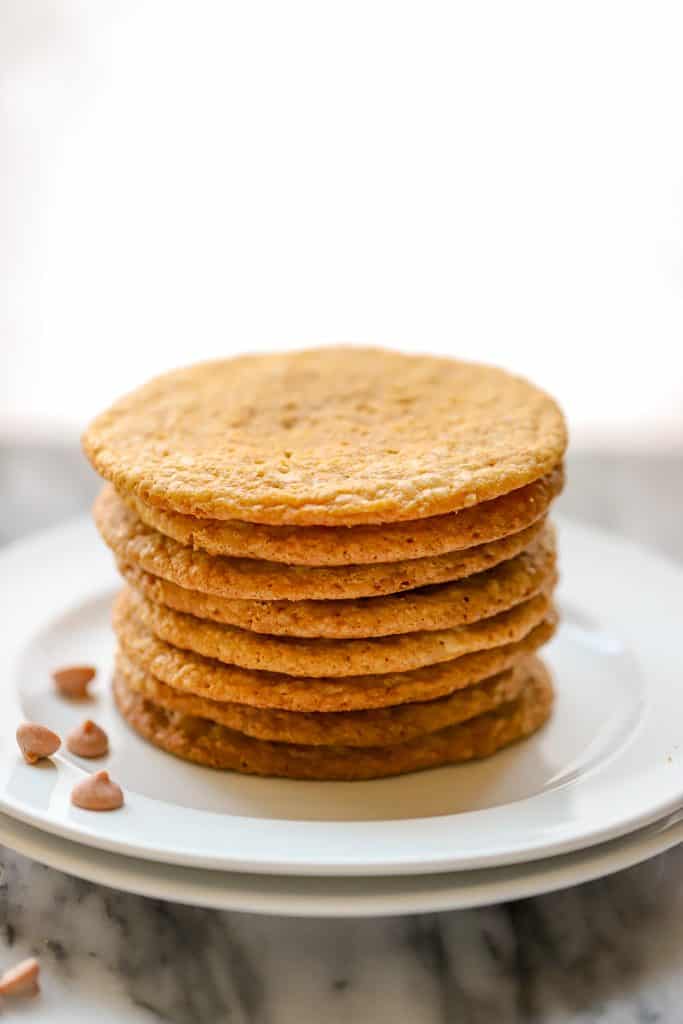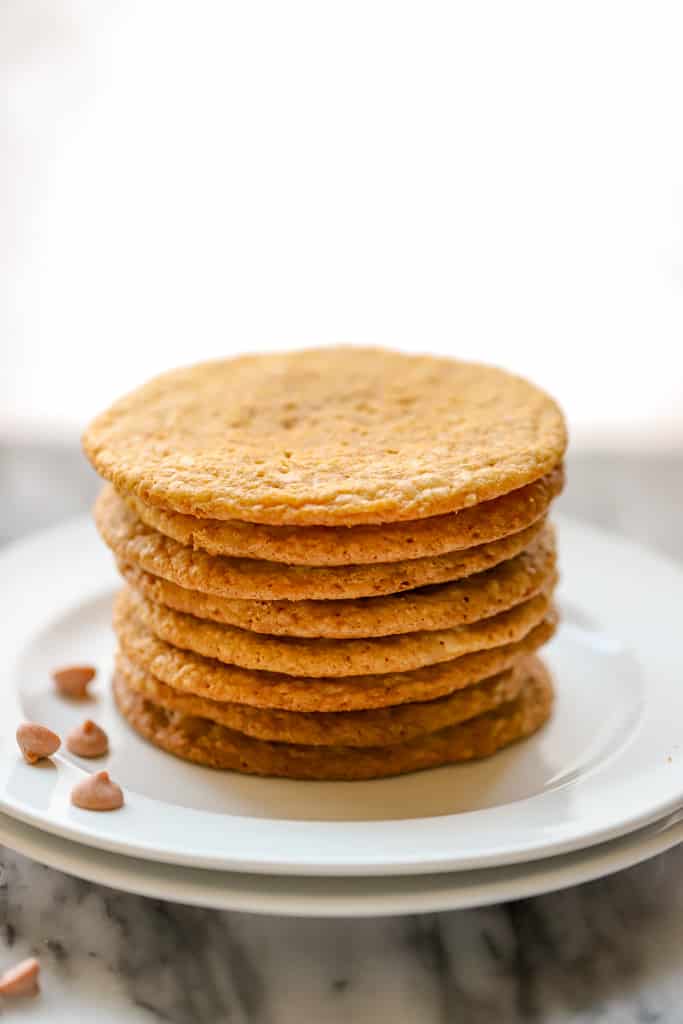 How is butterscotch made?
Butterscotch traditionally is made by combining brown sugar with melted butter, then adding heavy cream and a touch of vanilla.
These gluten free butterscotch cookies take a short cut to achieve that flavor profile by using gluten free butterscotch chips for baking which are melted then added into the cookie dough . More brown sugar and butter join the mix. Vanilla too.
How do you make gluten free butterscotch cookies?
The key to keeping these gluten free is using a gluten free flour blend. Bob's Red Mill Gluten Free 1 to 1 Baking Flour was my choice. Click here to order it on Amazon.
I experimented and found that adding a second egg and refrigerating the batter before baking helped the cookies retain their structure, although allow plenty of space on the baking pan for spreading. Try baking 6 cookies at a time rather than the usual 12.
Gluten free butterscotch cookies are soft and chewy in the middle even though they are a relatively thin cookie.
This recipe is based on Cook's County recipe for traditional butterscotch cookies that I shared previously.
Gluten free butterscotch cookies are my first recipe in what I intend to become a regular series on A Baker's House. The series focuses on transforming a traditional baked good (i.e. one with gluten) into one that someone living a gluten free lifestyle can enjoy.
The key is to figure out how to bake gluten free desserts that are just as good as the traditional counterpart– maybe better in some cases. Read more about gluten free baking in this guide with helpful tips.
Eating gluten free shouldn't mean that you are eating food that is "less-than" in any way. Less than tasty, less than appetizing, less than what you were used to eating. Not a chance! You'll be pleasantly surprised with these gluten free butterscotch cookies.
Are you on Pinterest?
I am! Join me there

and save this pin to your cookie collection.

Is this gluten free cookie healthier for me? NO!
Now, please know the gluten free version of most foods, especially desserts, is NOT healthier. There is still plenty of sugar and calories in gluten free desserts. Eating them in moderation in a balanced diet is a good intention.
Looking for more gluten free cookies? Try these Gluten Free Nutty Chocolate Crunch Cookies and these Strawberry Pudding Cookies.
Did you bake these cookies and want to send them by mail? Read this informative guide that provides tips and tricks for getting cookie through the mail in one piece.
We are a participant in the Amazon Services LLC Associates Program, an affiliate advertising program designed to provide a means for us to earn fees by linking to Amazon.com and affiliated sites.