Find success baking bread at home with this simple Knead Not Sourdough Bread recipe originally from Alton Brown. A Dutch Oven and an overnight time period to allow the dough to rise are the keys to this beautiful loaf of bread.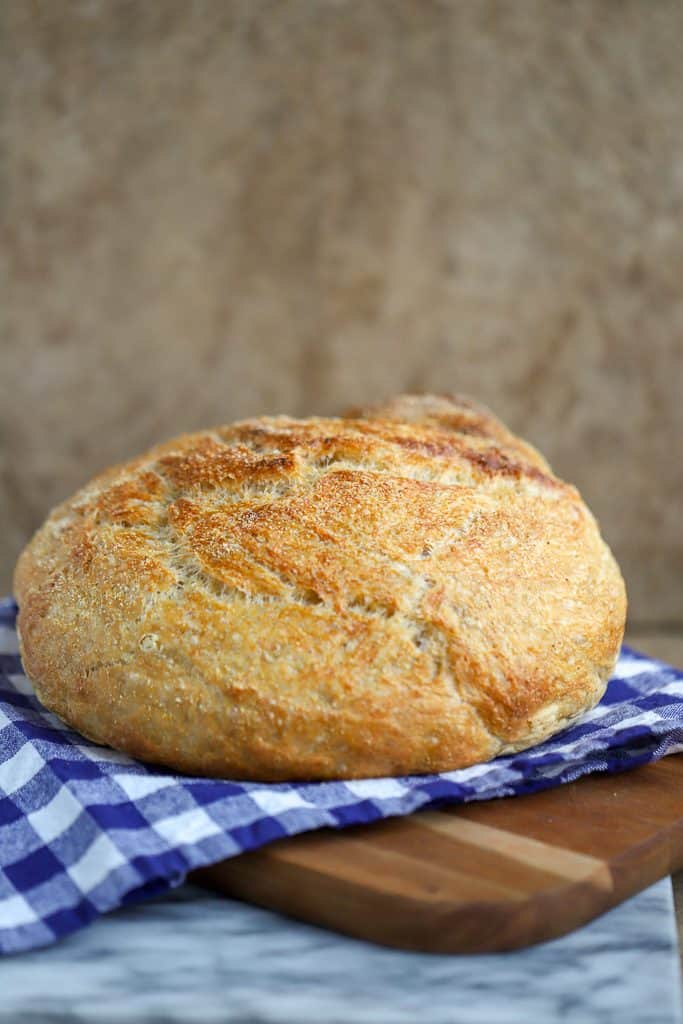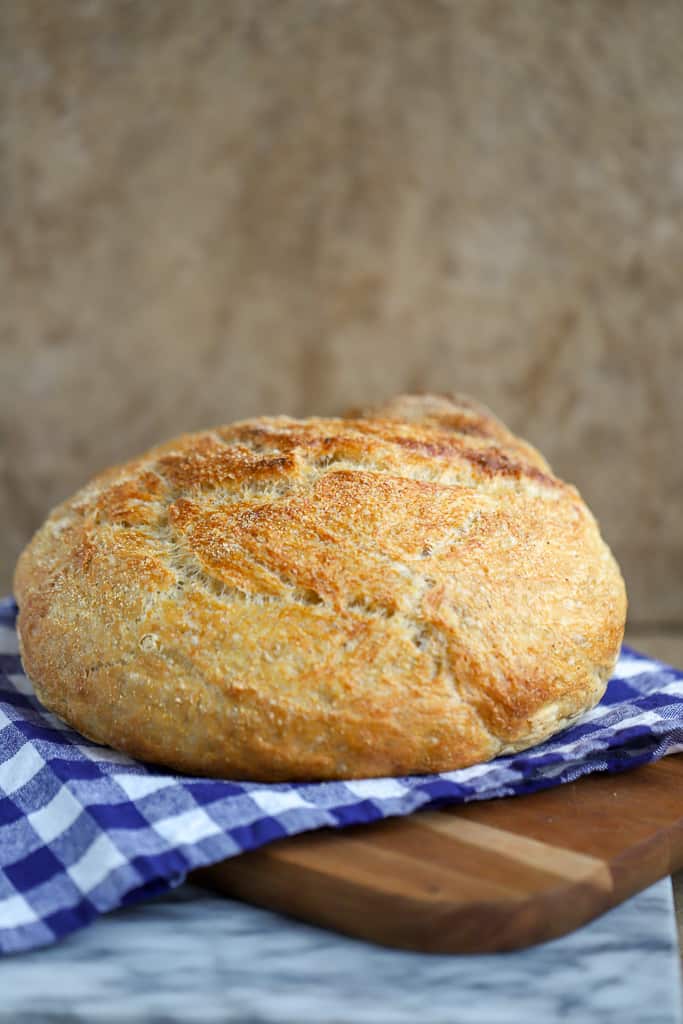 Little fuss, reliable results
Knead Not Sourdough Bread sounds like a lazy shortcut to making bread at home and I am all in with this no knead sourdough bread recipe! What, no fussing with the dough? No worrying about how the dough feels? No spending time forming the perfect loaf at exactly the right moment in the baking process? Yup, exactly that!
Alton Brown knows his bread!
I found this knead not sourdough bread recipe from Alton Brown of Food Network and his ideas nearly always jump out at me because I like his scientific method of cooking.
There is a method to his madness, and he explains things clearly and logically. I like that approach.
Dutch Oven makes for an even bake
Another strong point of this no knead sourdough bread recipe is that the bread cooks in a Dutch oven. Back when I first tried this recipe in 2011, I wanted to share more recipes for my mom to try in her Dutch oven, so this was worth a go.
Today the same approach holds true. This recipe take a long time to create but nearly all of the time is hands-off; the dough does its thing and all the baker does is patiently wait and enjoy the results.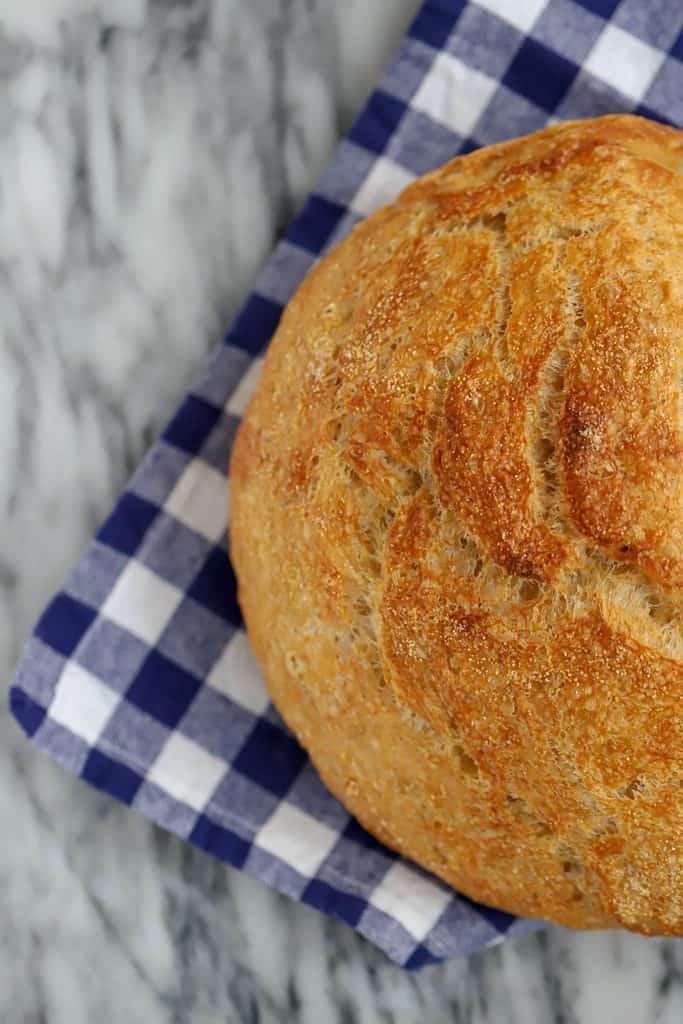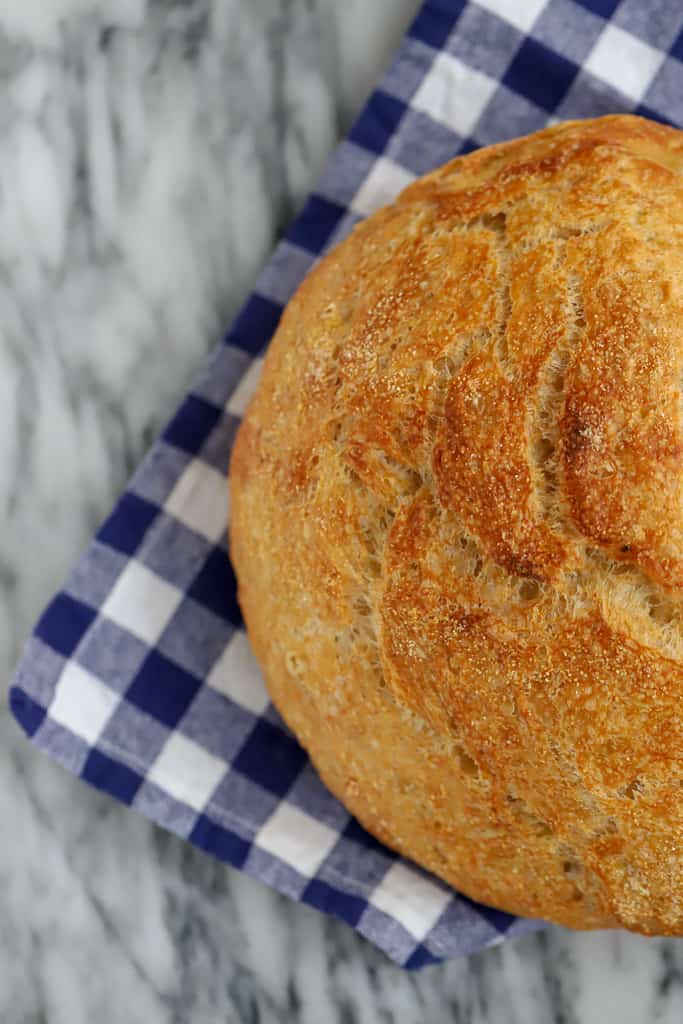 Print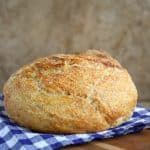 Knead Not Sourdough Bread (originally from Alton Brown)
---
Ingredients
17 ½ ounces bread flour
¼ tsp dry active yeast
2 ½ tsp kosher salt
12 ounces filtered water
2 TB cornmeal
---
Recipe Card powered by
Are you on Pinterest? I am! Join me there and save this pin to your Bread Boards.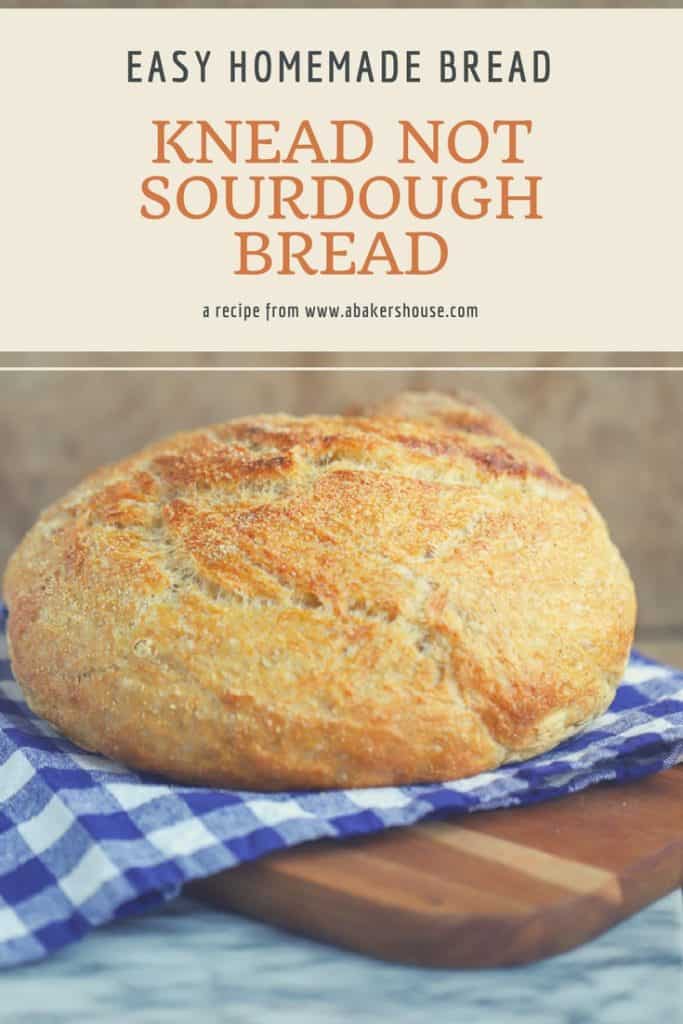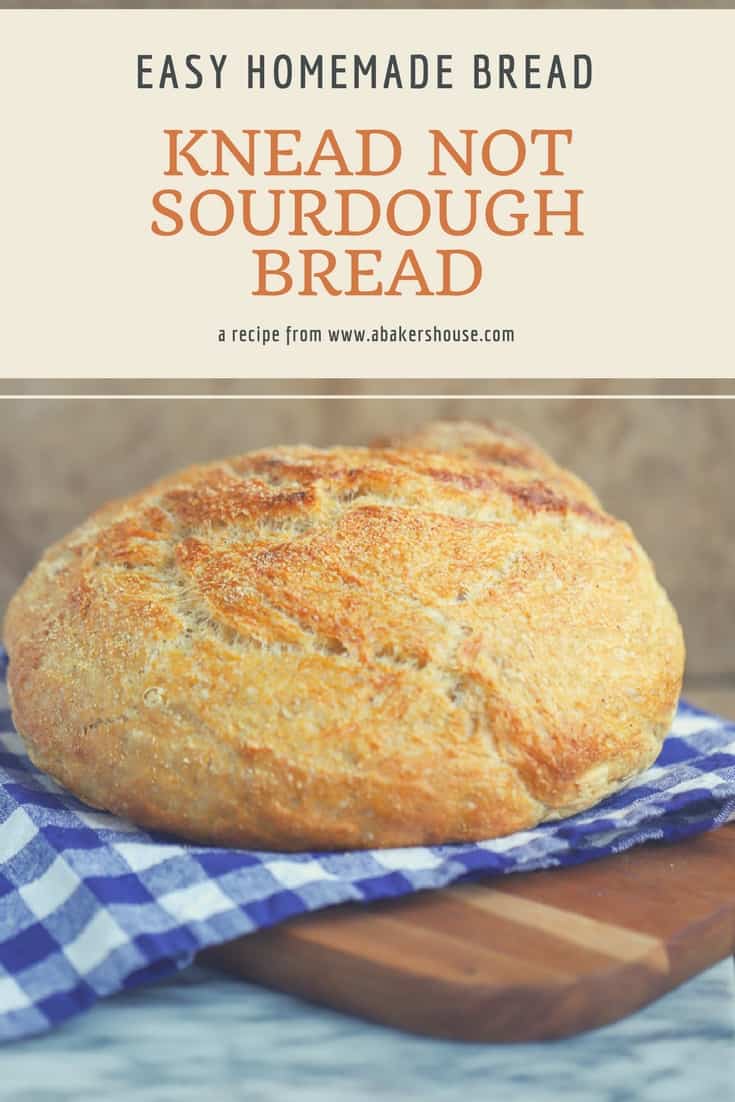 The Method
I'll describe how I followed his instructions for knead not sourdough bread. Heads up: this is a long process. Don't plan on taking the ingredients out of the pantry in the morning and having freshly baked bread that same night for dinner. Mix the flour, yeast and salt in a bowl. Add the water and stir. The dough came together fairly easily. You don't want to over mix it at this stage. Let it all sit in the bowl covered tightly with plastic wrap for 19 hours. Yes– 19!!!

Knock down the dough
After this long wait, the next step is simple but then you wait some more. Put the dough on a floured surface. The directions say to punch down the dough. This is also called "knocking down the dough". I gave the dough a satisfying, solid punch in the middle, folded it over itself, and repeated this process a few more times. Straightforward and not difficult as long as I kept my hands floured. The dough rests another 15 minutes then is shaped into a ball and covered with a small bit of cornmeal. Time for this dough to rest again for another 2-3 hours.
Preheating the Dutch Oven is a key step
When you are ready for the next phase for this knead not sourdough bread, put your Dutch oven in the oven for a while to let it preheat. I set the delay function on my oven to turn on about 30 minutes before I expected to return home.
This plan worked really well. I walked in the door, had a hot oven and pan, baked the bread and enjoyed it for dinner less than an hour later.
The dough bakes for 30 minutes at 450 F degrees with the lid on, then another 15 minutes with the lid off.
Results
The results with this no knead sourdough bread were better than I had expected. The crust of the bread was crunchy and golden. The inside could have been cooked just slightly longer but was still soft and springy.
Other than the long waiting periods, this no knead sourdough bread recipe doesn't call for any time-consuming effort. Plan ahead so that the initial rising period is overnight, the next phase occurs in the morning, then the bread will cook just before dinner.
A Dutch oven is an excellent vessel for bread baking. Have you tried a cast iron pan too? This
Apple, beer and cheddar bread
is made in a cast iron pan. Or make a soup in your Dutch oven to go along with the bread.
We are a participant in the Amazon Services LLC Associates Program, an affiliate advertising program designed to provide a means for us to earn fees by linking to Amazon.com and affiliated sites.
Note: Post originally from November 2011; Updated in January 2018.