Find success baking bread at home with this simple Knead Not Sourdough Bread recipe originally from Alton Brown. A Dutch Oven and an overnight time period to allow the dough to rise are the keys to this beautiful loaf of no knead sourdough bread.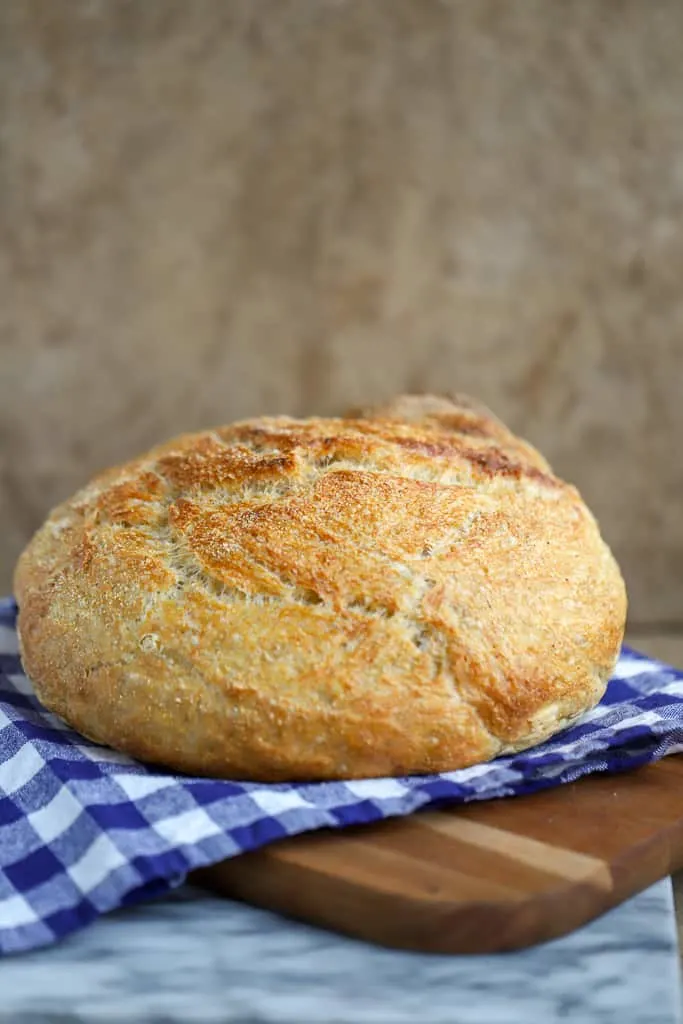 As an Amazon Associate I earn from qualifying purchases.
No knead sourdough bread: Little fuss, reliable results
Knead Not Sourdough Bread sounds like a lazy shortcut to making bread at home and I am all in with this no knead sourdough bread recipe!
What, no fussing with the dough? No worrying about how the dough feels?
No spending time forming the perfect loaf at exactly the right moment in the baking process? Yup, exactly that!
Alton Brown bread recipe
I found this knead not sourdough bread recipe from Alton Brown of Food Network and his ideas nearly always jump out at me because I like his scientific method of cooking.
There is a method to his madness, and he explains things clearly and logically. I like that approach.
Other easy bread recipes I like are made along the same lines– a no knead recipe from Jim Lahey and this no knead whole wheat bread recipe from King Arthur Flour are two favorites.
What is sourdough bread?
Sourdough bread is traditionally baked with a sourdough starter.
The starter is a culture of yeast and bacteria that grows within a flour and water mixture. This starter can live for years and can make many loaves of bread.
The technical side of a starter recipe is really interesting. You can learn more about sourdough from this How Stuff Works site.
In this Alton Brown bread, we take a shortcut. No sourdough starter is needed.
Instead we let an overnight rise time develop the flavor of this easy bread recipe. The longer you let the bread develop, the deeper the flavor and the closer you'll be to making a traditional sourdough bread.
Dutch Oven sourdough bread
Another strong point of this no knead sourdough bread recipe is that the bread cooks in a Dutch oven.
A Dutch oven is a large, heavy pot with a lid. Some Dutch ovens are cast enamel and others are cast iron.
Back when I first tried this recipe in 2011, I wanted to share more recipes for my mom to try in her Dutch oven, so this was worth a go.
Today the same approach holds true. This recipe take a long time to create but nearly all of the time is hands-off; the dough does its thing and all the baker does is patiently wait and enjoy the results.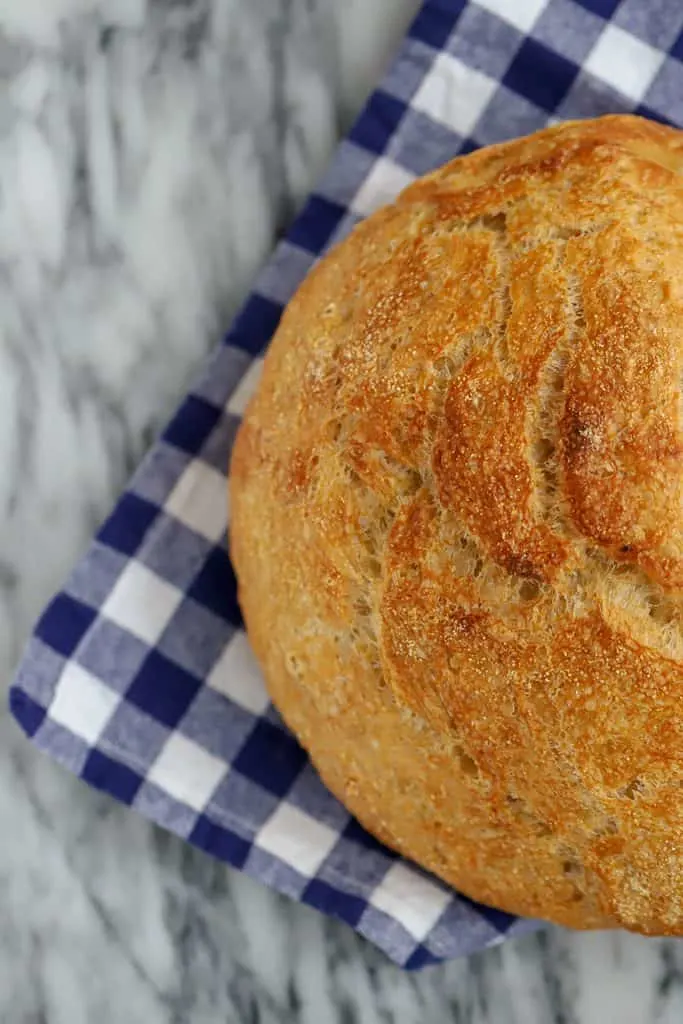 Are you on Pinterest? I am! Join me there and save this pin to your Bread Boards.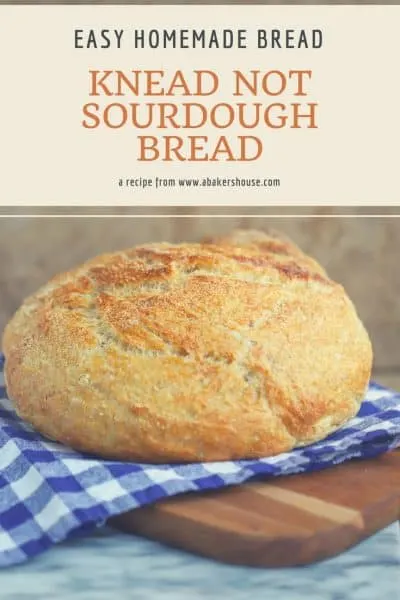 The Bread baking Method: How do you make No Knead Bread?
I'll describe how I followed his instructions for knead not sourdough bread. Heads up: this is a long process.
Don't plan on taking the ingredients out of the pantry in the morning and having freshly baked bread that same night for dinner.
Mix the flour, yeast and salt in a bowl. Add the water and stir. The dough came together fairly easily. You don't want to over mix it at this stage. Let it all sit in the bowl covered tightly with plastic wrap for 19 hours. Yes– 19!!!

Knock down the dough
After this long wait, the next step is simple but then you wait some more. Put the dough on a floured surface. The directions say to punch down the dough. This is also called "knocking down the dough". I gave the dough a satisfying, solid punch in the middle, folded it over itself, and repeated this process a few more times. Straightforward and not difficult as long as I kept my hands floured. The dough rests another 15 minutes then is shaped into a ball and covered with a small bit of cornmeal. Time for this dough to rest again for another 2-3 hours.
Preheating the Dutch Oven is a key step
When you are ready for the next phase for this knead not sourdough bread, put your Dutch oven in the oven for a while to let it preheat.
I set the delay function on my oven to turn on about 30 minutes before I expected to return home.
This plan worked really well. I walked in the door, had a hot oven and pan, baked the bread and enjoyed it for dinner less than an hour later.
The dough bakes for 30 minutes at 450 F degrees with the lid on, then another 15 minutes with the lid off.
Sourdough Dutch Oven Results
The results with this no knead sourdough bread were better than I had expected. The crust of the bread was crunchy and golden. The inside could have been cooked just slightly longer but was still soft and springy.
Other than the long waiting periods, this no knead sourdough bread recipe doesn't call for any time-consuming effort.
Plan ahead so that the initial rising period is overnight, the next phase occurs in the morning, then the bread will cook just before dinner.
Are you looking for more yeast bread recipes? Try hatch chile bread, simple pita bread, Chocolate Swirl Bread, and Italian Easter Cheese Bread.
A Dutch oven is an excellent vessel for bread baking. Have you tried a cast iron pan too? This
Apple, beer and cheddar bread
is made in a cast iron pan. Or make a soup in your Dutch oven to go along with the bread.
Yield: 1 loaf
Knead Not Sourdough Bread (originally from Alton Brown)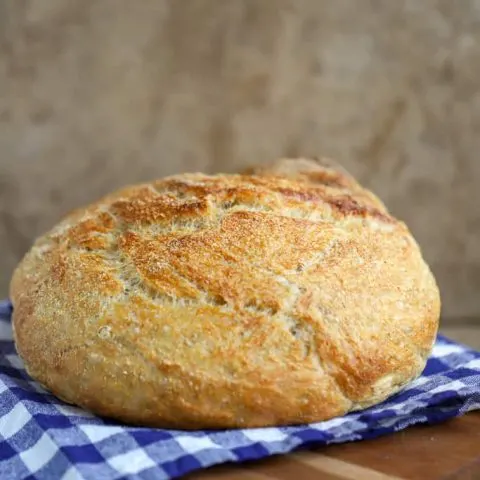 Find success baking bread at home with this simple Knead Not Sourdough Bread recipe originally from Alton Brown. A Dutch Oven and an overnight time period to allow the dough to rise are the keys to this beautiful loaf of bread.
Ingredients
17 ½ ounces bread flour
¼ tsp dry active yeast
2 ½ tsp kosher salt
12 ounces filtered water
2 TB cornmeal
Instructions
Mix the bread flour, active dry yeast and kosher salt in a large bowl. Pour in the water and mix with a wooden spoon or spatula until the dough comes together. Spray a piece of plastic wrap with baking spray then cover the large bowl with it. Let the bowl sit at room temperature for 18-20 hours.
Empty the dough onto a floured surface. I find a cold surface like marble or granite works well. Punch the middle of the dough so it deflates. Fold the dough onto itself and punch a few more times. Cover with a towel and let the dough rest for 15 minutes. Next, shape the dough into a ball. Coat the ball of dough with cornmeal. Place in a lightly greased bowl covered with the plastic wrap and let the dough rise for 2 to 3 hours. The dough will double in size.
Now move on to the baking process. Preheat the oven to 450 degrees F and put your Dutch oven in the oven while it preheats. When the oven is hot (really hot!) remove the Dutch oven whlie wearing baking mitts and carefully place the dough into the hot pot. Put the lid on your Dutch oven and bake for 30 minutes. Remove the lid and bake for 15 minutes or until the internal temp is 210- 212 degrees F. Use a digital baking thermometer to ensure accuracy.
Remove the bread and let it cook on a wire rack.
Notes
The original recipe is from Alton Brown at the Food Network.
If you don't have a digital baking thermometer try knocking on the underside of the loaf of bread-- if it sounds hollow then the bread should be baked through.
Nutrition Information:
Yield:
12
Serving Size:
1 slice
Amount Per Serving:
Calories:

154
Total Fat:

1g
Saturated Fat:

0g
Trans Fat:

0g
Unsaturated Fat:

0g
Cholesterol:

0mg
Sodium:

487mg
Carbohydrates:

31g
Fiber:

1g
Sugar:

0g
Protein:

5g
This data is provided by Nutritionix and is an estimate only.
Note: Post originally from November 2011; Updated in January 2018.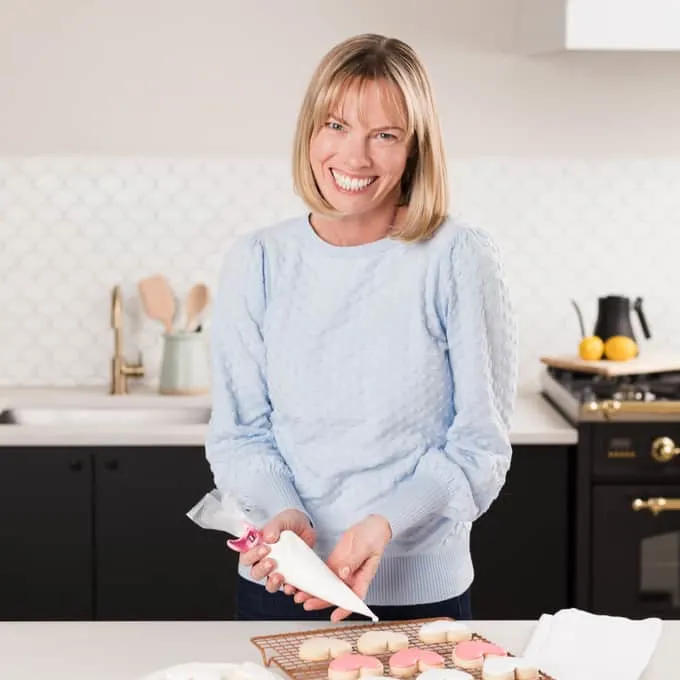 Holly Baker started the food blog, A Baker's House, in 2011. She is the writer, recipe creator, and photographer for the site. Holly loves to bake and shares recipes for gluten free food, canning recipes, as well as traditional desserts too. Her recipes and food photography have been highlighted by BuzzFeed, Reader's Digest, and She Knows.