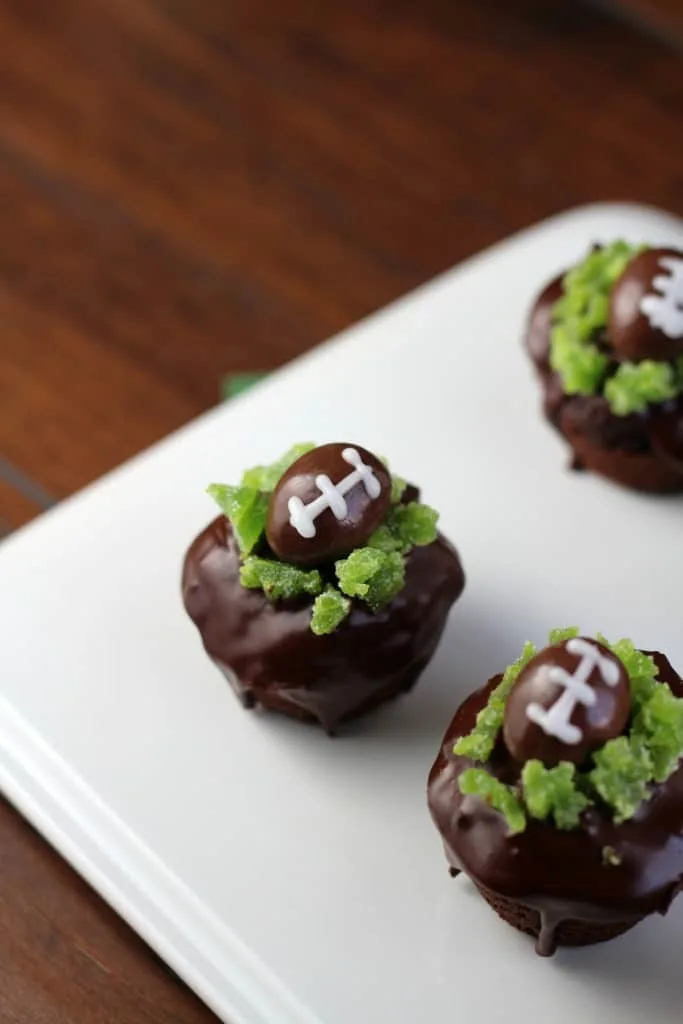 Football Food is Game Day Food!
Get ready for football season with football brownie bites topped with chocolate covered almond footballs.
Sprouts brand organic pumpkin and pumpkin pie spice are the secret ingredients that welcome fall flavors.
You didn't expect the pumpkin, did you?
The addition of pumpkin provides moisture to these brownies without the overwhelming flavor of all things pumpkin. Substituting applesauce or pumpkin instead of oils in many baking recipes is a great idea.
Even if you are not quite ready to let go of summer, football season is upon us and it brings with it a great excuse to focus on friends and food. We all know that tailgating with friends is part of the fun of football games, and this dessert is perfect for a crowd.
Do you need to bake for friends who require gluten free food? If you are new to gluten free baking, start here with this Guide for Gluten Free Baking. You'll learn tips and tricks to get you started.
This can easily be made gluten free if you leave off the grassy green decoration made with green apple twists. Gluten pops up in unexpected ingredients, doesn't it?
Additionally, if you are eating gluten free due to a health condition like celiac disease, I'd recommend skipping the bulk food sections and buying your almonds for this recipe in a sealed bag.
Contamination can occur with bulk bins. People may not knowingly use scoops that have touched products with gluten. When these scoops dig into the bins with otherwise gluten free products, the result is contamination.
Looking for another great gluten free game day recipe? Try these homemade gluten free Mozzarella Sticks!
Game food that travels well
Are you traveling to the game or to a pot-luck with these sweet treats? Simply place the brownie bites into a mini muffin pan so that they don't topple over on your travels.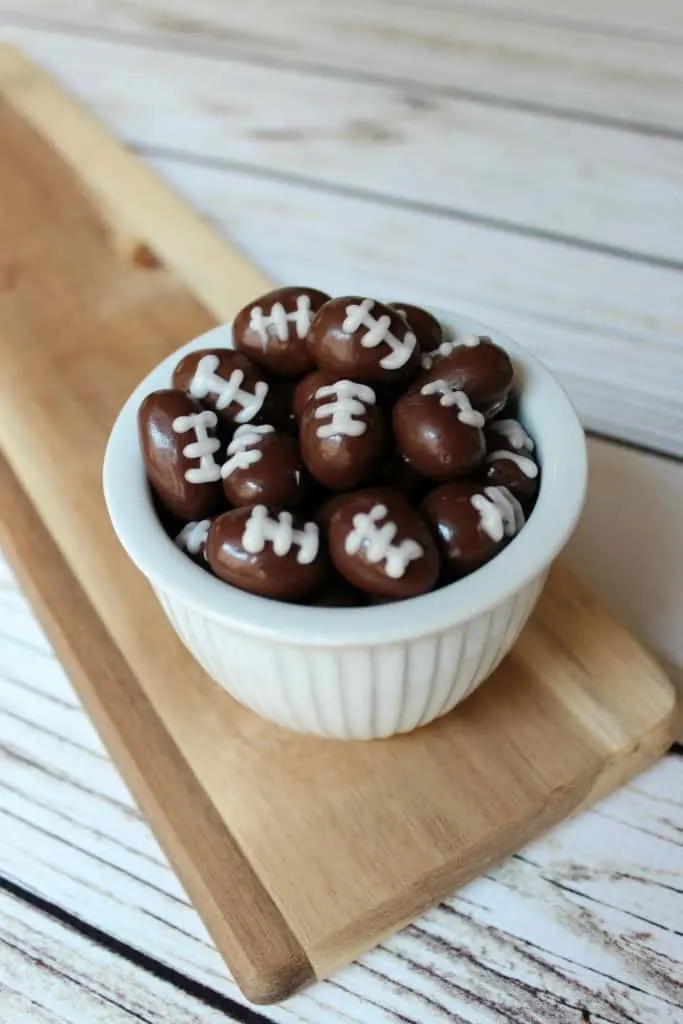 This recipe does offer you two more options: take the easy way out and simply make a bowl of the chocolate covered almond footballs to add a spirited touch to your game day feast.
Buy the chocolate covered almonds in Sprouts bulk bin section and decorate with a few easy lines to turn it into a football.
Not a football fan?
Leave the decorations off and serve these pumpkin brownie bites well into the autumn.
Gluten free (without the decorations), these brownies offer a quick dessert by "dressing up" a box of brownie mix with the added pumpkin flavors for pumpkin puree and pumpkin pie spice. These could happily grace your Thanksgiving dessert buffet too.
Yield: 36
Football Pumpkin Brownie Bites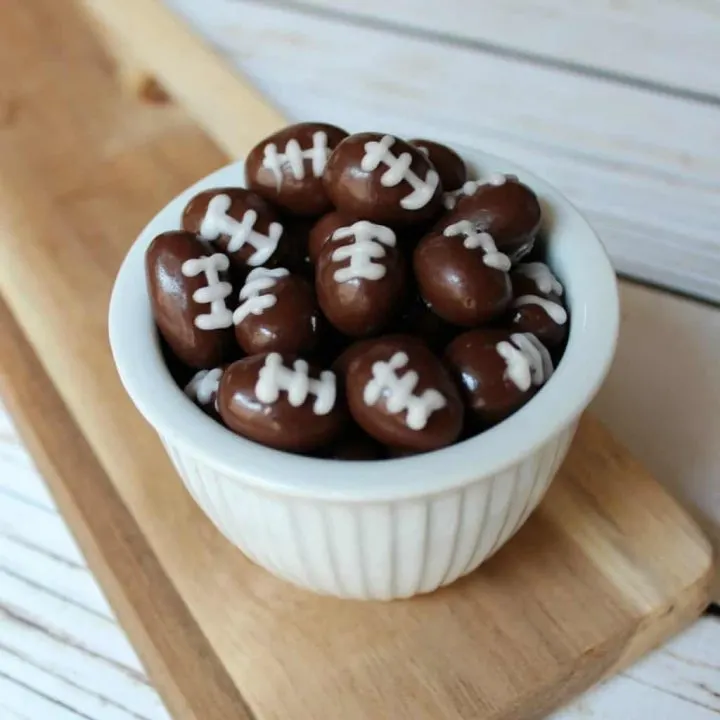 Football game day food is easy with these cute football brownie bites
Ingredients
1 Arrowhead Mills Gluten Free Fudge Brownie Mix
¼ cup water
2 Sprouts Cage Free Organic Eggs
1 can Organic Pumpkin (15 oz)
1 Tbsp. Organic Pumpkin Pie Spice
NOTE: omit the vegetable oil called for in the Brownie Mix
8 oz. Chocolate Covered Almonds (about 30-36 almonds)
½ cup Sprouts Powdered Sugar
1-2 Tbsp. milk
6 pieces Sprouts Green Apple Twists
1 Tbsp. Sprouts Granulated Sugar
Instructions
Preheat the oven to 350 degrees F. Spray 3 mini muffin pans with baking spray. (Makes 30-36 brownie bites. You can also make these in batches and fill one muffin pan at a time.)
In a large bowl mix the Brownie Mix, water, eggs, pumpkin, and pumpkin pie spice with an electric mixer until well blended. Spoon a heaping tablespoon of brownie batter into each mini muffin cup. Bake for 26-28 minutes. Remove the brownie bites from the pan then cool on a wire rack.
While the brownie bites bake, make the decorations. For the football decoration make a white icing: in a small bowl whisk the powdered sugar and one tablespoon milk. Add the second tablespoon milk if needed to make a smooth, yet thick icing. Put the icing in a resealable plastic bag, snip the corner and add the icing to the chocolate covered almonds in the shape of the laces on a football. Make one longer line lengthwise across the almond and then make three to four small lines perpendicular to the first line.
For the green grass: process the Green Apple Twists and granulated sugar in a food processor until you have small, grass-like pieces. The twists are sticky and the added sugar helps the twists not to stick to your food processor blade. NOTE Please note that the Green Apple Twists contain wheat ingredients. Should you wish to make this dessert gluten free you can omit the green "grass" from the Green Apple Twists. Simply make the brownie bites and add the chocolate covered almond football to the top for decoration.
Nutrition Information:
Yield:
36
Serving Size:
1
Amount Per Serving:
Calories:

66
Total Fat:

4g
Saturated Fat:

1g
Trans Fat:

0g
Unsaturated Fat:

2g
Cholesterol:

6mg
Sodium:

9mg
Carbohydrates:

7g
Fiber:

1g
Sugar:

4g
Protein:

2g
This data is provided by Nutrionix and is an estimate only
Please note that this is a sponsored post. I developed this post in partnership with #Sprouts Farmers Market; ingredients were purchased at my local Sprouts store. I was compensated for my participation and all opinions are my own
Originally published September 2017.
Looking for more pumpkin recipes this season? Try these!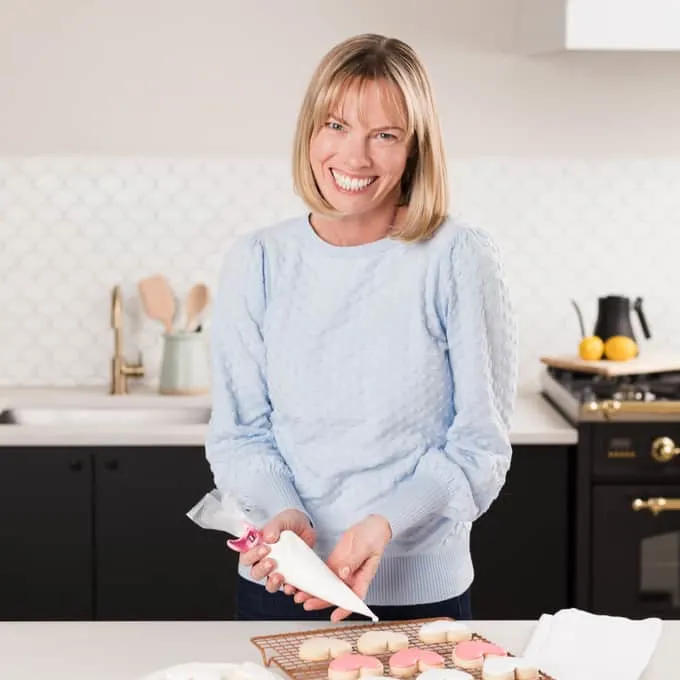 Holly Baker started the food blog, A Baker's House, in 2011. She is the writer, recipe creator, and photographer for the site. Holly loves to bake and shares recipes for gluten free food, canning recipes, as well as traditional desserts too. Her recipes and food photography have been highlighted by BuzzFeed, Reader's Digest, and She Knows.