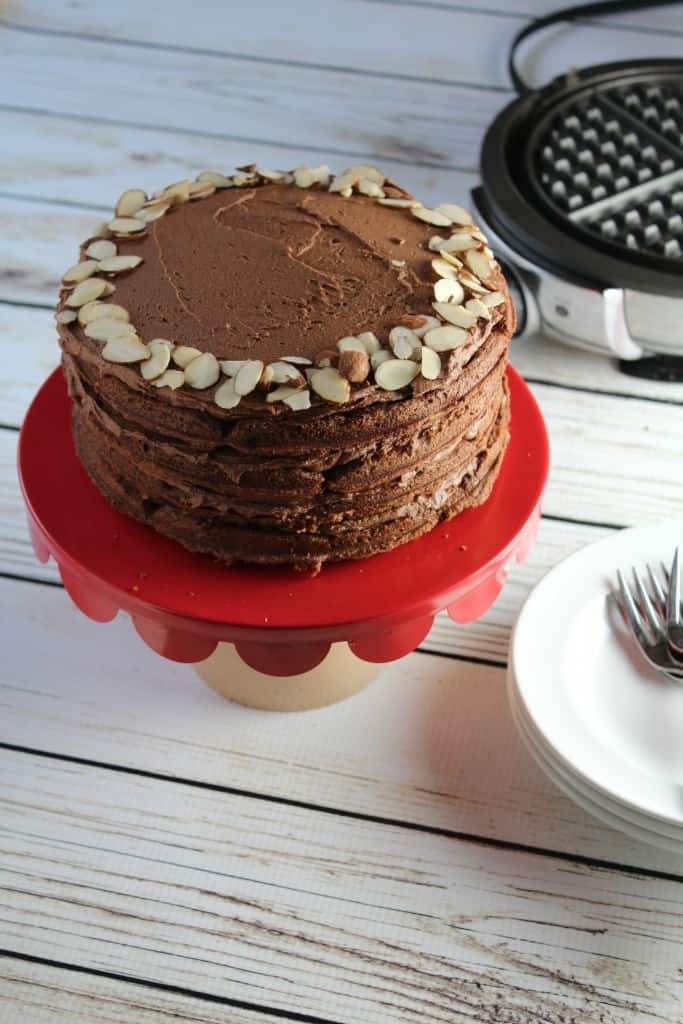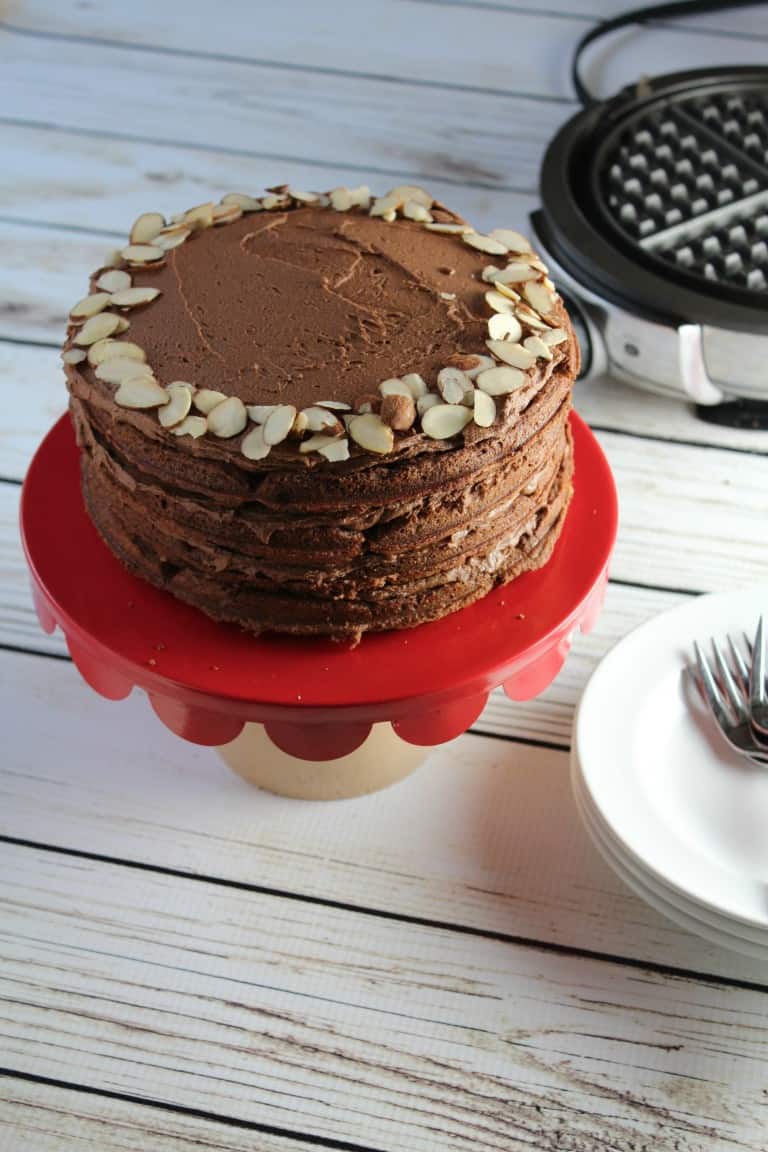 Waffles make consistent cake layers:
Dust off your waffle iron and find ease in making this gluten free layer cake to celebrate National Waffle Day! Layer cakes can be tricky– you need to keep the layers consistent, even, and perfectly aligned. That is a challenge your waffle maker is up for; in fact, you'll wonder why you haven't made cakes this way before. A waffle maker cranks out identical layers which, once cooled, can be built into a layer cake with chocolate frosting in between each layer. Line up the layers easily and discover this new way to assemble a cake fit for any occasion.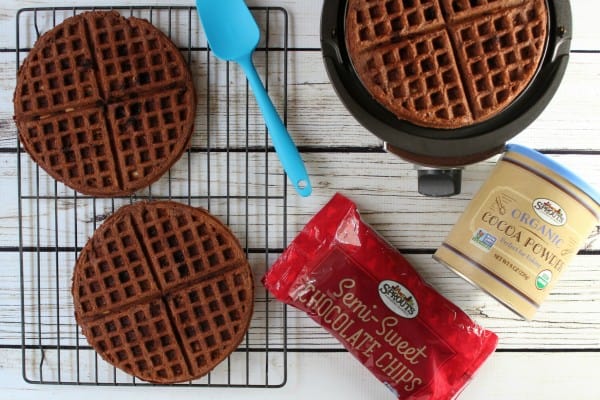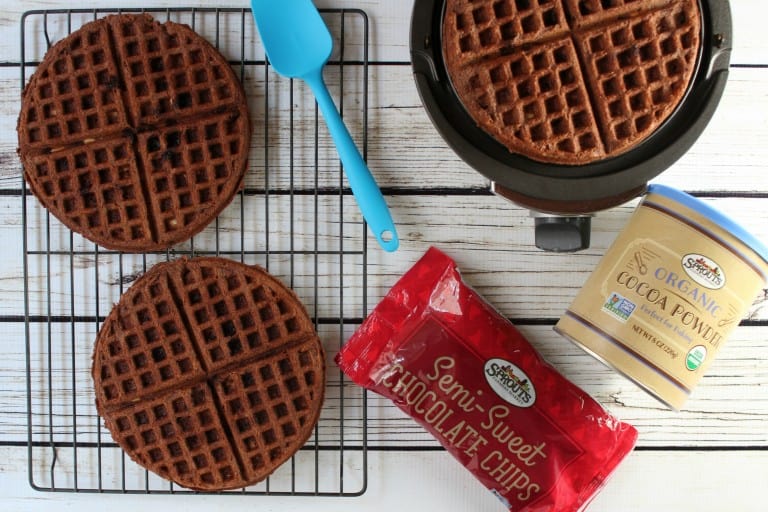 Sprouts Farmers Market asked me to develop a dessert recipe made with my waffle iron that was not just a waffle and after a bit of experimenting with ingredients, I came up with a cake. A gluten free cake. A gluten free cake that tastes really good. A gluten free cake that tastes really good and is easier to make than the traditional layer cake. Yes, this cake is ready for a celebration in no time flat. Thanks to Sprouts for partnering with me on this sponsored post. I am looking forward to seeing more recipes that celebrate National Waffle Day on the Sprouts Brand site.
Print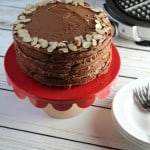 Gluten Free Double Chocolate Almond Layer Cake
---
Ingredients
CAKE:
¼ cup Sprouts Organic Cocoa Powder
1 cup Sprouts Organic Almond Meal
½ cup Sprouts Granulated White Sugar
4 Tbsp. Sprouts Butter Salted, melted and cooled
3 Sprouts Cage Free Farm Fresh Eggs
½ cup Sliced Almonds
½ cup Sprouts Semi-Sweet Chocolate Chips
Baking Spray
FROSTING:
4 Tbsp. Sprouts Butter Salted, softened
2 cups Sprouts Powdered Sugar
¼ cup Sprouts Milk
1 cup Sprouts Semi-Sweet Chocolate Chips
Optional topping: 2 Tbsp. Sliced Almonds
---
Instructions
FOR THE CAKE: Preheat the waffle maker to medium-high heat.
Whisk the cocoa powder, almond meal, and granulated white sugar in a mixing bowl; break up any lumps. Add the melted butter and the eggs. Whisk vigorously until smooth.
Fold in the sliced almonds and the chocolate chips.
Spray the waffle maker with baking spray. Scoop a full ½ cup of batter onto the middle of the waffle maker. Close the lid and bake for 3 – 3 ½ minutes. Gently lift the waffle cake layer onto a wire cooling rack. Let cool completely.
Repeat step 4 for remaining waffle cake layers. Batter will make 4-5 layers.
FOR THE FROSTING: In a glass bowl melt the chocolate chips on 50% power in the microwave in 30 second increments, stirring after every 30 seconds. This should take 1- 1 ½ minutes total. Stir until smooth. Set aside.
Beat the softened butter, powdered sugar, and milk with an electric hand mixer on medium high for about one minute. Pour in the melted chocolate and beat for another minute until smooth and fluffy.
ASSEMBLE THE CAKE: Spread about ¼ cup frosting between each waffle cake layer and on top of the cake. Leave the sides unfrosted. Add the two tablespoons of sliced almonds to the top to decorate the cake.
(Serves 8)
Recipe Card powered by
Please note that this is a sponsored post. I developed this post in partnership with #Sprouts Farmers Market; ingredients were purchased at my local Sprouts store. I was compensated for my participation and all opinions are my own.