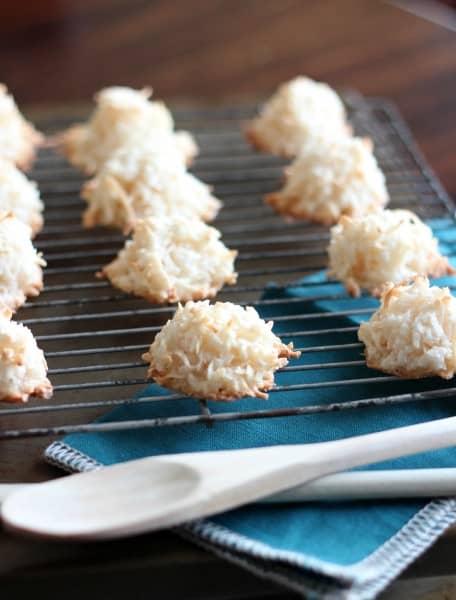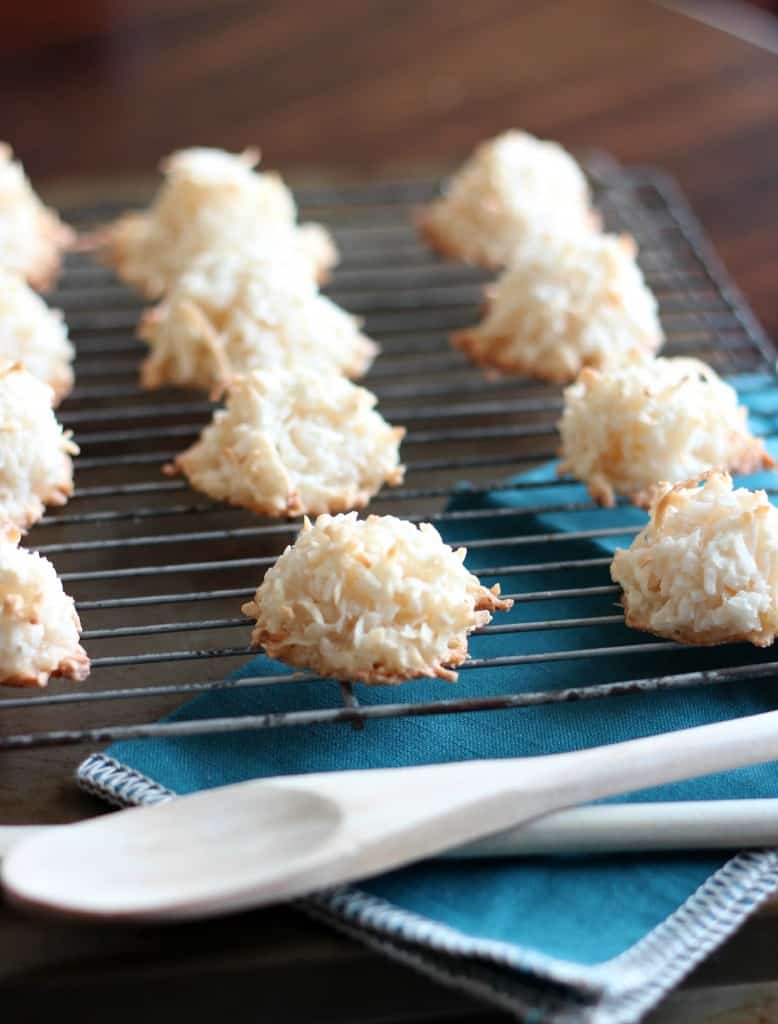 What does this easy coconut macaroons recipe have to do with exercise? More than you'd think! My generous friend is passing her treadmill on to me. I've been thinking about buying one for quite some time and to have her family offer us theirs is really a treat.
You might guess that baking (and eating!) all of these tempting foods like easy coconut macaroons that you see on my blog might not lead to the best dietary habits and, even though I try to enjoy desserts in moderation, I seem to have trouble cutting back on my daily sugar intake. Exercising more regularly is one of my goals and I am optimistic that I will use the treadmill more often than not. You might wonder what a treadmill has to do with this sweet haystacks of coconut and egg whites?
Well my friend will not accept any payment for the treadmill and instead wishes to be repaid in baked goods– hooray!! I've mentioned before what a food-loving friend she is (see these Trader Joe related posts here and here) and now I must mention that she is wise beyond her years because baked goods– especially sharing them with others so that I don't eat the whole batch!– is the BEST way for me to show my thanks.
Passover is approaching and my friend hosts quite a feast for her family and loved ones. It sounds like she has been doing this for years and is well prepared– I think she told me she will cook at least 6 briskets along with flourless chocolate cake and a long list of other dishes like this apple cake for Passover.
Let's start with these easy coconut macaroons. Macaroons are chewy, baked, sweet bundles of coconut, sugar, and egg whites. They are not to be confused with the similar-sounding macarons, the French cookie creation. I buy coconut macaroons year round at Whole Foods and am happy to learn how easy they are to make at home.
Whip the egg whites, add salt and sugar, fold in the coconut and vanilla and bake at a low temperature in the oven. Simple enough and because there is no flour involved, these easy coconut macaroons beauties are perfect for a Passover treat. Dipping them in chocolate would be nice as would adding a bit of orange zest. How would you make your macaroons?
Print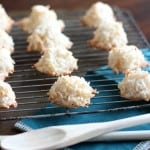 Easy Coconut Macaroons
---
Ingredients
2 large egg whites
1/8 teaspoon salt
1/3 cup granulated sugar
4 cups shredded sweetened coconut (original recipe calls for 3 cups)
1 teaspoon vanilla extract
---
Instructions
Heat oven to 300 degrees F. Line two cookie sheets with parchment paper or silicone baking mats.
Using an electric mixer, beat the egg whites until soft peaks form. Add the salt and sprinkle about 3-4 Tablespoons of the sugar on the egg whites. Continue to beat the mixture until stiff peaks form.
Gently fold in the remaining sugar, coconut and sugar until incorporated.
Use a small melon ball scooper to form small mounds of dough. Drop on the cookie sheets and bake for about 16-18 minutes or until the coconut begins to turn a slightly golden color.
---
Notes
Recipe from the book "Crazy about Cookies" by Krystin Costella page 228. Changes in the recipe are noted above.
Recipe Card powered by
Pin this recipe for coconut macaroons for later!