Baking this Passover apple cake is a lovely tradition to share with your family. Layers of apples are baked with matzo meal and finished with a crunchy nutty and spice topping that create a moist apple cake which will become one of your favorite Passover dessert recipes.
How to make Passover apple cake
Mix the topping of walnuts, sugar and cinnamon. Set aside.
Prepare the apples– peel, core and slice.
Beat the cake batter until well mixed.
Layer half the apples and half the cake batter. Repeat. Sprinkle on the topping.
Bake at 350°.
Ingredients:
walnuts
sugar
cinnamon
apples
eggs
sugar
oil
matzo meal
Apple cake recipe for Passover
Do you have family favorites for Passover dessert recipes? Baking a Passover apple cake may be special for the time of Passover in the spring but really this is a good recipe for many occasions. This Passover dessert may be made with traditional or gluten free matzo.
I wrote last week about baking some traditional Passover recipes for my friend to enjoy for her family's Passover seder when I made coconut macaroons. (Seder is the traditional dinner that marks the beginning of the holiday.)
This matzo cake for Passover is another contribution to add more dairy free baked goods to the celebration of this Jewish holiday.
I was astounded by the sheer volume of traditional Passover recipes that my friend was preparing for her family!
Easy Passover desserts like this apple recipe and this flourless chocolate cake will save you time so you can get back to preparing the rest of the Jewish feast.
This easy apple cake could start your day for breakfast, be served as an afternoon snack or show up on a dessert table at Passover or any time of year. Another apple cake I love to make is upside down apple cake, have you tried it?
What is Passover?
Passover is the Jewish holiday that celebrates the freeing of the Israelites from Egyption slavery. The dates of Passover vary year to year but the holiday is observed in the spring.
What are dietary restrictions for Passover?
Foods that contain wheat, barely, oats, rye or spelt that have come into contact with water are called chametz (source here) and are not permitted during Passover.
An unleavened bread called matzo (or matzah or matza) is traditionally eaten during Passover.
What is matzo? (matzo, matzah, matza)
Matzo is a flat bread similar to a cracker. Matzah is made from a mixture of flour and water. I bought gluten free matzo for this recipe.
Ingredients in the Manischewitz brand of gluten free matzo are based on potato flour and potato flakes along with other ingredients.
What is the difference between matzo meal, matzo cake flour, and matzo farfel?
Matzo meal and matzo cake flour are the same thing– both are finely ground matzo. The difference is the texture.
I've read some articles that suggest that matzo cake flour is the most finely ground consistency of matzo. For example, you could sift matzo meal and create matzo cake flour. Or you may use the two interchangeably.
You can buy matzo cake meal or matzo cake flour from Amazon or at the grocery store. Or you can simply use a food processor to grind sheets of matzo into a flour-like consistency. Gluten free matzo cake meal is also available online as you'll see here.
Matzo farfel is matzo that has been broken into small pieces but not finely ground.
As an Amazon Associate I earn from qualifying purchases.
What's the difference between Jewish apple cake and Passover apple cake?
Jewish apple cake has become known and loved by people of all faiths and is not only a cake for celebrating Jewish holidays.
Most often Jewish apple cake is baked for a Rosh Hashanah meal which marks the Jewish new year in September or October, depending on the year.
This type of Jewish apple cake is dairy free and contains oil as a central ingredient. Wheat and leavening agents may be used in Jewish apple cakes.
The unique feature of the Passover apple cake is that it does not contain leavening agents or chametz as described above. The unleavened matzo is layered with apples and spices to create a moist and dense cake.
The walnut topping gives a nice crunch to the top.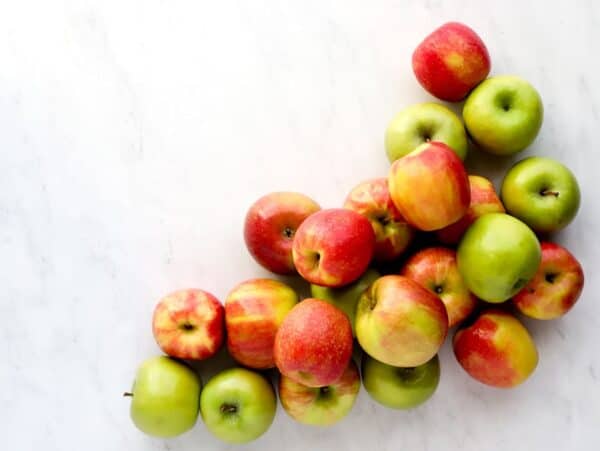 The best apple cake recipe
The apple cake recipe I am sharing is Arthur Schwartz's recipe for Passover Pareve Apple Cake.
Baking with matzo cake meal was new to me and I wasn't sure if I had gotten this recipe right at first– until I shared it with my friend who gobbled it up and kindly erased my concerns.
The cake has two generous layers of apples and raisins which are right at home in the matzo cake meal batter. The raising as optional. Other fruits that would be nice in this cake include plums or pears.
The cake topping of spices, walnuts and sugar is the perfect crunchy element to pair with the soft cake and baked apples. Top your apple cake with a few more walnuts before serving for presentation.
Some cakes improve with time and this apple cake is no exception. Leave the baked apple cake in the pan until you are ready to serve it. The flavors meld and taste even better the second day. Serve warm or at room temperature.
Yield: 12 servings
Apple Cake for Passover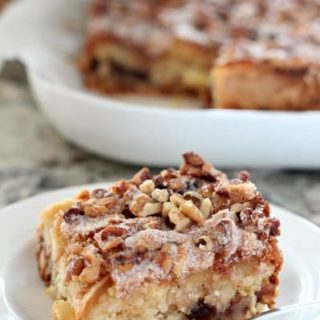 Make this flavorful apple cake for Passover or swap out matzo flour for all purpose flour for other occasions throughout the year.
Cook Time
1 hour
15 minutes
Total Time
1 hour
30 minutes
Ingredients
Topping
1/2 cup coarsely chopped walnuts or pecans
3/4 cup sugar
1 tablespoon ground cinnamon or a combination of ground cinnamon, nutmeg, mace, and ginger
Cake
3 eggs
1/2 cup sugar
1/3 cup vegetable oil
3/4 cup matzo cake meal
5 medium apples, peeled, cored, halved, and cut into 1/4-inch-thick slices (about 5 cups), preferably Golden Delicious, Crispin (Mutzu), or other apples that keep their shape when cooked. I like to use Honeycrisp
1/3 cup raisins (optional)
Instructions
Preheat the oven to 350 degrees F. Spray an 8 inch square glass pan with oil.
First, make the topping. Mix the walnuts, sugar and cinnamon in a bowl.
Next, work on the cake. Beat the eggs until light and fluffy. Slowly add the sugar (do not dump in all at once). Add the oil and then the matzo flour.
Now start to layer the cake. Pour about half to two thirds of the batter in the pan. Scatter some of the topping over the batter.
Gently lay half of the apples over top. If you are including raisins, add all of them now.
Cover with the batter you have left.
Layer the remaining apples over the batter then add the extra topping on top.
Bake for 1 hour and 15 minutes.
Let the cake cool completely in the pan.
Notes
Source: recipe from Arthur Schwartz. Only change is to reduce sugar from 3/4 cups to 1/2 cup in the cake batter.
Leave the cake in the pan until you are ready to serve it.
Nutrition Information:
Yield:
12
Serving Size:
1 piece
Amount Per Serving:
Calories:

392
Total Fat:

12g
Saturated Fat:

1g
Trans Fat:

0g
Unsaturated Fat:

10g
Cholesterol:

51mg
Sodium:

37mg
Carbohydrates:

67g
Fiber:

6g
Sugar:

46g
Protein:

5g
This data is provided by Nutritionix and is an estimate only.
Are you on Pinterest? I am! Join me there and

save this pin

to your boards.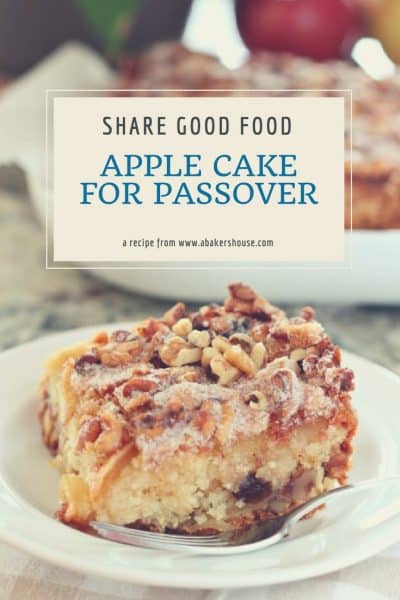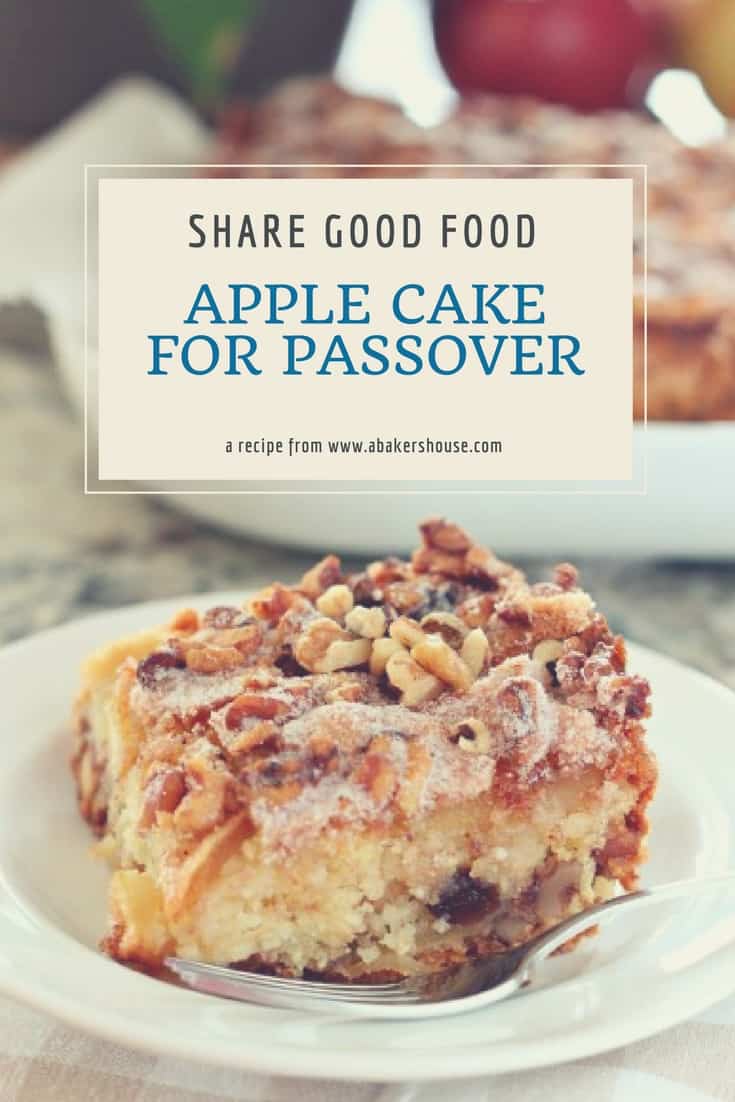 Bake this apple cake year round
This apple cake recipe is one I'd like to try again with all purpose flour or with gluten free flour to see the difference in taste and texture. I hope you can enjoy Mr. Schwartz's recipe this Passover with your family.
Do you bake apple cake for Passover or what baking traditions do you share with your family for Passover?

Looking for more apple recipes?
We are a participant in the Amazon Services LLC Associates Program, an affiliate advertising program designed to provide a means for us to earn fees by linking to Amazon.com and affiliated sites.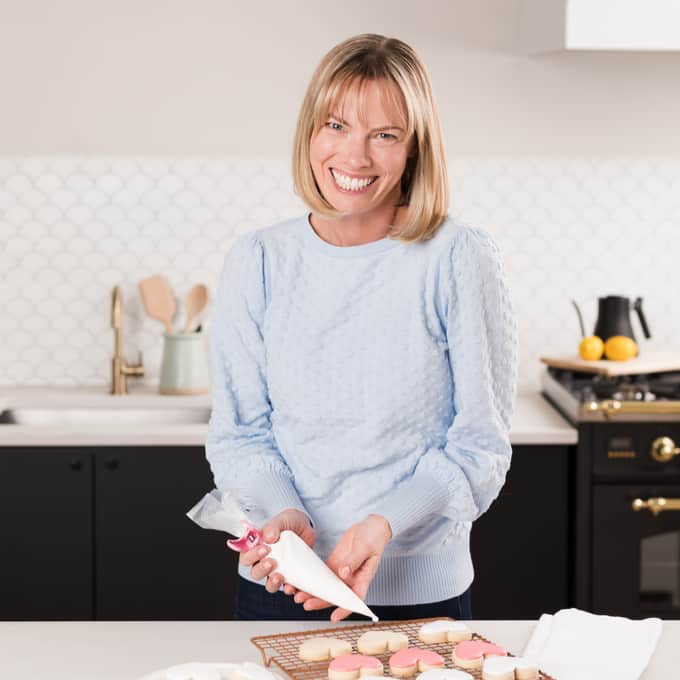 Holly Baker started the food blog, A Baker's House, in 2011. She is the writer, recipe creator, and photographer for the site. Holly loves to bake and shares recipes for gluten free food, canning recipes, as well as traditional desserts too. Her recipes and food photography have been highlighted by BuzzFeed, Reader's Digest, and She Knows.