Packaging for cookies doesn't have to be expensive. Here is a low-cost idea that uses a can of Pringles. Make this easy craft with your family then share your homemade cookies for holiday gifts.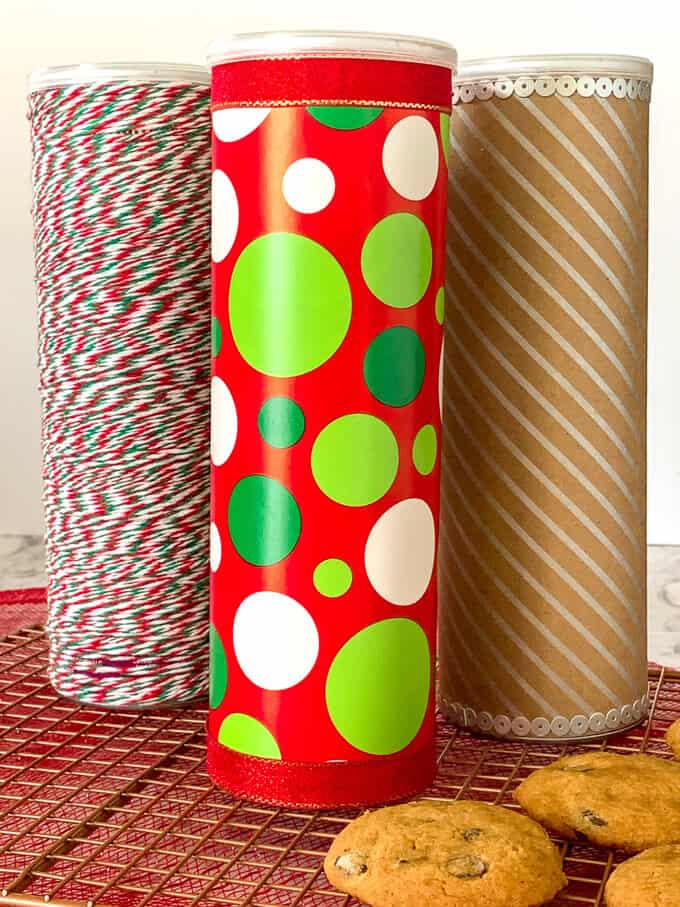 Cookies make a wonderful gift for friends, neighbors, relatives, teachers, and anyone else who you want to show appreciation and gratitude. Now that you've decided to bake up a storm, how should you handle packaging for cookies?
Take the extra step to present your cookies with care. We all eat with our eyes first and receiving a beautifully wrapped gift of food only makes the recipient that much more excited to dig right in.
Packaging doesn't have to be expensive. Make this Christmas craft with your family!
Here's the secret—packaging for cookies does not have to be flashy or expensive. Try this easy method to make your own tower of treats using an empty can of Pringles.
What Materials are needed to make cookie containers with Pringles cans?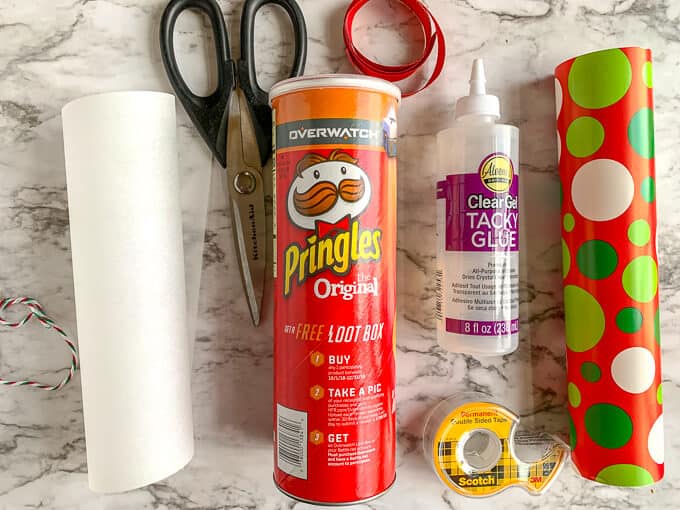 How do I turn Pringles cans into gift packaging for cookies?
Clean out the inside of the can.
Cut the wrapping paper so that it wraps around the can. My measurements of 8 3/4 inches tall by 10 1/2 inches wide seemed to be a good fit. Leaving a little space at the top and bottom is fine because you'll add ribbon later to cover the gap. ** Here is a secret– Pringles cans used to be TALLER. When I first shared this craft in 2012, the cans were larger. No more. In 2018 they are 8 3/4 inches tall.
Use double sided tape adhere the wrapping paper to the outside of the can.
Cut the ribbon and wrap it around the top and bottom of the tube. Glue it or use spray adhesive to stick it in place.
Cut the wax paper a similar size (8.75 inches by 10.5 inches) and roll it so that it fits inside of the can. I did not use any glue inside, the tube of wax paper stays put fairly well.
Use muffin baking cups to help cushion the cookies in the can. The cookies hardly moved even when I shook the container, which would be a great feature for cookies that are sent through the mail. Put one cookie in each muffin cup and slide into the tube.
Now go make someone happy! You have an ideal hostess gift, teacher gift, or holiday surprise.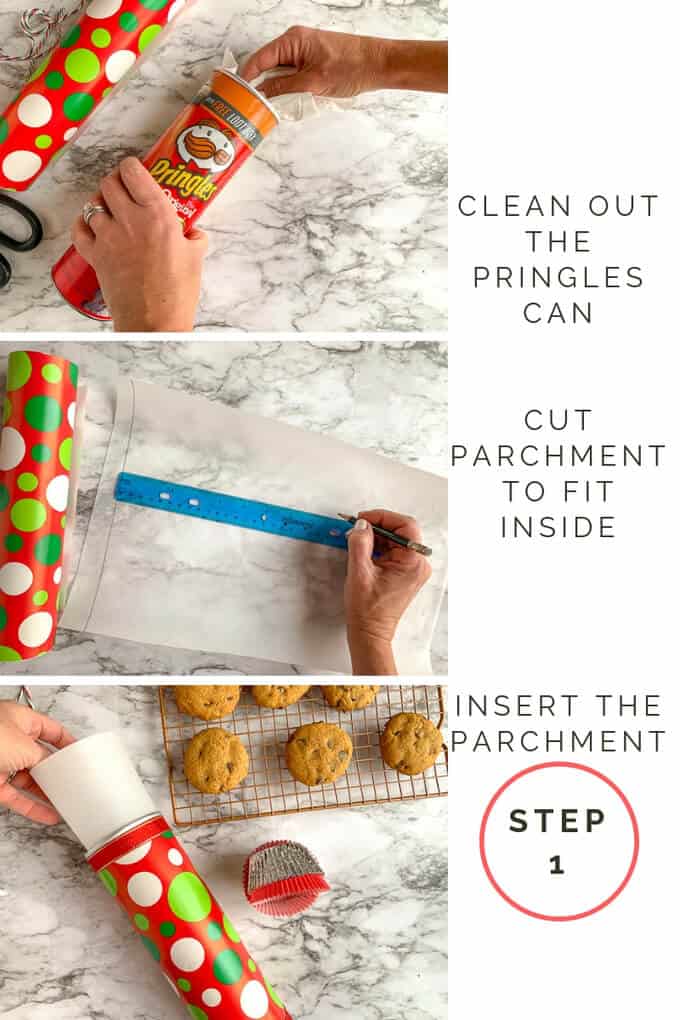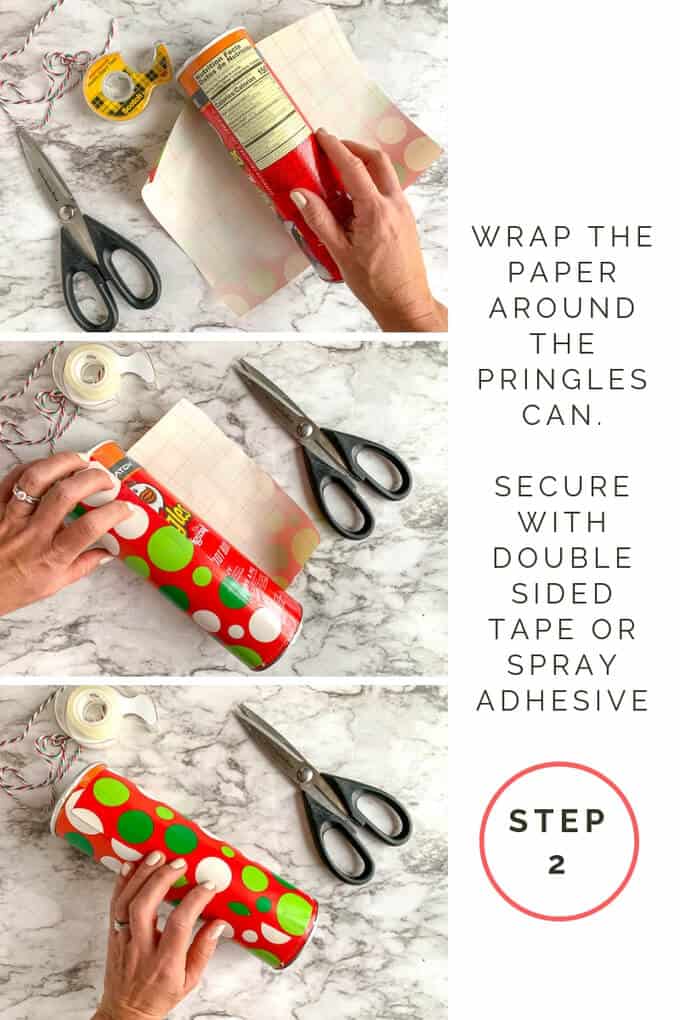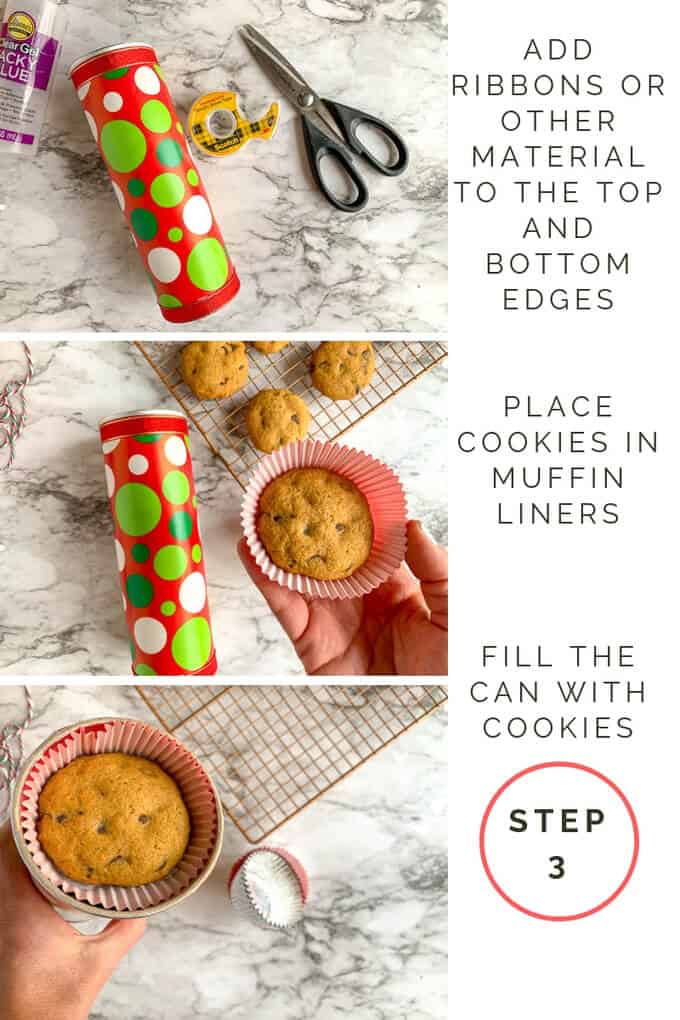 One important note for my friends who live a gluten free diet. Pringles are NOT gluten free. Wheat Starch is on the list of ingredients. Therefore, if you have Celiac Disease, I would not recommend this packaging for your cookies. Cleaning out the can does take nearly all of the crumbs out so I am comfortable using this as a gluten free person, but with Celiac, even a crumb can hurt so please be advised that Pringles are not gluten free.
Yarn makes a great material to decorate too. Switch your colors to go along with the seasons.

Recipes perfect for holiday gifts:
Do you need ideas of what types of cookies to bake to give as gifts? Try these 12 Christmas Cookies to Bake this Season.
And if you need packaging for cookies to be sent in the mail, check out this tutorial I created on How to Package Cookies for the Mail which has a few tips and tricks to make sure your Christmas cookies arrive in one piece.
We are a participant in the Amazon Services LLC Associates Program, an affiliate advertising program designed to provide a means for us to earn fees by linking to Amazon.com and affiliated sites.
I first shared this Christmas craft with a Pringles can in December 2012 and updated it in November 2018.