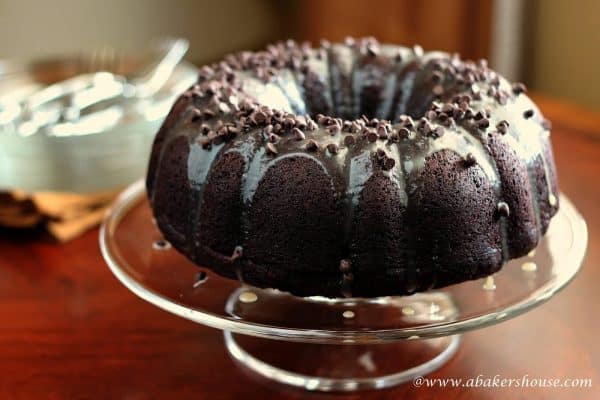 There is no mistaking that my cake is all about chocolate. The 6 ounces of unsweetened chocolate gives it the easily recognizable chocolate color and mini chocolate chips hide throughout the cake, but it's the addition of espresso which deepens the chocolate flavor and makes a wonderful cake.
I first baked with coffee and chocolate in these oatmeal fudge bars and when I came across a recipe for Mississippi Mud Cake in a Bundt form in Lauren Chattman's book, Cake Keeper Cakes, I knew I had found my starting point for this chocolate creation.I adapted her recipe to exclude the bourbon and pecans so this cake is no longer Mississipii Mud Cake, but the base of the cakes are relatively the same. I am looking forward to baking my way through more recipes in this cookbook. Each one looks better than the last!
Print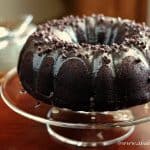 Chocolate Espresso Bundt Cake
---
Description
Deeply rich with chocolate flavor, this chocolate espresso bundt cake is improved with the addition of espresso powder. Chocolate and espresso are a perfect match!
---
Ingredients
2 1/1 cups all purpose flour
2 teaspoons baking soda
2 teaspoons espresso (instant powder)
1/2 teaspoon salt
1 cup butter (2 sticks)
6 ounces unsweetened chocolate
1 cup brewed espresso
1 cup sugar
4 eggs
1 teaspoon pure vanilla extract
1/2 cup mini chocolate chips
For the Glaze:
6 Tablespoons butter
4 Tablespoons brown sugar
6 Tablespoons heavy cream
2 cups confectioners' sugar
3 Tablespoons brewed espresso
---
Instructions
Preheat oven to 350 degrees F. Prepare your Bundt pan: I sprayed the pan with baking spray then dusted it with cocoa powder.
Combine the dry ingredients of flour, baking soda, espresso powder, and salt in a bowl. Sift them together. Set aside.
Melt the butter and chocolate with the brewed espresso in a small saucepan over medium heat. Gently whisk until melted and combined. Take off the heat and add the granulated sugar, continue to whisk until well mixed.
In another bowl whisk the eggs and vanilla. Slowly pour in the chocolate mixture and whisk to combine. Add the flour mixture and stir with a spoon until blended. Add the chocolate chips.
Pour the batter into your prepared pan and bake for 40-45 minutes. I let the cake cool completely (it will pull away from the sides of the pan), then I inverted it onto a plate.
For The Glaze:
Melt the butter with the brown sugar and espresso. Add the cream and bring to a simmer. Remove from the heat and whisk in the confectioners' sugar. Add more espresso if needed to thin out the glaze. Let it cool before pouring it over the cake.
---
Notes
Make sure to use cocoa powder rather than flour to prepare your pans.  On a dark cake, the excess cocoa powder blends into the cake whereas flour would stand out. Plus this cake flew out of the pan like a charm so I will use this method of preparation again.
Recipe Card powered by
Here's what the #BundtAMonth bakers created this month:
Chocolate Berry Bundt Cake by Heather from Hezzi D's Books and Cooks
Chocolate Bundt Cake with Balsamic Strawberry Sauce
by Alice from
Hip Foodie Mom
Chocolate Chobani Bundt Cake
by Carrie from
Poet In The Pantry
Chocolate Espresso Bundt Cake by Holly from
A Baker's House
Chocolate Mini Bundts with Matcha Flowers by Kim from Ninja Baking
Chocolate Raspberry Swirl Bundt Cake
by Anita from
Hungry Couple
Chocolate Rocky Road Bundt Cake by Tara from Noshing With The Nolands
Chocolate Turtle Bundt Cake
by Kim from
Cravings Of A Lunatic
Deep Chocolate Be Mine Bundt by Stacy from Food Lust People Love
Double Chocolate Swirled Bundt Cake
by Laura from
The Spiced Life
Chocolate Peanut Butter Layered Bundt Cake
by Karen from
In The Kitchen With KP
Red Wine Chocolate Bundt Cake with Mascarpone Whipped Cream
by Kate from
Food Babbles
Sour Cream Chocolate Bundt Cake
by Renee from
Magnolia Days
Quadruple Chocolate Bundt Cake
by Dorothy from
Shockingly Delicious
Vanilla and Chocolate Marble Bundt Cake by Anuradha from Baker Street White Chocolate Raspberry Bundt Cake by Paula from Vintage Kitchen  
Bundt cakes are popular at my house- I love that the cake needs only a simple glaze to make it shine. So much easier than getting a layered cake just right. Here are some other Bundt cakes that we've enjoyed: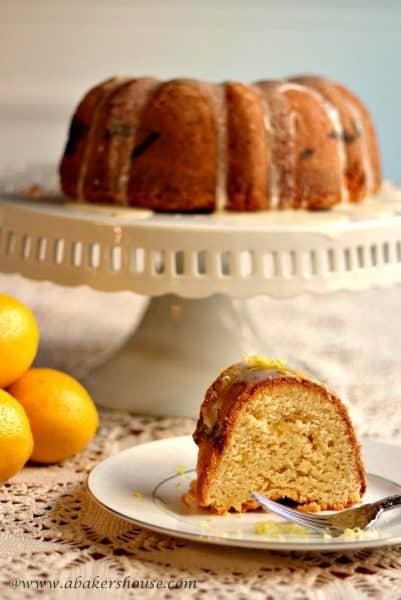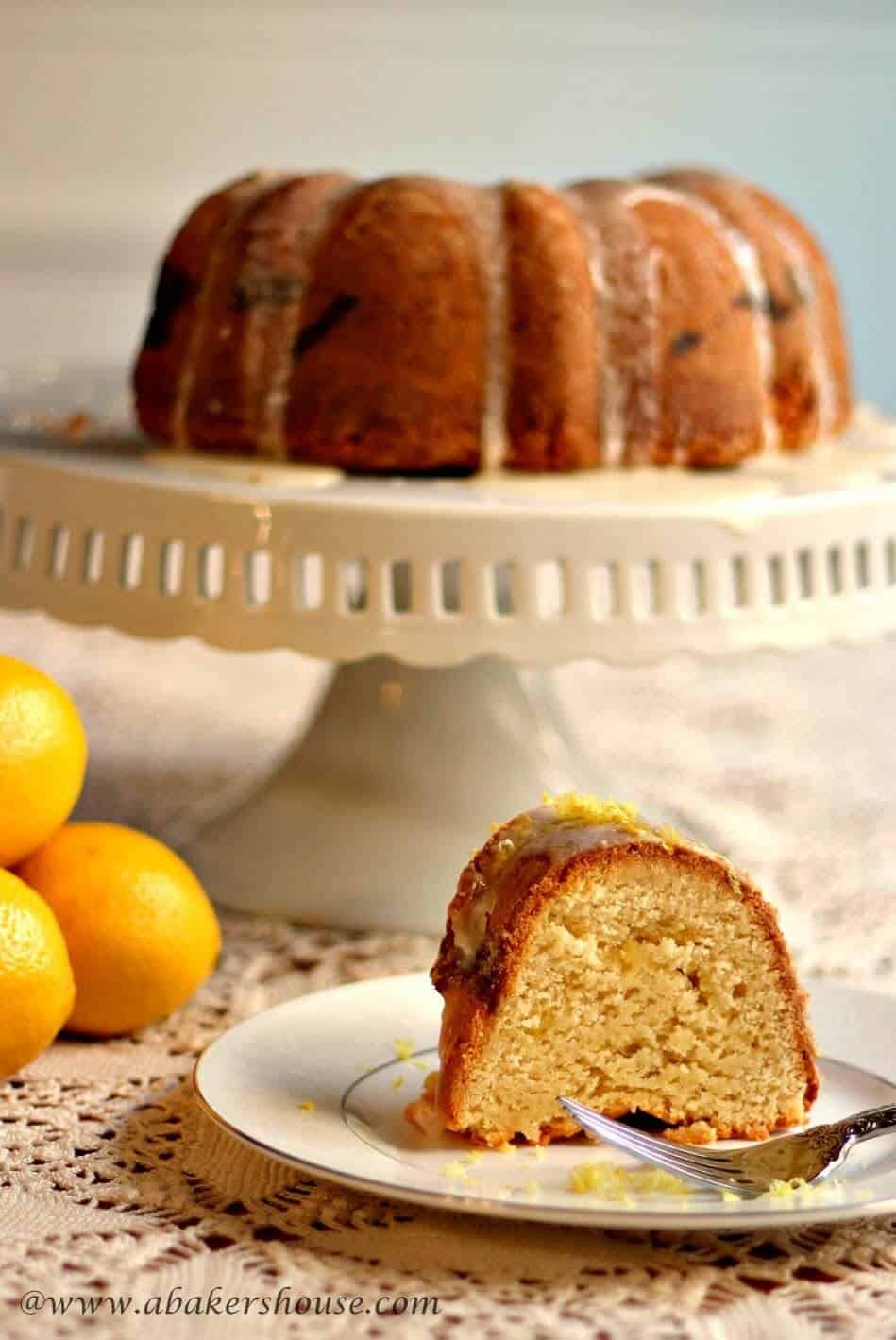 Lemon Bundt Cake with Lemon Curd Filling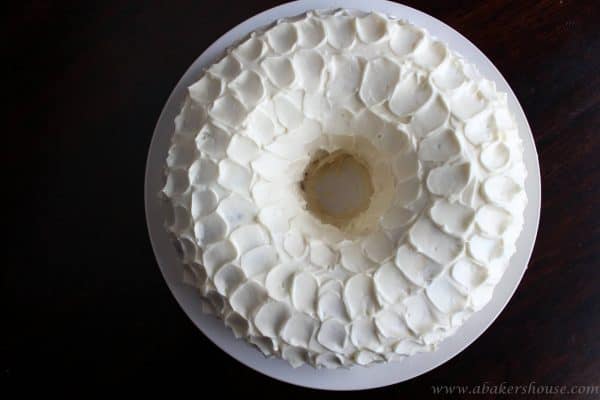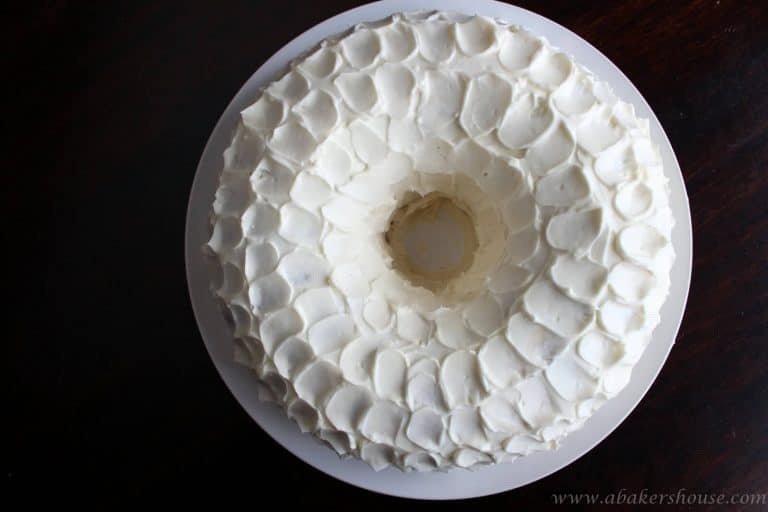 Ginger Pear Bundt Cake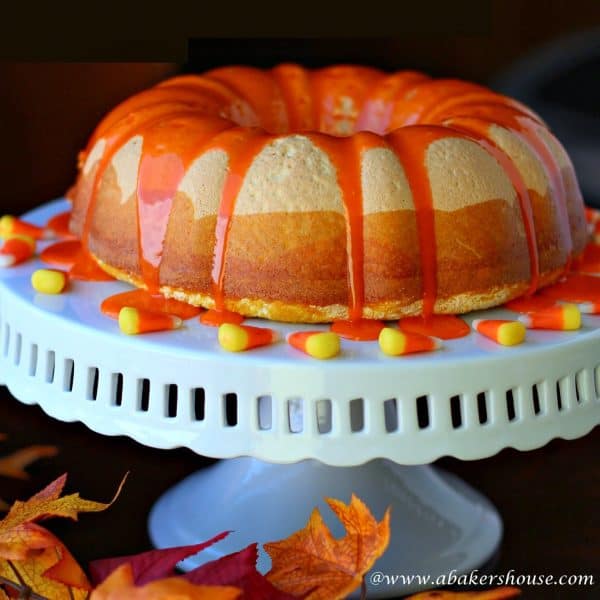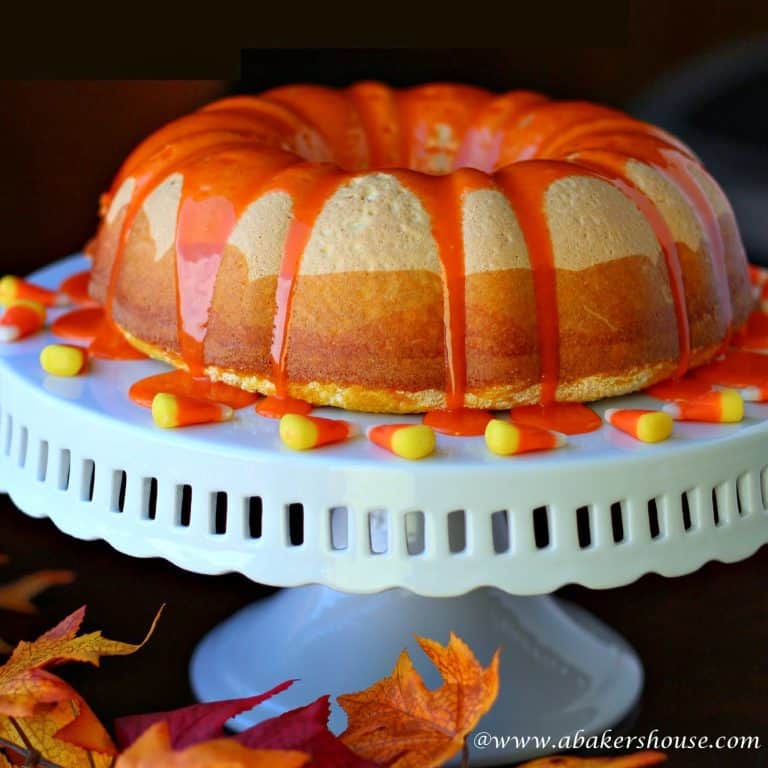 Candy Corn Bundt Cakes