Learning how to macerate strawberries barely requires a recipe. You simply add sugar (or alcohol) and the magic ingredient of time. Making macerated strawberries is a technique that you can use with any type of berry. Use this juicy goodness to top pancakes, shortcakes, ice cream, pound cake, or trifle.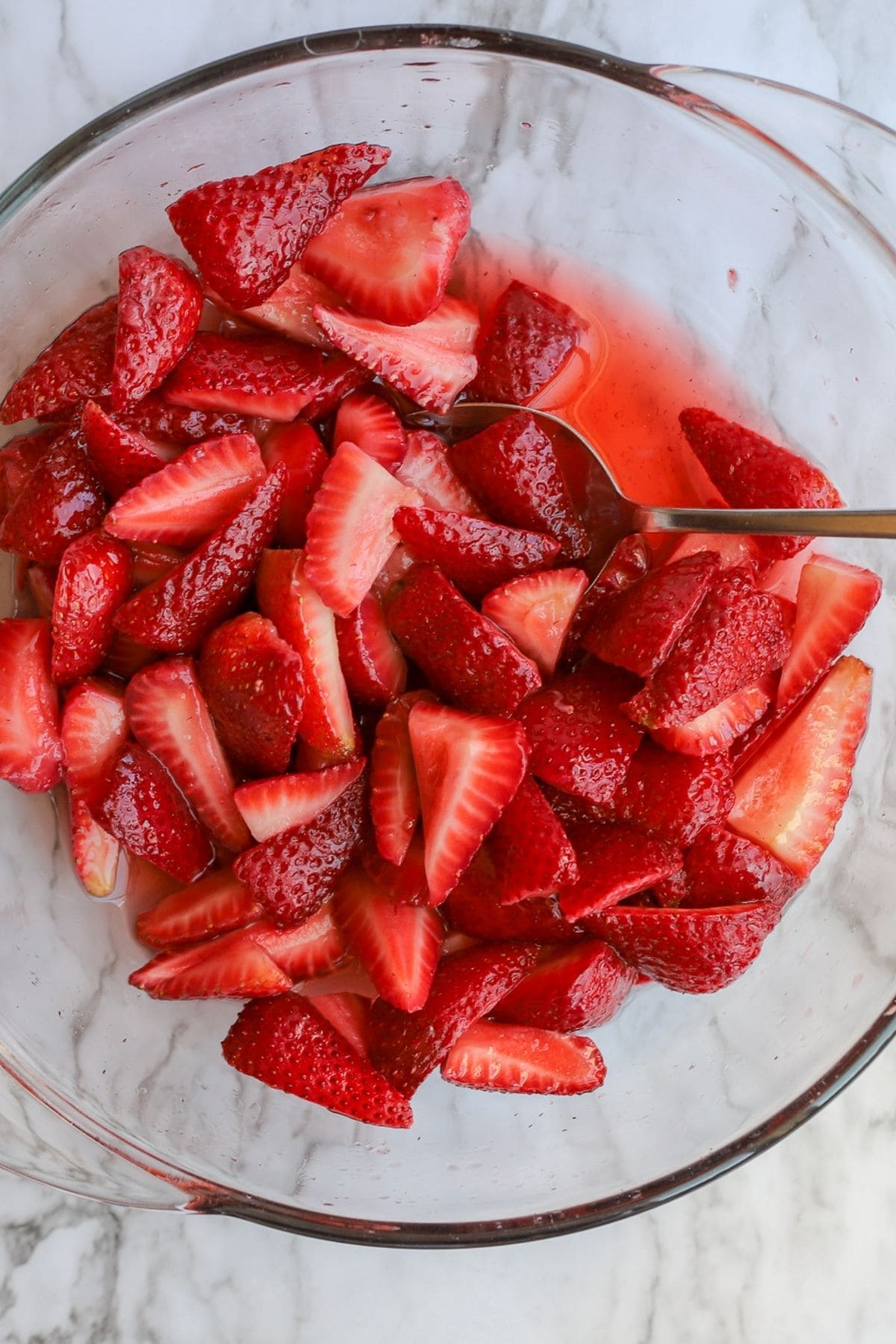 Your first question might be what are macerated strawberries? It's just a fancy way to say berries soaked in sugar and sometimes alcohol. Essentially we are marinating strawberries to bring out their juices.
The fruit breaks down and softens a bit as the juices are extracted. This makes that dreamy, sweet strawberry syrup.
How to Macerate Strawberries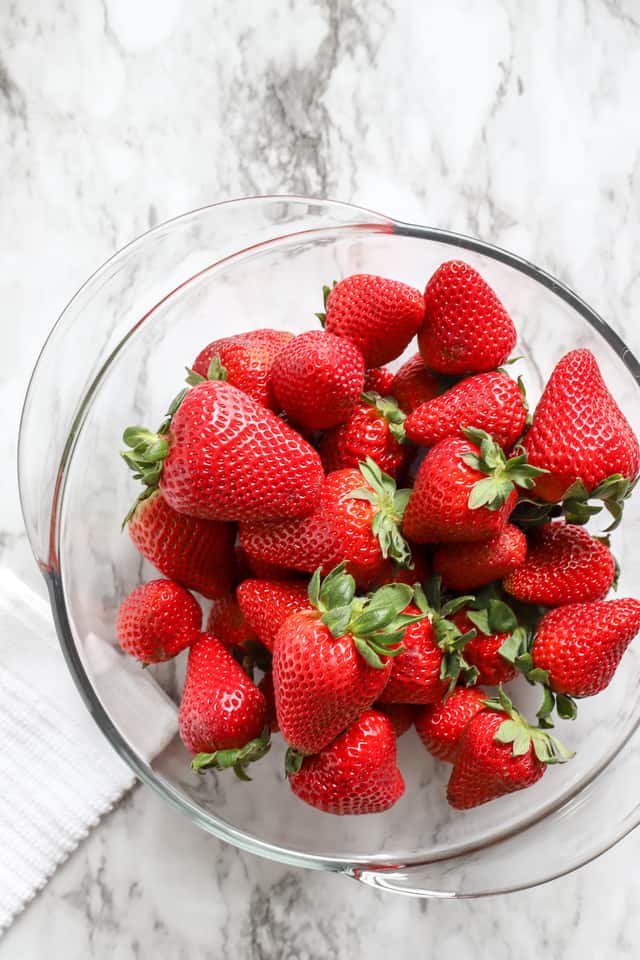 The process to create macerated strawberries is straightforward.
Start with a bowl of beautiful, fresh strawberries.
Add sugar or alcohol. Stir.
Let time do the work. Stir occasionally. That's it!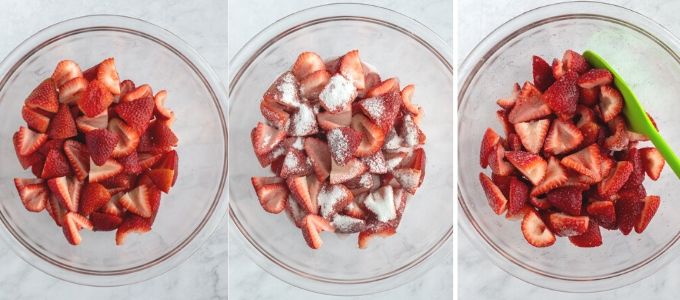 I like making macerated strawberries in the spring when the berries aren't at their top shape just yet. This simple trick of adding sugar and letting time do the "work" pulls the natural juices out of the berries.
This technique really brings "tired" berries back to life and creates a fresh berry dessert sauce that is bright and sweet.
Step by Step process with photos:
Although making macerated berries is a simple process, sometimes it helps to show the steps from star to finish.
Clean and hull the strawberries. Always start with washed berries. Organic strawberries would be wonderful, but if not, traditional berries are fine if you wash them thoroughly.
You can use a gadget to help remove the hulls of the strawberries or you can use a paring knife.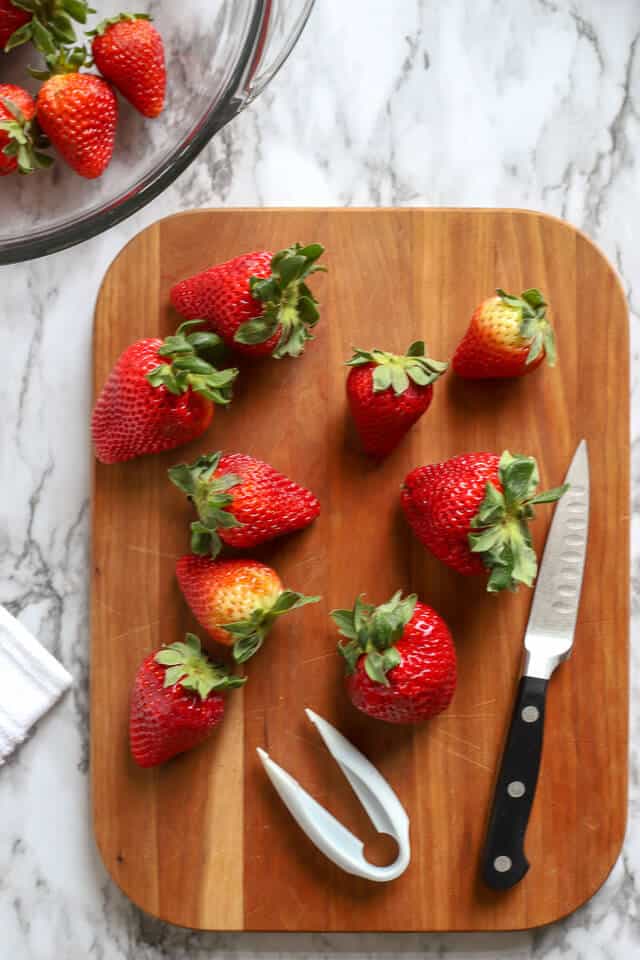 2. Slice the strawberries. This is personal preference and might depend on the type of dessert you are making. You can leave the strawberries whole or slice them in halves or quarters.
I like quartering the berries so that they are bite-sized and ready to serve.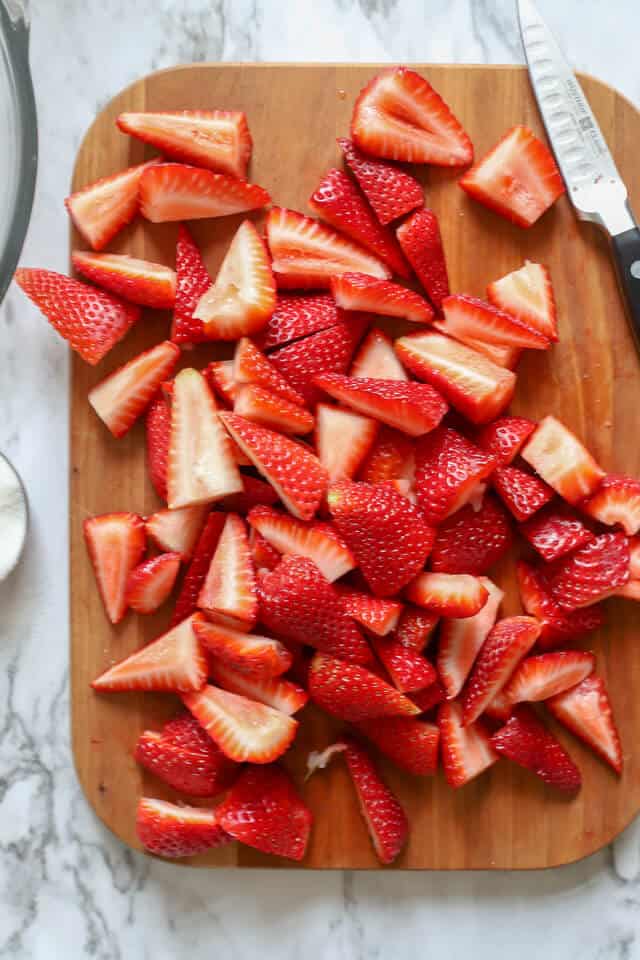 3. Add the sugar. We're macerating with sugar in this recipe so granulated sugar is all you need. I've also made macerated strawberries with coconut sugar and they were lovely. The finished color is deeper from the dark sugar but the taste was excellent.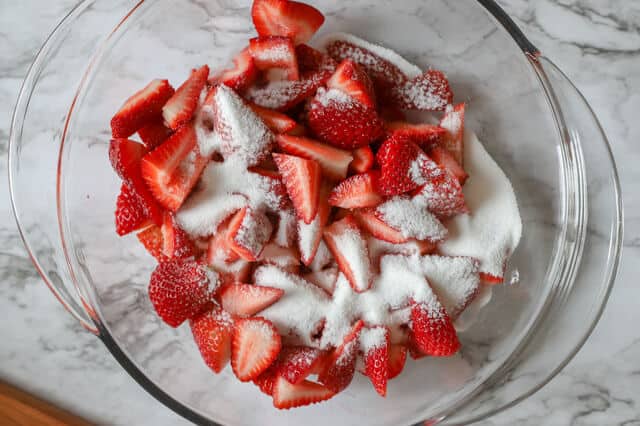 4. Let the berries sit for 15 minutes, then stir again.
It is wonderful when the element of time is all you need to truly elevate a dish. Don't rush the macerating process. This is similar to a marinade in that time does most all of the work.
Stirring the berries and sugar mixture every fifteen minutes is suggested. Or, if you are leaving these berries in the refrigerator overnight, just mix right before serving the next day.
5. Use after 30 minutes or place in the refrigerator overnight. Look at those juices! The extra liquid seems to magically appear out of no where and it gives you this sweet sauce that is unmatched!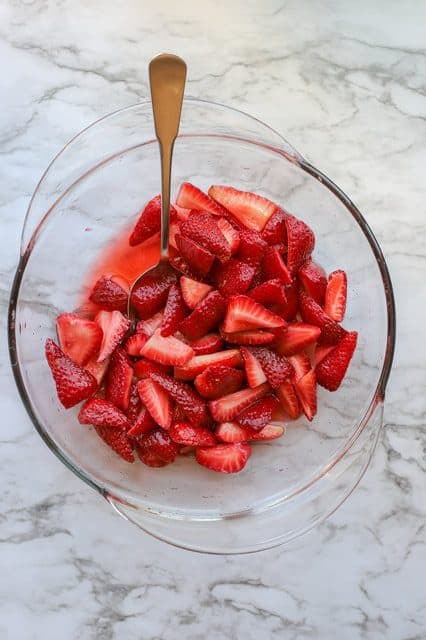 An easy way to use the sweet strawberries is on top of desserts like pound cake or pavlova. They really dress up an otherwise plain desserts. Look how beautiful the berries are as a topping on pavlova!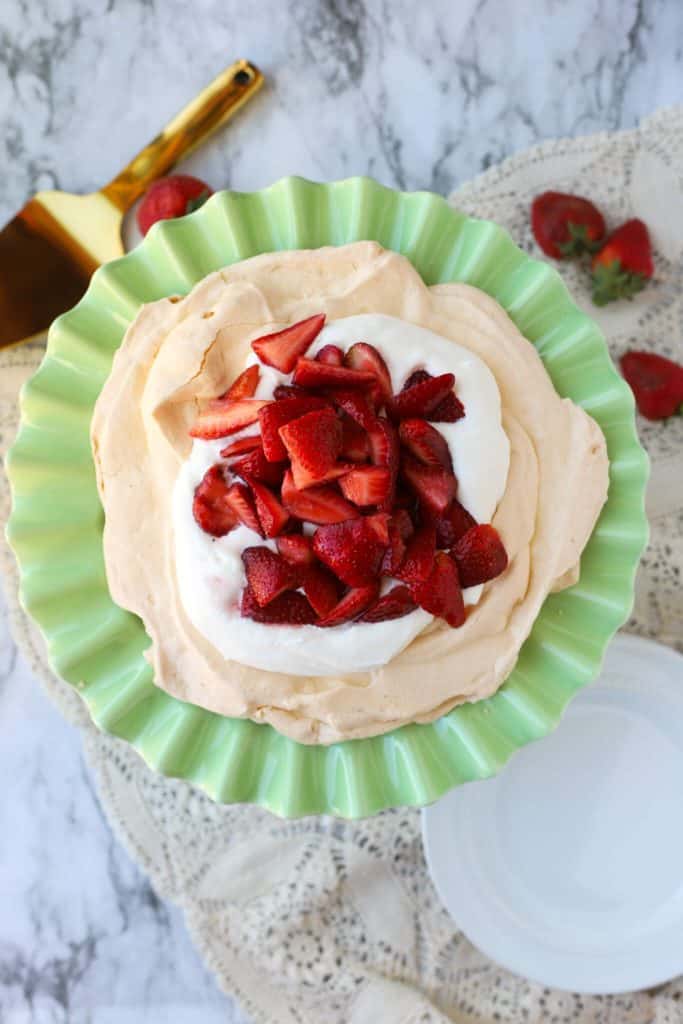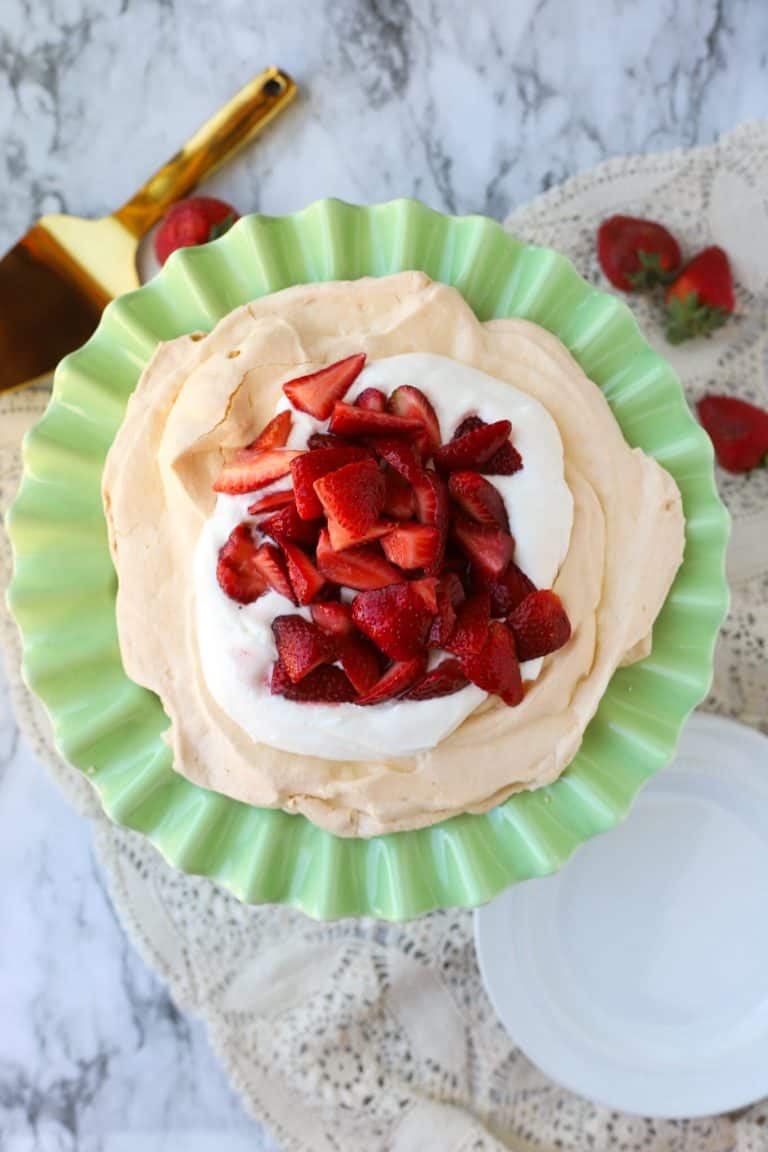 Video to learn how to macerate strawberries:
How do you use Macerated Berries?
You'll find that you won't run out of reasons to use these macerated strawberries.
They are a wonderful topping for pancakes,
for a quick strawberry shortcake,
as a layer in strawberry overnight oats,
for a simple pound cake,
or for a bowl of ice cream.
I first shared this idea when making my pavlova with strawberries and was asked more about how the berries became so juicy. No water is added– just strawberries and sugar which brings out the natural juices of the strawberries.
What other ingredients could I use to macerate berries?
An alcohol– liqueurs such as Amaretto make tasty marinated strawberries in liqueur.
A small amount of vinegar such as balsamic vinegar pairs nicely with strawberries. Look how Carol from From a Chef's Kitchen uses balsamic macerated strawberries with grilled pound cake.
A light, white wine like chardonnay or a deeply flavorful red wine are both excellent options. If you want to macerate strawberries with alcohol, try this version of wine soaked strawberries from Alton Brown.
You can even use just the macerated strawberry syrup as a mixer for drinks. Or puree the whole mixture to make a quick and easy berry coulis. Yup, just another fancy word for fruit puree which makes a luscious topping for vanilla ice cream, pavlova, or simply just whipped cream on its own.
What are macerated strawberries?
Macerated strawberries are berries that are marinated in sugar, alcohol, or vinegar to bring out their natural juices.
What kind of sugar to use for macerating strawberries?
Granulated sugar is most common for macerated berries. Coconut sugar or brown sugar is ok too.
What alcohol is good for macerating?
Wine (red or white), brandy, rum or liqueurs are suggested.
What vinegar is good for macerating?
Balsamic vinegar is my favorite!
How to store macerated strawberries?
Store for 2 to 3 days in the refrigerator.
Can I freeze macerated strawberries?
Yes, put the berries and the liquid all in a freezer safe ziploc bag or other air-tight container and freeze for 6-12 months. Defrost overnight in the refrigerator. Stir and serve.
Can I macerate berries without sugar?
If your berries are at peak ripeness, you could opt to use only wine or vinegar, omitting the sugar.
What flavors can I add to the strawberries?
Fresh mint would be a lovely addition. A tablespoon of vanilla is another idea.
Here's the Macerated Berries Recipe:
Yield: 8 servings
Macerated Strawberries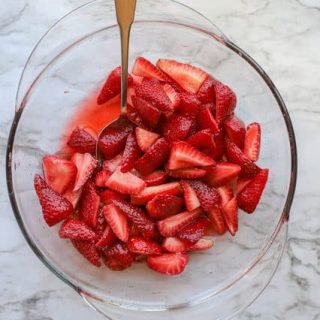 Making macerated strawberries is an easy process-- all it takes is berries, sugar and time!
Ingredients
2 pints of strawberries
1/4 cup sugar
Instructions
Macerate the berries: Sprinkle 1/4 cup sugar over the 2 pints of sliced strawberries in a glass bowl.
Toss gently to combine. Leave uncovered at room temperature for 30 minutes, mixing the berries once to distribute the sugar.
Use immediately or cover and place in the refrigerator overnight.
Notes
Macerated berries make a beautiful topping for pavlova, ice cream, yogurt, or pound cake.
Nutrition Information:
Yield:
8
Serving Size:
1 large spoonful
Amount Per Serving:
Calories:

53
Total Fat:

0g
Saturated Fat:

0g
Trans Fat:

0g
Unsaturated Fat:

0g
Cholesterol:

0mg
Sodium:

1mg
Carbohydrates:

13g
Fiber:

2g
Sugar:

11g
Protein:

1g
This data was provided by Nutrionix and is considered an estimate only.
Here's the Google Web Story for these juicy strawberries!
Kitchen Tools used for Macerated Berries
As an Amazon Associate I earn from qualifying purchases.
The strawberry huller I used is no longer in stock, but it is similar in function to this strawberry huller by Oxo.
In the mood for more strawberry recipes– here you go!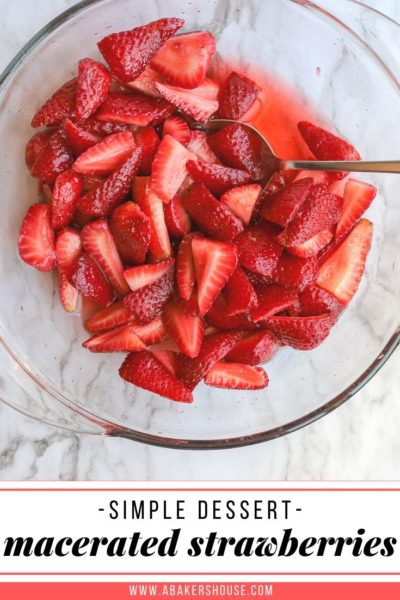 Please note that this post was originally post in May 2018 and updated in February 2021.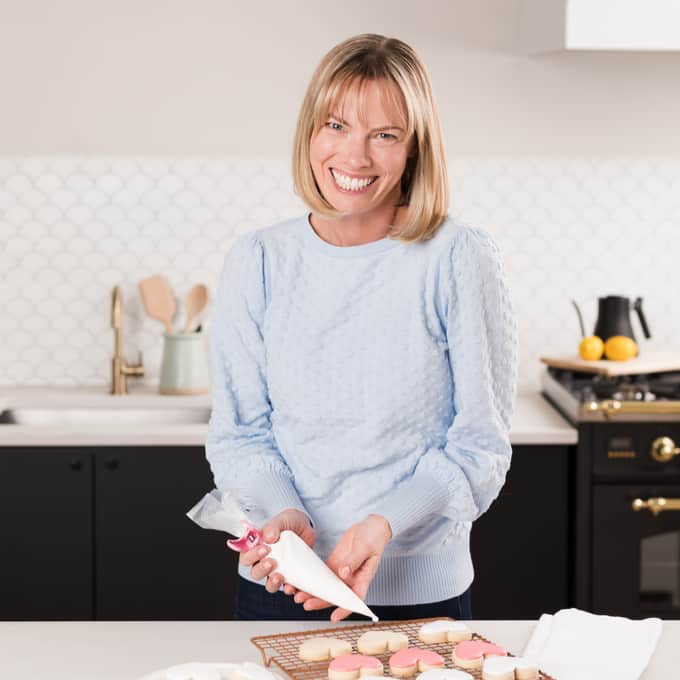 Holly Baker started the food blog, A Baker's House, in 2011. She is the writer, recipe creator, and photographer for the site. Holly loves to bake and shares recipes for gluten free food, canning recipes, as well as traditional desserts too. Her recipes and food photography have been highlighted by BuzzFeed, Reader's Digest, and She Knows.