Cherry Tomato Focaccia is an easy focaccia recipe that is a great starting point for home bakers. This bread recipe calls for very little hands on time and is easy to bake. Once you learn the basics of making focaccia you'll turn to this recipe again and again!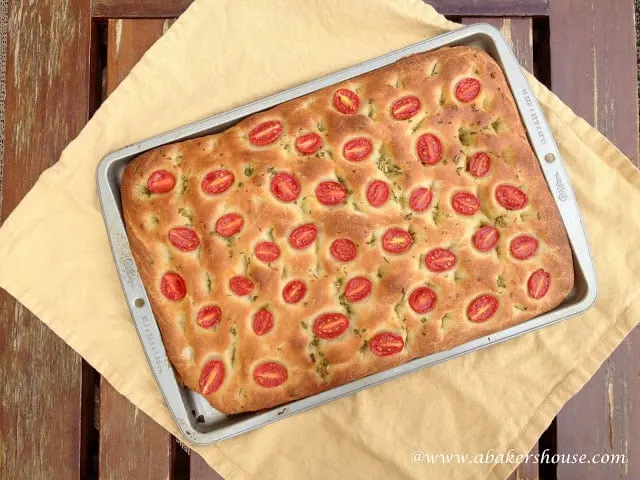 Cherry tomato focaccia celebrates summer's fresh cherry tomatoes and could be modified for other types of tomatoes and herbs to suit your taste. Serving this cherry tomato focaccia as an appetizer when you have company is a smart move: your home sings with the aroma of freshly baked bread and your guests are impressed with your baking skills. Shh, don't tell them how easy this recipe is to make!
I came across a new magazine for me this week at the library, Vegetarian Times, and was delighted that their July/August 2012 issue featured recipes with cherry tomatoes. While I'm still waiting for my cherry tomato plant to ripen, I happened to have two pounds of grape tomatoes purchased on my latest Costco trip.
What is focaccia?
Focaccia is a relatively flat, Italian type of yeast bread that is baked with herbs and olive oil. Its surface often dimpled because the baker will press down into the dough after it has risen to create indentations.
Focaccia dough is similar to pizza dough. Pizza dough does not rise as much and produces a flat bread while focaccia is given time to rise and has a bouncy, light texture. Focaccia has a lightly browned top and bottom while the inside of the bread is fluffy and tender.
Focaccia can be served as an appetizer or a side dish.
Learn how to make focaccia
Focaccia is an easy bread for beginners like me to make at home. The dough is straightforward and simple to make with or without a standing mixer; toppings can be customized to your personal taste. There are two rising periods of one hour each then the focaccia is baked for less than 30 minutes, a process that makes this bread a cinch to pull together in an afternoon just like I did today.
Focaccia Ingredients
bread flour
sugar
instant yeast
salt
warm water
olive oil
olive oil
rosemary, chopped
garlic, minced
cherry tomatoes or grape tomatoes
What is the difference between bread flour and all purpose flour?
You'll notice at the store that some types of flour are called "bread flour" while others are "all purpose flour". The difference between bread flour and all purpose flour is the protein content. Gluten is one of the proteins in bread that give it that chewy and elastic texture. A bread flour has a higher protein content which helps a recipe achieve that stretch and strength familiar to us in bread recipes.
Can I substitite all purpose flour for bread flour?
Yes, you can substitute all purpose flour for bread flour in most yeast bread recipes. You may find that the baked bread is less chewy and doesn't have the same crumb texture if you use all purpose flour. The bread will still taste good and turn out well.
What toppings are good for focaccia?
cherry tomatoes, grape tomatoes, or slices of larger tomatoes
olives or tapenade
pesto
fresh herbs like basil, rosemary, parsley and chives
Italian spices
roasted peppers
Parmesan cheese
Garlic (especially roasted garlic)
fresh berries top focaccia in this berry focaccia recipe from Sommer at A Spicy Perspective
Yield: 12 squares
Cherry Tomato Focaccia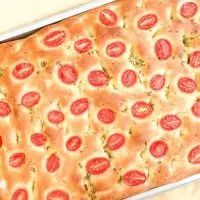 Cherry tomato focaccia is a flexible recipe-- try it with heirloom tomatoes or with any combination of fresh herbs
Total Time
3 hours
5 minutes
Ingredients
To make the dough:
3 1/2 cups bread flour
1 TB sugar
1 package instant yeast
2 tsp salt
1 1/4 cups warm water
1 TB olive oil
For the topping:
1/4 olive oil
1 heaping TB rosemary, chopped
1 heaping TB garlic, minced
1 cup cherry or grape tomatoes, sliced in half
Instructions
1. Mix all ingredients for the focaccia together at once. Let a stand mixer do the work—use a dough hook to knead the ingredients on speed 4 for about 4-5 minutes
2. Spray the dough with baking spray and allow it to rise for about an hour, or until it has doubled in size.
3. Next, coat a baking pan with olive oil. Spread the dough out into the pan, stretching it slightly to reach the edges. Allow the dough to rest again for about an hour.
4. Meanwhile, make the dipping oil: combine the olive oil with the rosemary and garlic.
5. After the dough has risen the second time, press a spoon or your fingers into the dough as shown in the photo below.
6. Brush the dough with a few tablespoons of the olive oil and herb mixture. Gently press the tomatoes into the dough, cut sides facing up.
7. Bake at 450 degrees F for 20-25 minutes
Notes
I was concerned at first with the color of my focaccia, worried that I had over-baked it. As it turned out, this golden crust covered a soft yet well-cooked bread underneath. Dip the focaccia into the leftover herbed olive oil for an extra burst of flavor.
Recipe source: Magazine, Vegetarian Times
Nutrition Information:
Yield:
12
Serving Size:
1 square
Amount Per Serving:
Calories:

172
Total Fat:

2g
Saturated Fat:

0g
Trans Fat:

0g
Unsaturated Fat:

2g
Cholesterol:

0mg
Sodium:

390mg
Carbohydrates:

33g
Fiber:

1g
Sugar:

3g
Protein:

5g
This data is provided by Nutritionix and is an estimate only.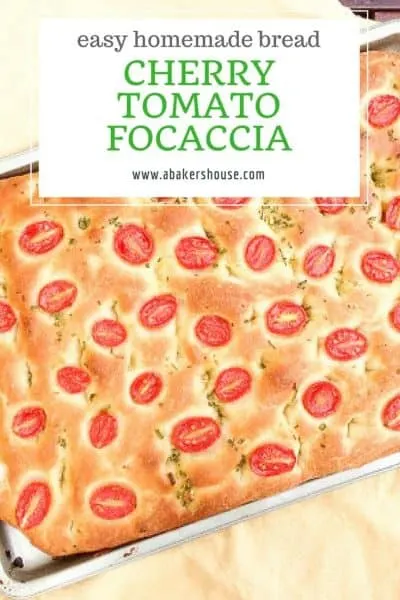 More easy bread recipes to bake at home:
Post originally published in August 2012, updated May 2019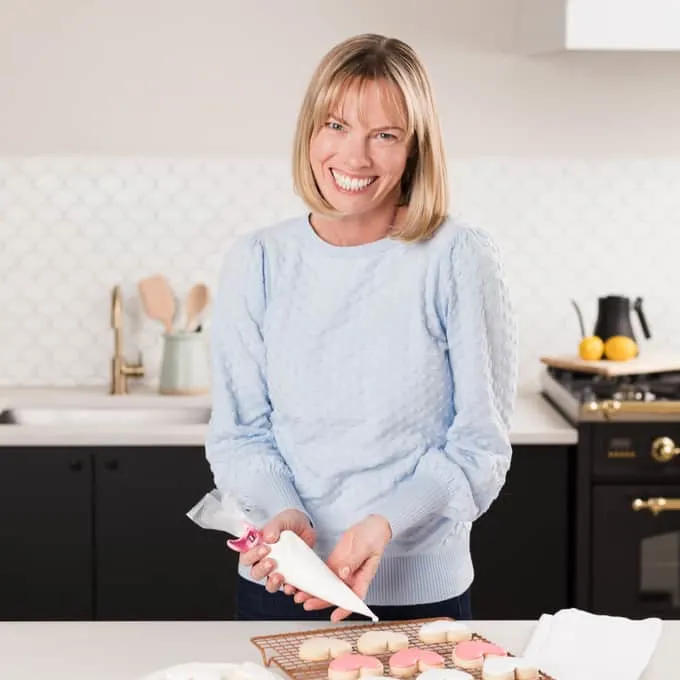 Holly Baker started the food blog, A Baker's House, in 2011. She is the writer, recipe creator, and photographer for the site. Holly loves to bake and shares recipes for gluten free food, canning recipes, as well as traditional desserts too. Her recipes and food photography have been highlighted by BuzzFeed, Reader's Digest, and She Knows.