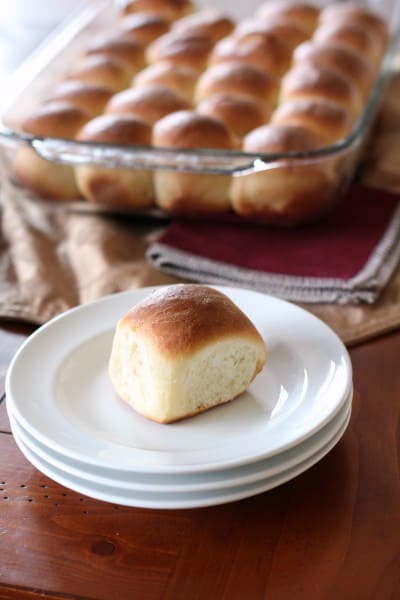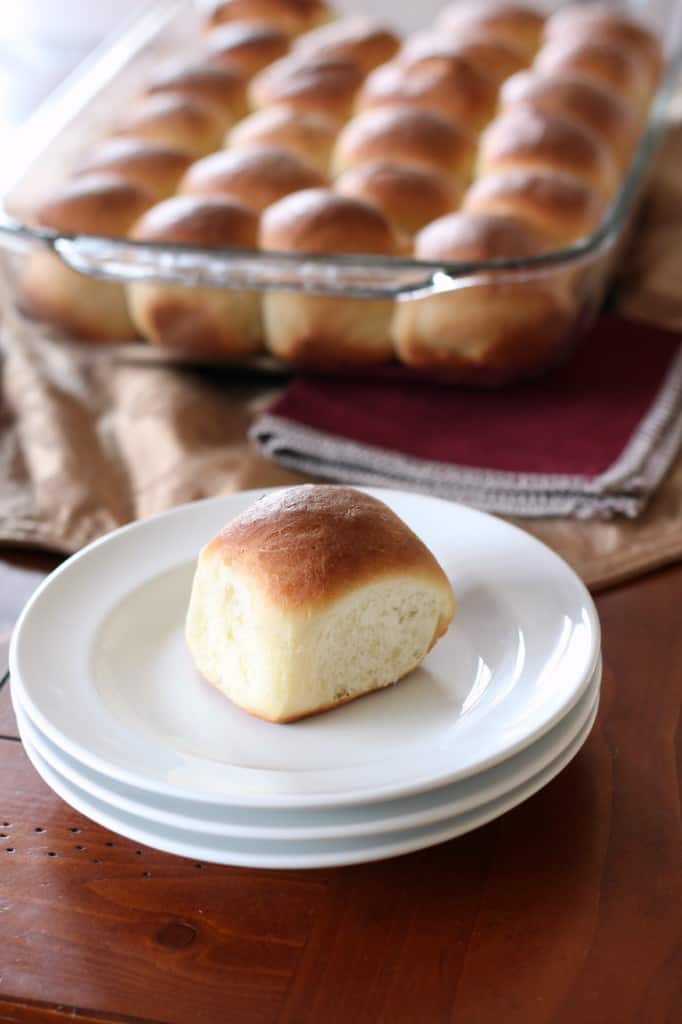 Classic dinner rolls are the perfect accompaniment to many a family feast. This recipe doesn't require fancy baking equipment; simply bake the rolls in a 9 by 13 baking dish. The results are fluffy and tender. The #Breadbakers know that family feasts and celebrations are not complete without BREAD. Whether it is for the big Thanksgiving meal or for a simple weeknight family supper, bread really does bring everyone together around the table. Bread hits the senses: touch it while you knead the dough, smell it while it bakes, see its golden brown crust on top, taste it warm and fresh from the oven and hear the happy sounds of your family enjoying it! We are baking all sorts of breads that you might bring to a family feast and we invite you to bake along with us. Our host this month is Cook's Hideout, thanks, Pavani!
When I was young, many of our special occasion family dinners included my immediate family of six and both sets of grandparents. We were lucky to live close to each other. While there were plenty of made-from-scratch dishes at our celebrations, bread was not one of them. We ate those lovely, little Pepperidge Farm trays of rolls and we fought over every last one of them! I loved the uniformity, knowing that each roll would fit a pat of butter right in the middle and each would take two or three bites until I could reach for another. These classic dinner rolls remind me of those rolls. The recipe suggests making just 16 rolls but those turn out to be rather large in a 9 x 13 pan. I made smaller rolls and fit 24– 4 rows by 6– and you could even squeeze 5 by 7 if you'd like.
The recipe from Fine Cooking proved to be easy to follow and simple to make. I did bake my rolls a touch longer than the 20 minutes recommended, say 25-28 minutes, but I am sure the cooking time will depend on your oven. Bake until a golden brown. I made two batches and learned that the rolls baked in a glass 9 x 13 casserole dish browned more quickly on the bottoms– the rolls were good but for an overall softer roll try baking them in a ceramic baking dish to protect the bottoms from browning too early. Once you get the hang of these basic rolls, you can add herbs or other flavors such as a poppy seed topping or a dried onion and garlic mixture. These may replace the Pepperidge Farm rolls on my Thanksgiving table but nothing can replace those happy memories of big family meals around the table together.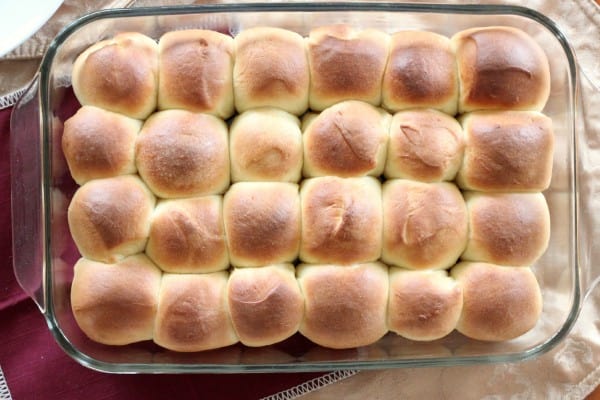 I followed the recipe from Fine Cooking. Please click through on this link to see the original recipe. The ingredients are listed below:
Print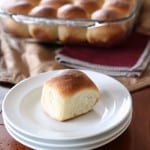 Classic Dinner Rolls with #BreadBakers
---
Ingredients
18 oz. (4 cups) all-purpose flour
1 package (2-1/4 tsp.) rapid-rise yeast
1/3 cup sugar
1 tsp. salt
1 cup milk
4 oz. (8 Tbs.) unsalted butter
3 large egg yolks
---
Recipe Card powered by
Let's take a look at what my fellow bakers have baked for this month's Family Feast Breads event:
#BreadBakers is a group of bread loving bakers who get together once a month to bake bread with a common ingredient or theme. Follow our Pinterest board right here.
We take turns hosting each month and choosing the theme/ingredient.
If you are a food blogger and would like to join us, just send Stacy an email with your blog URL to [email protected]