Can you make bread in a tin can? Yes! Try this recipe for Boston Brown Bread from the Epicurious site. It's a unique rye bread recipe steamed in a tin can such as a coffee container.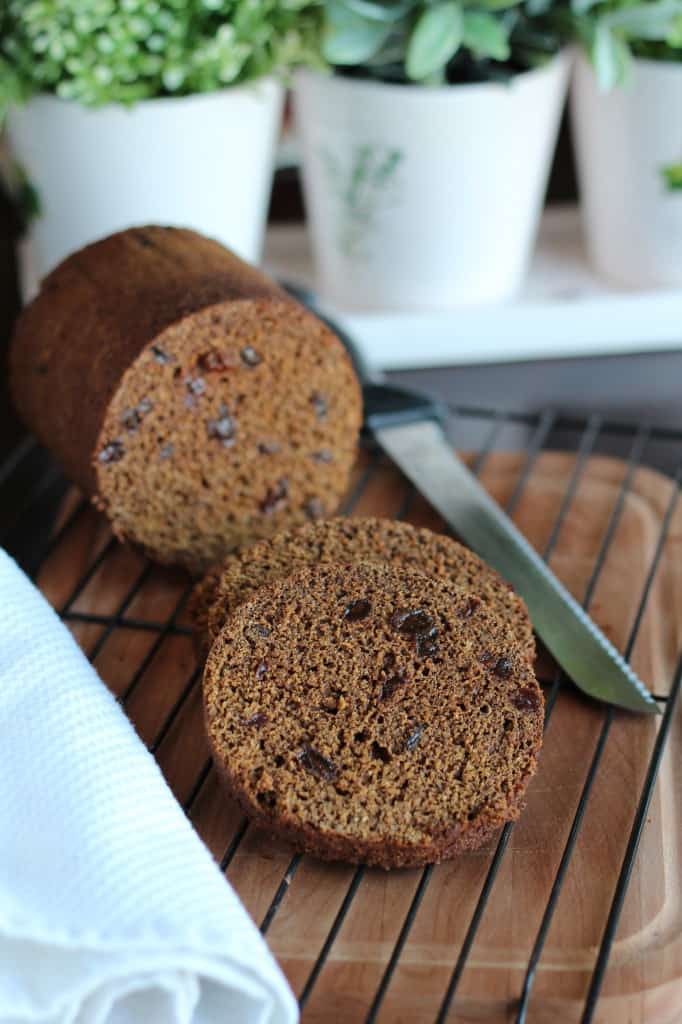 Baking with Rye Flour
Rye flour was previously not in my pantry but I learned that I should bake with it more often. Rye is high in fiber, a good source of magnesium as well as a host of other nutrients.
Quick breads
This bread baked in a tin falls under the category of quick breads– bread recipes baked without yeast. Baking soda is the leavening agent in this bread recipe. Enjoy all of my quick bread recipe collection!
What ingredients are in traditional Boston Brown Bread?
rye flour
wheat flour
cornmeal
molasses
baking soda
salt
milk
raisins (optional)
Steamed Boston Brown Bread Recipe
For a rye bread to share today, I settled on this recipe for Boston Brown Bread from the Epicurious site. It's a unique bread steamed in a tin can such as a coffee container. Now I've seen episodes of cooking shows where the contestants are given a mystery ingredient of "bread in a can" and then challenged to create a tasty dish. I was concerned that baking bread in a can on purpose might not have a great result but I was happily proved wrong.
Boston Brown Bread History
There were many recipes online and nearly all had the same ratio of one part each of rye flour, whole wheat flour and cornmeal. A quick search for a history lesson taught me that rye and cornmeal were more widely available at one point and so bakers came up with this mixture of flours for their breads. Tins were a readily accessible vessel and steaming the dough was a method that home bakers could master.
One challenge for me was finding a coffee tin (or any other tin!) that was made from metal– so many of our goods are stored in sturdy cardboard containers.
A bit of luck and a tin can appeared when my relatives who were visiting from England brought some treats and one was a tall tin of crackers. Unfortunately, I wrongly assumed this was a metal tin and didn't realize my error until I had my ingredients mixed and ready to go.
I proceeded anyway and had no major failures but I would suggest to wrap the bottom half of such a cardboard container in tin foil first to provide a barrier between the water and the cardboard. It was fun to have this round, cylindrical bread for a change.
You'll notice in the comments below that a reader mentioned that she uses a large, wide-mouthed mason jar as a baking vessel. Using a canning jar (and not any old glass jar) sounds like a good idea. Canning jars are already made to withstand high heat and should be fine in the oven's heat.
Here are other homemade bread recipes you'll enjoy:
Is this traditional Boston Brown Bread recipe familiar? I've love to learn if this is mainly a New England specialty or if its popularity has spread.
Yield: 1 loaf
Boston Brown Bread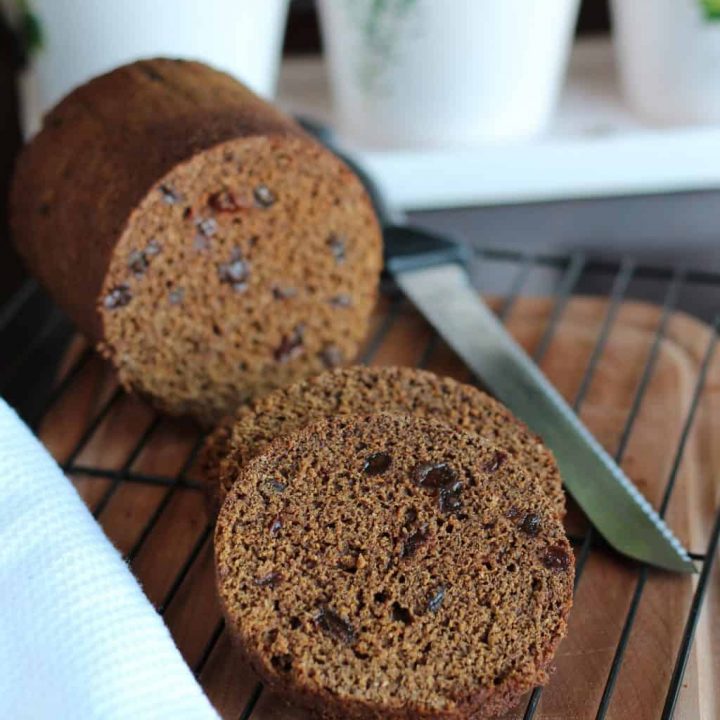 Try this baking experiment and bake directly in a can to make this round loaf of Boston Brown Bread.
Total Time
2 hours
15 minutes
Ingredients
1 tablespoon unsalted butter for greasing
1/2 cup rye flour
1/2 cup whole wheat flour
1/2 cup cornmeal
1 teaspoon baking soda
1/2 teaspoon salt
1/3 cup dark molasses
1 cup milk
1/2 cup raisins
Instructions
Preheat oven to 325 degrees F. You'll need a tin can like a 1-pound coffee can or other similar vessel. Also you will need a deep pan suitable for baking into which you'll put the tin can while it bakes.
Spray the tin can with baking spray. If your can is not made of metal cover the bottom half of it with aluminum foil.
Gently whisk the rye flour, whole wheat flour, and cornmeal, as well as the baking soda and salt. Mix in the molasses and milk then add the raisins.
Pour the batter into the mold. Cover the top with aluminum foil and secure with twine.
Put your filled can into a deep baking dish in the oven, then take boiling water and pour it into the dish a few inches deep. *Note-- it is easier to fill the dish with water while the dish is in the oven RATHER than filling the dish on a counter top and walking with the boiling water filled dish to the oven.
Bake for two hours. The recipe suggests letting the bread sit for an hour then unmolding but I chose to unmold after about ten minutes. If the bread has pulled slightly away from the sides of your container you should be fine to empty it out to cool. I did this since my container was made of cardboard rather than metal and I didn't want the wet cardboard touching the bread as it cooled.
Notes
Source: Epicurious
http://www.epicurious.com/recipes/food/views/Boston-Brown-Bread-104112
Nutrition Information:
Yield:
10
Serving Size:
1 slice
Amount Per Serving:
Calories:

138
Total Fat:

2g
Saturated Fat:

1g
Trans Fat:

0g
Unsaturated Fat:

1g
Cholesterol:

5mg
Sodium:

252mg
Carbohydrates:

29g
Fiber:

2g
Sugar:

13g
Protein:

3g
This data is provided by Nutritionix and is an estimate only.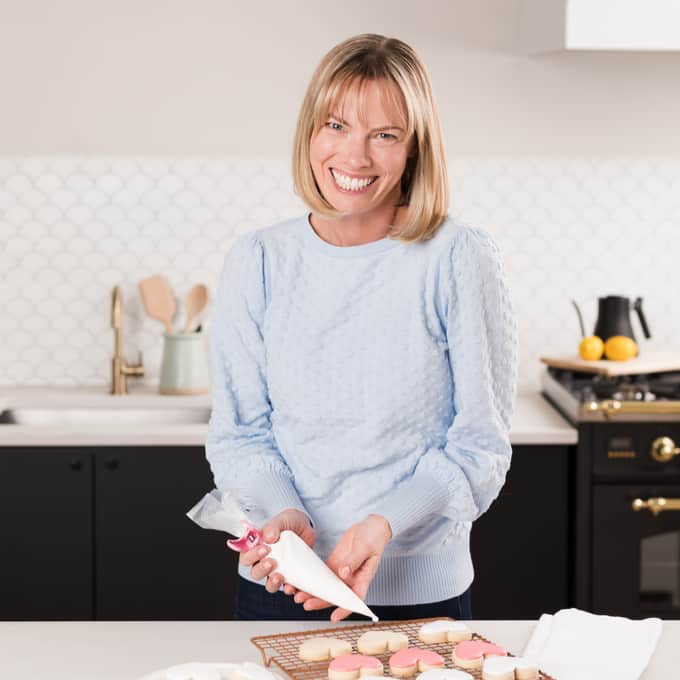 Holly Baker started the food blog, A Baker's House, in 2011. She is the writer, recipe creator, and photographer for the site. Holly loves to bake and shares recipes for gluten free food, canning recipes, as well as traditional desserts too. Her recipes and food photography have been highlighted by BuzzFeed, Reader's Digest, and She Knows.