Homemade onion rolls make any dinner a special occasion. Try this easy onion roll recipe to make bread at home. Onion buns are a great pairing for hamburgers.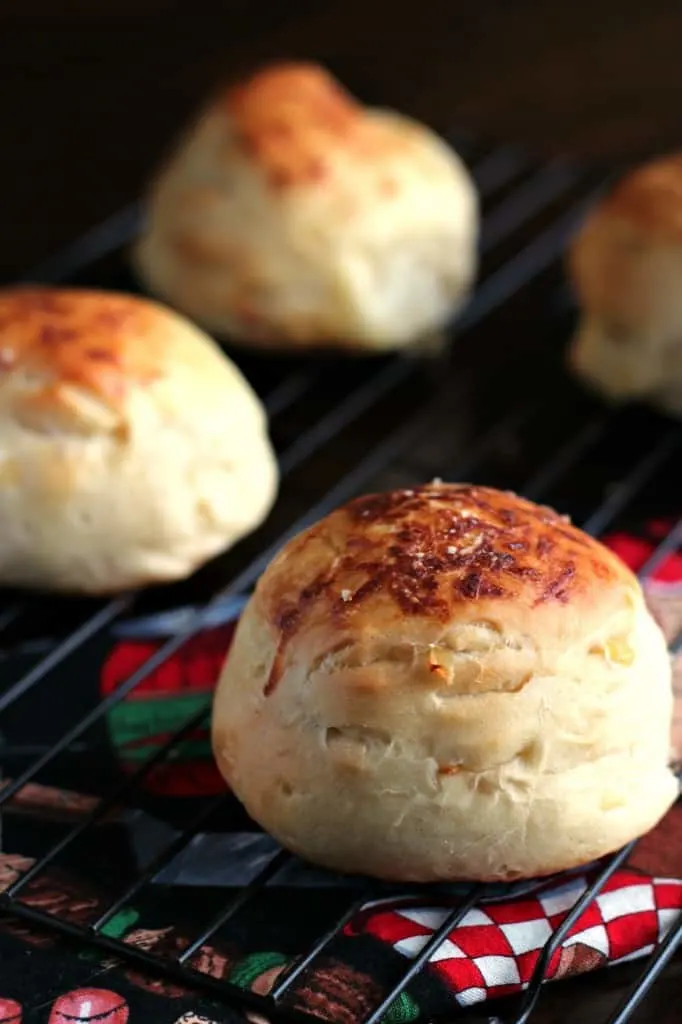 Learn to make onion bread rolls at home
I've purchased onion rolls from the grocery store before and I've ordered sandwiches on onion bread from the deli but I didn't realize how easy it would be to incorporate the onions into a bread dough.
There is a joy that comes along with baking at home, especially when you recreate a food that you've traditionally purchased at a store or a restaurant.
The onion flavor is incorporated throughout the dough but my favorite part is the browned onions that end up on top. What a nice crispy bite the onions lend to these buns! I have another favorite onion roll recipe. Try these onion bacon fantans for a special treat!
How to make onion rolls:
There is nothing tricky about it if you take it one step at a time.
Make the onion filling and set it aside.
Mix your dough and let it go through its first rise.
Add the filling to the dough.
Form the onion rolls, and let rise again.
Bake at 350 degrees F for 20 minutes.
Onion Rolls are perfect for burgers!
This onion rolls recipe was titled as a hamburger roll recipe and I can see how it would go nicely with a juicy burger.
This onion flavor also would pair well with a pulled chicken, pulled pork sandwich or bbq beef.
Just as easily you could serve a smaller version of these rolls along with a main course like roast beef. The next time I make it I will use this onion bacon jam for my filling, doesn't that sound good?
If you are looking for bread perfect for grilled cheese, form this onion bread dough into one loaf. Bake then slice for sandwiches.
Take the mystery out of yeast bread baking
Baking with yeast can be intimidating but it doesn't have to be. It helps to start with a recipe you can count on and for confidence in bread baking this month I turned to King Arthur's collection of online recipes.
The Onion Rolls from King Arthur Flour are my contribution to the the baking group this month.
Onions are the theme for May 2014 and we welcome you to join us with your breads– quick breads, yeast breads, pretzels, doughnuts, you name a bread you've made with onions and we'd love for you to share it here!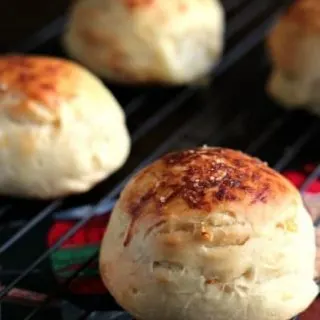 A homemade onion roll is perfect for burgers, chicken or pulled pork sandwiches.
Ingredients
For the Filling:
1 medium onion finely diced, 4 tablespoons butter, 1 tablespoon sugar
For the Dough:
1/4 cup warm water
1 Tablespoon yeast (I used one packet)
1/2 cup milk, scalded and cooled
1 egg
4 tablespoons butter
2 tablespoons sugar
1 1/2 teaspoons salt
3 cups all purpose flour
1 egg
1/4 teaspoon salt
Parmesan cheese
Instructions
First make the filling: Melt the butter in a small pan. Add the onions over medium heat for 15-20 minutes or until the onion starts to darken in color just slightly. Add the sugar and stir. Cook for another 5 minutes then take off heat to cool.
In the bowl of a stand mixer, pour the yeast over the warm water. Add the milk, egg, butter, sugar, salt and flour. Stir with a spoon to mix then put the dough hook on the stand mixer. Let the machine knead the dough for about 4-6 minutes. A dough ball will form. Spray a large, glass bowl with cooking spray then empty the dough into the greased bowl. Turn the dough ball a few times to coat it then cover the bowl with greased plastic wrap. Let the dough rise in a warm place until it doubles in size.
Next, punch down the dough in the middle of the risen dough and fold the sides into the middle. Add the onions a few tablespoons at a time then fold the dough over again and incorporate the onions throughout the dough. Let the dough rest for about 10 minutes. If the dough is difficult to handle and stretch then let it rest for another ten minutes. Use a rolling pin to gently push the dough into a rectangle about 3/4 inch thick.
Use a cookie cutter about 2 1/2 inches to 3 inches wide. Cut the dough into circles. Do not twist the cutter as you press down as this could affect the rise. Make a clean cut with the cutter and place the circles on a baking sheet lined with parchment paper. Brush on the glaze of egg and salt (which you have whisked together) then grate the Parmesan cheese on top. Spray a sheet of plastic wrap with baking spray and cover the circles of dough. Let rist for an hour to 90 minutes.
Bake at 350 degrees F for about 20 minutes or until golden brown.
Notes
Recipe credit: King Arthur Flour website found here: http://www.kingarthurflour.com/recipes/onion-hamburger-rolls-recipe
Nutrition Information:
Yield:
12
Serving Size:
1
Amount Per Serving:
Calories:

219
Total Fat:

9g
Saturated Fat:

5g
Trans Fat:

0g
Unsaturated Fat:

3g
Cholesterol:

53mg
Sodium:

396mg
Carbohydrates:

29g
Fiber:

1g
Sugar:

4g
Protein:

5g
This data was calculated by Nutrionix and is an estimate only.
A cast iron skillet makes for soft rolls
A favorite bread made in cast iron is this no knead sourdough from Alton Brown. Knowing I had success with that recipe gave me confidence to bake onion buns in cast iron too.
I tried these onion rolls in a cast iron skillet as well and they cooked beautifully, although I'd suggest using a cast iron pan when making these as dinner rolls and not for sandwich or onion hamburger rolls.
You miss out on the structure of the crisp, golden sides of the rolls when they are baked in a skillet but you do gain a soft, chewy texture which is nice for dinner rolls.
And when you need to clean your cast iron, click here and follow these tips and tricks that will keep your cast iron looking good for years to come.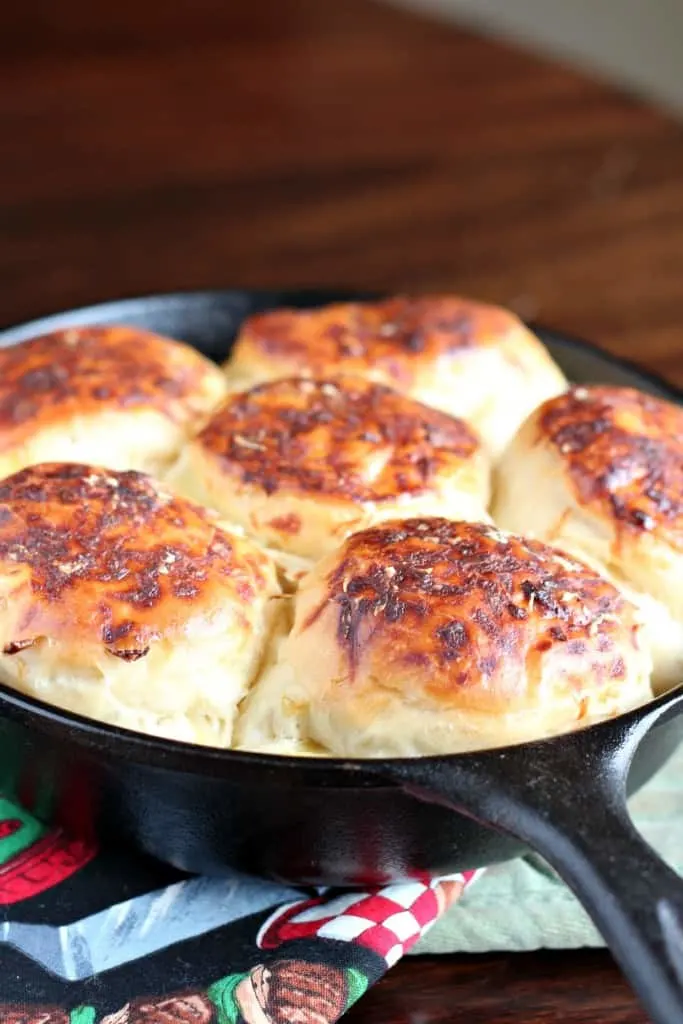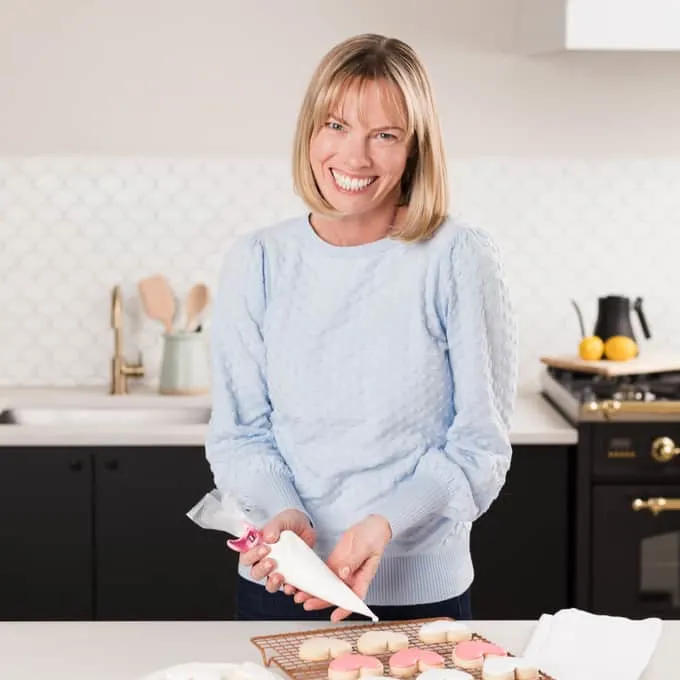 Holly Baker started the food blog, A Baker's House, in 2011. She is the writer, recipe creator, and photographer for the site. Holly loves to bake and shares recipes for gluten free food, canning recipes, as well as traditional desserts too. Her recipes and food photography have been highlighted by BuzzFeed, Reader's Digest, and She Knows.