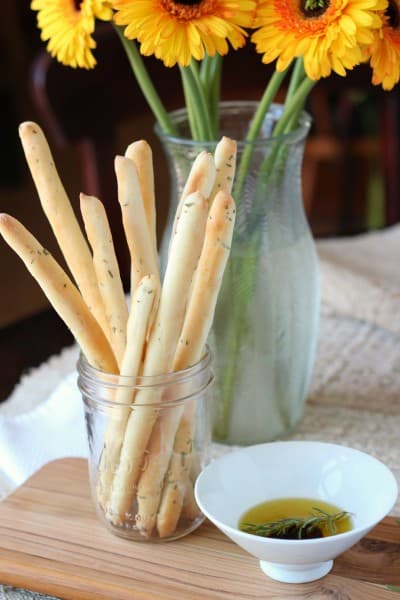 Rosemary Breadsticks or Grissini are the Italian style of long, thin, crunchy breadsticks. Perfect to accompany an anti pasta platter, these homemade breadsticks are full of flavor and crunch. Turning on your oven and baking bread on a hot, summer day may not be the first thing that comes to your mind this August, but we hope this list of breads made with all of Summer's Bounty will inspire you to do so in spite of the heat. Make these breadsticks that only take 15 minutes to bake and you won't even notice the slight rise in temperature in your kitchen.
I often purchase packages of grissini– long, thin, crunchy, Italian style breadsticks– for my sons and thought it would be fun to show them how to make something similar right in our own kitchen. Well…I'd like to report that my let's-have-time-together-baking idea went off without a hitch, but no. Reality struck instead. My younger son, who nearly always perks up when we bake, had absolutely no interest today. And my older son, who usually runs the other way when ingredients come out of the pantry… still ran the other way. So it was just me. I quickly cut fresh rosemary from our small herb garden of container pots on the deck, measured all the ingredients out and added them to the stand mixer, let the mixer do all of the work and a smooth round of dough appeared without much effort and very little time. The dough rested while we left the house on one errand. When we returned it took 5 minutes for me to roll it out, cut the dough into slices and form the breadsticks. Another hour of rising time with a second outing meant that these breadsticks were created with very little hands-on time and hardly any moments taken away from the morning with my boys.
The recipe is from King Arthur Flour's website: Crunchy Breadsticks- Grissini . I added rosemary since my container pots are overflowing right now; any combination of herbs, seeds, or cheese would be lovely too and there is nothing wrong with simply plain, unadorned breadsticks. Wrap with prosciutto or serve with olive oil and balsamic vinegar.
Print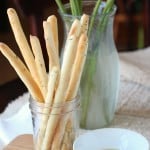 Rosemary Breadsticks
---
Ingredients
1 package instant yeast
2 teaspoons sugar
1 1/4 teaspoons salt
3 cups all purpose flour
3/4 cup lukewarm water
2 tablespoons olive oil
2 tablespoons chopped, fresh rosemary
---
Instructions
Please note that my ingredient list differed slightly from the original recipe. I followed the instructions provided by King Arthur's Flour so I will link to them here
Recipe Card powered by
Breads: Summer Bounty
#BreadBakers is a group of bread loving bakers who get together once a month to bake bread with a common ingredient or theme. You can see all our of lovely bread by following our Pinterest board right here. http://www.pinterest.com/flpl/bread-bakers/
Links are also updated after each event on the BreadBakers home page. http://www.foodlustpeoplelove.com/p/breadbakers.html
We take turns hosting each month and choosing the theme/ingredient. Many thanks to Pavani at Cook's Hideout for this month's theme and for all the time spent preparing the list of breads for the group.
If you are a food blogger and would like to join us, just send an email with your blog URL to [email protected]