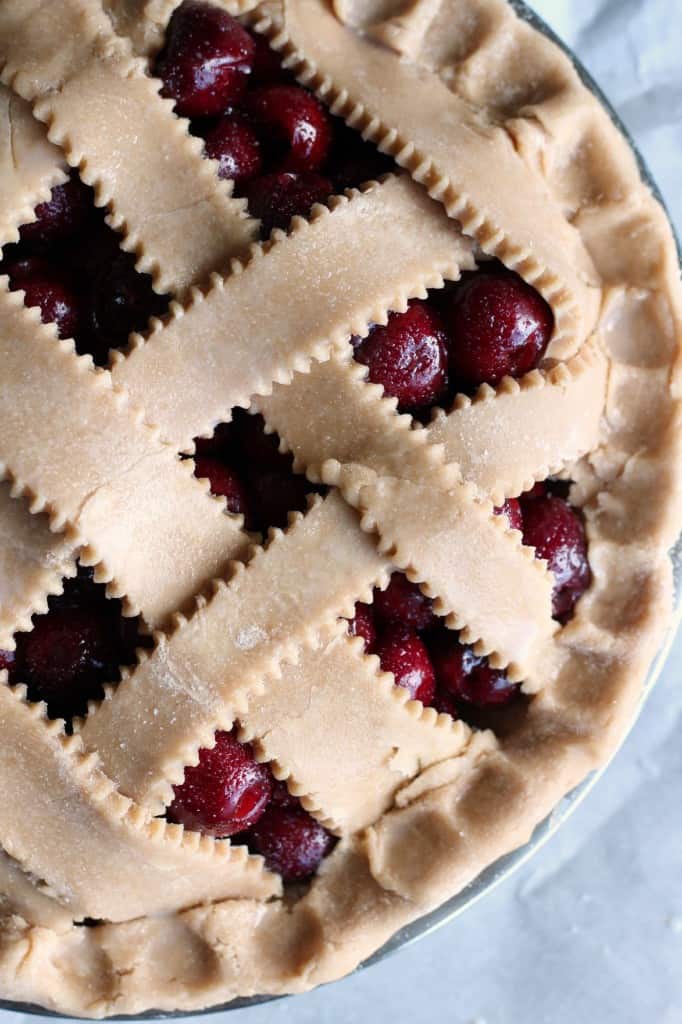 Summer is in full swing and fresh fruits are ripe for the picking for your desserts: grilled peaches, blueberry cobblers, strawberry shortcakes just to name a few on my list of things-to-bake-right-now! One favorite that I checked off my go-to summer foods list is Cherry Pie.
Oddly enough I can't recall the last time I baked a cherry pie with whole wheat crust and fresh cherries. Usually I simply buy a fresh cherry pie from #WholeFoods and no one minds that it hasn't been baked in my kitchen…that may be because I don't offer up that detail unless asked by guests!
This time, though, I labored through the process of pitting the cherries, explored working with a whole wheat crust, tackled the challenge of making a lattice top, and thoroughly delighted in the smell of pie baking in my oven. I hope you'll do the same!
Looking for more cherry recipes? Try Cherry Popsicles, Chocolate Fudge with Dried Cherries, and Ginger Cherry Cheesecake Squares.
Whole Foods offers this recipe on their website for a cherry pie with whole wheat crust. Keeping your ingredients cold (not just the butter– ALL of the ingredients can take a pit stop in the refrigerator before you begin assembling the crust) and then again cooling the balls of dough before rolling them out is key in success.
My pie dough cooperated fairly well, although I found the dough to be not as supple and forgiving as my standard pastry dough made with all purpose flour. When weaving the cut strips of dough for the lattice top, I noticed that there were more cracks and imperfections but nothing that would stop you from being pleased with the end result.
The recipe calls for an hour and a quarter of baking time and this pie needed every last minute– next time I will cover the edges earlier in the baking time to prevent excess browning.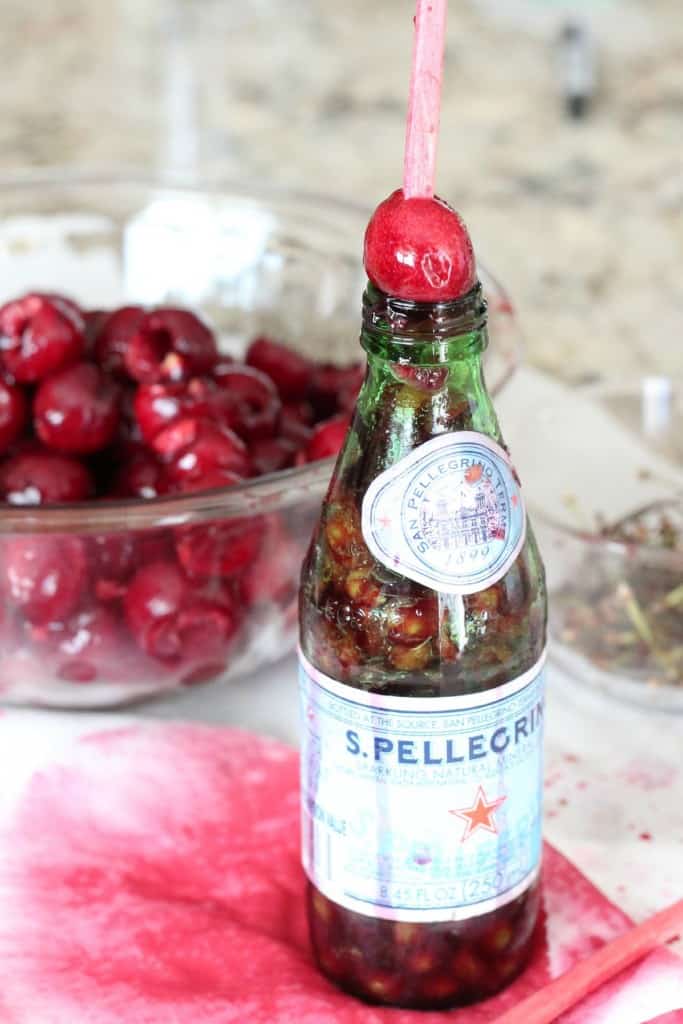 Don't let the lack of a cherry pitting gadget stop you but do be prepared for a time-consuming effort. A messy, cherry-juice-stained effort. I tried this old-school method of pitting cherries.
First you'll need a glass container with an opening smaller than your cherries and you'll need chopsticks. That's it.
Wear old clothes or wear an apron that doesn't mind the mess because even with the most careful attempts you'll quickly realize that cherry juice travels and seems to defy the laws of physics– at the same time the cherry pit is plunking into the glass bottle, tiny droplets of juice are squirting across the kitchen and landing the floor ten feet away.
The chopstick pushes the cherry pit (and some juice) into the bottle with very little muscle power but plenty of patience. Happily you can pour any excess juice from the bottle back into your bowl of cherries.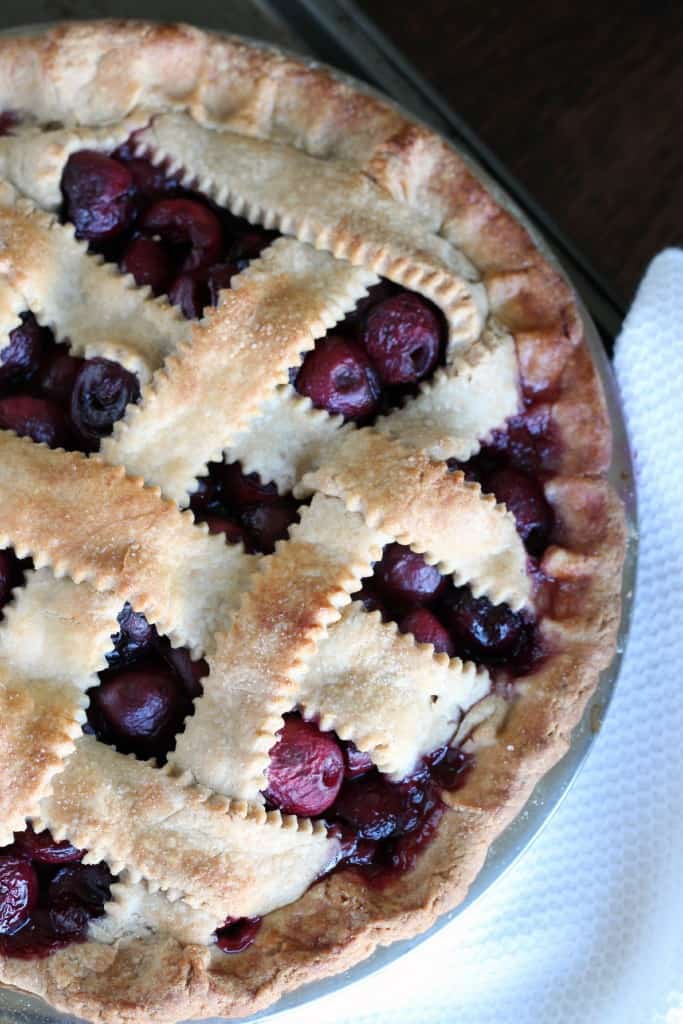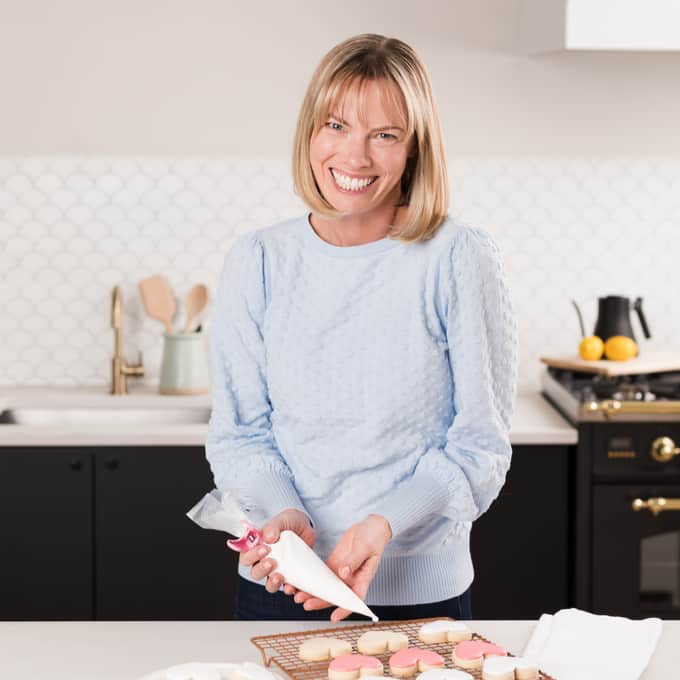 Holly Baker started the food blog, A Baker's House, in 2011. She is the writer, recipe creator, and photographer for the site. Holly loves to bake and shares recipes for gluten free food, canning recipes, as well as traditional desserts too. Her recipes and food photography have been highlighted by BuzzFeed, Reader's Digest, and She Knows.