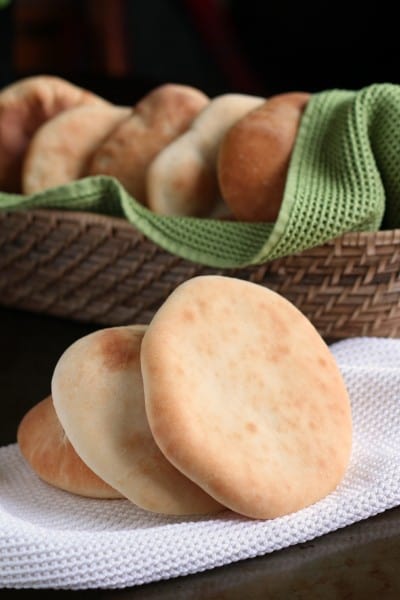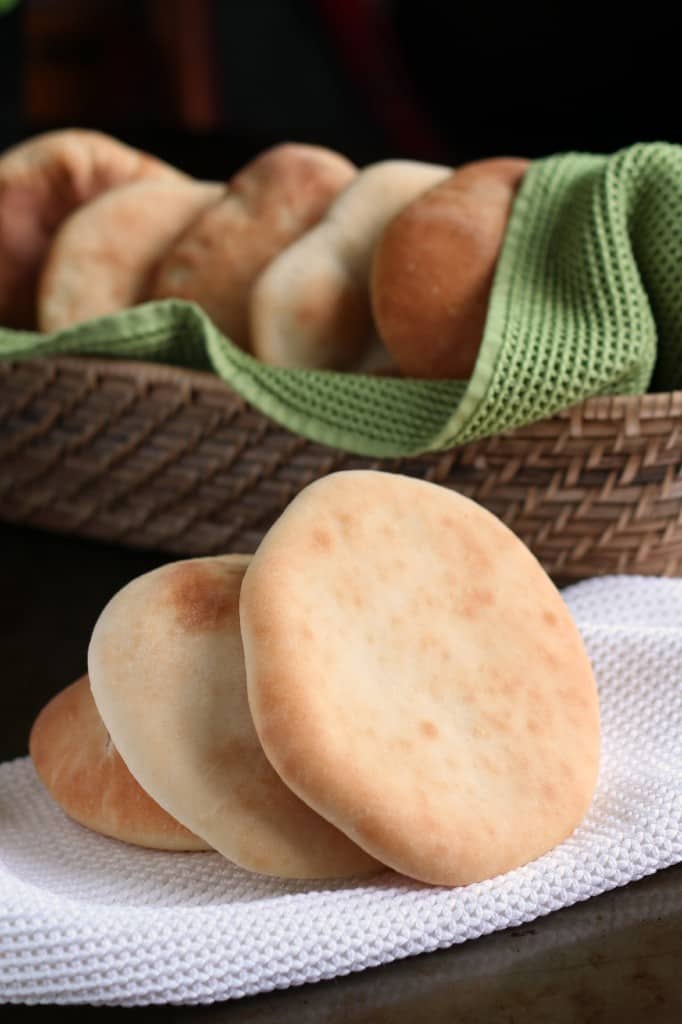 Simple pita bread is a treat to make at home. This reliable recipe from King Arthur Flour takes the mystery out of the process. This month the #BreadBakers were encouraged by Mireille of Chef Mireille's East West Realm to bake a yeast-risen flatbread. I love the contrast of the concept– a bread that is (relatively) flat yet its dough has been activated by yeast. Pizza, naan, and flatbreads from many cultures & traditions wait for you this month; I am looking forward to learning about each of the breads my baking friends have made in the list below. I chose to make pita bread and went with the always-reliable recipes from King Arthur Flour. I've made a whole wheat pita before and this was even easier– basic ingredients created a baker-friendly dough that was no problem to divide into pieces, shape into balls then roll out into circles. Pita is baked at a very high temperature. I used a baking stone that had preheated for quite some time, but a baking sheet pan also does the trick. My pitas weren't perfect by any means. Some were circular, others more creative in their roundness or lack thereof but all were considered a success to me. The best part of it all was that my six year old not only tried the bread (which is unusual at my house) but he came back for more. So happy!! I'll be making these again soon.
Print
Simple Pita Bread with #BreadBakers
---
Ingredients
3 cups King Arthur Unbleached All-Purpose Flour
2 teaspoons instant yeast
2 teaspoons sugar
1 1/2 teaspoons salt
1 cup water
2 tablespoons vegetable oil
---
Recipe Card powered by
#BreadBakers – Yeasty Flatbreads
#BreadBakers is a group of bread loving bakers who get together once a month to bake bread with a common ingredient or theme. Follow our Pinterest board right here. Links are also updated each month on this home page.
We take turns hosting each month and choosing the theme and/or ingredient.
If you are a food blogger and would like to join us, just send Stacy an email with your blog URL to [email protected]