Using a food processor can make quick work of slicing, dicing and mixing…cleaning up the messy result left behind might not be as simple of a task. Liquids and bits of food tend to splatter all over the top of the food processor.
A cycle through the dishwasher will help but doesn't always clear all the pieces left in the small crevices of the food processor lid. American's Test Kitchen has shared yet another solution for easy food processor clean up: use plastic wrap to seal off the lid from any mess below.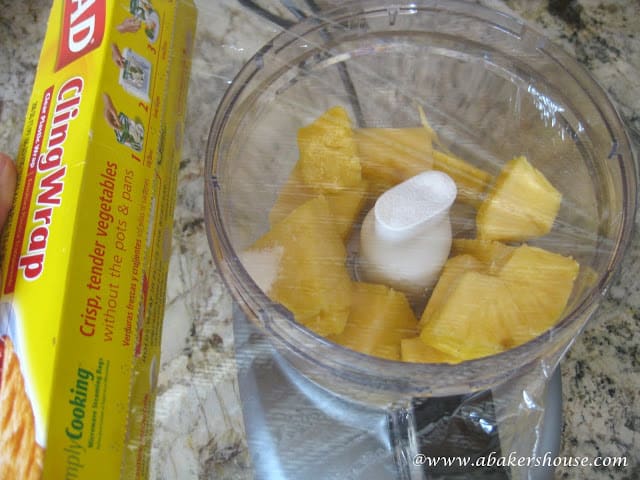 A food processor is an essential small kitchen appliance for any home cook. It makes quick work of chopping vegetables for stir fries, dicing tomatoes for salsa, and even blending ingredients for pizza dough. The hassle lies in having to clean up the food processor. Little bits and pieces of food get everywhere! Here is a quick kitchen tip that will make cleaning the food processor much easier and saves you time.
Here are some food processor recipes: Gluten free nutella cookies come together with only 4 ingredients, homemade copycat aussie bites can be customized with dried fruit and nuts, and cara cara orange marmalade gets started by pulsing citrus in the food processor.
How to use Plastic Wrap to reduce the mess in a food processor:
Plastic wrap is the key to making food processor clean up a breeze.
Cover the top of the food processor bowl with the plastic wrap THEN secure the lid.
Pulse or process the ingredients as normal.
When done, lift the lid (it will remain clean!) and then you'll only have the food processor bowl to wash.
Now why didn't I think of this before? Plastic wrap makes easy food processor clean up. It saves me the trouble of getting flour sprayed all over the place and of having sticky fruit bits left in the tiniest of spaces in the food processor lid. Whether you are using dry ingredients or wet ingredients, this is a time saver.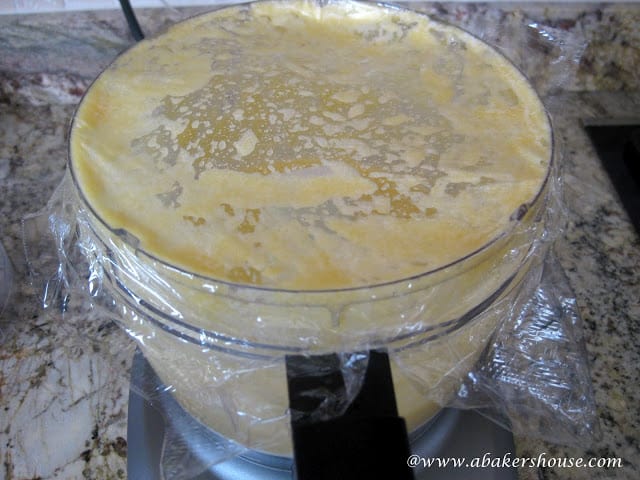 I love to pass on ideas as simple as this one—to avoid cleaning up a mess simply don't make one in the first place!
Let's state one caveat: obviously this tip does not work if you are adding ingredients through the chute because the surface is covered with plastic wrap, but for many food processing tasks, this is ideal. Go ahead and whirl away while leaving the splattering ingredients in the bowl and let the plastic wrap keep the top lid clean.
This kitchen clean up tip works on mini food processors and the standard size food processors. It's especially useful to use plastic wrap in this way when you are pulsing dry ingredients like flour. Particles seem to float into every last crevice of the appliance and clean up is tricky.
Another great place to use this is when you are pulsing wet ingredients for salsas, jams, or sauces. The plastic covering acts as a lid and contains the mess to the food processor bowl.

Pin this kitchen tip on Pinterest!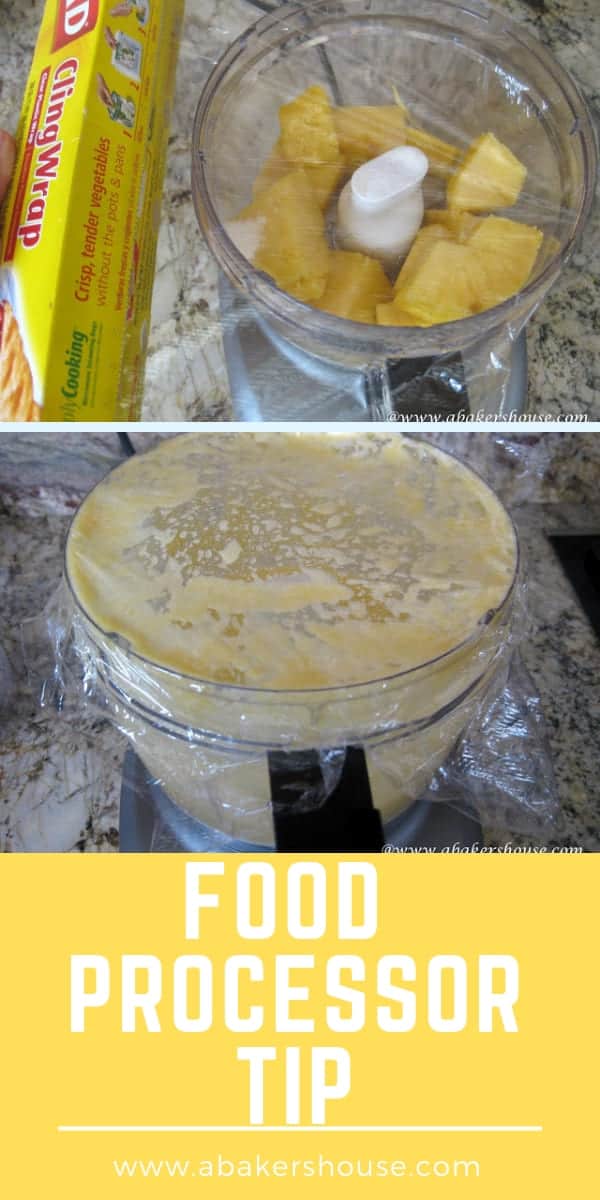 Do you like baking and kitchen tips?
Check out this advice to adjust the clearance of the paddle on your KitchenAid stand mixer.
Do you send baked goods to loved ones? Try this advice on how to send cookies through the mail.
Have you made slice and bake cookies? Learn how to shape them easily using a paper towel roll.
We are a participant in the Amazon Services LLC Associates Program, an affiliate advertising program designed to provide a means for us to earn fees by linking to Amazon.com and affiliated sites.
Post originally shared in 2012, updated in 2018.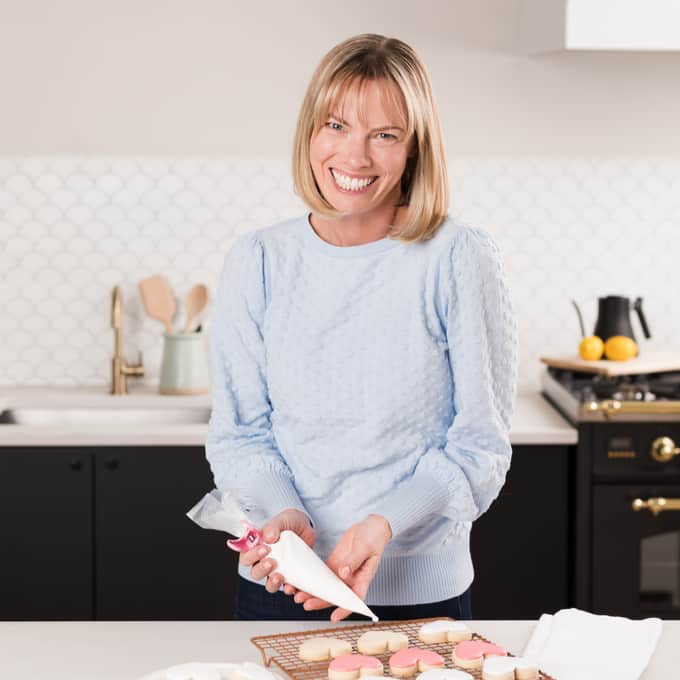 Holly Baker started the food blog, A Baker's House, in 2011. She is the writer, recipe creator, and photographer for the site. Holly loves to bake and shares recipes for gluten free food, canning recipes, as well as traditional desserts too. Her recipes and food photography have been highlighted by BuzzFeed, Reader's Digest, and She Knows.