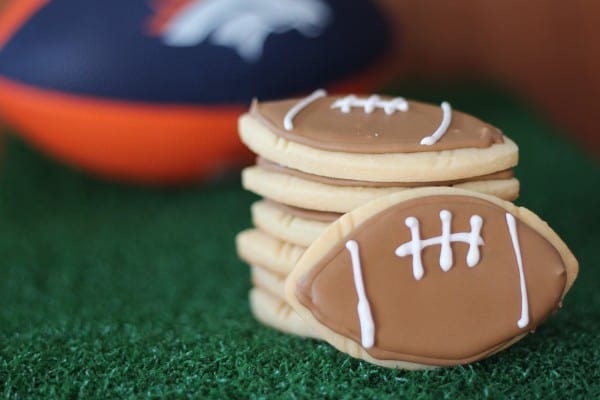 Football cookies are ready to brighten up your football tailgating, team party, or Super Bowl event. Super Bowl excitement is reaching all-time highs here in Denver! We are all cheering for the Broncos and can't wait to watch the game on Sunday! While I am sure the usual football food like chili, chips & dip, and finger foods are going to make an appearance at many of our homes this weekend, don't let dessert fall into the background. Try these fun football cookies to keep the football theme going at your party.
I baked the football cookies with my favorite cut-out cookie recipe from Bridget of Bake at 350. Click through here to view her recipe. Find a football cookie cutter (mine is from a box of cookie cutters from Target) or modify a cookie cutter that you already have into a football shape. Decorate with royal icing first with a layer of brown icing then add the details with a white icing. These cookies would also be great for a youth football team party, a gift for a football coach, or any old weekend when football is the main event.

Looking for more decorated cookies for your sports' fans? Try these basketball cookies.