Decorating stars and stripes cookies in red, white and blue brings so much life and fun to an ordinary cookie and decorating with royal icing is not as hard as you might think. Use food coloring and icing techniques to make these red, white and blue cookies!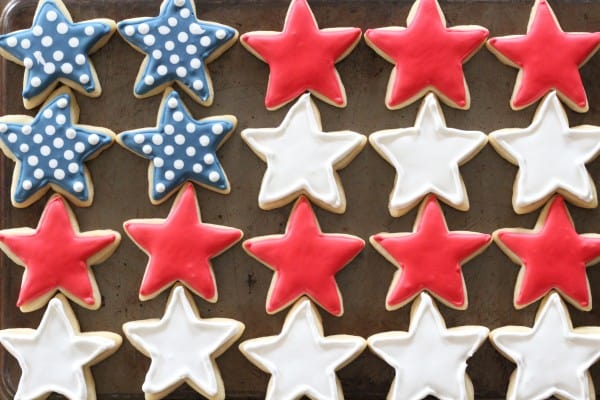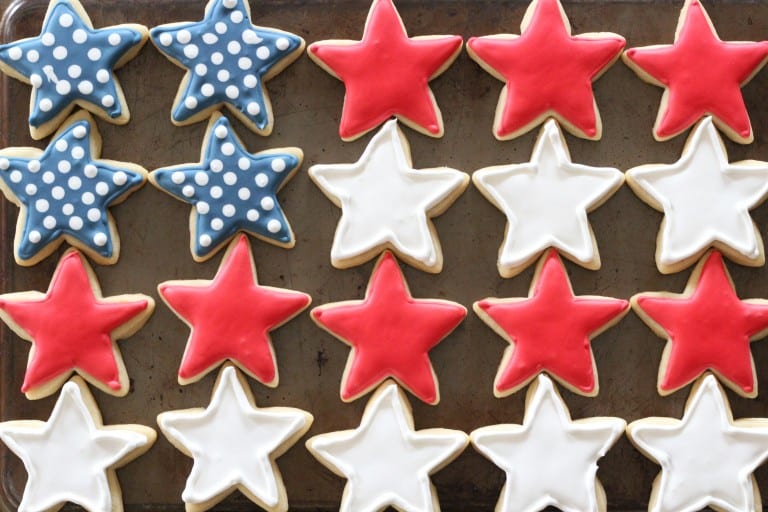 (Original Post 2016) Let me start by saying that this is not a political post. These stars and stripes cookies were not made in recognition of the recent election.
(But, honestly, maybe we cookie bakers should think ahead in four years and offer a cookie to anyone who votes– only half of our country voted! These cookies might have helped voter turnout. They are that good.)
Red, white, and blue cookies
These red, white, and blue cookies contributed to a very special celebration. Friends of mine were hosting a lunch for a woman whose family recently became U.S. citizens. How amazing is that! I think those of us who were born in the United States often take for granted the privilege of being a U.S. citizen. I wonder how many of us could even pass the civics test given as part of the citizenship process? Want to try? Here is a practice test. How did you do?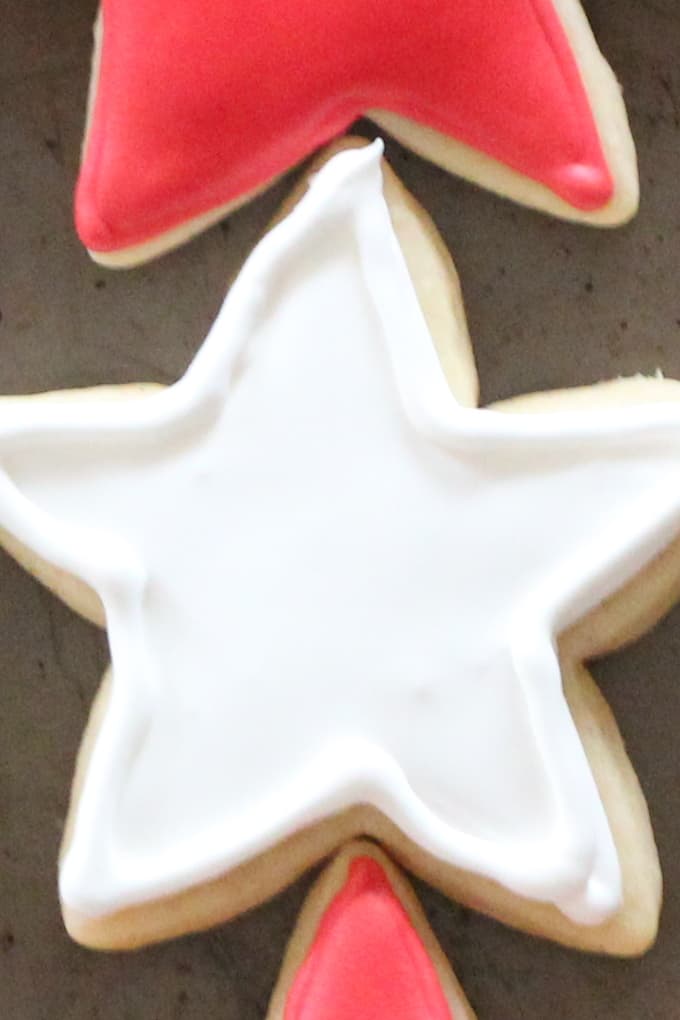 But back to the cookies. I used my favorite recipe from Bridget Edwards of Bake at 350 and topped the cookies with her royal icing recipe too.
Star Cookies
Star cookies are perfect for patriotic occasions– a Memorial Day picnic, a Fourth of July BBQ, a Labor Day pool party, a Veteran's Day celebration. Stars are also fun in school colors for an end of the school year party. Or make these decorated star cookies for a birthday celebration!
You can even use the star cookies to make an American flag presentation. Don't worry about being precise. You don't need the exact number of white and red stripes or the precise count of white stars on the blue cookies. Just get the general artistic feel across by decorating some cookies in blue, some in red, and some in white.
Small white dots placed on the blue cookies give the impression of white stars on the flag. How do you make those white dots with royal icing? While the blue icing is still wet, drop small dots of white onto the cookie surface. If you wait too long and let the blue icing dry, the white dots will sit on top of the surface and will not settle in. Neither is correct or incorrect, cookie decorating style is a matter of preference.
Want to make these star cookies for a holiday Christmas cookie exchange? Simply decorate the star cookies with white icing and top with white sprinkles (or red or green or gold– you get the idea). I didn't change Bridget's recipe at all so click through the links to find her original recipe and instructions.
How do you make royal icing in different colors?
As an Amazon Associate I earn from qualifying purchases.
Royal icing starts in a shade of white and is easily changed to other colors. I prefer Wilton Icing Colors in Gel Based Food Coloring like this package sold on Amazon.
Start with a small amount of the gel coloring — you can always add more if needed. Use a toothpick or small spoon to put the gel food coloring into a bowl with white royal icing. Mix thoroughly.
Once your icing reaches the desired color, THEN you can thin it ever so carefully with small drops of water to change the consistency. A thicker icing is needed to outline the cookies and a thinner icing is used to fill in the cookies.
White royal icing sometimes needs a bit of gel food coloring too. Why would that be? Well, if you flavor your royal icing with lemon juice or vanilla the tint of the white icing will not be a pure white. Wilton's white food coloring does the trick and will brighten your white royal icing.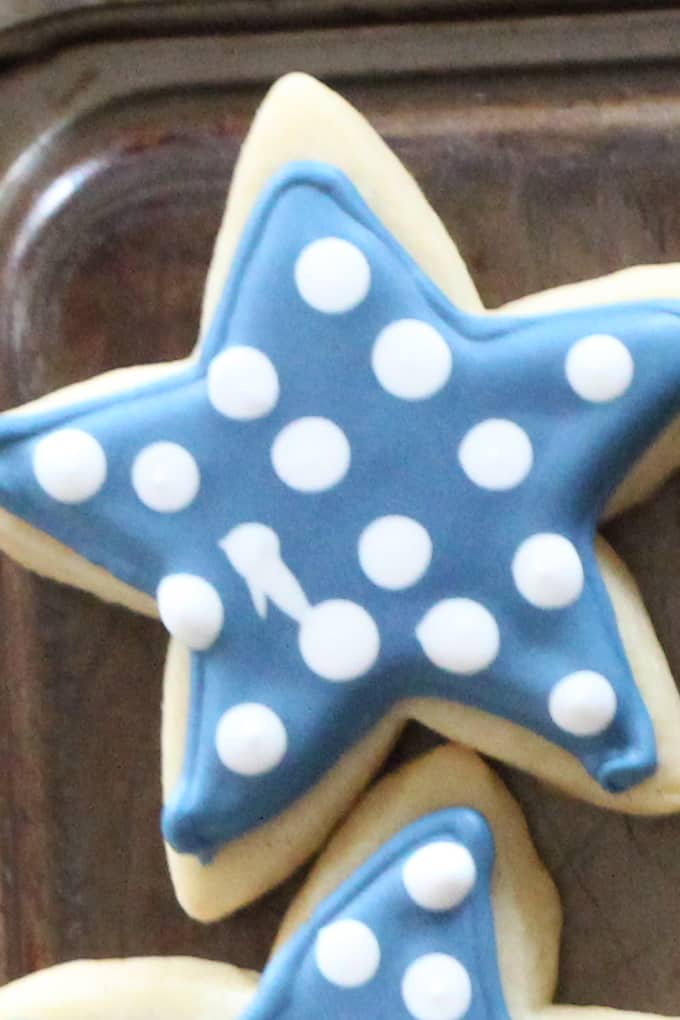 I will make this recipe at least four or five times in the next few months and will love it every time! You'll find success with it too. The process of baking sugar cookies and dressing them up with royal icing is easier than it looks. You'll find plenty more decorated cookies on my site on this page with decorated cookie information and recipes.
Decorated cookies make any celebration that much more special. Some of my favorite decorated cookies include Pi Day Cookies, Graduation Cookies, and Painted Flower Cookies.
By the way, I started with this inspiration of patriotic cookies from Sweet Sugarbelle then I adjusted it to make blue cookies with white dots as well as the solid red and solid white cookies.
Looking for more Patriotic Desserts?
Baking Supplies you may need: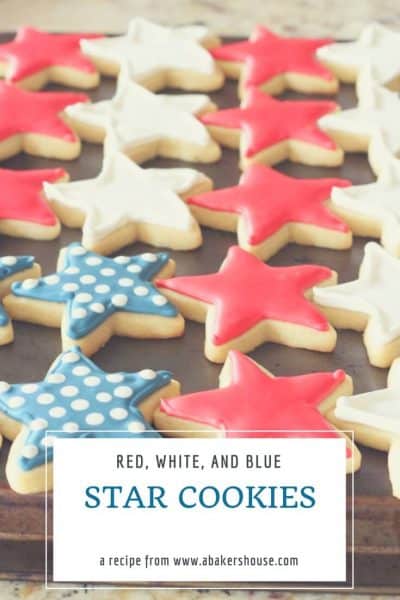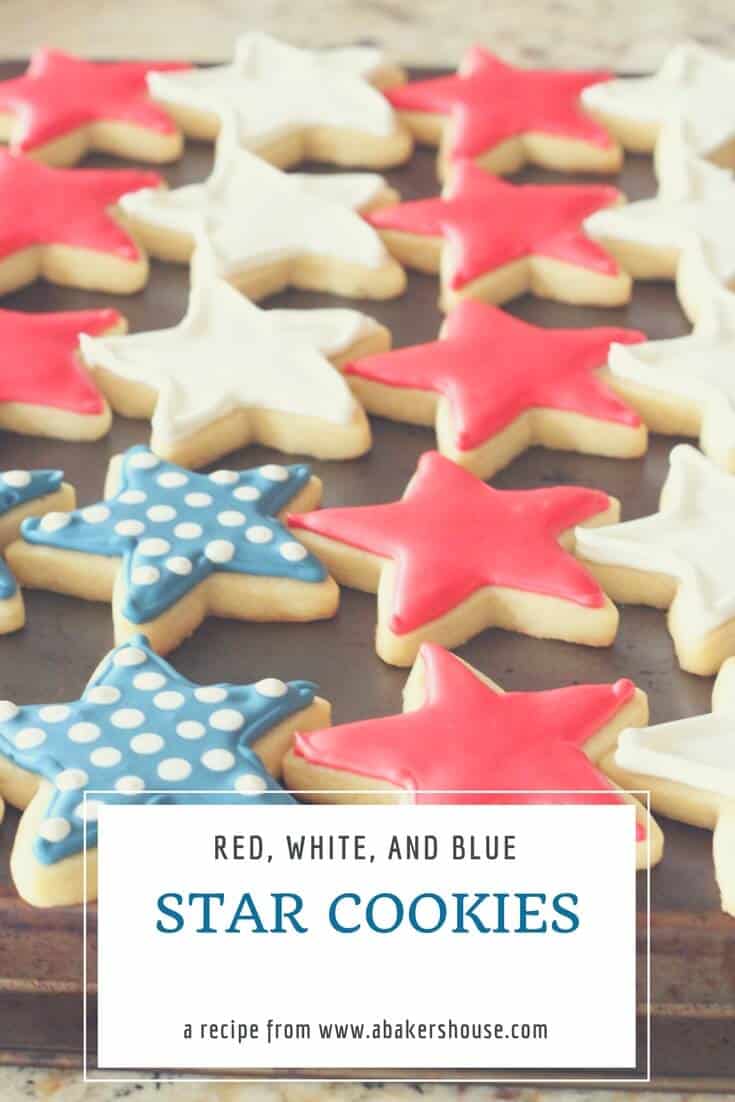 We are a participant in the Amazon Services LLC Associates Program, an affiliate advertising program designed to provide a means for us to earn fees by linking to Amazon.com and affiliated sites.
(Post originally shared in 2016 and updated in 2019)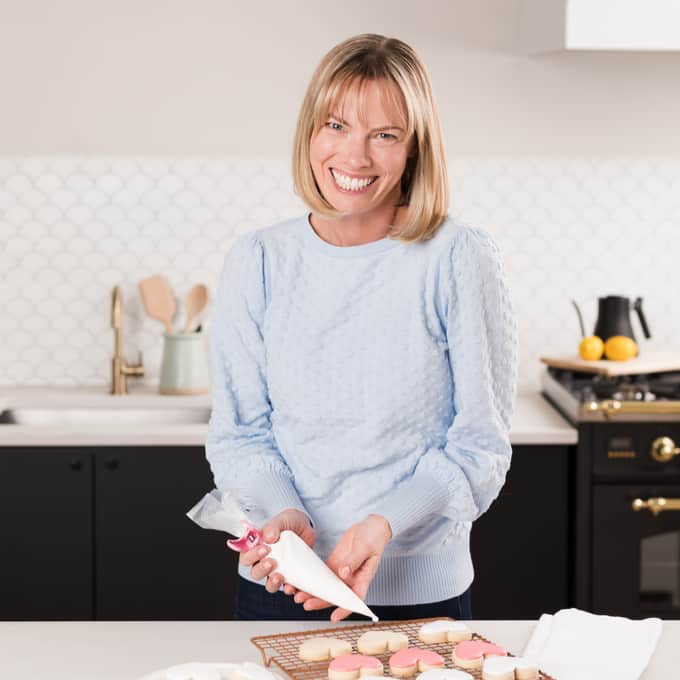 Holly Baker started the food blog, A Baker's House, in 2011. She is the writer, recipe creator, and photographer for the site. Holly loves to bake and shares recipes for gluten free food, canning recipes, as well as traditional desserts too. Her recipes and food photography have been highlighted by BuzzFeed, Reader's Digest, and She Knows.