Red, white, and blue cookies are perfect patriotic cookies for Fourth of July, Memorial Day, Labor Day and Veteran's Day celebrations! The addition of white chocolate chips, dried cranberries and dried blueberries make these festive cookies ready for a party!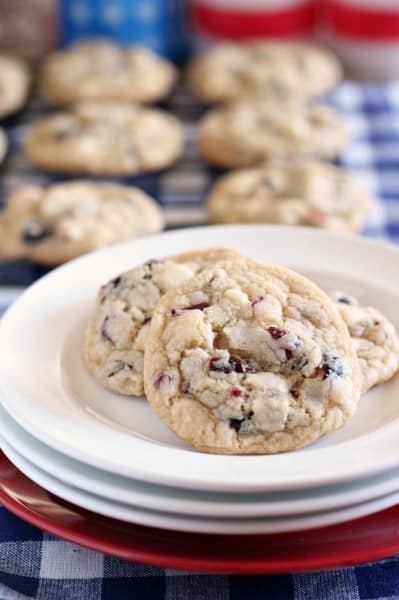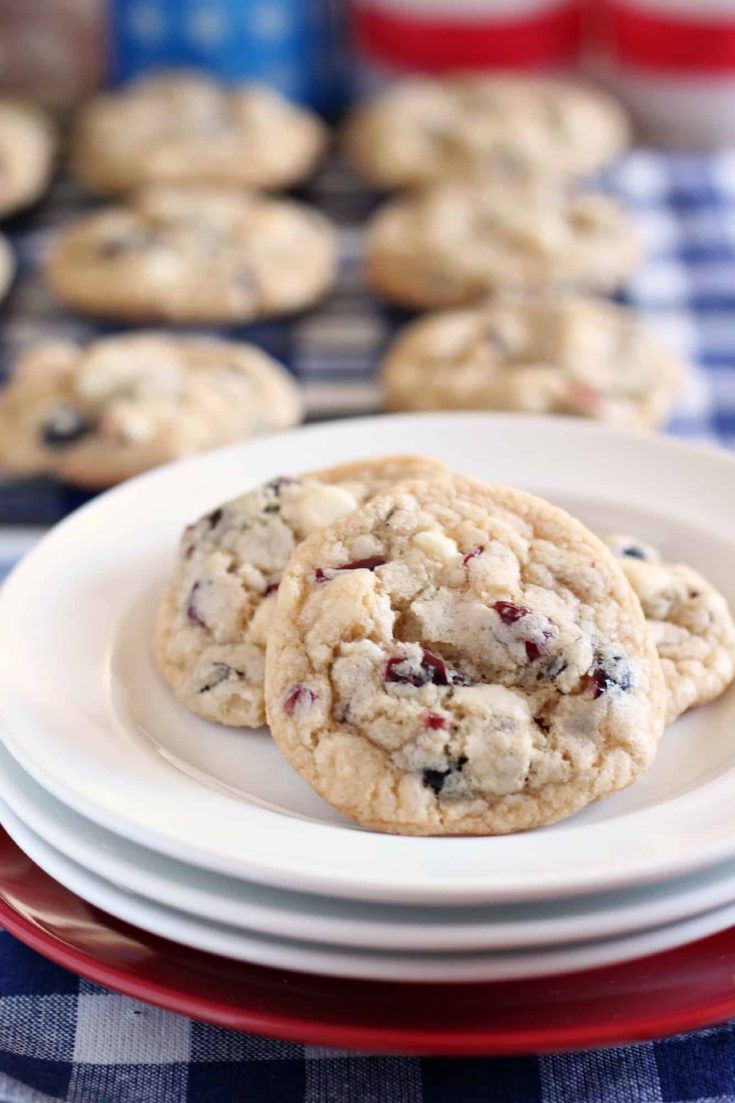 Make Red, White, and Blue Cookies with dried berries and white chocolate chips. It's fun to play around with color combinations for holidays and this is no exception. Memorial Day, Fourth of July, and Labor Day often bring red, white and blue themed parties.
If you like patriotic desserts, you will also enjoy star shaped cookies decked out in red, white and blue royal icing create a cookie flag pattern in this post I shared. Or, Pavlova is a simple white base for a topping of blueberries and strawberries for a holiday dessert.
With the World Cup under way you could also use these patriotic colors to cheer on the USA soccer team. In our house these cookies and their colors serve a dual purpose (luckily!) as my husband and kids are decked out in their England team gear presently cheering on the England side. England's flag is the red and white St. George's Cross while the crest of Three Lions combines red, white and blue.
What ingredients make red, white and blue cookies?
Red: dried berries especially dried cranberries (also called Craisins), dried cherries, freeze dried strawberries
White: White chocolate chips, white candy wafers, dried coconut, or even nuts like almonds or cashews could give you the feeling of a white addition to a cookie.
Blue: dried blueberries or dried cranberries with blueberry flavoring
More red, white and blue cookie recipes
We are all busy baking RED, WHITE, and BLUE cookies this month in anticipation of the 4th of July.
I must say that I thoroughly enjoyed these dried berries and white chocolate chip cookies– far too many of them I might add. Thank goodness I dropped off a few at a friend's house or I might have to report that I ate the entire batch myself.
Craisins provided the red color and the blue as well. I thought I had purchased dried blueberries but instead bought blueberry flavored craisins. Not quite what I intended but tasty nonetheless. White chips give these chewy cookies that familiar chocolate chip cookie feel and you'll find that these gems disappear quickly.