Painted flower cookies are much easier to make than you might first think. Find your inner artist as you decorate this sugar cookie with floral motifs. Get your kids involved and let the creativity flow!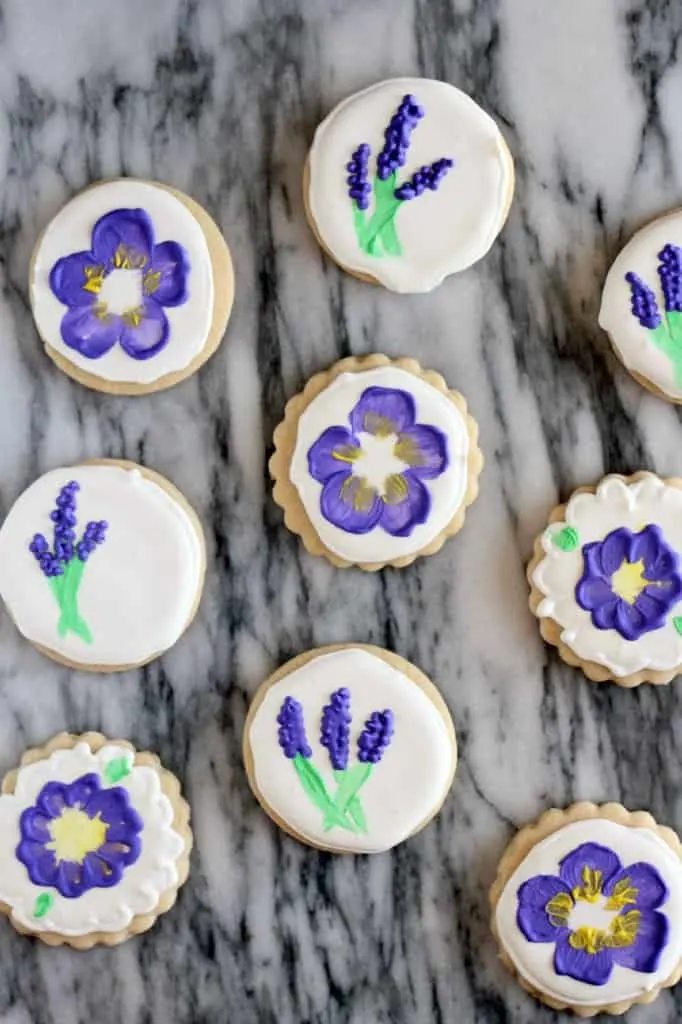 Let's make some painted cookies! Painted flower cookies are delicate and colorful. Spring is in the air and there are plenty of occasions that call for sweetly decorated cookies like these lovely flower cookies. Mother's Day, an afternoon tea, a bridal shower or simply a gift for a friend all would be a bit brighter with painted cookies!
Other pretty cookies for Mother's Day or special occasions like a baby or wedding shower include Lavender Shortbread, Almond Flour Sugar Cookies, or Ice Cream Cone Cookies.
Are you on Pinterest? I am all about saving great ideas– Pin these painted cookies along with me!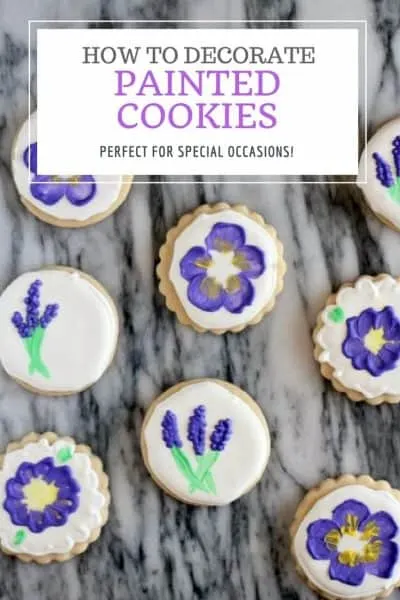 The recipe for these sugar cookies is my go-to, reliable sugar cookie recipe from Bridget Edwards of Bake at 350. She makes marvelous cookies and you'll spend hours on her site and in her cookbook wondering if it is possible to make some just like hers at home. (Yes, it is!!)
How to make painted cookies with flowers
In fact, this technique of brushing on the petals of flowers onto an iced sugar cookie I first saw on her site. She explains it well but I thought I'd try a beginner's hand at this brush technique by making little pansies on my cookies– just one layer of brushing for each petal is all that is needed. My technique needs improvement but the idea is simple enough that even with mistakes, the cookies look delicate and sweet. Here's what I did, follow along with the photos with each step: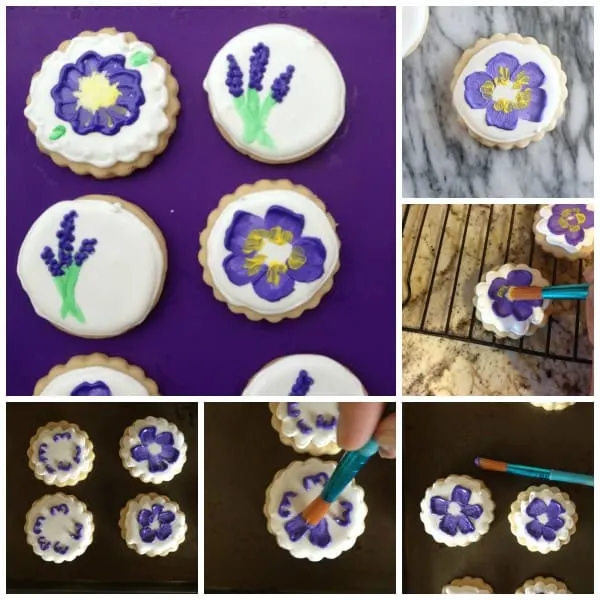 1. First ice the cookies with white royal icing and let dry for a few hours or overnight. Then make little squiggly lines which will be the edge of each flower. I thought five petals looked about right.
2. Next, take a clean paint brush and gently pull some of the icing towards the middle. Do this for each petal.
3. Let this layer of icing dry for a short time (say, for 15 minutes, not all the way dry unless you would like the colors not to blend which also looks pretty)
4. Next mix a small bowl of yellow icing. Dip a clean brush into the yellow and carefully dab a small amount onto each petal. Use the brush to blend the yellow into the petal.
5. Let the cookie dry overnight.
I also made painted cookies that reminded me of lavender. Paint stems of green with a narrow brush onto your iced cookies. Drop circle of purple icing in a cluster around the top. This brought lilacs to mind as well. Be creative and see what works for you with these painted flower cookies. It is only icing and if you truly don't like what you've made you can gently wipe it off the iced white cookie with a damp cloth and start again.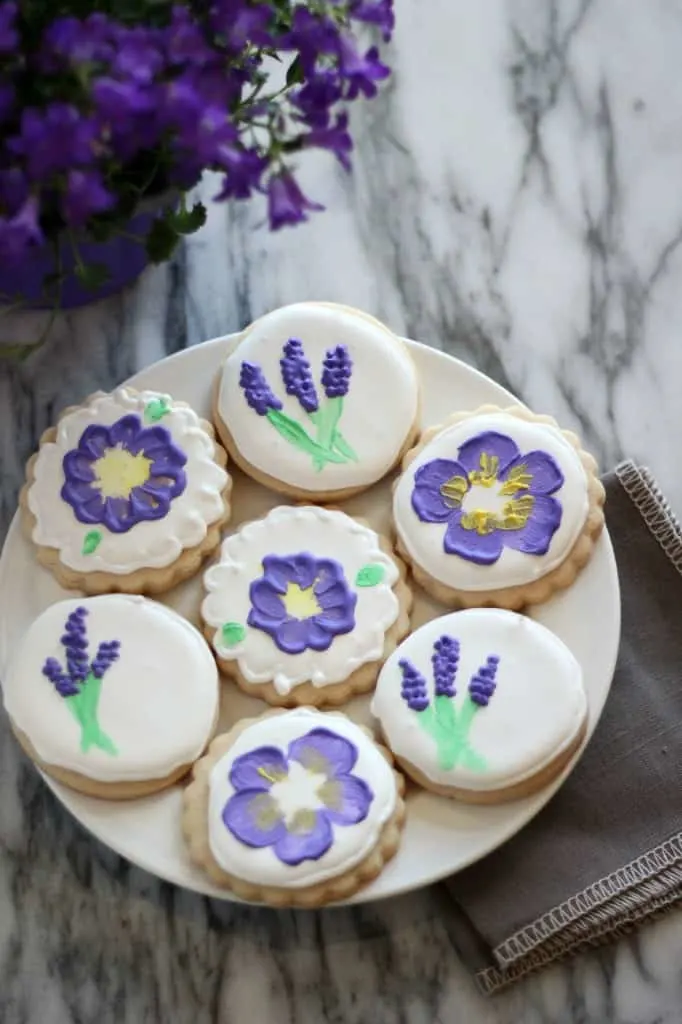 Decorating sugar cookies is one of my favorite things do. Need more ideas? You'll find so many pretty cookies on this Decorated Cookies recipe index.
Baking Supplies you may need:
Meringue Powder for the Royal Icing
Pastry and Cookie Gift Boxes with Window
We are a participant in the Amazon Services LLC Associates Program, an affiliate advertising program designed to provide a means for us to earn fees by linking to Amazon.com and affiliated sites.
This post was first shared in May 2014; it was updated in May 2018.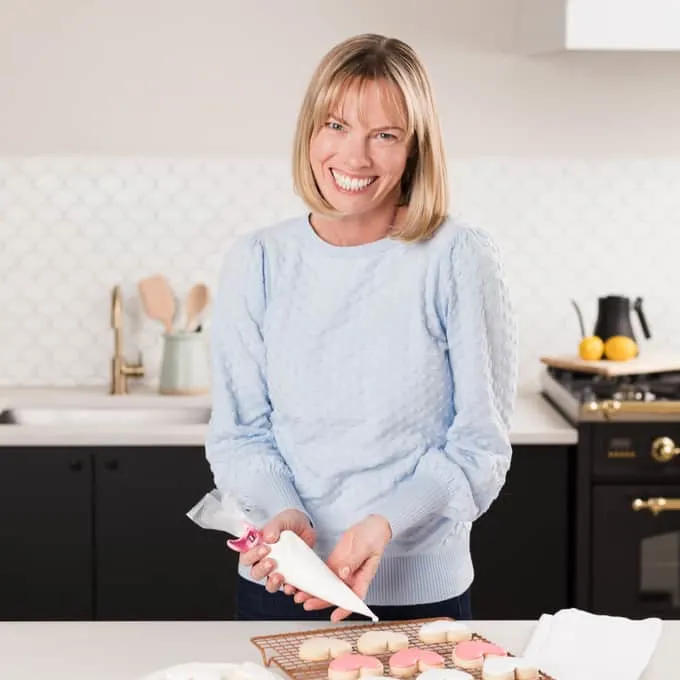 Holly Baker started the food blog, A Baker's House, in 2011. She is the writer, recipe creator, and photographer for the site. Holly loves to bake and shares recipes for gluten free food, canning recipes, as well as traditional desserts too. Her recipes and food photography have been highlighted by BuzzFeed, Reader's Digest, and She Knows.