Let's celebrate with these New Year's Eve Cookies! Start with a sugar cut-out cookie in the shape of a champagne glass. Add white royal icing, some gold luster, gold sugar sprinkles and maybe a few edible gold pearls for some bubbles and you've got a party ready cookie!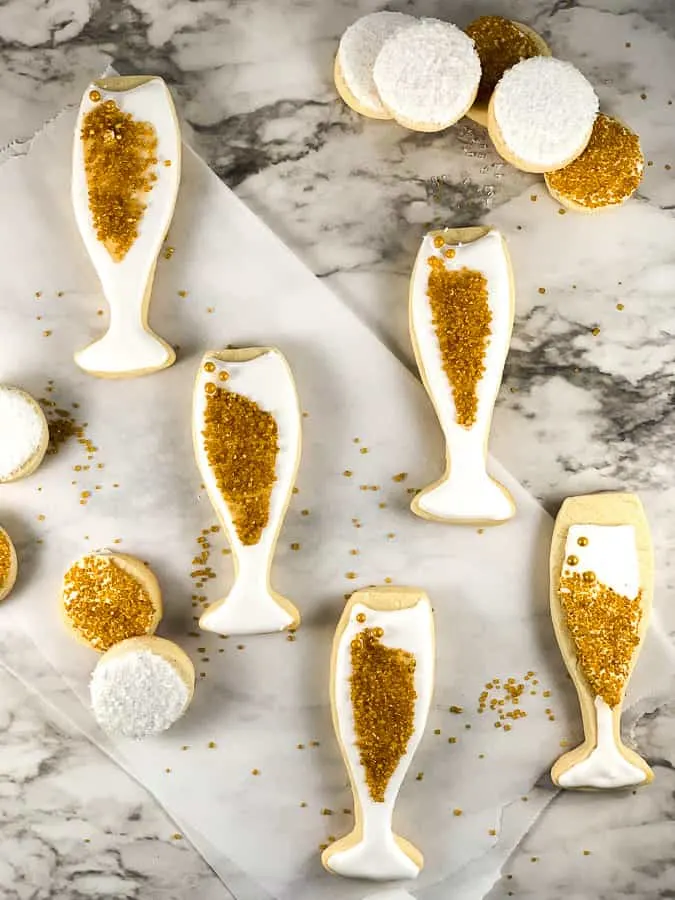 I am surely not the life of the party but these decorated cookies sure can be! Wouldn't these be fun at your New Year's Eve party? Whether you are popping the bottle of champagne or not, these cookies are perfect for celebrating!
Actually you could make champagne flute cookies for any festive celebration from an engagement party, to a wedding shower, to the actual wedding. Maybe you are celebrating a promotion or a new job? These cookies are ready to celebrate with you!
Champagne flute cookie cutter
The key to these cookies decorated with white royal icing, gold luster, and gold sparkling sugar all starts with the cookie cutter in the shape of the champagne flute. This slender glass shape immediately brings celebration to mind!
My champagne glass shaped cookie cutter is from Sur la Table. Similar cutters can be found easily on amazon.com.
A quick tip on working with this cookie cutter— the narrow section which is the stem of the glass needs to be handled lightly. Ease the dough out of the cutter as you lay the cut cookie dough on your parchment covered baking pan.
What sugar cookie recipe should I use for cut out cookies?
Bake with your favorite sugar cookie recipe. Maybe it is one your grandmother always used or perhaps it is one your neighbor shared.
If you need a suggestion, Bridget Edwards shares a reliable recipe for cut out cookies on her blog Bake at 350. I've used her directions for years but today made some adjustments. I used vanilla bean paste, European butter, and gluten free flour. By the way, Bridget's cookie cookbooks are amazing! Her first book is what got me hooked on decorating with royal icing.
Ingredients matter too:
Baking with Nielsen-Massey's vanilla bean paste really deepens the vanilla flavor in cut out cookies. Add more than the recipe calls for…and then maybe another dash too.
Butter. Ah, butter. Use the best butter you can find. I buy European butter in bulk at Costco. You can't go wrong with Kerrygold butter.
While I made these gluten free by substituting Bob's Red Mill gluten free 1 to 1 Baking Flour, you may not have the same need.
Making royal icing isn't complicated. Only a few ingredients are needed: meringue powder, water, and confectioners' sugar. I follow the directions right on the container of Wilton's meringue powder. Honestly the stand mixer does all of the work!
How do you decorate New Year's Eve Cookies?
Start with the baked cut out sugar cookie in the shape of a champagne flute.
Outline with white royal icing then fill in completely with thinned royal icing. Let dry.
Combine gold lustre dust and a few drops of vodka. Paint this gold on your cookie to create the look of champagne.
Sprinkle gold sparking sugar onto the gold while it is still wet.
Add a few edible gold pearls as bubbles from the champagne.
Let's break the decorating down step by step:
You may want to plan the process of decorating cookies with royal icing out over two days. The first day is for baking the cookies. Then you let the cookies completely cool. The next step is decorating with royal icing.
Sometimes it is possible to bake in the morning, wait a few hours, and then move on to icing later in the afternoon. Just don't try to put icing on cookies that aren't cooled. The icing will simply slide off.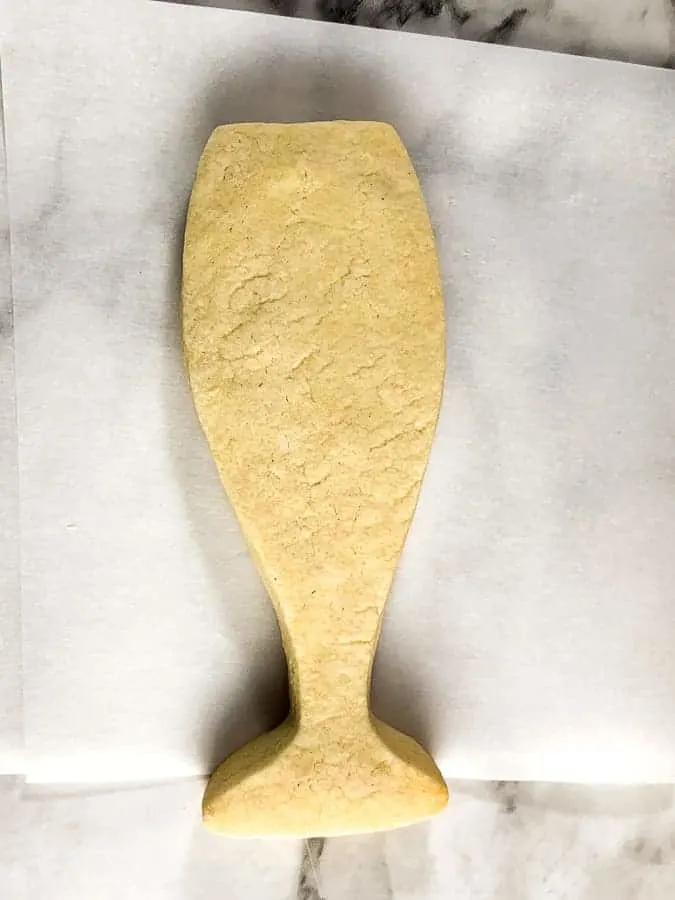 White royal icing is all you need to get started. Nothing fancy. Follow the directions on the Wilton meringue powder to mix up the icing. A stand mixer will do all the work.
Have you checked to see if your KitchenAid stand mixer is functioning at its best lately? Follow the directions in this post to do the test on your mixer. All you need is a dime!
Make two consistencies of icing– a thicker icing that outlines your shape and a thinner icing to fill in the shape. I like to think of it as a fenced in backyard. The outline icing is the fence and the thinner icing is the grass that fills in and covers the space.
A swimming pool would be a better analogy. The outline icing is the perimeter of the swimming pool and the thinner icing is the water that fills the pool. Without the boundary icing the thinned icing would slide off your cookie.
The difference between the two icings is only a small bit of water. Likely not even a teaspoon or two.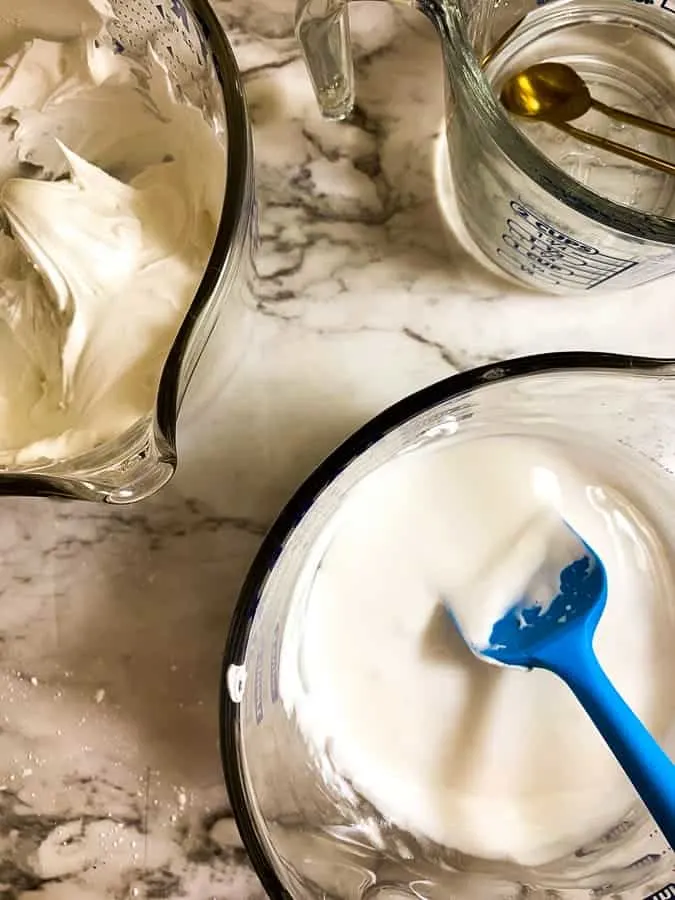 Once you have your outline icing ready, go ahead and pipe it around the shape of the champagne flutes. Let it dry only slightly (a few minutes at most) before filling it in with the thinner icing.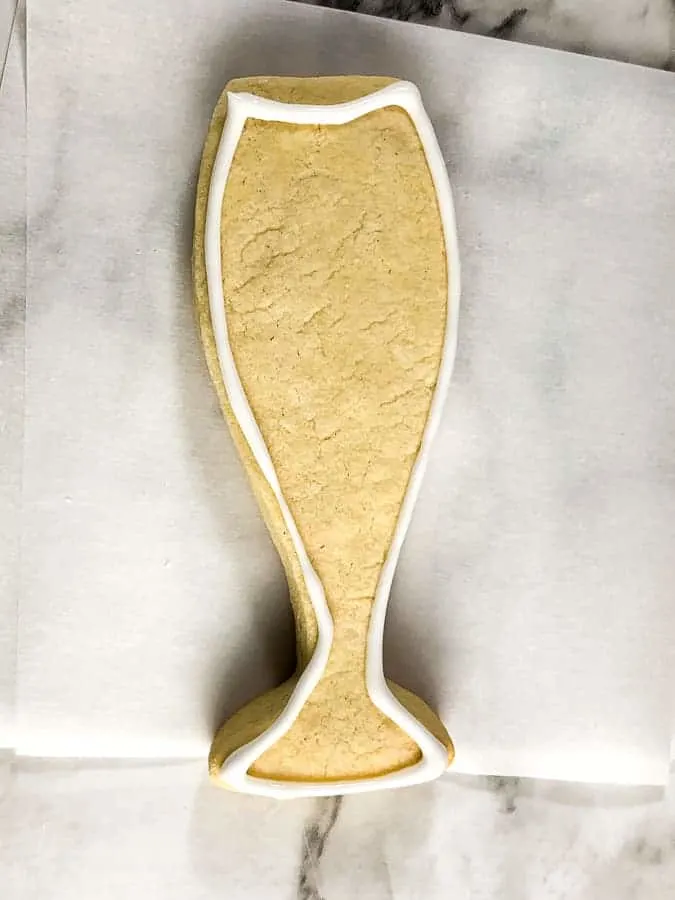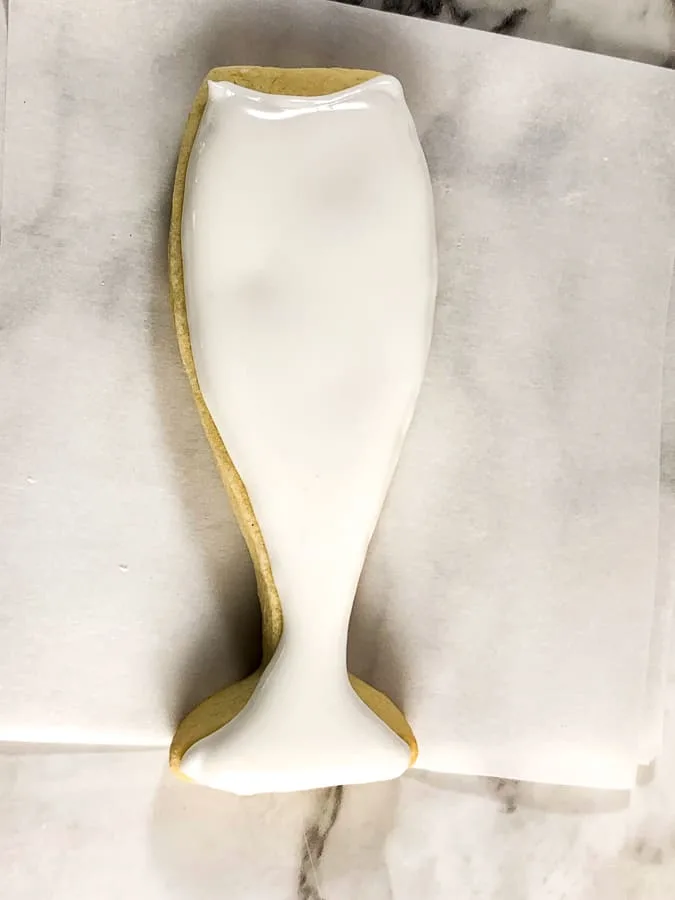 Fill the thinned icing all the way to the edges. If you need to get into a small space like the stem of the glass or if you have any bubbles, just use a toothpick to move the icing around.

Let this white icing dry completely before adding the gold touches in the next phase.
Adding finishing touches with gold luster
Take a very small bit of your gold luster and mix it with a few drops of vodka. You could use an eye dropper to literally only use a few drops.
A small, food-safe paintbrush is all that is needed to apply this gold layer to create the look of champagne.
While the gold layer is still damp, sprinkle the gold sugar sprinkles on the cookie, tapping the excess off.
Adding Wilton's gold sugar pearls is a fun touch to mimic bubbles that are typically found in a glass of champagne.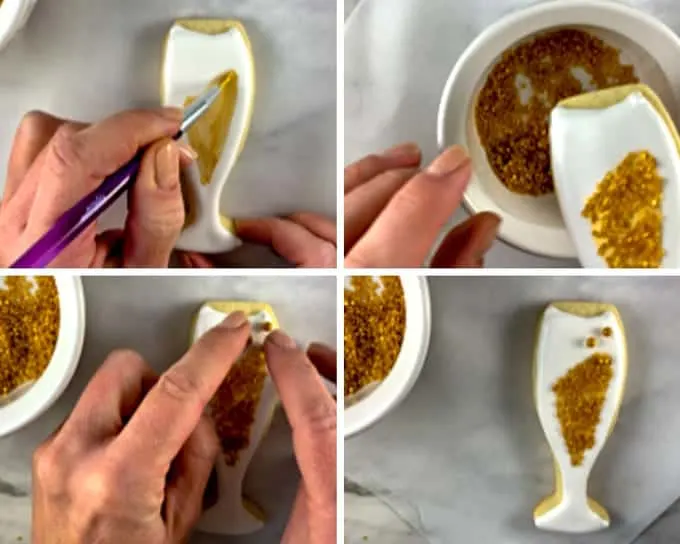 Let your pretty champagne flute cookies sit on a wire cooling rack or a parchment lined baking tray to dry completely.
Do you want to make more cookies? Yes!
Do you like these cookies? You might catch the same bug as I did and you'll find that decorating cookies is fun and rewarding! Try some of these shapes of cookies decorated with royal icing to add to your celebrations:
Are you on Pinterest? I am! Join me there and save this pin for later, thanks!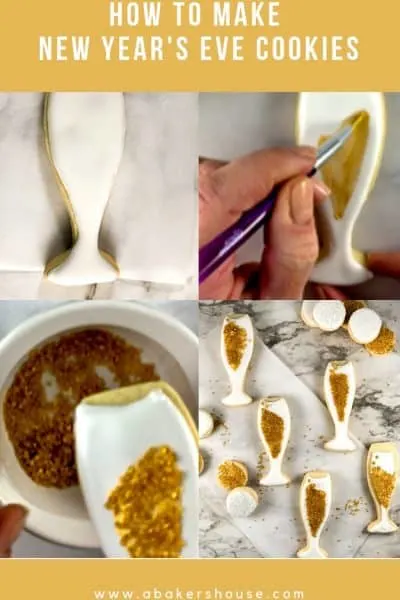 What kitchen items do I need to bake cookies?
We are a participant in the Amazon Services LLC Associates Program, an affiliate advertising program designed to provide a means for us to earn fees by linking to Amazon.com and affiliated sites.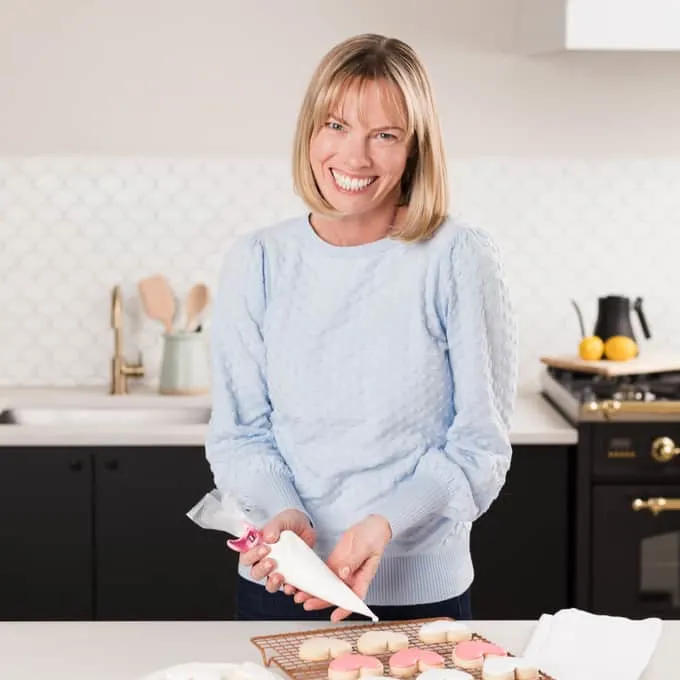 Holly Baker started the food blog, A Baker's House, in 2011. She is the writer, recipe creator, and photographer for the site. Holly loves to bake and shares recipes for gluten free food, canning recipes, as well as traditional desserts too. Her recipes and food photography have been highlighted by BuzzFeed, Reader's Digest, and She Knows.