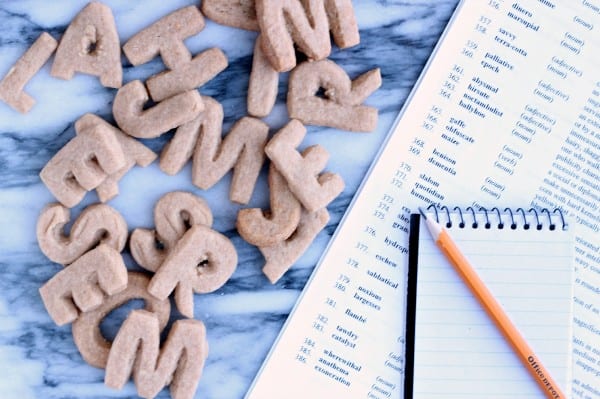 It is Spelling Bee time of year at many schools and my son's elementary school held their school Bee last week. He was excited to be involved in the Bee again this year and I wanted to make him a special treat to celebrate after the stress of the competition was over (for both of us!). My goodness, some of the words these kids spelled were years beyond them. It was fun to watch the twelve kids spell but heartbreaking to see them miss a letter here and there. I guess that is the point of a spelling bee– not everyone gets each word correct– but it is painful when a wrong letter slips out.
These cookies are made with the Trader Joe's alphabet cookies in mind. My son is an extremely picky eater and has never had even a crumb of any baked good I've made at home. I thought there was a slim chance he'd try these since they look and taste nearly the same as the bucket of letter cookies he likes from the grocery store. Well, no luck there but that is ok, sometimes it honestly is the thought that counts and when my younger son and I made these cookies we sure were sending happy spelling thoughts with them!
These are fun cookies to make with children at home. The dough comes together quickly in a food processor and then it is refrigerated for at least an hour. Take the dough out when your helpers are ready to roll out the dough and you'll have an alphabet of fun in no time! The recipe comes from King Arthur Flour's website and they called these Animal Cookies but for me, animal cookies have a bit more crunch like a cracker. I changed the recipe slightly so maybe that was the difference. Try letters or animals and see what you think. There are few things sweeter than little hands covered in flour and baking in the kitchen. A collection of cookie cutters from Wilton does the trick. This bucket offers letters, shapes and more for your cookie creations.
We are a participant in the Amazon Services LLC Associates Program, an affiliate advertising program designed to provide a means for us to earn fees by linking to Amazon.com and affiliated sites.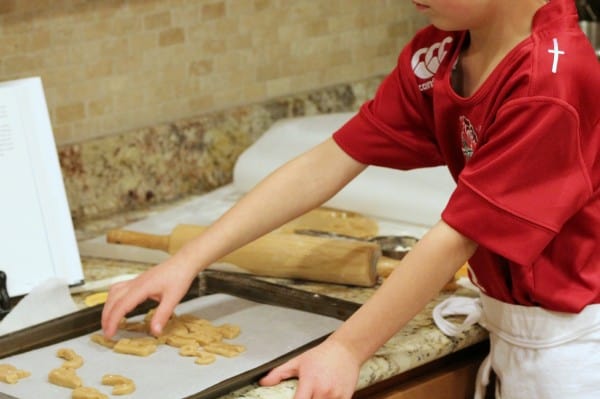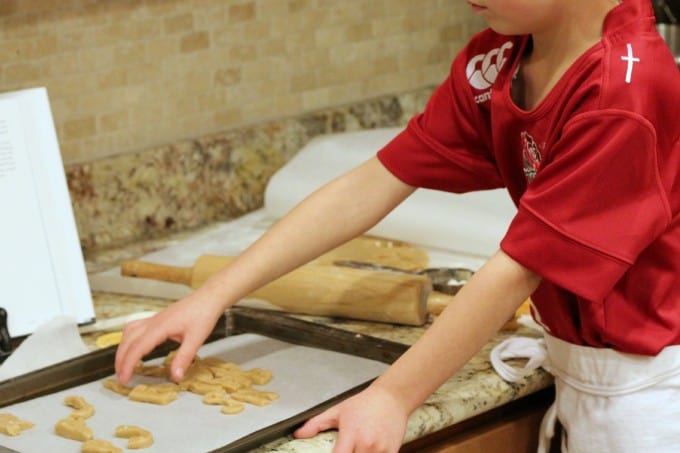 Print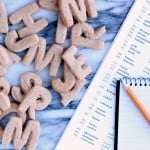 Alphabet Letter Cookies
---
Ingredients
3/4 cup butter, softened (12 Tablespoons)
1/4 cup granulated sugar
3 tablespoons honey
1/2 teaspoon salt
1/2 teaspoon baking soda
1/2 teaspoon ground cinnamon
1 teaspoon pure vanilla extract
2 tablespoons water
1 1/2 cups all purpose flour
1 cup almond flour
---
Instructions
In a food processor combine the butter, sugar, honey, salt, baking soda, cinnamon, vanilla and water. Pulse 15-20 times.
Add the all purpose flour and the almond flour and process until the dough forms a ball and pulls away from the sides of the container.
Make two flat circles with the dough and place in a zip loc bag. Refrigerate for about an hour.
Preheat the oven to 350 degrees F. Line cookie sheets with parchment.
Flour your surface (I like to flour on top of a piece of parchment). Roll the dough to 1/4 inch thick. To keep the dough from sticking to the small letter cookie cutters, dip the cutters in flour each time before you press the cutters into the dough.
Bake the cookies for about 10 minutes or until just starting to brown. Note that some letters such as "I" or "L" bake more quickly than letters like "M" or "B". You may want to place similar letters on a tray together.
Cool cookies on a wire rack.
Recipe Card powered by
The theme this month is Make Someone's Day Cookies! We each chose special people we love and baked cookies that they love! Maybe you will feel inspired to bake someone that you love a cookie! If you are a blogger and want to join in the fun, contact Laura at [email protected] and she will get you added to our Facebook group, where we discuss our cookies and share links.
You can also just use us as a great resource for cookie recipes–be sure to check out our Pinterest Board and our monthly posts (you can find all of them here at The Spiced Life). You will be able to find them the first Tuesday after the 15th of each month! Also, if you are looking for inspiration to get in the kitchen and start baking, check out what all of the hosting bloggers have made: