This simple chocolate fudge could not be easier to make. Other than buying fudge from the store, you simply can't take any fewer steps or ingredients to come up with this delicious result of simple chocolate fudge.

Use chocolate chips, sweetened condensed milk and butter. That's it, three ingredients and you're on your way to simple chocolate fudge. Fudge makes a great holiday gift and can be packaged in a box or tin in a festive way. Keep it on hand to have as gifts for neighbors, a treat to share with company, or just your secret stash of chocolate that you enjoy one bite at a time!
Ingredients:
3 cups of chocolate chips (my picture shows semi-sweet but later I added 1 cup of dark chocolate morsels as well)
1 14 oz sweetened condensed milk
¼ cup of butter
First prepare the pan. Line an 8 x 8 pan with foil. I sprayed it with Pam next. Make sure that your foil comes up over the edges by an inch or so to help you lift the fudge out of the pan later on.
Next, use a microwave-safe bowl and throw everything in.

Mix thoroughly…I put this in the microwave on Power 5 for 2 minutes. I stirred the contents then did the same thing again- another two minutes on half power.
Pour the mixture into the prepared pan. I smoothed it out with an offset spatula before placing it in the refrigerator for an hour or two. When you are ready to cut the fudge, pull the sides of the foil and the fudge should lift right out. Small inch-sized cubes seemed to work well for me. This fudge tastes much better than you might think for a 3-ingredient, microwave treat.

A quick note: Today I included in my mom's Christmas card a note to tell her about this blog. I started this blog a few months back so that I could share some recipes long distance with her. I have a small collection so far and hope to add more ideas, recipes and photos in the coming months. Merry Christmas, Mom!
Here are more fudge recipes you'll love!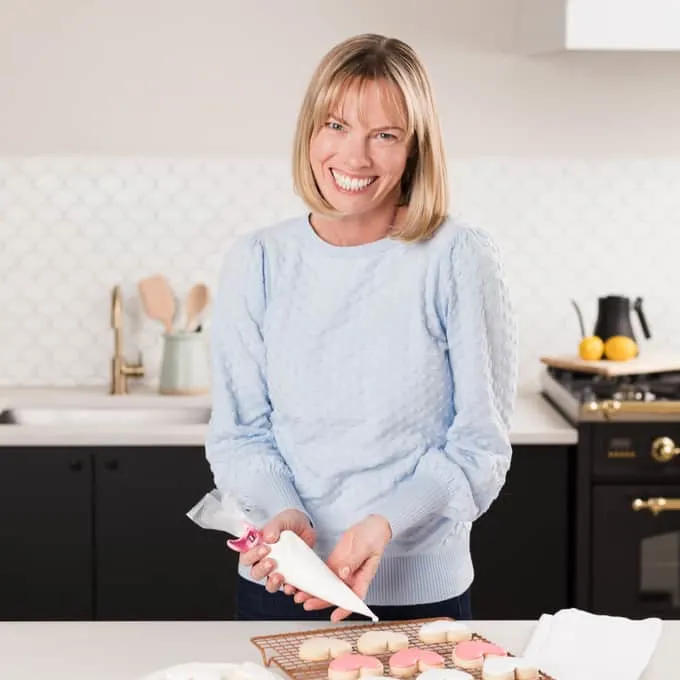 Holly Baker started the food blog, A Baker's House, in 2011. She is the writer, recipe creator, and photographer for the site. Holly loves to bake and shares recipes for gluten free food, canning recipes, as well as traditional desserts too. Her recipes and food photography have been highlighted by BuzzFeed, Reader's Digest, and She Knows.