Learning how to make a gift basket allows you to personalize gifts for your friends and family. You can combine store-bought and homemade items to make the perfect gift for any occasion! This cozy hot chocolate gift is made in partnership with Sprouts Farmers Market to share information about their Grab 'N Give program which gives back to local communities. #Sponsored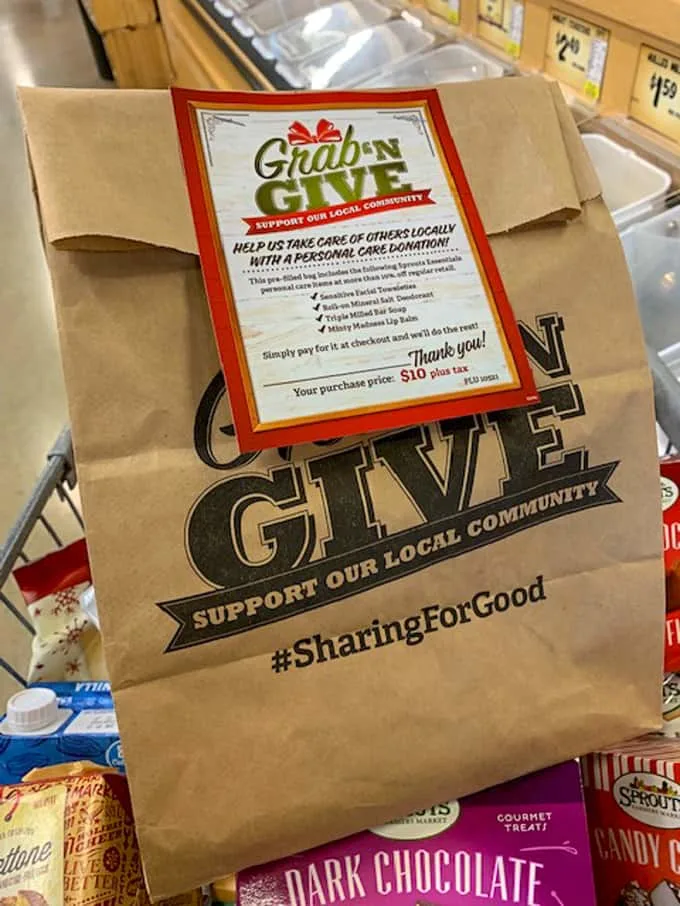 #SharingForGood
When you shop at Sprouts this month you'll see displays filled with brown paper bags for the Grab 'N Give program. Each bag costs approximately $10. The bags are filled with pantry and personal items that will be donated to people in need.
Sprouts makes it easy for customers to give back to their communities.
All you need to do is to take the bag to the check out counter to pay for your donation. The items in the bag are at a 10% discount. Everything will be delivered to organizations who help people in need.
My local store had a barrel overflowing with donations which was wonderful to see. Last year Sprouts customers donated over 370,000 bags! That is #SharingForGood for sure!
Let's get to the basics: how do you make a gift basket?
Start with a theme for your gift basket
Purchase items to go along with your theme or make homemade gifts
Choose your basket or other type of container. Get creative!
Gather your supplies: scissors, ribbon, filler material, cellophane
Assemble the gift basket
Wrap with cellophane and tie with a festive bow
1. Gift basket theme: Cozy Cocoa Winter Bundle
Let's go through the steps with the theme of a Cozy Cocoa Winter Bundle. First, brainstorm ideas of what a cozy winter basket means to you.
I had my mom in mind with these gift ideas. She loves all things warm and all things chocolate! You can find her happy and warm wrapped up in her robe, slippers, AND a blanket while she sips hot chocolate on Christmas Eve.
Here are some thoughts for this theme: Warmth, chocolate, hot cocoa, marshmallows, s'mores, sitting around a warm fire, chocolate desserts, spending time with family and friends…the list could go on. You get the idea! Now let's find items for your basket that go with these thoughts.
2. Purchase your items
What items are in this Homemade Gift Basket?
organic cocoa powder
organic hazelnut spread
small marshmallows
mints
chocolate covered pretzels
specialty marshmallows
truffles
chocolate bars
wafer cookies
sugar cookies
gingerbread cookies
two mugs
candle
slippers
plaid blanket wrap
I bought all of the above items at Sprouts with the exception of the two white mugs. The container, filler, ribbons, and cellophane were also purchased at a craft store. It was such fun shopping and creating this collection of goodies.#LoveSprouts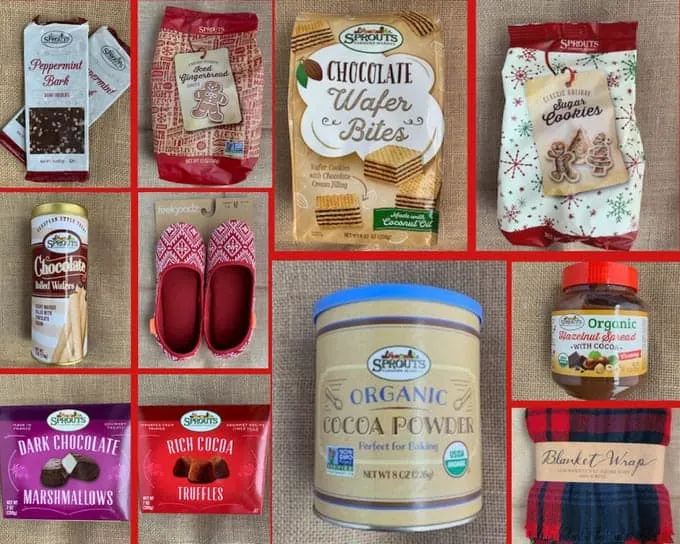 Hot Chocolate: Making homemade hot chocolate is easy with cocoa powder. Use a ratio of 2 tablespoons of cocoa to 1 tablespoon of sugar mixed per each cup of heated milk. Sprouts organic cocoa is great for baking, smoothies and spreads. Speaking of spreads, don't miss out on the Sprouts organic hazelnut spread with cocoa. Add some to your hot chocolate, bake with it, or dip cookies in it!
Toppings for Hot Chocolate: Hot chocolate isn't complete without marshmallows! Sprouts offers bagged marshmallows in their bulk food section. In this gift you'll find the marshmallows in small cellophane bags right inside the mugs. Chocolate covered pretzels are packaged this way too.
Specialty Marshmallows: Sprouts has gourmet flavors of marshmallows — oh do they look good! Dark chocolate covered marshmallows and candy cane marshmallows would be perfect to enjoy with hot chocolate.
Seasonal Cookies: A platter of cookies goes well with a chocolate theme. Iced gingerbread cookies and classic sugar cookies are available at Sprouts for the holidays. They are festive and fun! Who doesn't love a gingerbread man?
Chocolate and more chocolate! Keep going with your cocoa theme and include these chocolate bites. Honestly a package of these truffles would be a lovely gift all by itself. Sprouts rich cocoa truffles are imported from France. It might be impossible to just eat one.
Did you spot the Sprouts bars of chocolate– dark chocolate, espresso bits dark chocolate, and toffee bits milk chocolate contribute to this chocolate theme. And bring on the holiday flavors with Sprouts peppermint bark and red, green, and white mints!
Warm and cozy touches: These patterned red and white slippers made by feelgoodz were a great find at Sprouts! Slippers are literally the base of keeping warm in the winter months. My mom is never without slippers at home.
Candles: A Sprouts scented soy candle in a peppermint swirl fragrance is sure to add to the holiday atmosphere. This candle is another item that would make a thoughtful gift on its own.
Blanket: At the base of the gift is a plaid, blanket wrap. Sprouts has more than simply groceries, especially around the holidays. This wrap is not only warm and cozy but it is a beautiful decorative touch!
3. Choose the basket
Wait to choose your basket until you have compiled all of the items that you'll be giving in this gift. You'll need to know how large or small of a basket to select.
You'll want your basket or other container to be sturdy and easy to carry. After all, you'll be delivering this gift!
Baskets are always a good choice. They come in many sizes and styles. Be sure to pick a basket that your gift recipient will use later.
You don't even have to choose a basket, specifically. Here I picked a container that would be a great addition to a home's decor after the contents of the gift are long gone. I like the texture of the rope handles, the wire mesh and the wooden slats.
Crates, decorative boxes, and serving platters can all make ideal containers for gift "baskets".
Personalize your container to go with your theme. Giving a baking basket? Use a 9 by 13 baking pan to hold your goodies. Assembling a movie themed gift? Use a large popcorn bowl to hold your items!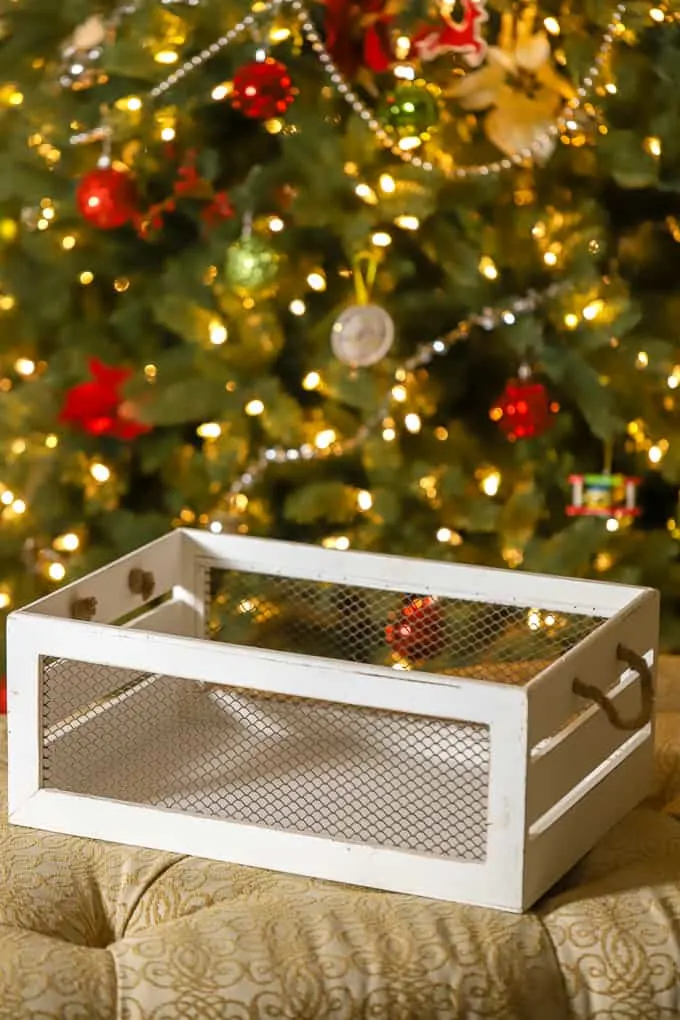 4. Gather your supplies
You'll likely have some of the basic supplies at home already. Ribbon, decorative twine or burlap, scissors and tape are needed when you wrap the gift basket. Cellophane lends a professional touch or gift basket bags come in handy too.
Filler material for the gift can be purchased at a craft store or you can do the DIY approach and put colored paper through your shredder at home.
The gift of the warm blanket wrap here makes a soft and colorful liner for your gift.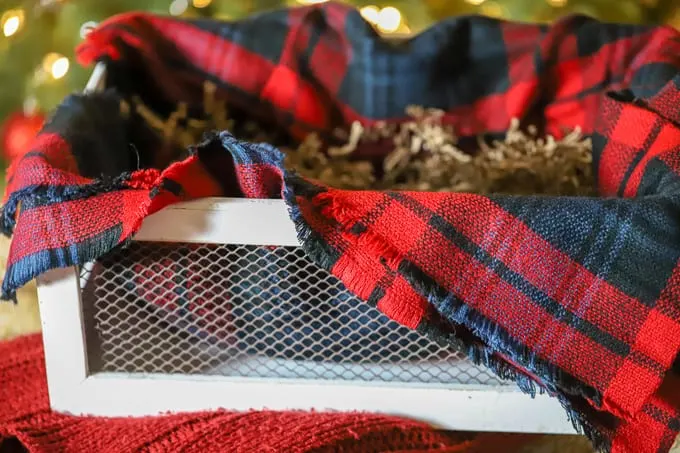 5. Assemble your basket
Have you noticed how gift baskets at a store or those you might have received as a delivery always look like they are towering high with impressive gifts?
This visual abundance is easy to achieve. Fill the bottom of your basket with material that props up all of your items so that they sit above the level of the basket.
You might use paper filler which works well but you'll generally need a lot of it. Take the professional short cut and fill most of the base with a cardboard box. Yes, an empty cardboard box does the trick. Simply cover the box with your decorative filler material.
Try a before and after with the filler and without it and you'll immediately see the difference. Your gift recipient can easily see more of what's in the container and nothing is hidden down below.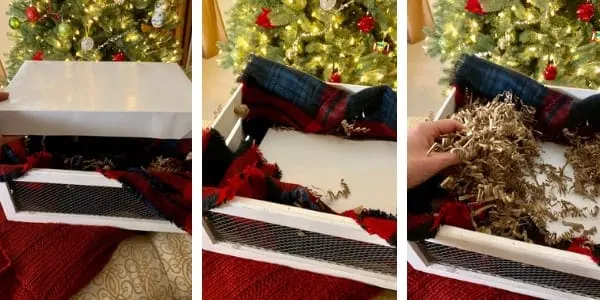 Now it's time to arrange your items in the container. Place taller packages in the back and try to balance items from left to right as well. Start in the back and move towards the front, adding and rearranging as you go.
For example, in this chocolate gift basket I balanced the gift visually by placing one bag of cookies in the back on the right and one on the left. Same with the packages of marshmallows, the candy bars, and the white mugs too.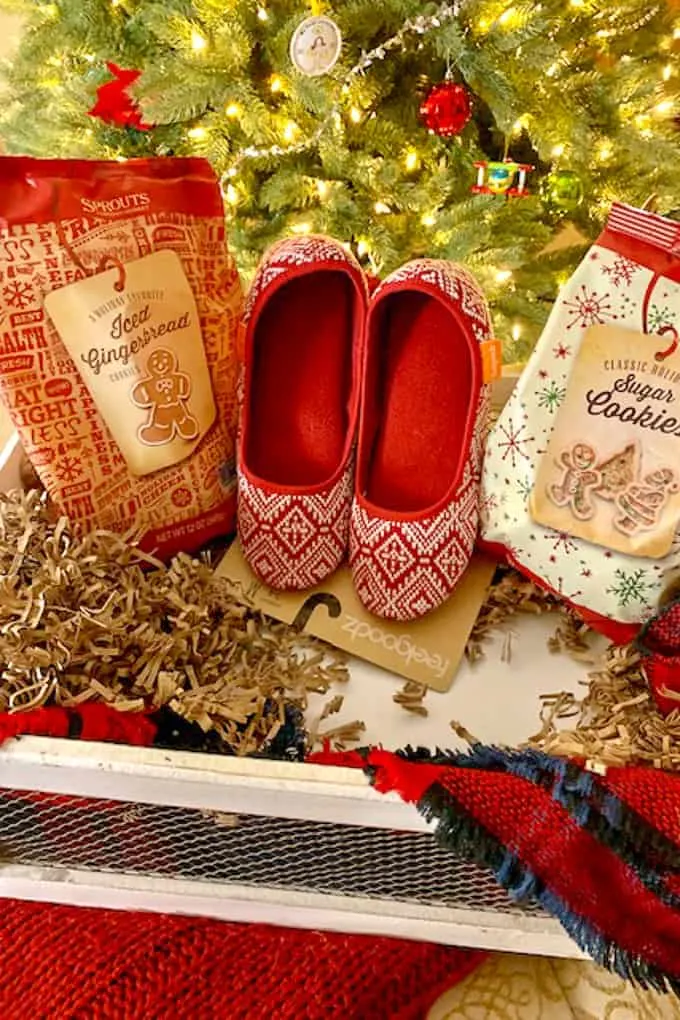 Keep going until all of your special gifts are in place.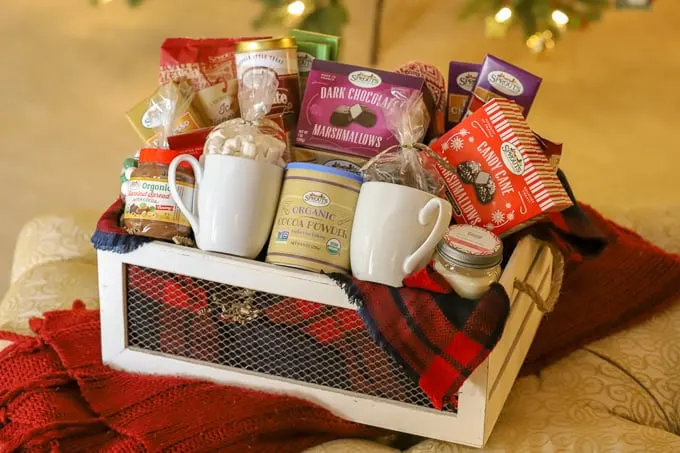 6. Wrap with cellophane and add a bow!
Cut a large piece of cellophane. You'll need enough that the cellophane wraps all the way up and completely covers the items in your gift.
Slide the cellophane under the container and gently fold the two ends upwards. It helps to have an extra pair of hands to hold this steady.
Pay attention to the sides and fold the open edges inwards, tucking them towards the back. You may need a piece of tape on each side to secure the edges.
Tie the top with a small piece of twine or ribbon. This secures the cellophane and holds it in place while you make the bow. Tips to the perfect bow can be found here. It's not as hard as you think!
And there you have it, you've mastered the art of how to make a gift basket!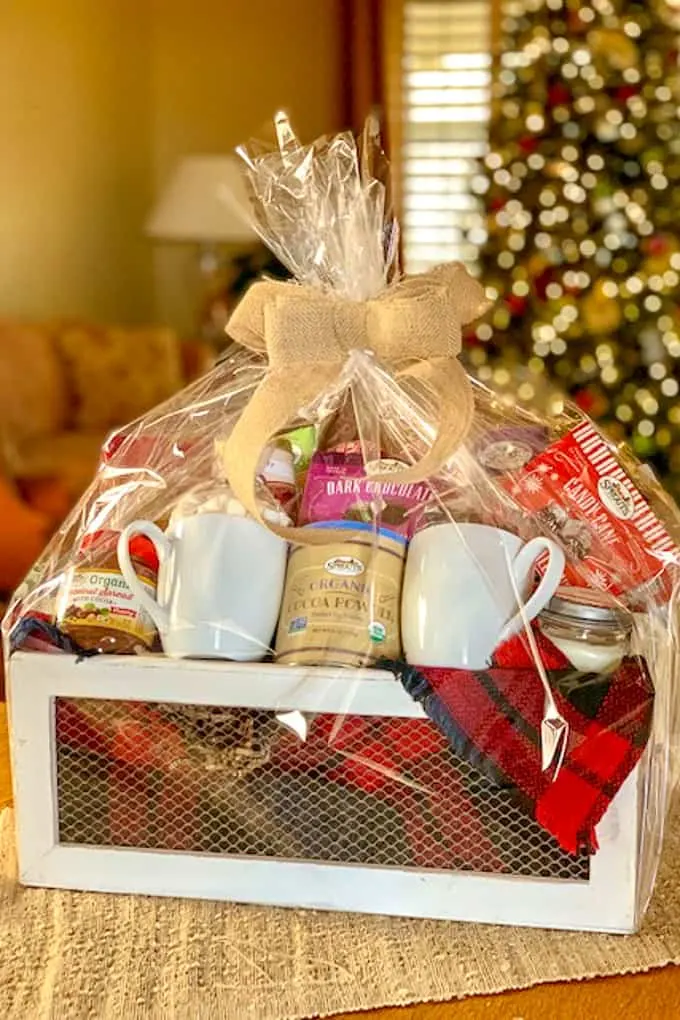 Thanks to #Sprouts for sponsoring this post. #AD It is my pleasure to work with a company that I value and where I shop frequently. I filled this hot chocolate gift basket will products purchased at Sprouts. It is overflowing with warm and cozy goodness!
Do you know what else you find this season in stores? Sprouts offers fully prepared meals and catering trays that will make your holiday dinner a breeze.
While you are there, grab ingredients to make some of these recipes that are made with ingredients from Sprouts: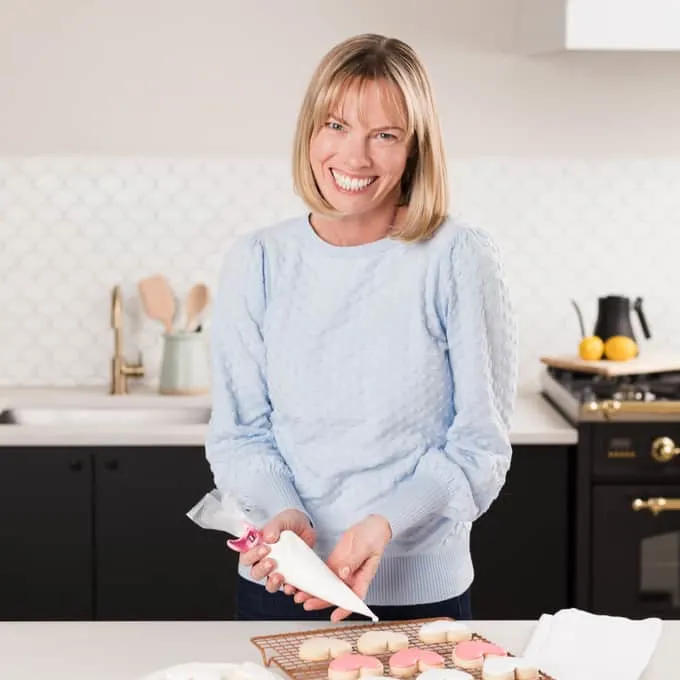 Holly Baker started the food blog, A Baker's House, in 2011. She is the writer, recipe creator, and photographer for the site. Holly loves to bake and shares recipes for gluten free food, canning recipes, as well as traditional desserts too. Her recipes and food photography have been highlighted by BuzzFeed, Reader's Digest, and She Knows.