Mango gelato is a rich and creamy Italian ice cream that you can easily make at home. Choose Horizon® Organic whole milk and heavy cream to create the best homemade gelato.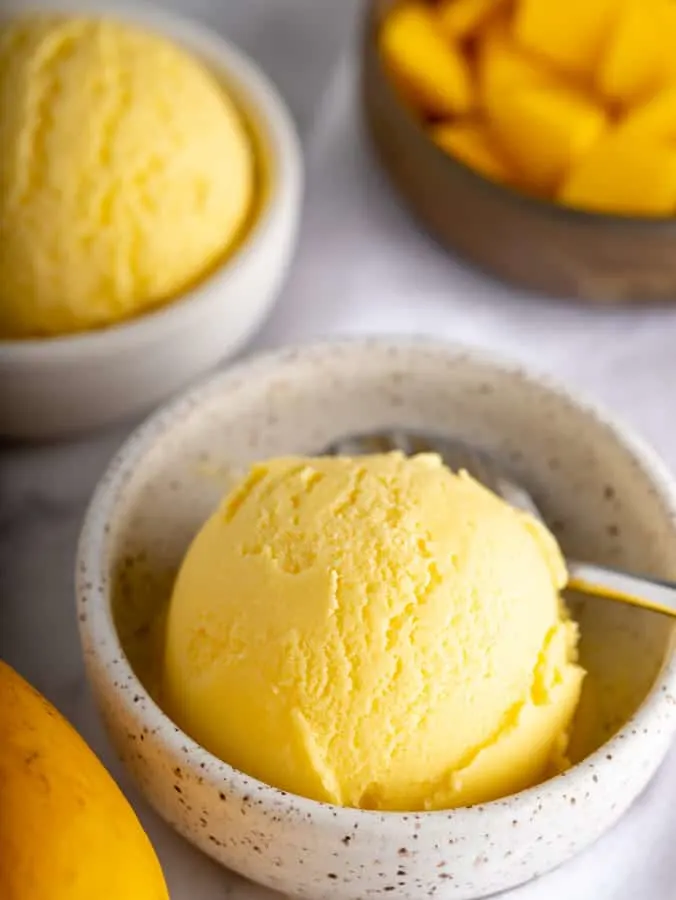 This post is sponsored by Horizon®. All opinions, comments and content shared on A Baker's House are my own and do not necessarily represent those of Horizon® or Danone North America. #sponsored
You are in for a treat today! With warmer temperatures sneaking up on us, it is time to think of refreshing desserts. A cool and creamy homemade gelato is perfect for a sweet treat.
What is gelato?
Gelato is an Italian ice cream. It has a lot of similarities to traditional American ice cream—it is a smooth, creamy, frozen dessert that comes in many flavors. The differences between gelato and ice cream are important to note too.
Gelato recipes have a higher proportion of milk to cream as compared to ice creams where cream is the star. Usually gelato recipe don't include eggs.
True gelatos are made slightly differently as compared to ice creams in that the mixture is churned at a slower rate. This slower mixing process means that less air is added and gelatos tend to be thicker and more dense than their ice cream counterparts.
When making gelato at home with an ice cream machine, you do not get to select the speed at which the machine churns so you are missing out on the slow churn feature of traditional gelatos, but I don't think you'll mind. This frozen dessert is a delight and to have homemade gelato is worthy of a celebration!
Yellow Mangos
This gelato recipe features yellow mangos. Have you tried these beauties before? Yellow mango can also be called Ataulfo mango or honey mangos. They are often grown in Mexico.
If you love mangos you'll enjoy this Mango Bundt Cake recipe too!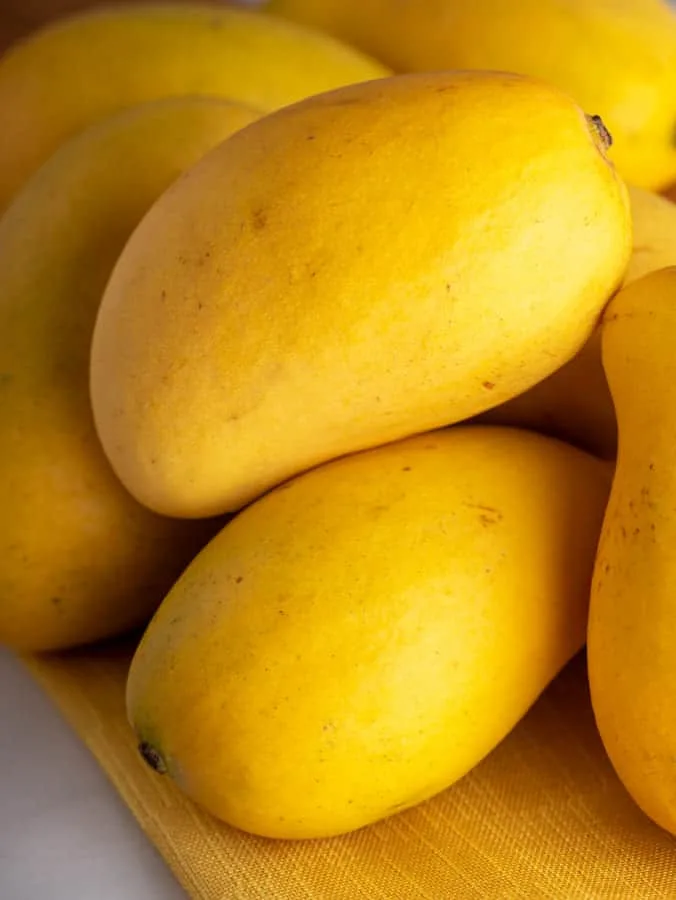 Yellow mangos are smaller than other types of mangos but they have a small pit or seed in the center which leaves a lot of mango fruit (or flesh) to enjoy. They are ripe when golden yellow and their skin will be rather wrinkly when fully ripe.
Yellow mangos don't have the fibrous interior that other types do. The flesh is smooth and not stringy at all. This quality makes yellow mangos perfect for our recipe.
You'll need to peel mangos as the skin is not edible. You can cut mangos as I show here by slicing the two cheeks then cross-hatching the fruit to produce cubes that you'll slice off. Or you can read this post that details how to peel a mango with a glass.
To cut a mango into cubes you'll first slice the two mango cheeks, leaving the center pit or seed behind. Cut about a centimeter to the left and right of center. If you get too close to the center you'll feel the texture change from smooth flesh to the tougher pit.
Use your knife to slice a grid pattern on each mango cheek. Do not slice all the way through to the skin.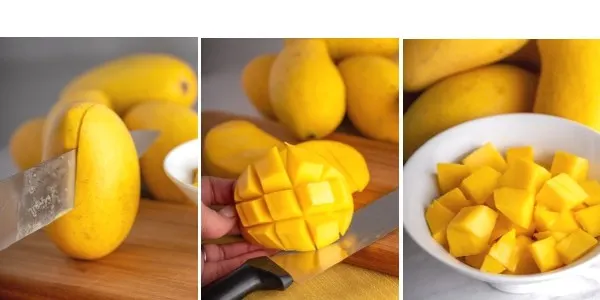 Gently arch the mango cheek to push the cube sections upwards then run your knife just over the skin to release each cube.
All of the ingredients in this recipe were purchased from my local Sprouts Farmers Market.
If you are making mango recipes out of the peak season of March to June you can use frozen mango to make gelato. Allow the mango to defrost and drain off any excess water before making the recipe.
Gelato Ingredients
Gelato is made with only a few ingredients, so it is important to use the highest quality. Horizon® Organic whole milk and cream combine to make this beautiful, creamy gelato.
Horizon® Organic milk comes from cows that did not receive synthetic hormones or antibiotics. Cows receive certified organic pasture and feed, both of which are grown without the use of toxic persistent pesticides or GMOs. I give my family Horizon® Organic products with confidence that I am buying the best quality milk available.
By the way, because mangos are naturally sweet this recipe doesn't have as much added sugar as other gelato recipes. I love making gelato and this popular blueberry gelato recipe is a reader favorite every year.
As mentioned, the ratio of milk to cream is what sets gelato apart from ice cream. Here we'll use one and a half cups of Horizon® Organic whole milk and a half cup of Horizon® Organic heavy whipping cream.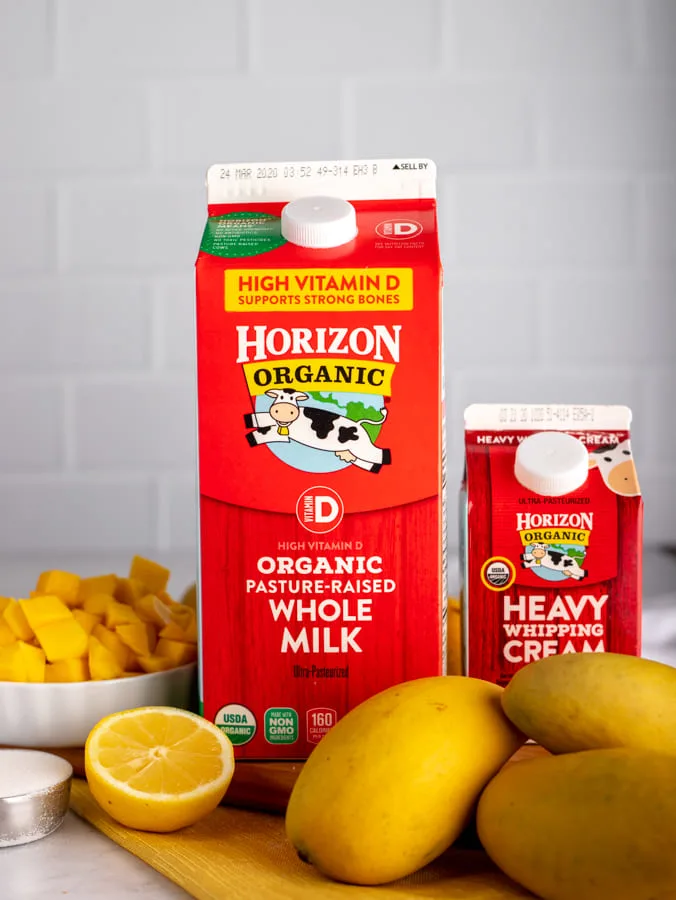 You'll need these ingredients to make mango gelato:
Yellow mango
Whole milk
Heavy whipping cream
Granulated sugar
Lemon juice
Let's look at the steps to make mango gelato
An ice cream machine is needed to churn this homemade gelato. Each type is different so please follow the manufacturer's instructions. My machine works best when I freeze the ice cream machine base container overnight. A good way to test if it is cold enough is to shake it—if you hear any liquid then leave the base container in the freezer longer.
Your recipe will turn out better if your ingredients are cold too. Make the gelato mixture a day ahead of time then store it in the refrigerator overnight. Skipping this step may create problems while your mixture churns and it could stick to the sides of the base container.
Put the ice cream machine base container in the freezer overnight.
Puree the mango, milk, heavy whipping cream, sugar, and lemon juice. Refrigerate overnight.
Process the mango mixture in the ice cream machine for 15 minutes or until thick and creamy.
Place the mango gelato in a freezer safe container and freeze for at least 2 hours.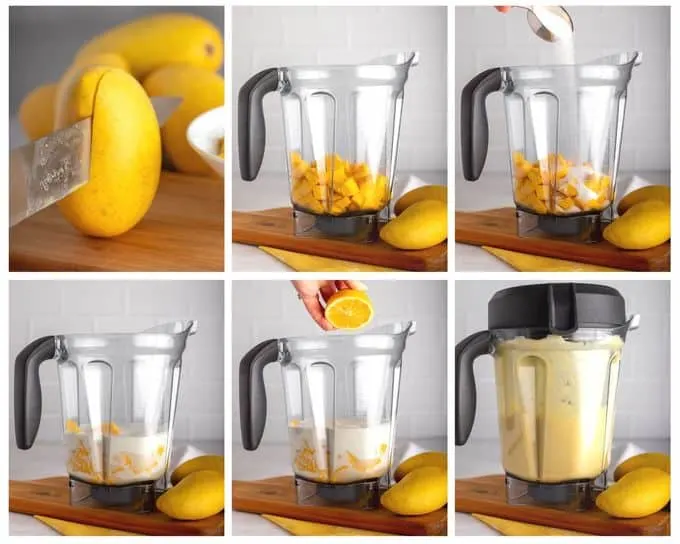 Gelato tastes best if you leave it at room temperature for about 20 minutes before serving. While ice cream is served nearly frozen, gelato is savored at a slightly warmer temperature.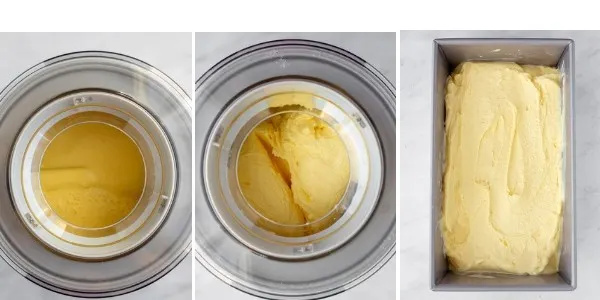 Yield: 8 servings
Mango Gelato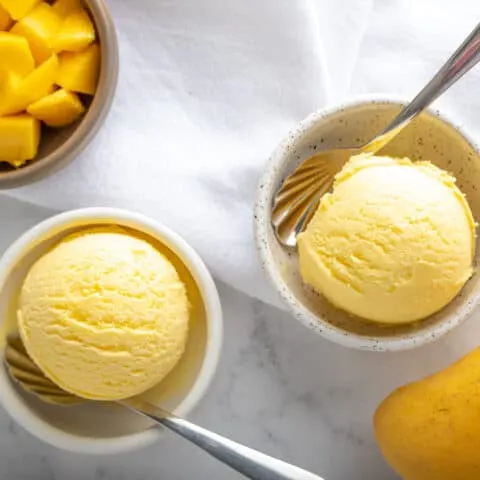 Mango gelato is a rich and creamy Italian ice cream that you can easily make at home. Choose Horizon® Organic whole milk and heavy cream to create the best homemade gelato.
Total Time
2 hours
20 minutes
Ingredients
3 yellow mangos, peeled and cubed (about 2 cups)
¼ cup granulated sugar
1 ½ cups Horizon® Organic whole milk
½ cup Horizon® Organic heavy whipping cream
1 Tbsp lemon juice
Instructions
Prepare your ice cream machine container by putting it in the freezer for at least 24 hours before making your gelato.

In a high-speed blender combine the 2 cups cubed yellow mangos, ¼ cup granulated sugar, 1 ½ cups Horizon® Organic whole milk, ½ cup Horizon® Organic heavy cream and 1 tablespoon lemon juice. Blend until smooth then refrigerate overnight.

Process the blended ingredients in your ice cream machine for 15
minutes, or until thick and creamy.

Spread into a container and freeze for 2 – 4 hours. Makes one quart.
Notes
You may like to leave your gelato at room temperature for 20 minutes before scooping to serve. Gelato is often served at a warmer temperature than ice cream.
Nutrition Information:
Yield:
8 servings
Serving Size:
1
Amount Per Serving:
Calories:

179
Total Fat:

7g
Saturated Fat:

4g
Trans Fat:

0g
Unsaturated Fat:

2g
Cholesterol:

21mg
Sodium:

25mg
Carbohydrates:

28g
Fiber:

2g
Sugar:

26g
Protein:

3g
This data is provided by Nutritionix and is an estimate only.
Pin with me!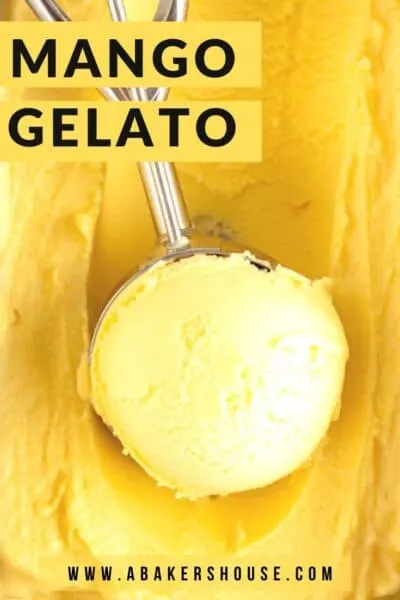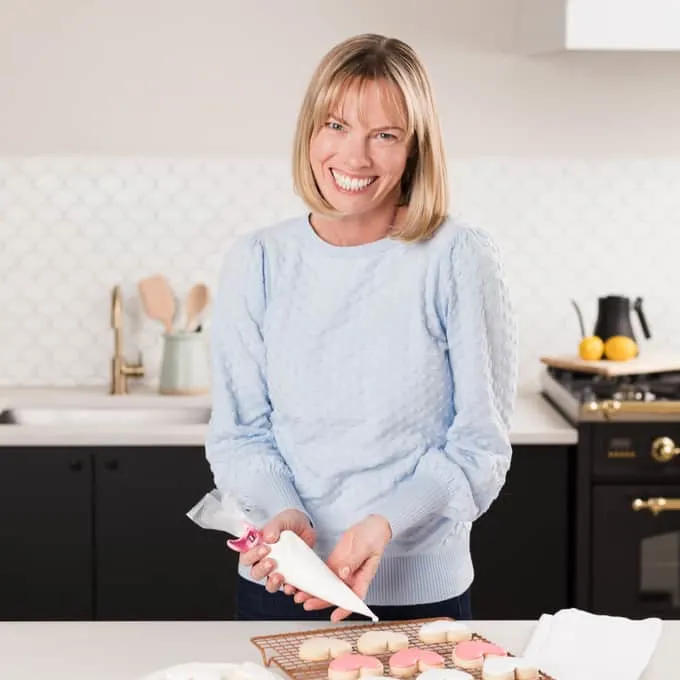 Holly Baker started the food blog, A Baker's House, in 2011. She is the writer, recipe creator, and photographer for the site. Holly loves to bake and shares recipes for gluten free food, canning recipes, as well as traditional desserts too. Her recipes and food photography have been highlighted by BuzzFeed, Reader's Digest, and She Knows.