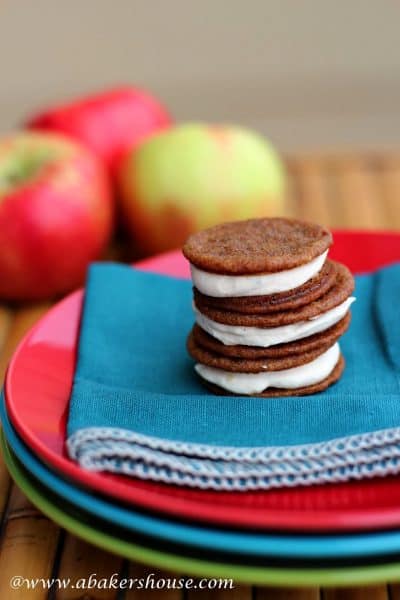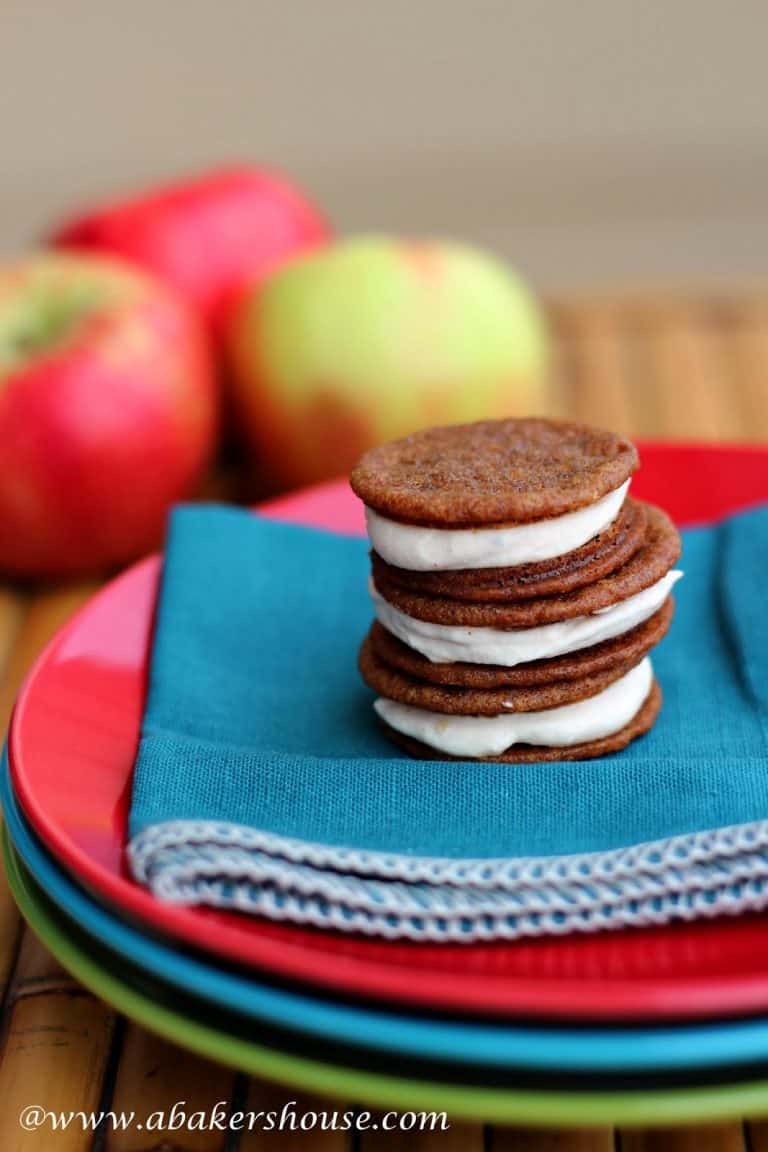 Apples abound in October and it is only fitting that the Creative Cookie Exchange share APPLE recipe ideas for this fall season. How will you bake cookies with apples? Apple, apple butter, apple juice, applesauce– if it includes apples we'd love to see your cookie recipe.
I'm sharing these ginger sandwich cookies which are transformed into an autumn recipe with the addition of apple butter in the filling. If you are in a hurry simply use only the apple butter as the filling between two ginger cookies. If you have an extra 5 minutes then you'll easily whip up a filling to incorporate the apple butter with some cream cheese or a butter cream base. Both options are mentioned below.
Recipe adapted from ginger cookies from Food & Wine magazine
Print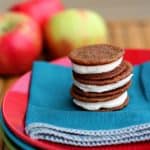 Ginger Sandwich Cookies with Apple Butter Cream Filling
---
Ingredients
COOKIES
1 1/2 cups all-purpose flour
1 1/2 teaspoons baking soda
1 1/2 teaspoons ground ginger
1 teaspoon ground cinnamon
1/2 teaspoon ground nutmeg
1/4 teaspoon salt
1 stick plus 2 tablespoons unsalted butter, softened
1/2 cup sugar
1/4 cup brown sugar
1 large egg, at room temperature
1/4 cup unsulfured molasses
FILLING OPTIONS
2 Tablespoons butter, softened
1 cup confectioners' sugar
1/2 cup apple butter
OR
4 ounces cream cheese, softened
1/2 cup apple butter
---
Instructions
Directions:
1. Heat the oven to 350 degrees F. Prepare baking sheets with parchment paper.
2. Combine the dry ingredients of flour, baking soda, ground ginger, cinnamon, nutmeg, and salt. Whisk and set aside.
3. In a stand mixer (or electric mixer) beat together the butter and both sugars. Add the egg and molasses. beat on high for 2-3 minutes.  Add the mixed dry ingredients and stir on low speed until well combined.
4. I found that these cookies spread quite a bit due to the combination of molasses, sugar and brown sugar. If your first batch spreads too much then you will find that refrigerating the dough is helpful. Place small rounds of dough on the parchment lined baking sheets. My ideal size was approximately 2 oz per dough ball which resulted in oreo-sized cookies. I tried this on parchment lined baking sheets which worked well. I also had a neat silicone mat meant for macaron baking. It had small circles into which I placed my dough and the size of the finished cookies were more consistent.
5. Bake the 2 oz dough balls for 8-10 minutes. As noted in the original recipe, the cookies will rise up with small domes while baking then do deflate to a flat cookie. I mention this so you know that you've done nothing wrong when you see your ginger cookies rise and fall again!
Make either of the fillings or fill with a thick apple butter. To make the fillings whip with a whisk or process in a blender with a whisk attachment until the filling is smooth. Place a small amount on one cookie then sandwich it with a second.
Store the cookies in an air-tight container. These cookies stay slightly chewy for 3-5 days stored properly. Only add the filling when you are ready to serve the cookies.
---
Notes
Recipe adapted from this source.
Recipe Card powered by
Here is the inspiration for more apple goodness this month!